May 30, 2009 | 1 Comment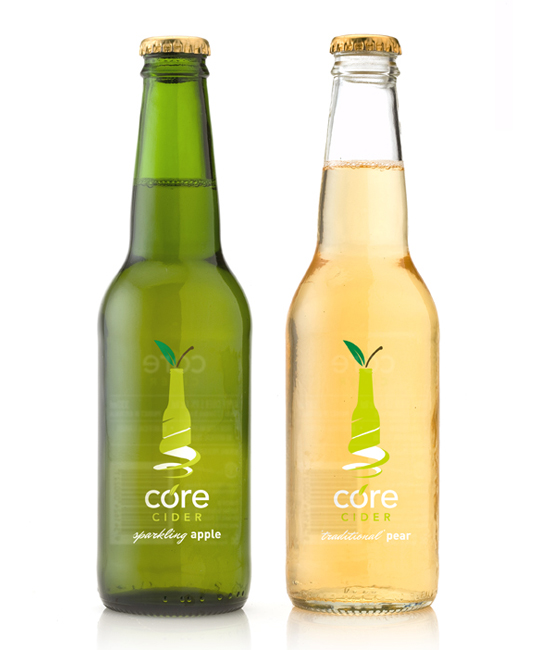 Designed by brainCELLS | Country: Australia | Fonts: Avenir, FF DIN, Mr Dafoe
"Core Cider is the latest product from the High Vale orchard in the foothills surround Perth, Western Australia. Core Cider contains no artificial colours or flavours and is made from organic apples grown on the High Vale farm.
The pure nature of the product lent itself to a clean, simple and sophisticated label design that would showcase the product. With this look in mind, a transparent 'clear on clear 'label stock was chosen and printed with 5 spot inks and a white silk-screen.
Core Cider will  be available from  all good bottle shops and available from the High Vale cellar door from  mid-2009."
May 29, 2009 | 2 Comments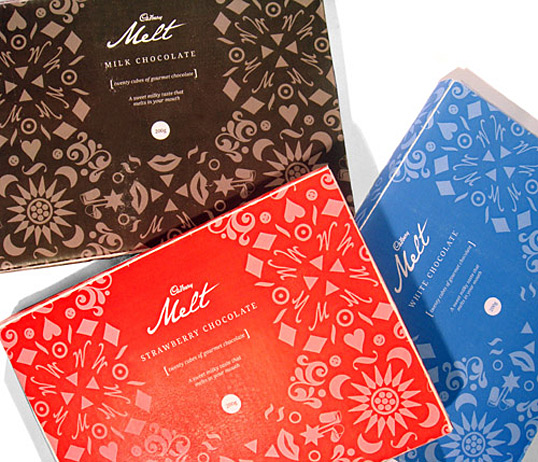 Designed by Daniel Elliot | Country: Australia
"Shown is a selection of three gourmet chocolate packaging solutions for world leader in chocolate Cadbury. The brief was to create a range of packs that would be exclusive, attractive and above all stand out from the shelves as being a 'luxurious' product."
May 29, 2009 | 3 Comments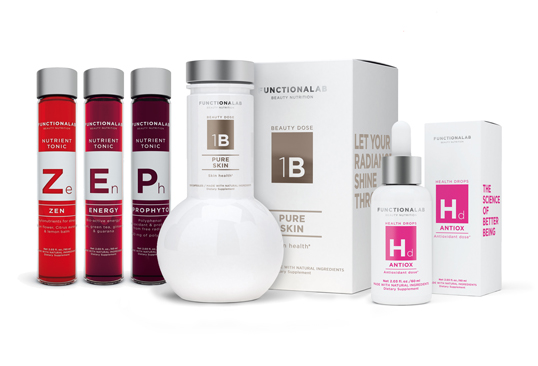 Designed by Sid Lee | Country: Canada | Font: Gotham
"Montreal-based agency Sid Lee launched Functionalab, a 100-product health and beauty line and retail space that lives as a shop within a shop at the high-end women's retailer. Founded by Montrealers Erick Geoffrion and Francis Maheu, Functionalab makes personalized nutritional supplements with a beauty twist, which it calls "nutricosmetics." Functionalab products are sold in stylized packaging with two-letter product names resembling the periodic table of elements."
May 29, 2009 | 25 Comments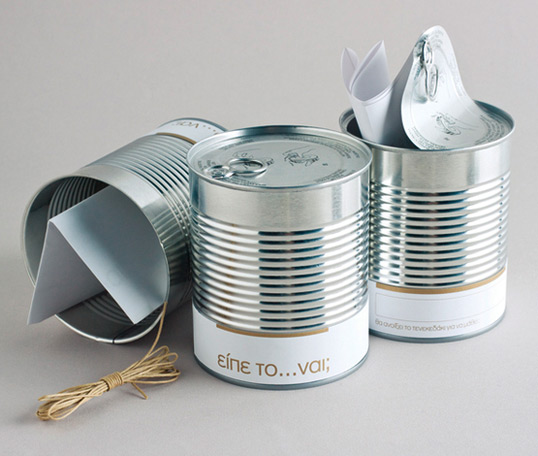 Designed by Chris Trivizas | Country: Greece
"Wedding invitation in a tin can which after the ceremony is attached at the back of the newly married couples car.
It is accustomed, after the wedding ceremony, for friends and relatives of the couple to bang saucepans and bells in order to make noise and send away jealous spirits.
The wedding invitation is packaged with a string. While reading the text (date, place, etc), there's an illustration which explains how to tie the string at the back of the can and the whole making at the back of the car."
May 28, 2009 | 1 Comment
Designed by Jordan Jelev | Country: Bulgaria
"Rousse Reserve wanted to look like classic vintage label. I have made custom calligraphy for the brandname and used strange form of the label in order to remind of torn page of an old book."
May 28, 2009 | 6 Comments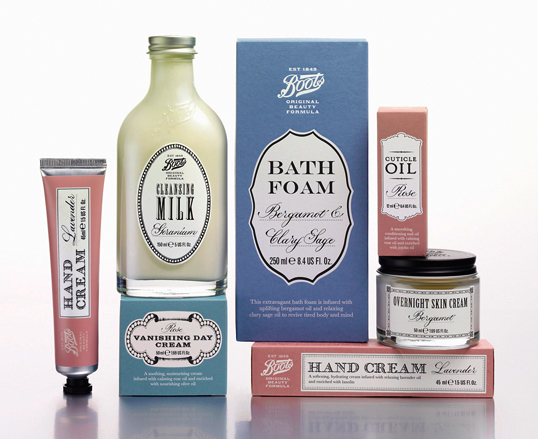 Designed by Camilla Lilliesköld | Country: United Kingdom
"This heritage range was created for Boots The Chemist. It was inspired by Boots own packaging from the 1880's. The launch has been timed to celebrate their 160th anniversary. Each component has a different frame and typeface creating individuality within the range. All cartons are on uncoated card with debossing to create a genuine, premium feel."
May 27, 2009 | No Comments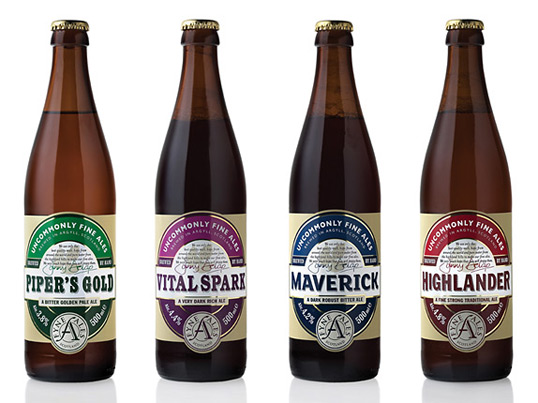 Designed by Good | Country: United Kingdom
"Fyne Ales at the head of Loch Fyne is what you might call a cottage industry. Started by Jonny Delap and his wife Tuggy, the brewery has grown up in their former farm buildings. Award winning and sought after by those in the know, the only thing holding it back was its presentation. We created a strong family theme, which is colourful but straight -forward, like the team behind these great beers, but the real personality lay in the fun you can have doing Sweet F.A."
May 27, 2009 | 10 Comments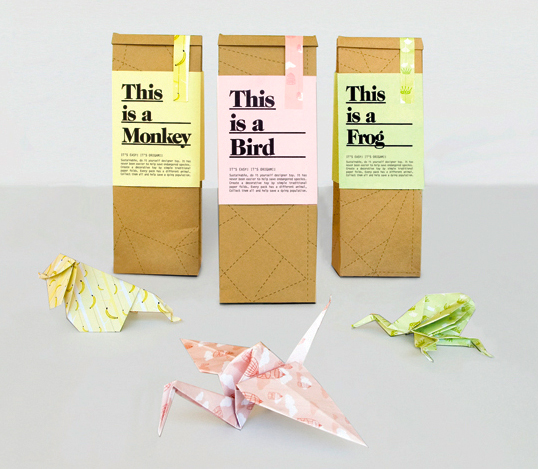 Designed by Magdalena Czarnecki | Country: Australia | Font: ITC Caslon No. 224
"Empty paperbags, containing simple step by step instructions on how to fold the bag into an origami animal, in order to become a sustainable designer toy in paper. The cost of the bag is directed to the WWF to help save the endangered animal and it's dying population."
May 26, 2009 | 3 Comments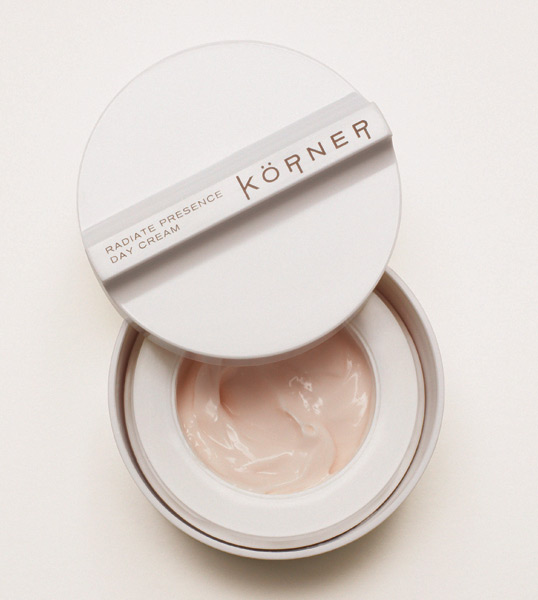 Designed by Container | Country: China/Australia
"A premium brand from a family with over a century of skincare experience. Container was commissioned to develop an identity and packaging that reflected both the heritage and grand-daughter Rebecca Körner's wish for a modern multi-tasking range. Soon after its launch Körner was awarded "Best New Beauty Product" by Wallpaper* magazine and is now available through Harvey Nichols, Colette, Henri Bendel and other leading stores."
May 26, 2009 | 9 Comments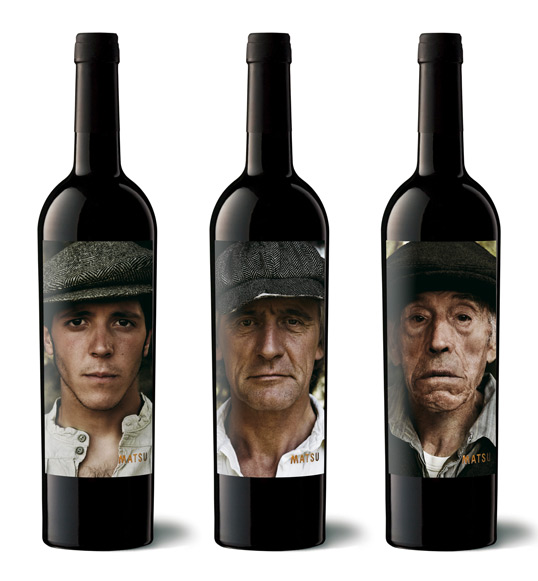 Designed by Moruba | Country: Spain
"Moruba has created the branding and packaging for Matsu, an organic winery from the Toro D.O. Matsu is a modern a project for sustainable viticulture that brings together a unique collection of high expression wines.
The solution adopted is faithful to Matsu's philosophy, his image has been stripped from all sorts of tricks to link directly with nature and with the people who cares about it. Thus, the Matsu's wine triology, 'El Pícaro', 'El Recio' and 'El Viejo' are represented by a portraits series of three generations that devote their lives to the field. Each one personality's embodies the characteristics of the wine that gets its name.
The renowned photographers, Bèla Adler and Salvador Fresneda, have been chosen by Moruba for the portraits realisation that brings life to the characters of Matsu."