June 30, 2009 | 3 Comments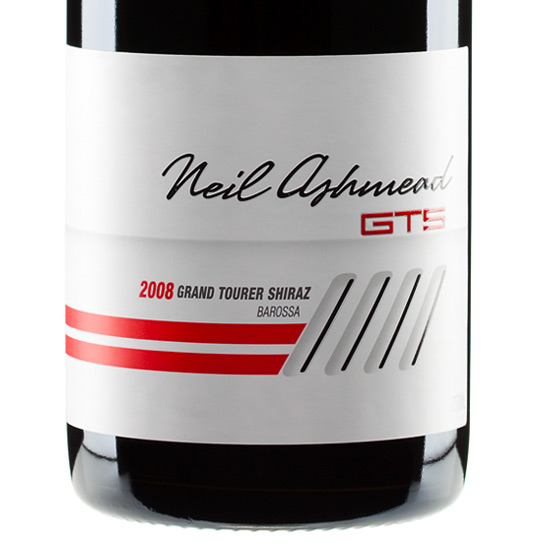 Designed by FULLER | Country: Australia
"FULLER recently completed Elderton's Neil Ashmead GTS (Grand Tourer Shiraz), a tribute wine who's packaging fittingly celebrates the life and loves of the late Neil Ashmead, a passionate South Australian wine man who had a lust for life and a love of fast cars.
Playing on Neil's passions and reflecting his outgoing personality, the design pays homage to the Holden GTS – complete with go-fast stripes, shark gills and topped with a 6-speed gear stick.  A winner's wreath neck-label completes the package.
A package that is unique and takes a risk – just like the man himself."
June 30, 2009 | 3 Comments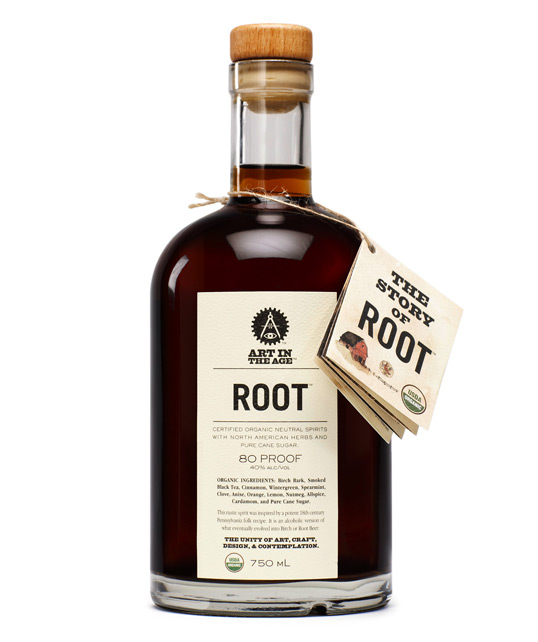 Designed by Art in the Age | Country: United States
"At 80 proof, ROOT is unlike anything else on the market today and is the first true American liqueur since the Pre-Prohibition Era.
It is lively, and rose gold in color, this rustic spirit has a full, rich smoky flavor, inspired by an 18th century Pennsylvania folk recipe, which eventually evolved into Birch or Root Beer. The recipe stems from Root Tea, which goes back to the 1700s, when Native Americans taught the recipe to settlers. Over generations, Root Tea grew in potency, particularly in Pennsylvania, where the ingredients grew in abundance. During the Temperance Movement, a Philadelphia pharmacist removed the alcohol and ironically rechristened it Root Beer. This is our creation and interpretation of a genuine potent, Root Tea.
ROOT is a certified organic spirit made with North American herbs and pure cane sugar. All botanicals are painstakingly selected and tested for purity. Using all natural, organic ingredients, like anise, birch bark, cloves and cardamom, with hints of spearmint and citrus, the sugarcane based liquor is distilled in limited batches to ensure maximum quality."
June 29, 2009 | No Comments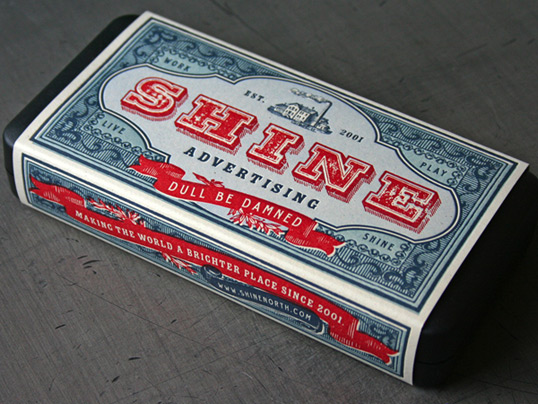 Designed by Shine Advertising Co. | Country: United States
"Shine Advertising Co. in Madison, WI designed this flashlight box wrapper as a promotional piece for their agency. The look is a pretty sweet 1800's ephemera inspired style and inside is a mini Maglite flashlight. We letterpress printed in four spot colors on Smart Genisis Husk 110lb C – 100% PCW. There are three tones of blue ink plus red ink."
June 29, 2009 | No Comments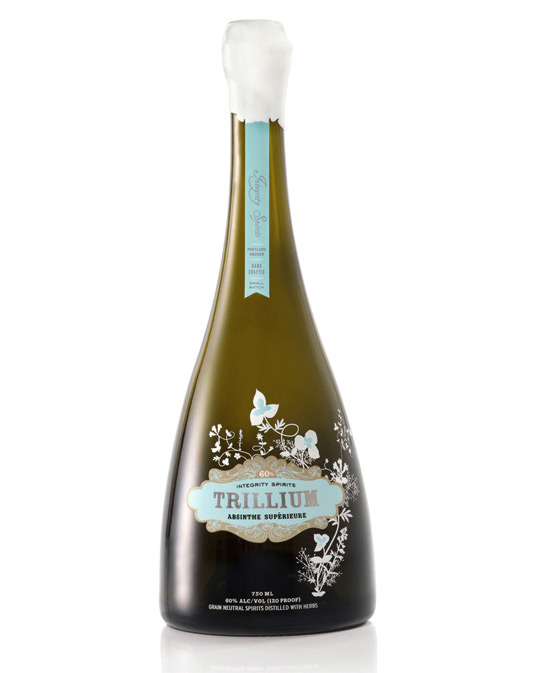 Designed by Jared Milam & Lily Chow | Country: United States
"Trillium Absinthe is one of the first legally produced absinthe's in the United States. Its another great spirit from Integrity Spirits in Portland Oregon.
The bottle has a distinct shape that communicates the elegance and ritual of absinthe. The botanicals used to make the absinthe are represented on the outside of the bottle in the label design. The bottle itself, is sealed with a wax cap. The layers of the design echo the complexity of the absinthe within.
Lily Chow, a close friend was designer. I was Art Director and QA throughout production. It took a long 6 months to go through government regulations. The bottle, and booze, are perfect."
June 29, 2009 | 1 Comment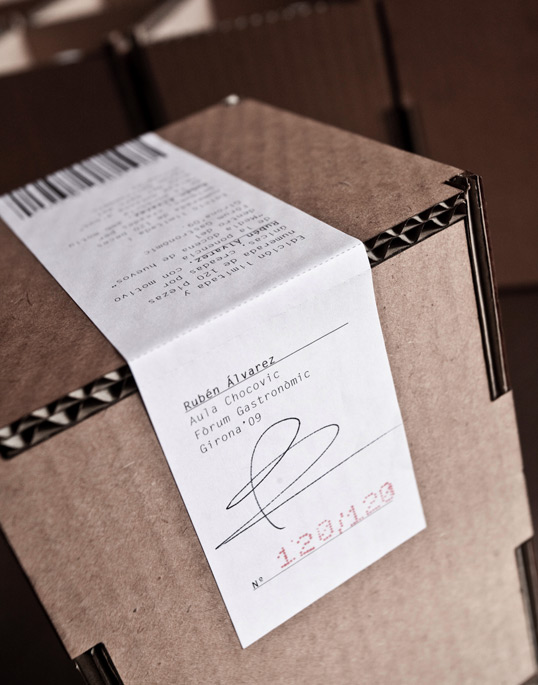 Designed by Zoo Studio | Country: Spain
"Packaging design for the limited edition chocolate work of art, "Huevo Código" (Code Egg), by the chocolate artist Rubén Álvarez. Each chocolate egg is numbered individually, and a label encloses the cardboard box, also signed and numbered by the artist."
June 28, 2009 | No Comments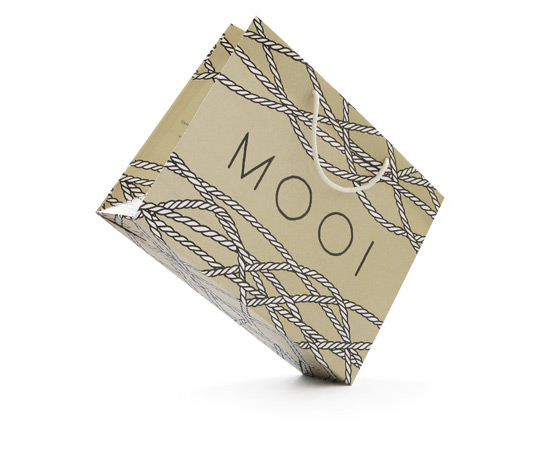 Designed by Maximilian Combüechen | Country: Germany
MOOI is a store for exclusive cashmere knitwear in Hamburg, Germany. The pattern on the bags is web of hand-illustrated threads, which repeats itself through all the applications of visual communication.
June 26, 2009 | 3 Comments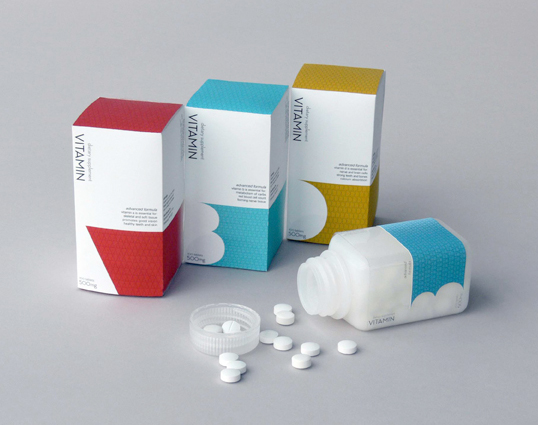 Designed by Robert Ferrell | Country: United States
Good packaging solution to get any designer, typography or colour fiend to take their vitamins.
June 25, 2009 | 5 Comments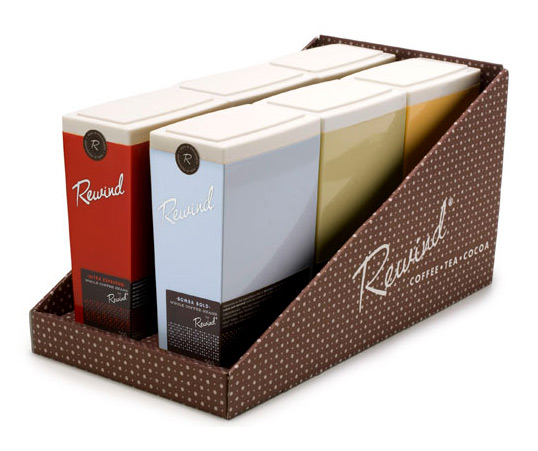 Designed by Studio Bomba | Country: Australia
"My, how we love this brand. Rewind and Bomba go together like Paris and the springtime, like Charles and Ray Eames, like coffee and cream, even. When Rewind came to us with thoughts of bringing together premium coffee and a shared love of mid-century design, we were pretty damn quick to hop on the brand-wagon.
June 24, 2009 | 2 Comments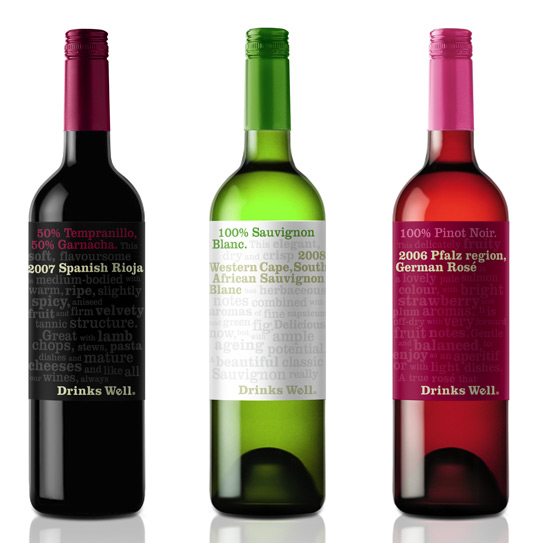 Designed by Robot-food | Country: United Kingdom
"The aim was to create a supermarket friendly label to appeal to the mass market. If a large retail channel or wine supplier wants an own brand with a clear message, offering delicious, good value, ready to drink wine, 'Drinks Well' is the ideal solution.
The visuals include three very different wines from separate countries and the label descriptions clearly state what the average consumer needs to know. They have uniform characteristics, starting with the grape variety, then a brief summary, followed by the region of origin and wine variety. Lastly is a detailed description that ends with a unique sentence backing up the fact that the wine 'Drinks Well'.
The range can include as many wines as required and there is clear colour distinction between the reds, the whites, and the rosés.
Robot-food is now targeting 'Drinks Well' to wine distributors and supermarkets in the hope that they will want to take the brand on."
June 24, 2009 | 5 Comments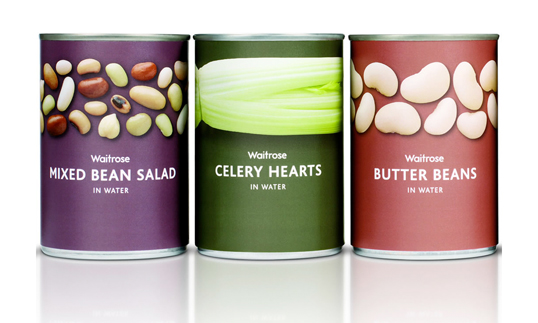 Designed by Turner Duckworth | Country: United Kingdom
Visually unified packaging solutions for a diverse variety of canned goods.