June 5, 2009 | 2 Comments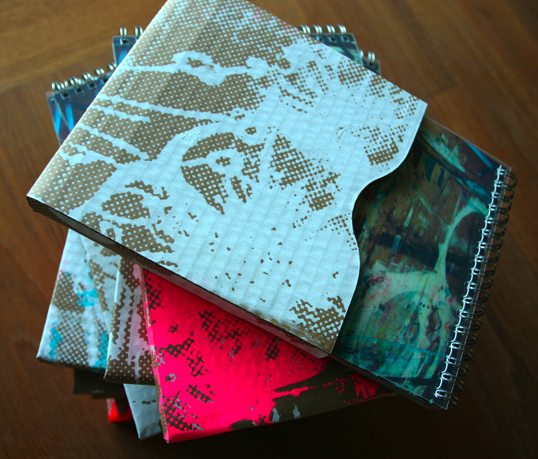 Designed by Tubbyphunk | Country: United Kingdom
"The new BA (Hons) Textiles & Surface Pattern student catalogue for Hartlepool (UK) based Cleveland College of Art & Design. A 40 page spiral bound full colour catalogue featuring individual student reference. Each brochure is presented in a 3mm Hand Screen printed C Flute cardboard pouch, LTD run of 500."
June 5, 2009 | No Comments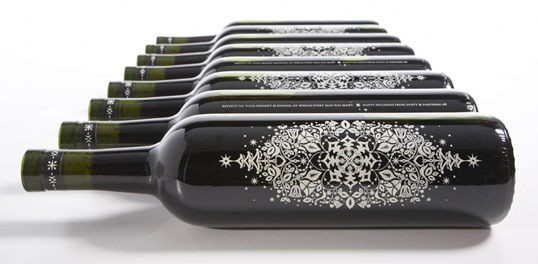 Designed by Duffy & Partners | Country: United States
Beautiful self-promotional piece from Duffy & Partners.
June 4, 2009 | 1 Comment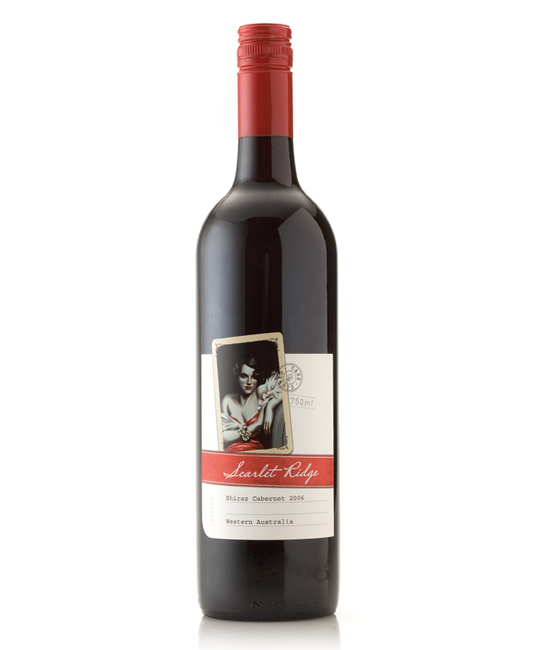 Designed by brainCELLS | Country: Australia | Fonts used: Courier, FF Trixie, Adobe Garmond, FF Dot Matrix, Miss Robertson
"If Scarlet Ridge wasn't a place, but a woman, what sort of woman would she be? Would she be a pin-up girl, a journalist, a seductress, a murderer?
The Scarlet Ridge wine label from Western Australia's Harvey River Bridge Wines brings the story of Scarlet Ridge to life. The concept is derived from Miss Scarlet a fictional character from the board game Cluedo and telling her story through a range of wine labels. Each label will uncover a new aspect of Miss Scarlet's personality like buidling a detectives suspect profile. The design of the label reflects this in its use of imagery and typography.
The label is printed on Fasson Estate 8 paper stock with a rolled laid texture, high build clear varnish to the playing card and a high build red silkscreen for the words 'Scarlet Ridge'."
Illustrations: Malcolm Lindsay @ Scribbles Illustration Studio.
June 4, 2009 | 1 Comment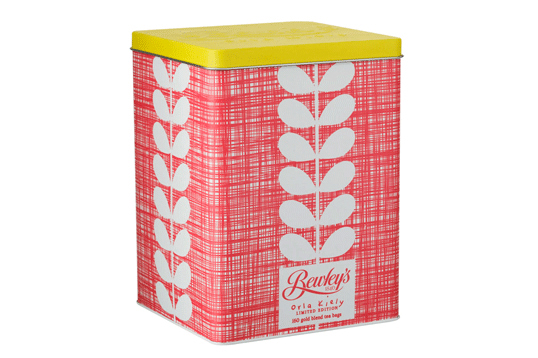 Designed by Orla Kiely | Country: United Kingdom
Serving as both protective packaging and tea storage solution, the Bewleys tea caddy is in its second limited edition run.
"Bewley's was an important sanctuary to me as a student living in Dublin and I am delighted to be working with them as they are an iconic Irish brand. We chose one of our signature prints – the 'Scribble Stem' in a classic red and cream with bright chartreuse contrast lid. We hope our tea caddy will add a flash of colour and become a treasured feature in the kitchen."
June 3, 2009 | No Comments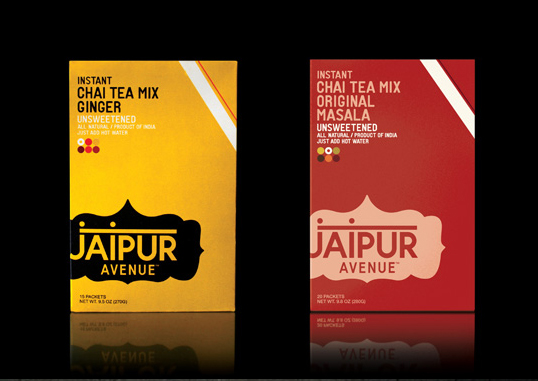 Designed by Turnstyle | Country: United States
"The faraway Indian city of Jaipur, famous for its royal palaces, colorful culture and romantic charm epitomizes the ancient chai tradition at its best. Jaipur Avenue is an instant passage to this magical land through an enthralling all-natural chai experience to be enjoyed anywhere, anytime. As diverse as the colors of India, so are the flavors of Jaipur Avenue chai: Ginger, Cardamom, Masala, Vanilla and Saffron."
June 3, 2009 | 1 Comment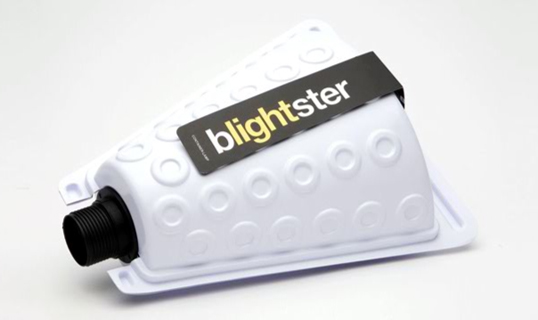 Designed by Rodrigo Alonso | Country: Chile
The package is also the product: a light and lampshade made using the same method used to manufacture blister packaging.
"The technique of thermoforming commonly used to make a container that once opened its rejected as trash, now is the final product: the container and content at the same time.  Blightster is a thermoformed lampshade that by simply attaching the electric connector found inside (does not require electrical installation), its transformed to a beautiful lighting piece, that may be used as a ceiling lamp as well as a table top one."
June 3, 2009 | No Comments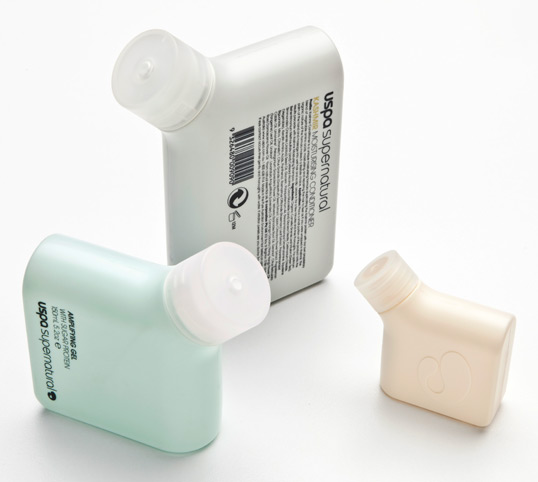 Designed by Container | Country: China/Australia
"For USPA's Supernatural hair care range the package design needed to express their philosophy – the combination of age-old botanical wisdom with the latest chemistry. The twist-cap extending up and out of the bottles represents nature and growth with the translucency revealing the technology of the mechanism. A rich colour palette, combined with bottle forms that orientate in a variety of configurations, allow strong merchandising options."
June 3, 2009 | 3 Comments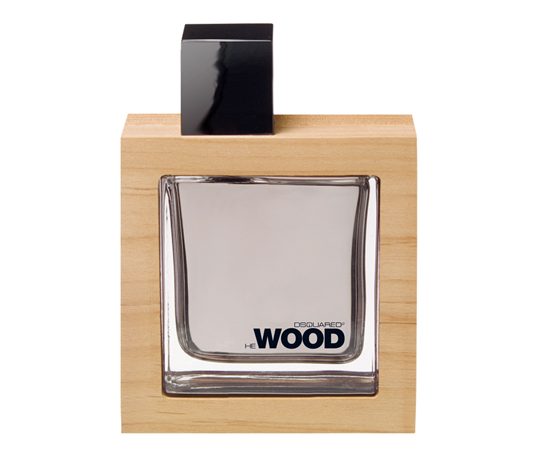 Designed by DSquared² | Country: Canada
Inspired by their Canadian heritage, identical twin design duo DSquared² created the fragrance He Wood with an outdoorsy vetiver scent.
"(The bottle) was inspired by a trip to our home country, where they have these bottles of maple syrup at the duty-free shop that come in a wooden box to protect it like it's precious. Plus we liked the idea of the contrast of warm wood and a cold glass bottle."
The square bottle cap and bottle shape play on DSquared²'s brand name, and the natural characteristics of the red alder wood means no too bottles are identical.
June 2, 2009 | No Comments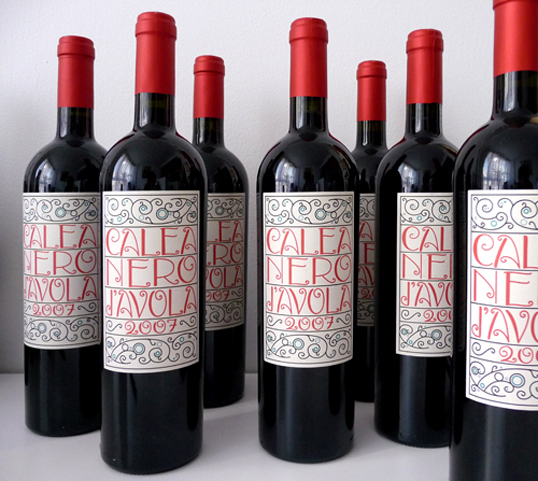 Art Direction: Louise Fili, Design & Lettering: Jessica Hische for Louise Fili Ltd. | Country: United States
Beautiful wine label design featuring ornate handlettering & illustration. Lovely!
June 2, 2009 | No Comments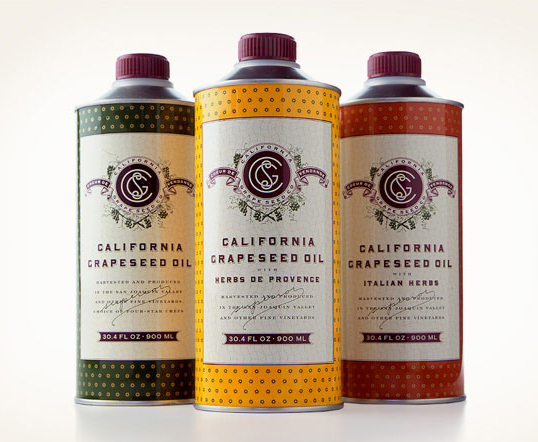 Designed by Louise Fili | Country: United States
"The design for this grapeseed oil for chef Jean-Georges Vongerichten combines a California and French sensibility—a West Coast color palette against a Provencal background motif."