July 15, 2009 | No Comments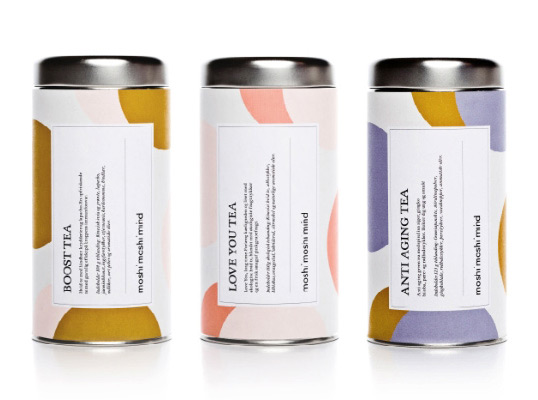 Designed by Designbolaget | Country: Denmark | Buy it
Award winning package designs for Danish brand Moshi Moshi. This simple yet colorful work picked up a gold at this years European Design Awards.
July 15, 2009 | 4 Comments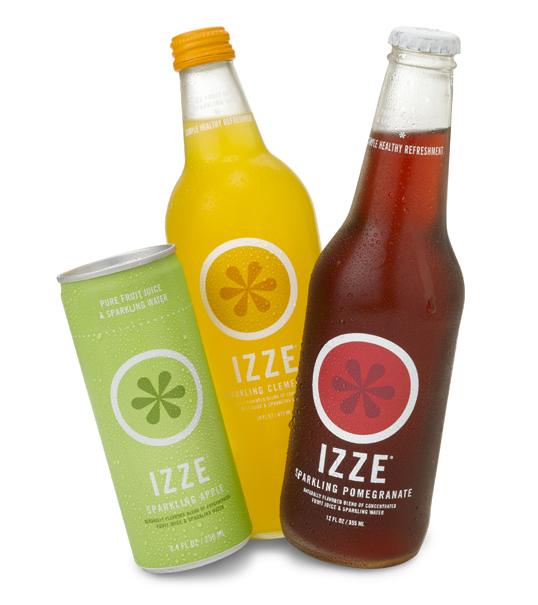 Designed by TDA | Country: United States
"IZZE came from us hanging around in grocery stores amazed by all the clutter inherent on almost every package we put our hands on. We were determined to find a better, simpler way. We also wanted to make packaging for an organic, natural, juice-sweetened soda that would attract people who don't care about that sort of thing. And the kids had to like it, too."
July 14, 2009 | 7 Comments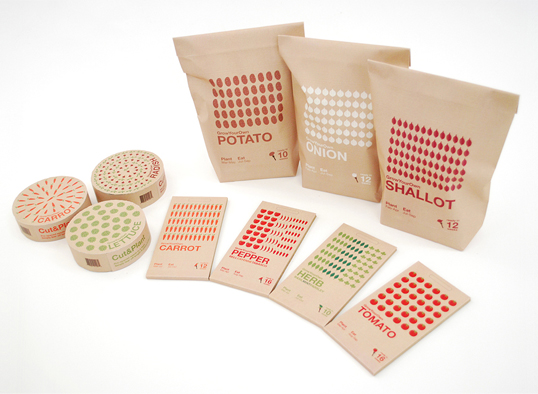 Designed by Adam Paterson and Santi Tonsukha | Country: United Kingdom
 Adam Paterson and Santi Tonsukha, students from the Royal College of Art have sent us in some images of their latest project 'GrowYourOwn', packaging for fruit and vegetable seeds for novice gardeners. This range of packaging works extremely well, the combination of clean attractive graphics with simple sustainable materials compliment how well each individual piece fulfils its purpose perfectly. Having won the 'In-Book' award for the D&AD student Awards 2009 we are eagerly awaiting their forthcoming projects.
July 14, 2009 | 1 Comment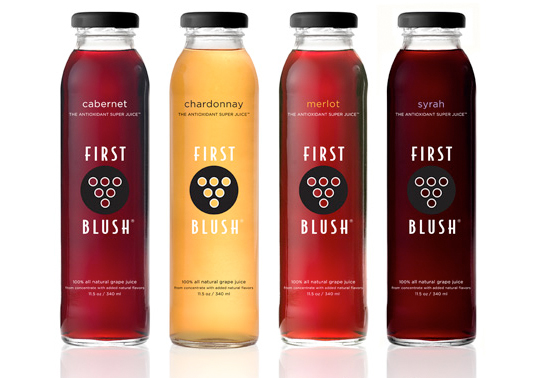 Designed by Ferroconcrete | Country: United States
"First blush is the first grape juice made from wine grapes. Ferroconcrete developed a new creative expression to reflect the hues and colors of varietal grapes, aiming to communicate a more sophisticated grape juice."
July 14, 2009 | No Comments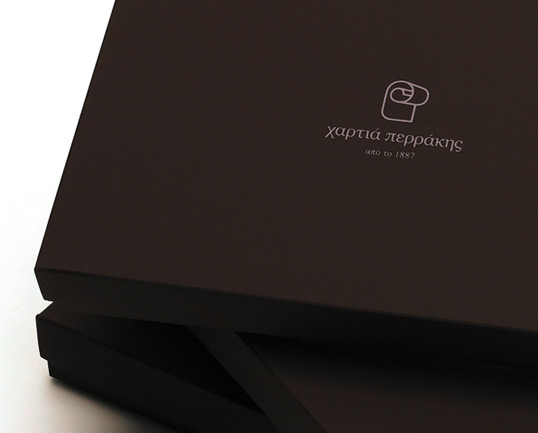 Designed by Chris Trivizas | Country: Greece
"How well do you know the secrets of paper? The paper surely knows yours-after all, most probably you have written some of them on it! Now it's the time to get acquainted with its secrets. The fastest learner wins! /Learn them well and you're the winner!
The box contains 20 question cards, divided into 4 color categories according to the degree of difficulty of each question. 5 green (very easy), 5 orange (easy), 5 brown (difficult) and 5 purple (very difficult)."
July 13, 2009 | 4 Comments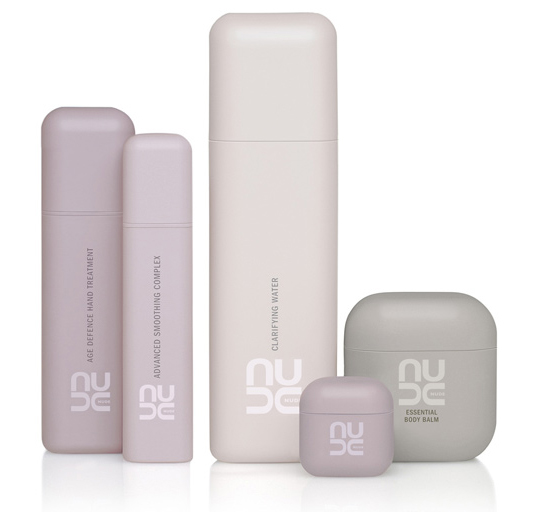 Designed by Pearlfisher | Country: United Kingdom
Beautiful package design for an entrepeneurial luxury skincare company. A great example of minimalist package design reinforcing the brand's identity.
July 13, 2009 | 9 Comments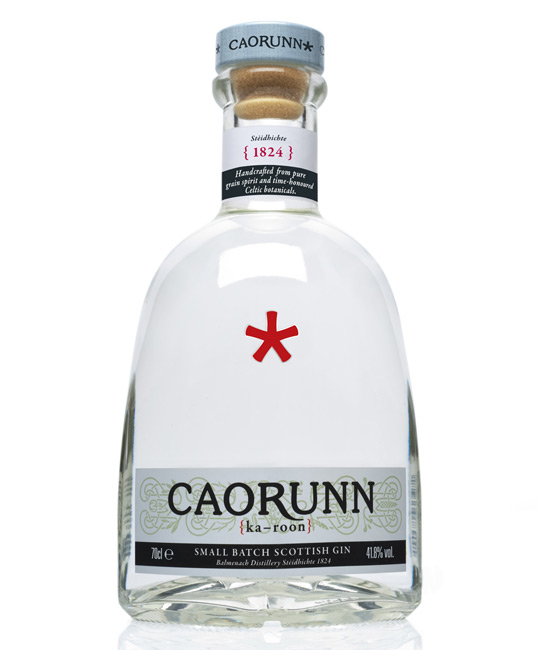 Designed by Navyblue | Country: United Kingdom
"Influenced by the Scottish Art Nouveau movement, the unique five-sided base of the beautifully handcrafted Caorunn bottle and the symbolic asterisk represent the five Celtic botanicals.
"We're extremely excited to be launching Caorunn this summer, a truly Scottish Gin, the only one which is made at a working malt whisky distillery," said Iby Bakos, Brand Manager. "The perfectly balanced recipe of eleven hand-picked botanicals – including the infusion of five Celtic botanicals – ensures its naturally balanced flavor that works perfectly in cocktails. We're confident it will attract the attention of bar tenders and mixologists alike."
July 12, 2009 | 31 Comments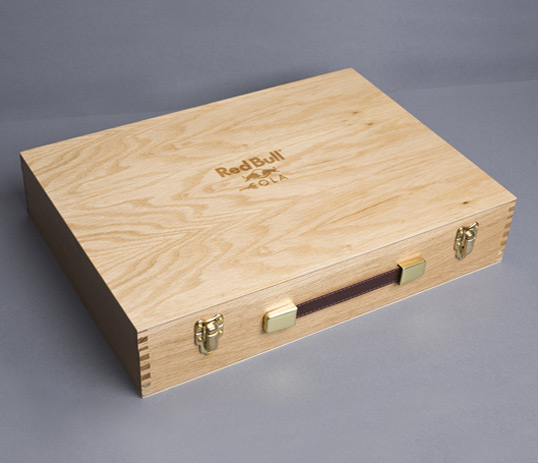 Designed by Design Friendship | Country: United Kingdom
"Project brief: To create and produce an engaging, interactive sampling tool.
Beautifully handmade, the show cases contain the 17 key/natural ingredients that make up the Red Bull Cola taste."
July 11, 2009 | 1 Comment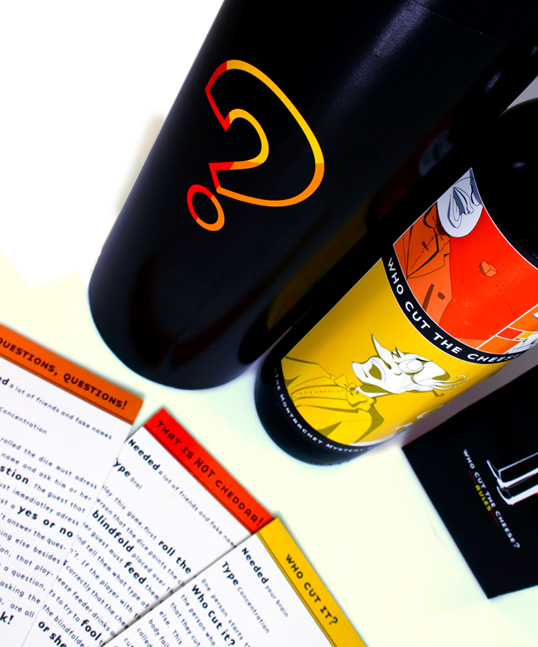 Designed by Jason Lorne Giles | Country: United States
Jason is a recent graduate of the Pennsylvania State University graphic design program.
"Who Cut The Cheese?: The Montrachet Mystery Game" is a self-promotional wine game that offers a new perspective to the wine drinking experience. The wine would be sent out to clients on Blame Someone Else Day, which is the first Friday the 13th of the year. Players would spin the wheel and choose the character card's rules that accompany each color. All characters were named after stinky cheeses and each has his/her own back story. The rules revolve around accusing people of various things or cheese/wine tasting."
July 10, 2009 | 2 Comments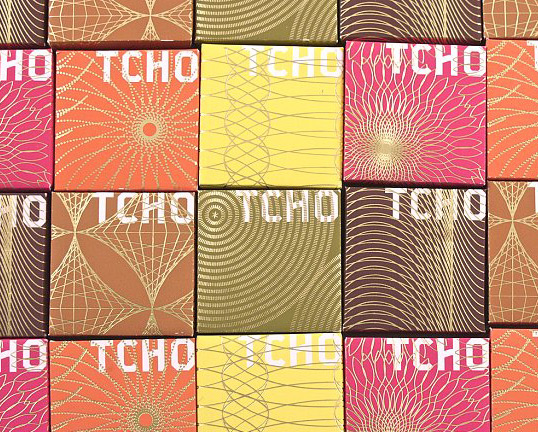 Designed by Edenspikermann | Country: Germany | Buy it
We updated this post with beautiful new photos, and because it's such amazing work, felt that it should be brought back up to the front. Read up on Designer Susanna Dulkinys rationale for the design after the jump.