November 23, 2009 | 4 Comments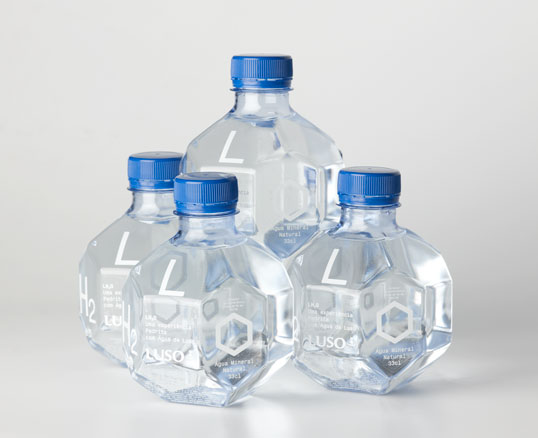 Designed by Pedrita | Country: Portugal
LH2O is a research project on a new form for Água de Luso (Luso water) and the result of a collaboration between Pedrita studio and the Luso brand. This project aims to find not only a new form for this liquid, but also to come up with a bottle that illustrates the qualities and unique properties of Água de Luso, which has been part of the life and body of the Portuguese for over 150 years. That's what made us – naturally – add a new element to the chemical formula of water, redesigning the way we see, read and know Água de Luso.
November 23, 2009 | 6 Comments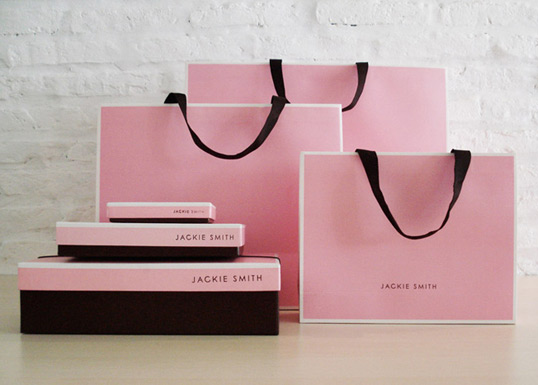 Designed by FBDI® | Country: Argentina
"We developed this brand of handbags, shoes and small goods, designing the visual identity, packaging, ad campaigns and collateral. Jackie Smith can be defined as classical, feminine and romantic, luxurious but within an affordable price range, obsessively caring for details, timeless, with an international spirit and a strong concept of collection. The packaging reveals in different dimensions the experience on Jackie's world propounding surprise, fantasy and details."
November 22, 2009 | 8 Comments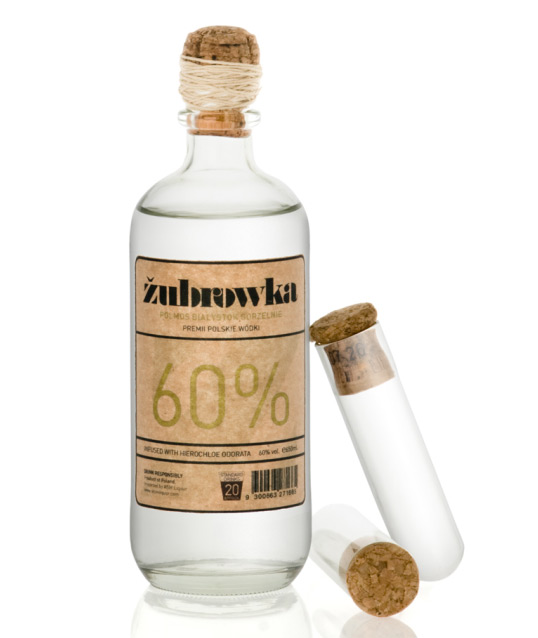 Designed by Elisabeth Limi | Country: Norway
Design suggestion for Polish Vodka brand Zubrówka. Taking the brands history and origin into the design context with a medicine twist.
November 22, 2009 | 3 Comments
Designed by Amanda Kulik | Country: United States
Thanks to recent design graduate Amanda for sending in this concept for a 'man-friendly' tea.
"Forget the sweet smelling stuff that comes in the pretty little jars with the pretty little bows and a flower on the front- Texas-T is for men. Finally there's a hot tea men don't have to be ashamed to drink or buy. It even ships in a discreet crate – so manly."
November 21, 2009 | 30 Comments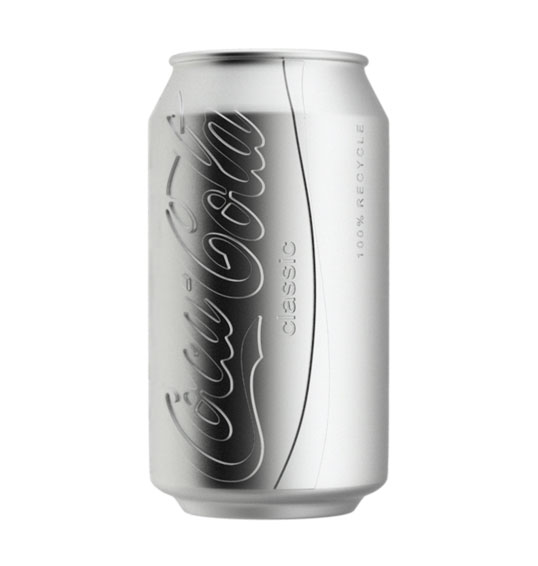 Designed by Ryan Yoon & Harc Lee | Country: United States
A conceptual package design, which at this time is unaffiliated with Coca Cola, created to drastically reduce the cost of both initial manufacturing and recycling.
"A convex logo substitutes colorfully sprayed can. Naked can help to reduce air and water pollution occurred in its coloring process. It also reduces energy and effort to separate toxic color paint from aluminum in recycling process. Huge amount of energy and paint required to manufacture colored cans will be saved. Instead of toxic paint, manufacturers process aluminum with a pressing machine that indicates brand identity on surface."
November 21, 2009 | 2 Comments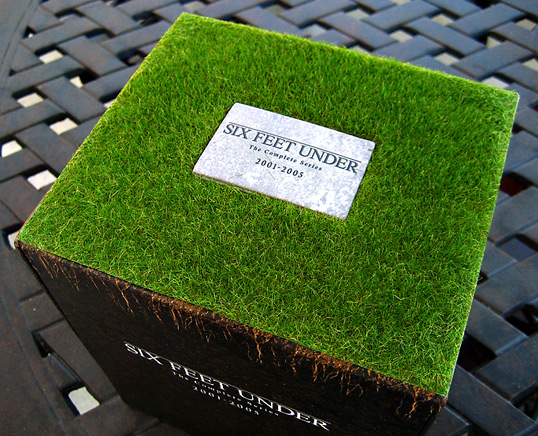 Country: United States
The packaging for the complete season of Six Feet Under is absolutely amazing. Designed to look like the cross section of a graveyard, this package comes complete with fake grass on top as well as it's own gravestone. We'd love to know who designed this if anyone can shed some light.
Via Becker's Blog
November 20, 2009 | 4 Comments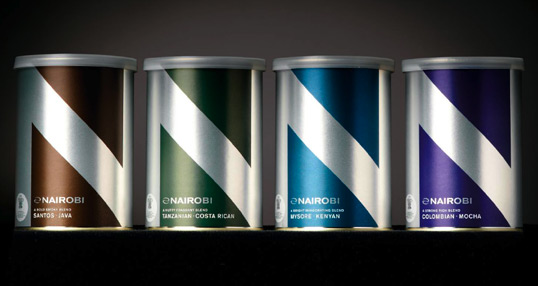 Designed by Mayday | Country: United Kingdom
Isolating the 'N' from Nairobi not only reinforces the brand name, but it also makes for a nice sophisticated design element for this Japanese line of coffees.
November 20, 2009 | No Comments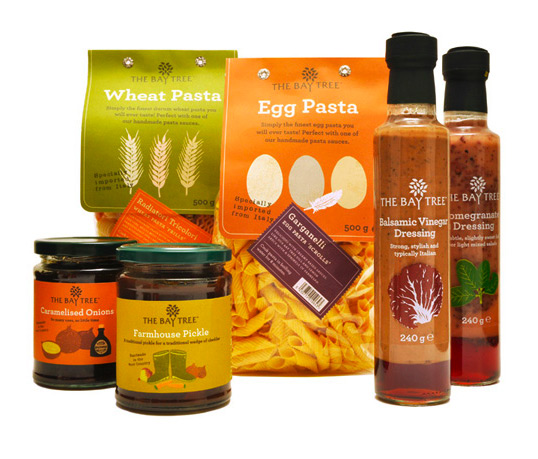 Designed by Irving & Co | Country: United Kingdom
"Irving have been commissioned by the founders of The Bay Tree to overhaul their complete range of food products. In short their philosophy is that The Bay Tree food products offer a 'helping hand in the kitchen'. Products such as ready made cooking sauces, pickles and condiments help busy people save time in the kitchen. All of the products are hand made in The Bay Tree kitchens rather than processed in a large factory. The best possible ingredients are used and were possible they are sourced locally – these ingredients are often reflected on the labels. The hands-on, informal and friendly approach of the founders Emma McDonald and Lucie Lewis is reflected in the design of the labels. Irving have been working with the celebrated British illustrator Chris Brown to bring charm, wit and a distinctive personality to the brand."
November 19, 2009 | 2 Comments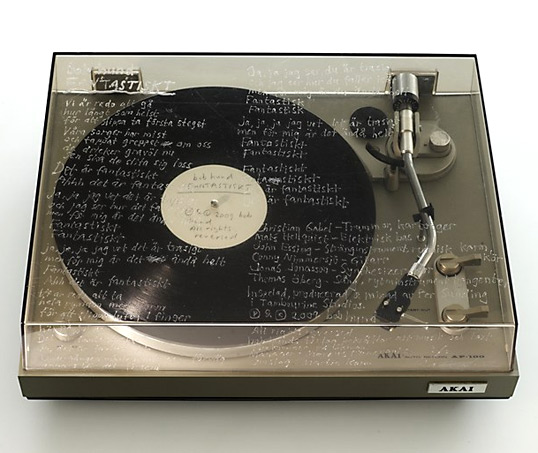 Designed by Martin Kann Design | Country: Sweden
"The Swedish rock band Bob Hund released their single Fantastiskt (fantastic) as a one copy vinyl record that only allows 30 playings. The record was placed on a turntable with the lyrics etched on the turntable lid. It sold on eBay for US $3,650 and became the most expensive record ever sold in Sweden."
November 19, 2009 | 2 Comments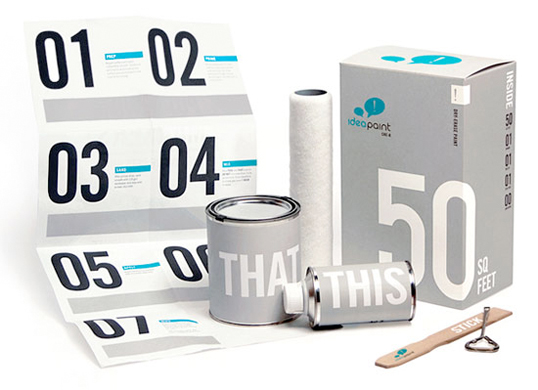 Designed by Jones | Country: United States
"IdeaPaint turns virtually anything you can paint into a dry-erase surface. Big graphic elements emphasize the product's simplicity. 50 square feet. Mix THIS into THAT with the STICK."