December 27, 2009 | 6 Comments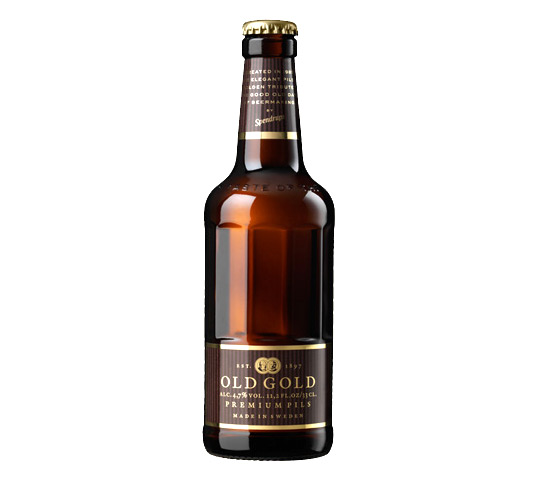 Designed by Neumeister | Country: Sweden
"Input: Old Gold has been the flagship in the Spendrups brand portfolio since 1985. Noted for its design when it was launched, it has recently begun to fall by the wayside after a number of design updates.
Output: The new decagon bottle and the clear design language take us back to another age. A golden tribute to the good old days of beermaking, combined with a firm grip on the 21st century.
Outcome: The relaunch was a great success, despite the design upgrade being the only activity."
December 26, 2009 | 3 Comments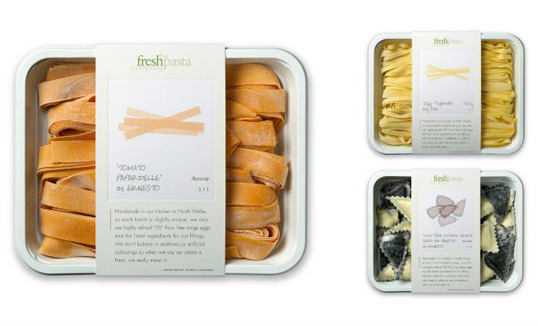 Designed by P&W | Country: United Kingdom
"The brief: Packaging for a company producing high end, handmade fresh pasta. The solution: We created fine art style prints of the pasta shapes, each one signed by 'the artist'. The result: Improved sales and increased listings with no advertising support."
December 26, 2009 | 4 Comments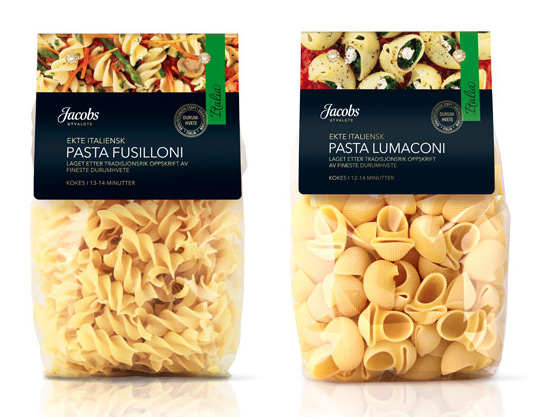 Designed by Strømme Throndsen Design | Country: Norway
Beautiful brand creation work from Norway's Strømme Throndsen Design. Responsible for the strategy, brand identity, naming, logo and packaging, they came up with a solution overflowing with appetite and shelf appeal.
December 25, 2009 | 3 Comments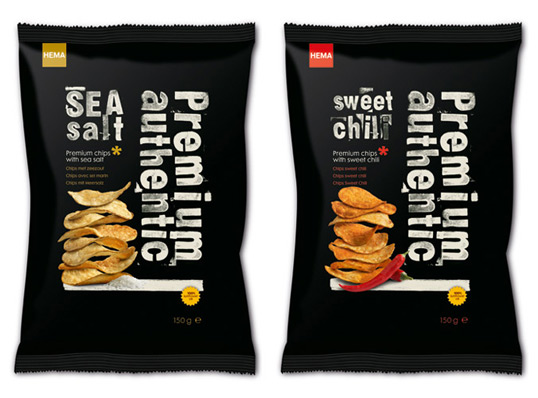 Designed by Studio Kluif | Country: The Netherlands
"Kluif designed the entire packaging line for Hema's salty snacks. The packaging line is divided into 3 different categories- premium, basic and tortilla. We were inspired by the wooden crates that are used to transport vegetables & fruit for their authentic feeling and of course the classic childhood pastime of making potato stamps. To transpose these positive references to the packaging we stamped the typography ourselves thus achieving a genuine and homey atmosphere. Kluif sought crisp, fresh photography, and a composition that would give the feeling of lightness. The extruder line is composed of 'twistbites', 'robo rings' and 'cheese sticks' and makes use of a more illustrative graphic language which also was designed in dialogue with the photography used."
December 25, 2009 | No Comments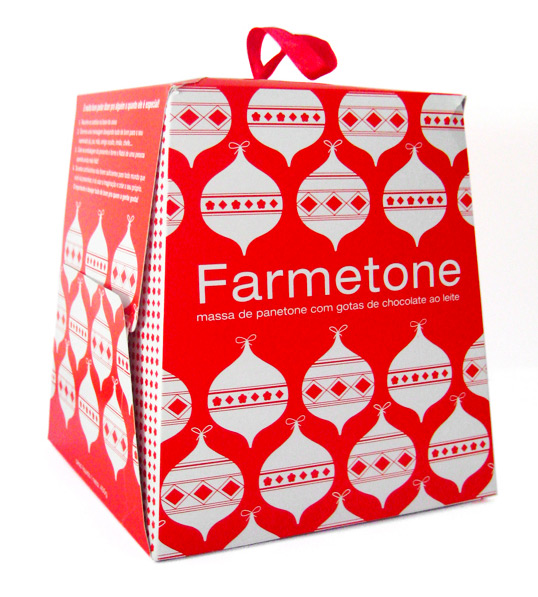 Designed by Flavia Oliveira Designs | Country: Brazil
"Farm is a clothing brand with more than 20 stores in Brazil. Every year they design a different package for the Panetone they give to their partners. (Panetone is a tall bread studded with candied fruits and nuts and enjoyed for its light, fluffy texture).
They commissioned me to design this year Panetone. They gave me freedom to do what I wanted but I could only use 1 color. They also wanted the package to have something special, with a DIY feel, which relates a lot with the brand. So I came up with the idea of using the bottom of the package as gift tags that you cut and use it as you wish."
December 24, 2009 | No Comments
Designed by Lisa Llanes | Country: United States
"Belly Sutra is a line of scrubs that invigorates and smooths the skin, specifically formulated to be safely used during pregnancy."
December 24, 2009 | 10 Comments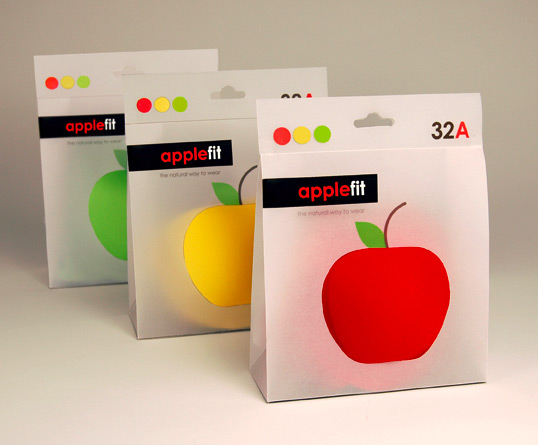 Designed by Tiffany Shih | Country: United States
"This is a concept for a "RePackaging" assignment in which I chose to repackage bras. The packaging was inspired by a KBG commercial in which a young man asks how to tell his girlfriend's breast size. The answer was to simply relate them to a piece of fruit: "Are they apples, oranges, or grapefruits?"
I thought it was a hilariously cute ad and decided to create a line of bras whose packaging corresponded with the appropriate fruit sizes. A cups are apples and B cups are oranges and etc. Since the concept was very "fruity" in nature, the dingy hangers that lingerie normally came with seemed no longer appropriate as I wanted something light and playful."
December 23, 2009 | 2 Comments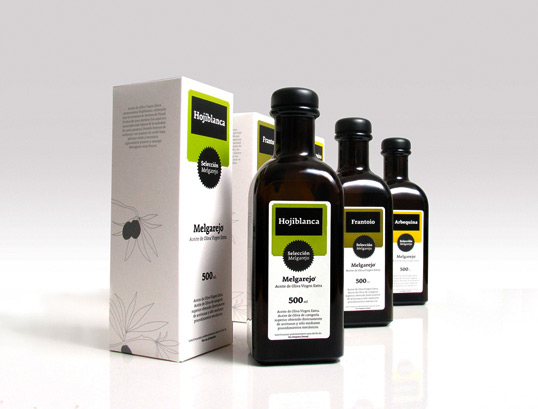 Designed by RSC Estudio | Country: Spain
Clean and simple design for Melgarejo Extra Virgin Olive Oil.
December 22, 2009 | 7 Comments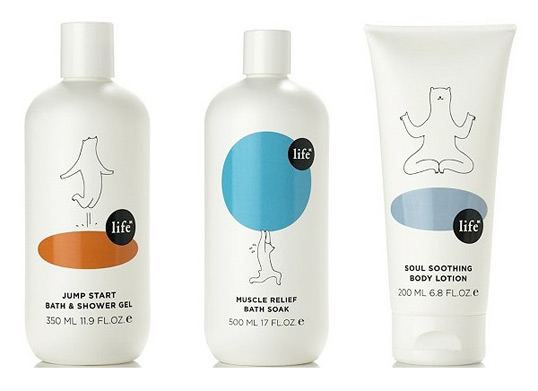 Country: United States
Playful and fun packaging for Life NK health and beauty products. Does anyone know who is responsible for this lovely work?
December 21, 2009 | 1 Comment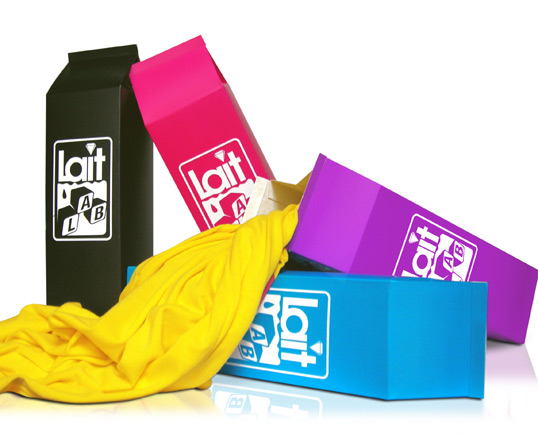 Designed by Laitlab | Country: Italy
Creative and unique packaging for Naples based street wear brand Laitlab.