January 31, 2010 | 6 Comments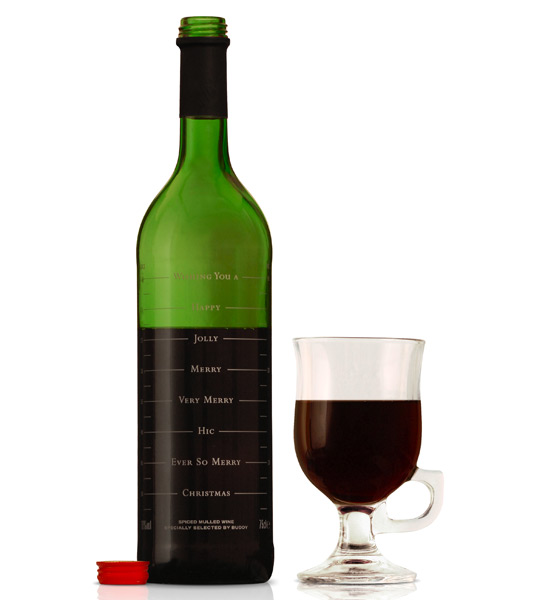 Designed by Buddy | Country: United Kingdom
"As a seasonal greeting to clients and friends Buddy designed and sent bottles of spiced mulled wine.
Their Christmas wishes were pad printed matte silver directly onto the glass of the bottle, the design being suggestive of measuring jug graphics.
The concept therefore, the more you drink the merrier the message.
January 30, 2010 | Comments Off on Fedrigoni Sirio Color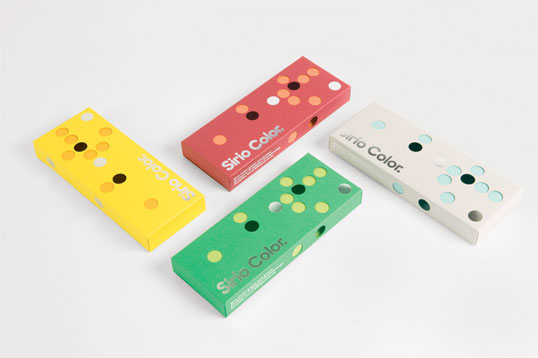 Designed by Design Project | Country: United Kingdom
"Design Project have just completed a new paper promotion for Fedrigoni to promote the Sirio Color range. The campaign focuses on a series of neatly engineered self-closing coloured boxes made from carefully selected combinations of colours from the Sirio range. Designers are invited to make up a series of coloured boxes to experience the usability of the papers and to explore the colours. Boxes are die-cut and foiled with a series of circles and when combined (by inserting one into the other) create interplay between colours. The result is an object that explores paper through form, structure and experience. The boxes will be accompanied by an A1 poster that illustrates all the combinations featured in the promotion."
January 29, 2010 | 3 Comments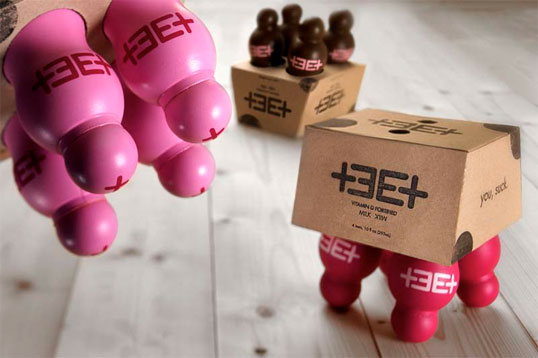 Designed by <a href="http://www.as
hleylinnenbank.com" target="_blank">Ashley Linnenbank | Country: United States
"Milk packaging sure to get noticed on the shelf. Available in skim, chocolate, and whole."
zp8497586rq
January 28, 2010 | 4 Comments
Designed by Jose Antonio Contreras | Country: United States
Minimal and typographic wine label for Brooklyn-based PRP Winemakers.
January 28, 2010 | 2 Comments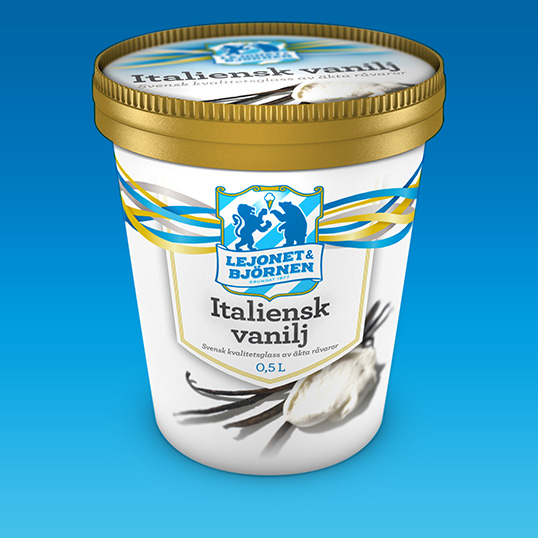 Designed by Motherland | Country: Sweden
"Swedish brand Lejonet & Björnen has been producing premium ice cream since 1977. In 2009, Lejonet & Björnen's new owners developed the brand further, among other things focusing more on being environmentally friendly and locally produced. In connection with this, the decision was made to recharge the brand to reflect this change.
The challenge with this rebranding was to keep as much as possible of the existing brand identity, and at the same time deliver a new, familiar but refined, brand experience. Tradition and heritage, paired with modernity and fresh thinking. The visual identity builds on and updates the heraldic theme of the brand's old logotype, and combines this with modern colours and typography."
January 28, 2010 | 3 Comments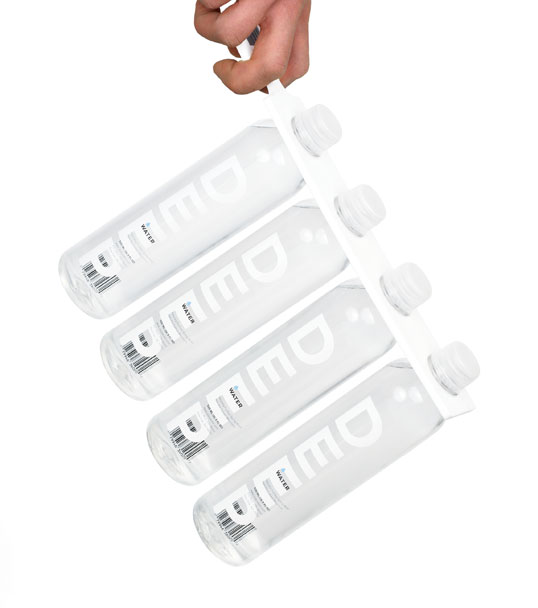 Designed by Jesse Kirsch | Country: United States
"Elegant and clean typography along with a  unique caddy design allows Deep Water to stand out from its competition. The large white letters of DEEP along wit
h small droplet in pale blue allow the clear water inside the bottle to remain prominent and appetizing. The caddy, which features a self-holding joint, needs only a small sticker on the other end to remain closed. The sticker not only acts as a means to keep the caddy closed, but also serves as its label including a barcode, price and other information. Two small notches in the caddy allow the customer to hold the 4-pack comfortably."
zp8497586rq
January 27, 2010 | 5 Comments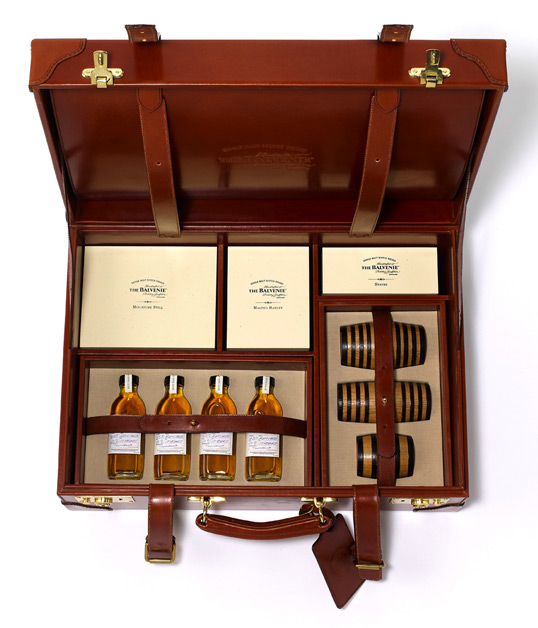 Designed by Here Design | Country: United Kingdom
"A hand-crafted leather case for The Balvenie Ambassador to present the Balvenie story from barley to bottle.
The case contains bespoke boxes which are individually tooled to hold ears of barley, a miniature copper still, cask samples, miniature barrels and tasting bottles."
January 27, 2010 | 1 Comment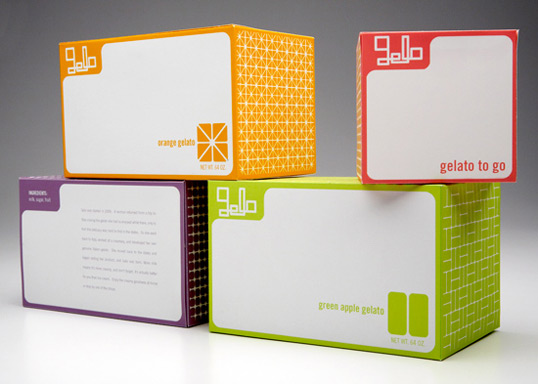 Designed by Beryl Firestone
"Gelo is authentic Italian gelato packaged for the masses, with a nod to the old school paper box ice cream cartons, while still maintaining a hint of the rectangular shape of the tins it's served in across the pond. geometic patterns for each flavor let you know which flavor it is from any angle. colors reflect fruit flavors, white represents the milk. (only 2 colors per box = white, color… represent the 2 primary ingredients – fruit/flavor & milk)"
January 26, 2010 | 7 Comments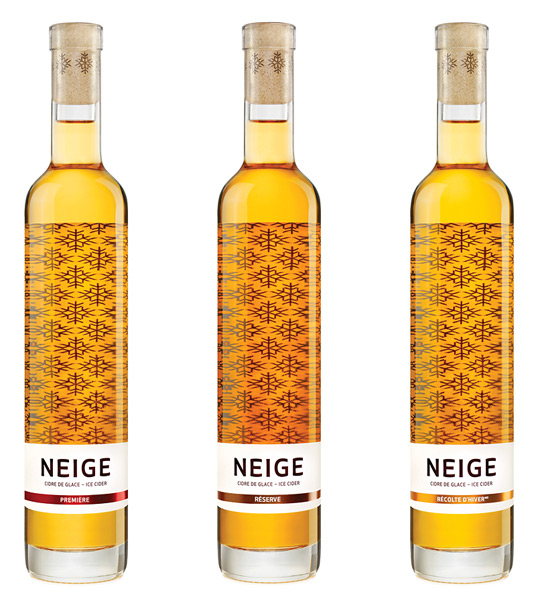 Designed by Chez Valois | Country: Canada
"Inspired by the technique used to make ice wine and by Québec's very particular climate, Neige (meaning snow in English) ice cider was born out of this Canadian province's terroir, which has the extreme cold winter temperatures needed to produce the concentration of sugars for its creation.
January 26, 2010 | 1 Comment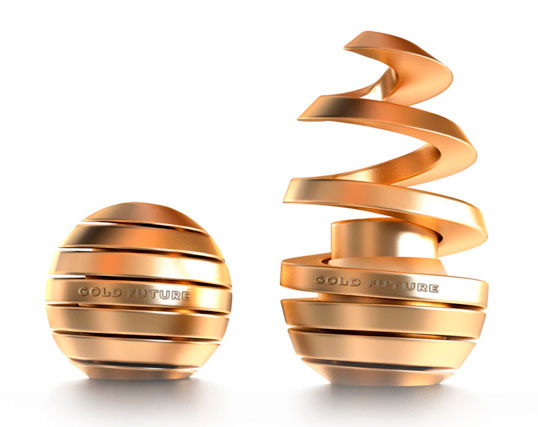 Designed by Freedom of Creation | Country: The Netherlands
"L'Oreal group is the global leader in cosmetics and has over a century of experience
in the business. With 58 offices throughout the world, L'Oreal distributes its 18 brands in 130 countries. Helena Rubinstein, one of the key brands of the group, wished to have a special package design made for the launch of its new "Gold Future" eye reviver cream. Freedom Of Creation designed and produced 66 pieces of this unique packaging out of flexible nylon, with a gold finishing layer."
zp8497586rq