February 14, 2010 | 8 Comments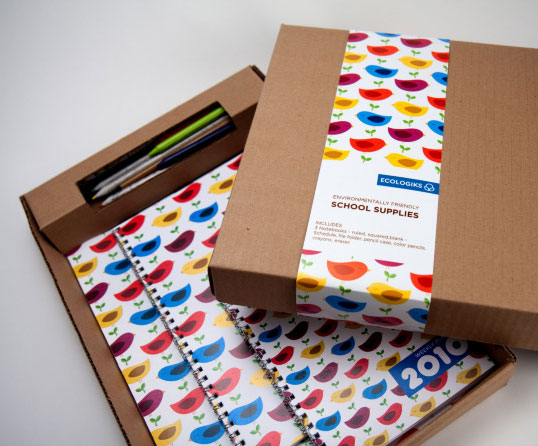 Designed by Marisa Torres | Country: Canada
"Ecologiks is a line of eco-friendly school supplies. Made with recycled and post-consumer materials, Ecologiks presents an alternative to unsustainable, generic or brand name, or otherwise dull school supplies. The brand is inspired and manufactured for children. The package offers a full range of products—mainly school supplies. We intend to offer variety packages that include notebooks, pencil cases, calendars, and other stationery."
February 13, 2010 | 6 Comments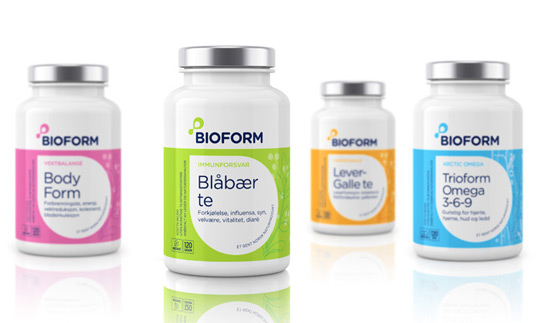 Designed by Strømme Throndsen Design | Country: Norway
Norwegian based Bioform is a producer of natural health care products. Strømme Throndsen Design was responsible in creating the brand identity, logo and package design.
February 12, 2010 | 6 Comments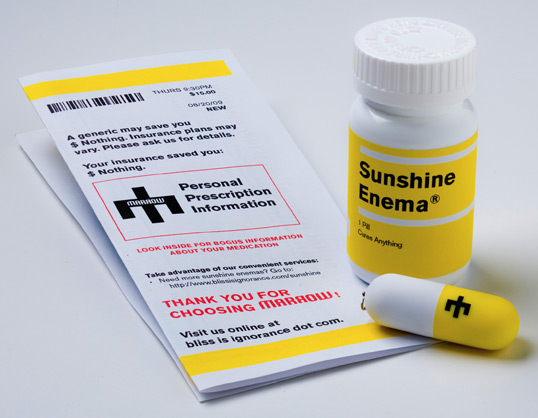 Designed by Jeremy & Erin Fortes | Country: United States
"The face of Marrow is three people. But behind the scenes there are about twenty of us with a strong background in branding and design from all disciplines – from naming and writing, to print and packaging, to interactive and animation (not to mention music production, which is really what this is all about!)
We realized that it was essential for us to bring the same kind of inspiration to the branding of our own work as we would expect ourselves to deliver to any of our clients. Our first CD, 'Quiet Desperation', was beautifully designed, but it was still just a CD – and CD's aren't enough anymore. Thinking outside of the CD case was liberating.
February 12, 2010 | 2 Comments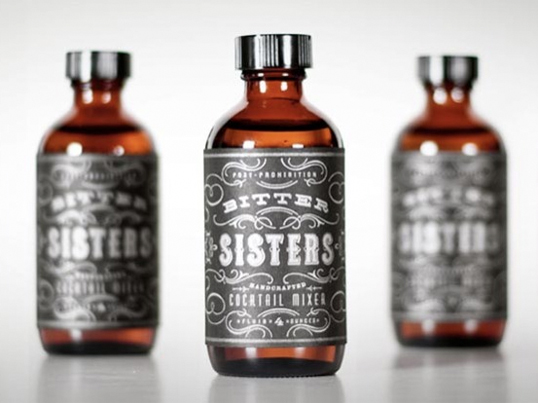 Designed by Shane Cranford | Country: United States
"The guys at Single Brothers Bar concocted a bitters so tasty, they had to bottle it. A brown medicine bottle was chosen, tipping a hat to the fact that bitters were originally sipped as a health tonic in the 1800's. Eventually, bitters mingled with a more powerful beverage, becoming the cocktails we know a
nd love today. So, it was only fitting that the Bitter Sisters Cocktail Mixer design be a throw back to the yonder years, with a flair for over embellishment, flourishes, elaborate type work and letterpress printing."
February 12, 2010 | Comments Off on The Optimist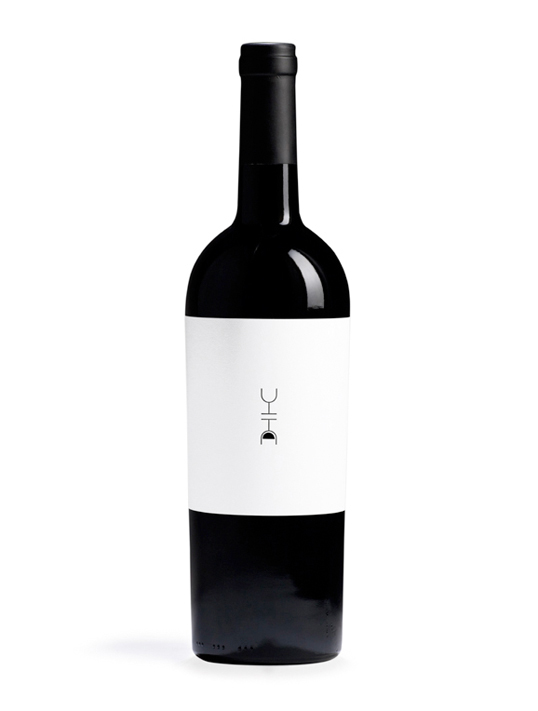 Designed by Greg Bennett | Country: United States
The Optimist is a self-promotional holiday wine bottle. Each year Siquis shows their clients how much they care by designing a custom wine bottle label just for them. The label is always created by a different designer in their creative department. This year's graphic was designed to play on "is the glass half empty or half full" concept. Obviously, once the recipient rotates the bottle to fill their glass, the glass on the label becomes half full.
February 11, 2010 | 12 Comments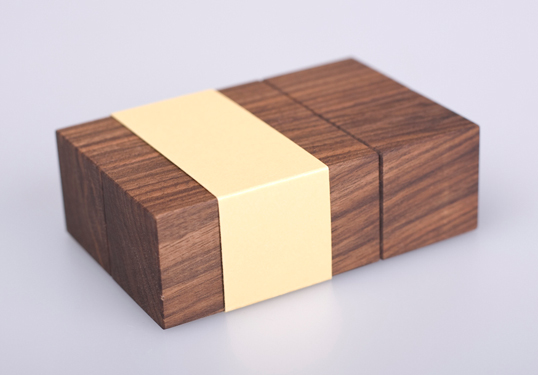 Designed by Gerlinde Gruber | Country: Austria
Thanks to Gerlinde for sending in her very lovely conceptual design for jewelry packaging. We're loving the approach. The paper sleeve offers excellent opportunities for branding and labeling, and the size of the box creates a larger, more substantial product out of a small piece of jewelry.
"This packaging is made of six identical wooden cub
es made of oiled nutwood. A leather hinge provides the opening function, a paper loop is used as closure. KLOTZ is not only for protecting the jewelry, but also for presenting it! The whole packaging is made out of natural materials and is 100% biodegradable."
February 11, 2010 | 4 Comments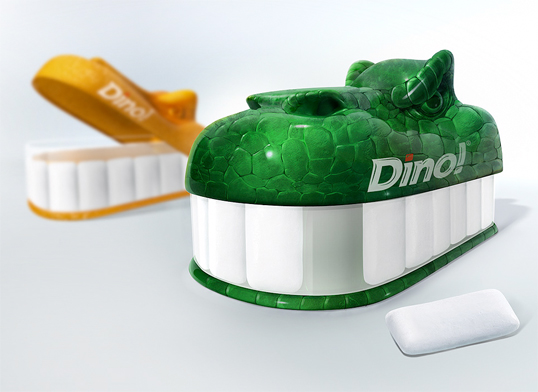 Designed by BQB | Country: Russia
"Have you ever thought how strong the dinosaur's bite was? At BQB we're sure their bite was very strong, thus dinosaurs must have had very strong teeth. As a result of our conceptual training BQB's designer Galima Akhmetzyanova came up with a great idea – to create a gum package shaped like dino's jaws."
February 11, 2010 | 5 Comments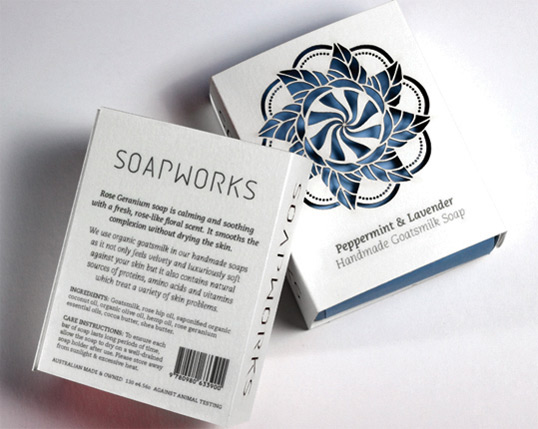 Designed by Lucy Hargrave | Country: Australia
"Designed in collaboration with Josh Tatarynowicz, these packages were for a handmade goats milk soap company. We created four intricate Mandala patterns based on the natural ingredients used in each soap flavour; like peppermint leaves, rose petals & lemon slices. The patterns are laser cut out of card and allow for the soap to be smelt through the packaging."
February 10, 2010 | 2 Comments
Designed by Strømme Throndsen Design | Country: Norway
Fresh premium elk products dressed in beautifully designed and simple packaging.
February 10, 2010 | 2 Comments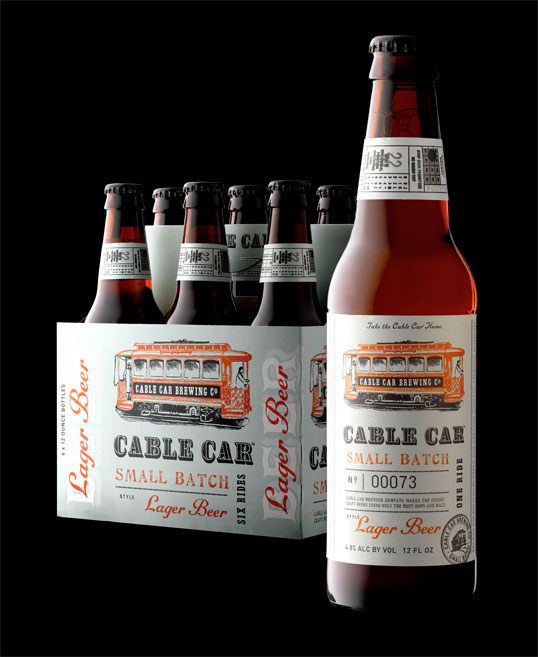 Designed by <a hr
ef="http://www.strangerandstranger.com" target="_blank">STRANGER & STRANGER | Country: United States
Stranger and Stranger specialize in packaging design for wines, spirits and beers.
zp8497586rq