April 14, 2010 | 4 Comments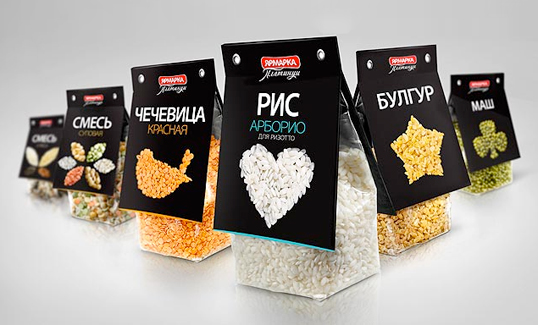 Designed by KIAN | Country: Russia
The strong graphics and high value contrast of this packaging ensures it will stand out on a shelf. We especially like the 'sandwich board'-esque labeling technique and the way it fastens to the bags with metal grommets.
April 14, 2010 | 2 Comments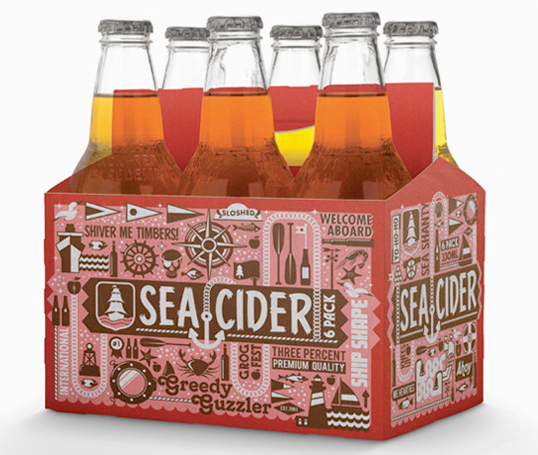 Designed by ILoveDust | Country: United Kingdom
Playful, colourful packaging for a UK-based cider company, Hearts Cider Makers.
April 14, 2010 | 22 Comments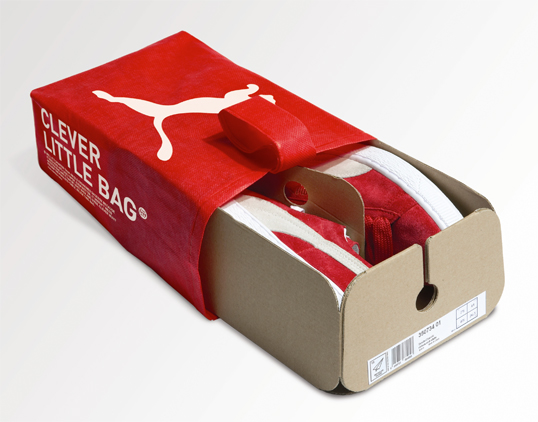 Designed by Yves Behar of Fuseproject | Country: United States
"For the last 21 months we have been thinking about shoeboxes: how to fold them, how to ship them and how to reduce them. In the end, we decided to get rid of them altogether because along the way we discovered a new design solution….a "clever little bag".
Why so clever? By providing structure to a cardboard sheet, the bag uses 65% less cardboard than the standard shoe box, has no laminated printing, no tissue paper, takes up less space and weighs less in shipping, and replaces the plastic retail bag. Now happy Puma customers will take home the clever little one instead.  Oh, and that little bag is non-woven which means less work and waste (it is stitched with heat), and after accompanying you in your suitcase wherever you may go, our little friend is even recyclable.
With our "clever little bag", Puma kicks-off the next pivotal phase of its' sustainability program.  The tens of millions of shoes shipped in our bag will reduce water, energy and diesel consumption on the manufacturing level alone by more than 60% per year. In other words: approximately 8,500 tons less paper consumed, 20 million Megajoules of electricity saved, 1 million liters less fuel oil used and 1 million liters of water conserved. During transport 500,000 liters of diesel is saved and lastly, by replacing traditional shopping bags the difference in weight will save almost 275 tons of plastic.
That such a little bag can have such a big impact…you can see why we called it clever."
April 14, 2010 | 7 Comments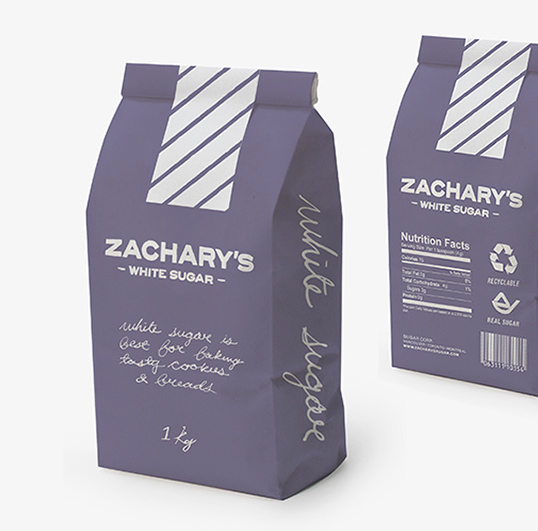 Designed by Pamela Rounis | Country: Canada
Capilano Universtiy graduating student Pamela Rounis sent us some of her great package design work.
April 13, 2010 | 6 Comments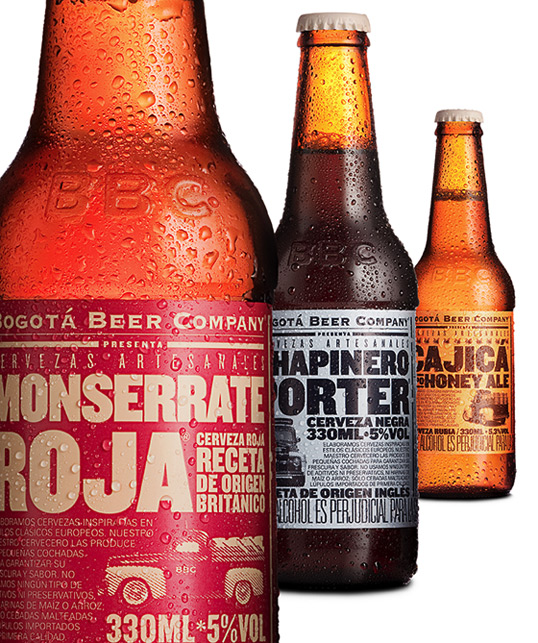 Designed by Lip Ltda | Country: Colombia
"This is a series of labels we created for our client Bogotá Beer Company, a microbrewery located, yes you're right, in Bogotá. The icon of the brewery is the old Ford truck which, indeed, delivers the beer to your home, so it's present in the labels along with a very strong typographic work. The 4pack is a generic for any combination of the BBC beers."
April 13, 2010 | 4 Comments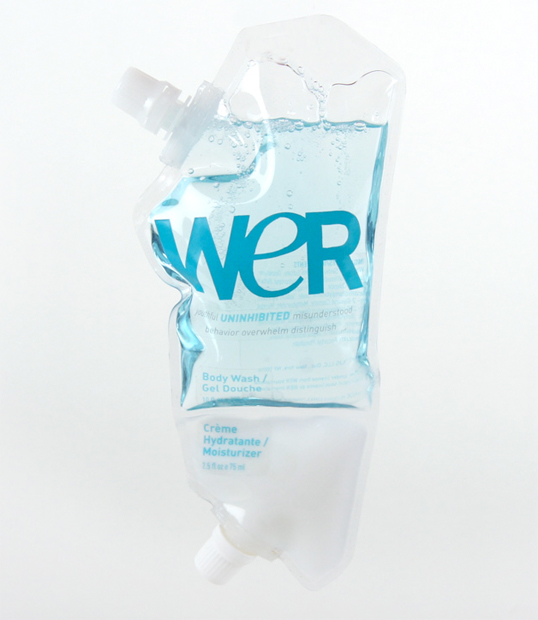 Designed by Alexandre Michaud | Country: Canada
Student work for body gel and moisturizer created under professor Sylvain Allard at UQAM, who writes:
"The simplistic thinking in eco-packaging would suggest that all it needs is to take recycled Kraft cardboard and the job is done. Unfortunately, it's much more complicated than that and demonizing plastic over paper is another non-sense. In fact, there are as many solutions as there are different packages and each one should be developed taking into account production methods, materials, transportation and many other factors that ultimately determine the true lifecycle of the product.
However, the reduction approach remains the most easily measurable element of ecodesign. Indeed, by reducing the amount of material, it reduces the weight of the interventions in upstream and downstream production because there will be less material to produce, to collect and to recycle."
April 13, 2010 | 5 Comments
Designed by Shawn Schrader | Country: Japan
"The hair care products were for anti-aging so the idea of twisting and reversing time or counter clockwise was developed for the bottles and the logo. It would not be obvious to the consumer but having a theory behind the simple design was well received"
April 12, 2010 | 1 Comment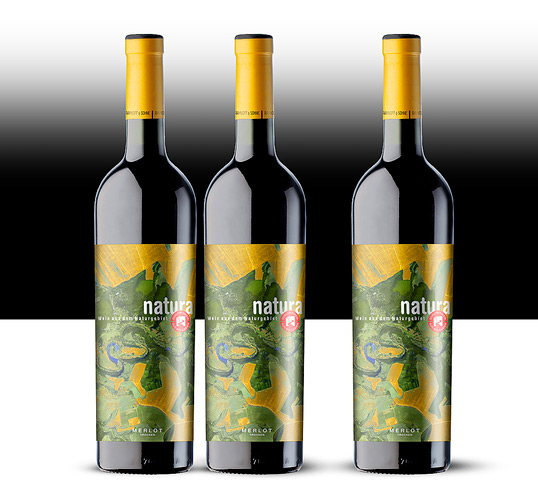 Designed by Jordan Jelev | Country: Bulgaria
"This is another project for Raynoff and Sons Winery. Since it is a bio-product under 'Natura' brand, I decided to change  the direction of my thoughts and respectably  – my design. The Winery is located at the very center of Rusenski Lom National Park a place famous with its canyons, river curves, caves, spectacular landscapes and pure nature full of wild life. After reading the brief, I took a short trip across an old map of Bulgaria  and fortunately the answer came almost instantly –  I was sure that if I used a satellite photo of the area, it would become a very very interesting label design. So here is the result of my short story."
April 12, 2010 | 1 Comment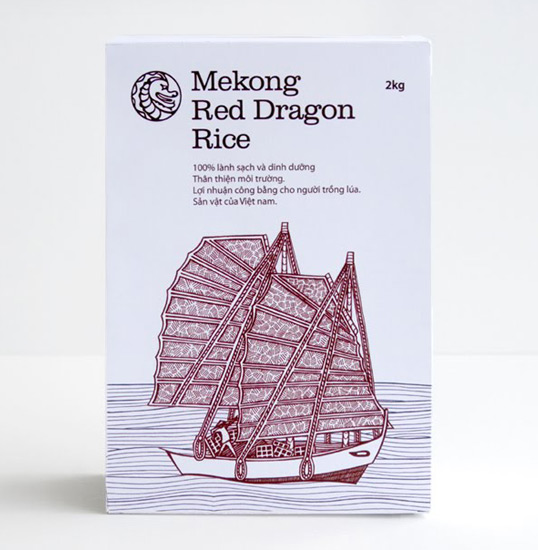 Designed by Design Positive | Country: Vietnam
"Vietnamese folklore tells us that a benevolent dragon resides in each of the nine mouths of the Mekong River. It is in the hillock areas of these fertile Delta lands that the unique strain of dragon blood rice grows full and lush.
The rice is Eco friendly and Fair Trade. Furthermore husking, sifting and packaging are done by local villagers creating additional employment. It is also healthier Rice; during the husking process, the bran layer is only partly removed, as it is within the bran layer that the majority of beneficial nutrients are stored.
The simple design balances with the traditional illustration (by the brilliant Andrew Denholm) which uses the Mekong river to weave the journey of rice as it is grown, harvested, transported and sold."
April 12, 2010 | 4 Comments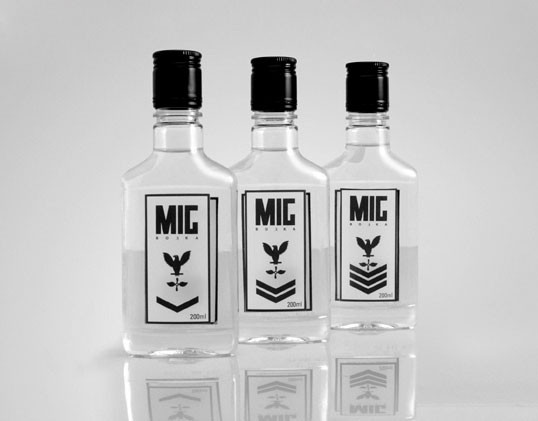 Designed by Nick McLean | Country: Canada
"MIG Boaka is a Russian Vodka brand that comes in three variations identified by the stripes on the front label. The line is inspired by the series of Soviet fighter jets used during the cold war. The labels are modeled after the rank badges worn by military officers.
As such the number of stripes represents the alcohol by volume of that particular bottle. MARK I containing the lowest, graduating to the highest in MARK III, a drink only for the real officers at the party."