May 10, 2010 | 2 Comments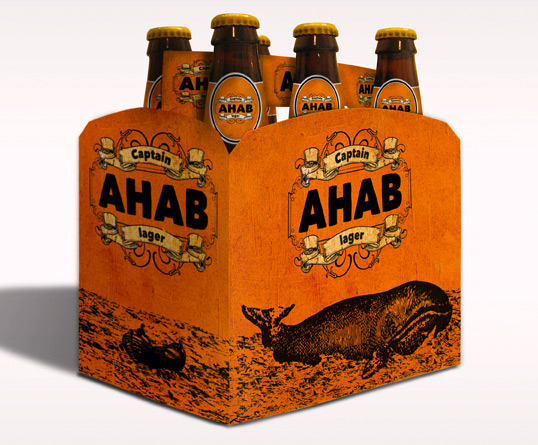 Designed by Andrew Herwig | Country: United States
"Captain Ahab Lager is based on the American classic Moby Dick, and its ruthless tormented character Captain Ahab. Rough illustrations and muted colors allow the consumer to dive into the world Herman Melville created while incorporating a unique beverage experience. Depicting visuals of Ahab and the whale invoke a strong resurgence of the classic novel bringing it to life."
May 10, 2010 | 1 Comment
Designed by Visualingual | Country: United States
"Practice random acts of gardening with these seed bombs! Five gumball-sized balls are packed into each 3 x 4 1/2-inch pouch, ready for gift-giving. The muslin bags were made in the USA and screenprinted by hand by us with the East Coast Seed Bombs design. Inside each pouch is the full list of the seeds included. When you've used up the seed bombs, reuse the pouch or frame it!"
May 10, 2010 | 2 Comments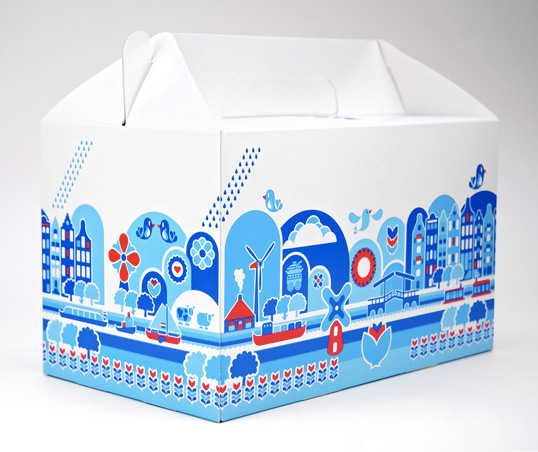 Designed by Mattmo | Country: The Netherlands
"For the Dutch pavilion of World Expo 2010 in Shanghai Mattmo created the food packging design commissioned by Maison van den Boer. We did research to minimise the footprint for the environment. The design is a modern illustrative twist on the traditional image of the Netherlands."
May 10, 2010 | 1 Comment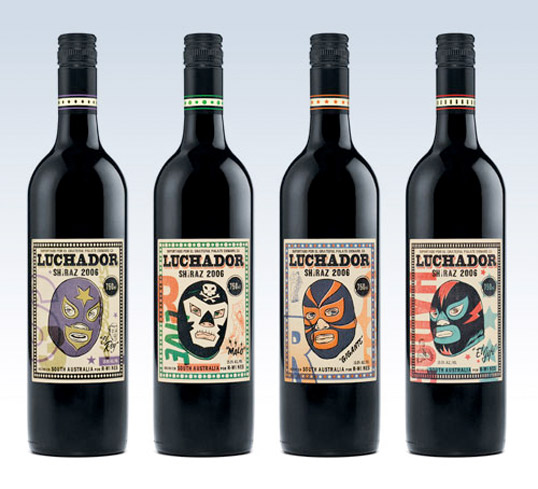 Designed by Morning Breath | Country: United States
Wrestling-inspired designs created for a very different take on wine packaging.
May 9, 2010 | 4 Comments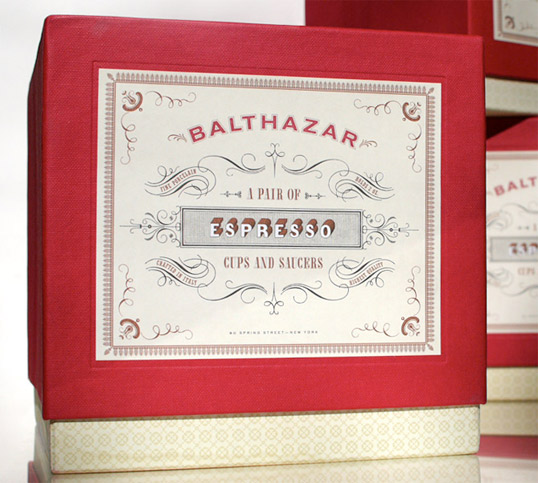 Designed by Christine Celic Strohl at Mucca Design | Country: United States
Using the previously established and infamous Balthazar brand identity system as a starting point, this gift box was designed to expand the system to encompass higher-end retail merchandise. Packaging for a specialty pair of espresso or cafe au lait cups, it was intended to be held on to for as long as the gift inside. Tipped-in, silk screened and wrapped in red linen, this box holds the product safely nestled within custom printed tissue paper.
May 8, 2010 | 1 Comment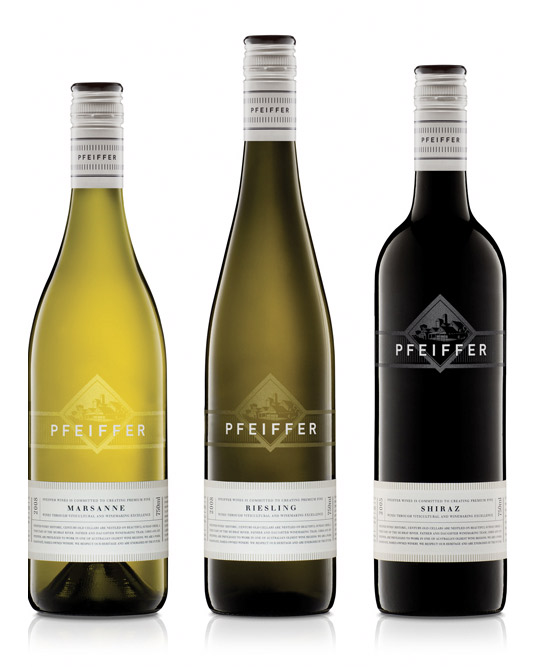 Designed by Frank Aloi | Country: Australia
"Pfeiffer wines is located in Rutherglen, Victoria. Rolled out across all customer touch points, the branding incorporates the wineries historical past, character and colour of the region."
May 7, 2010 | 3 Comments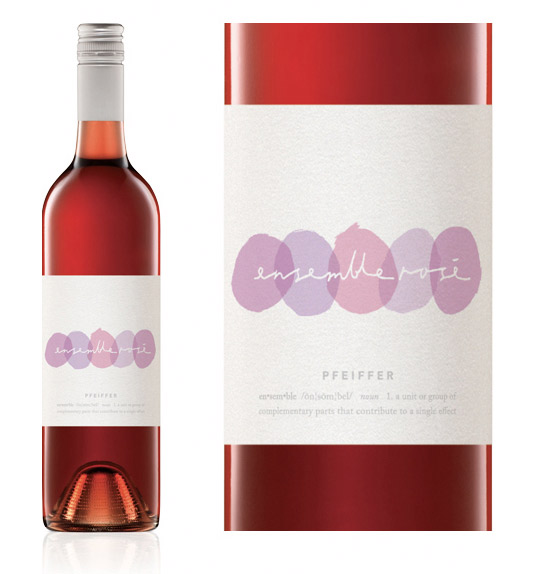 Designed by Frank Aloi | Country: Australia
"The concept behind this design was to emphasise the 5 different grape varieties that are blended to make this Rosé."
May 7, 2010 | 5 Comments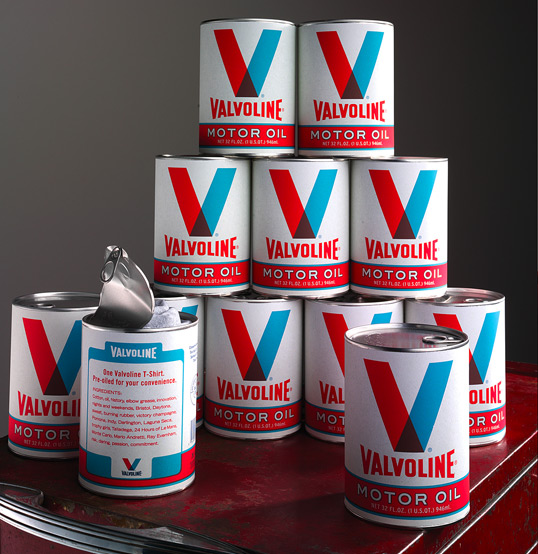 Designed by Eric Stevens for Borders Perrin Norrander | Country: United States
"Promo piece designed to embody the history of the Valvoline brand (hence the "throw back" 50's-era can design) while giving gearheads a practical (and pre-oiled) shirt that they could wear proudly while wrenching in the garage on the weekend. The label copy lists some of the values, venues and personalities that the Valvoline brand has come to be associated with over the 100+ years of its existence.
May 6, 2010 | 5 Comments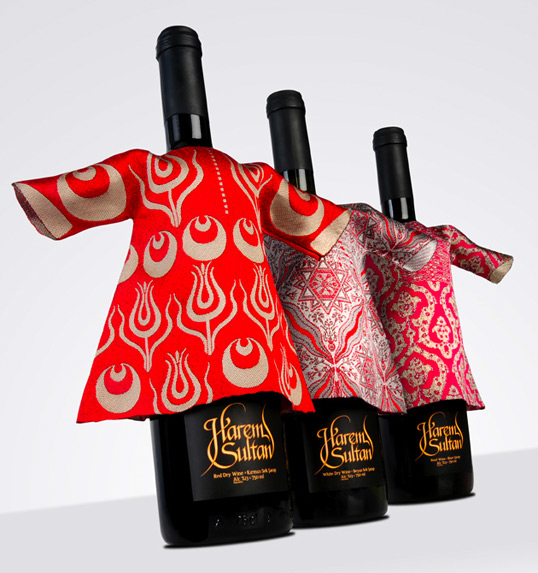 Designed by TBWA\Istanbul | Country: Turkey
"Harem Sultan is a premium wine brand that is only sold at duty free shops in Turkey targeting foreign tourists. The brief was to design a packaging that would create conversation on the table when people go back to their countries. Something that foreigners would love to buy not only as wine but as a "Special Souvenir from Turkey".
Each bottle is dressed with the famous Kaftan of an Ottoman Sultan. The colours of the Kaftans indicate the sort of wine in the bottle.  At the back of each bottle there is the real story of the Kaftan. The Kaftans are all handcrafted in silk. And are all designed by the original textiles of the Ottoman Sultans."
May 6, 2010 | 1 Comment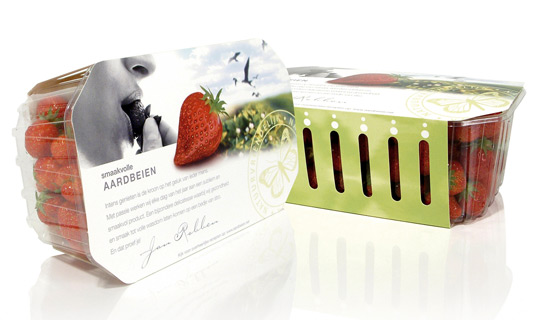 Designed by Reggs | Country: The Netherlands
"Jan Robben is a strawberry grower with a passion for his product, and a dedication to producing fruit of a higher standard than your 'average' strawberry. In 1998, his company was the first in the Netherlands to receive the Milieukeur certificate. We designed a packaging that presented his strawberries in a way similar to a box of chocolates – as an exclusive, luxurious treat rather than a commodity. The packaging has a natural, intimate look-and-feel, featuring birds, Robbens' butterfly logo and his signature, reflecting his personal devotion and care for the environment. This enabled Jan Robben to change his market strategy and achieve significant business improvement."