November 2, 2010 | No Comments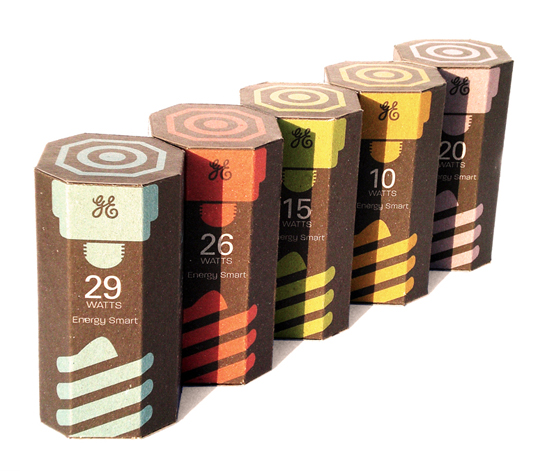 Designed by Kevin Kwok | Country: United States
"The redesign of General Electric CFL light bulbs is aimed to bring a friendlier shelf presence through the use of basic informative graphics. An advantage of the redesign is the ability to stack the packages together to complete the graphical form of a CFL light bulb. The top and bottom of each package might look familiar, they graphically resemble what the top and bottom of a CFL light bulb. Also something to note is each wattage has it's own color identity.
The redesign also considered the environment, the new design is packaged with post consumer cardboard rather than calm shell plastic. This ensures the use of less natural resources and therefore less impact on the environment. GE would also allow consumers to put old CFL light bulbs back in these packages and mail them back to be recycled."
November 2, 2010 | No Comments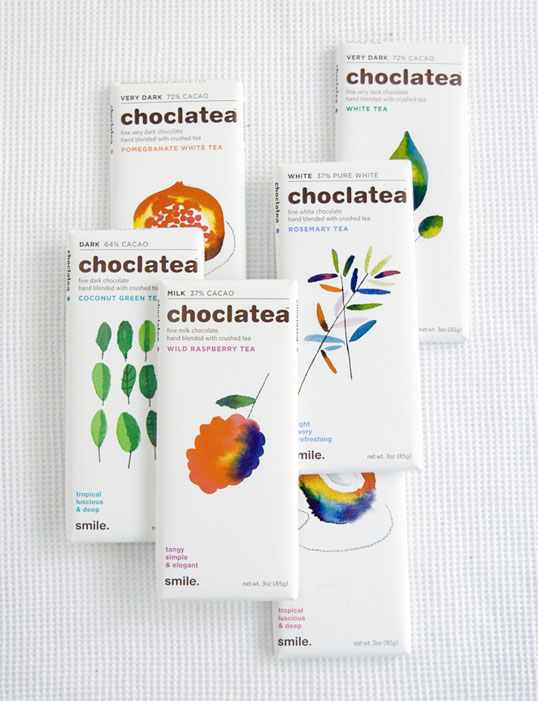 Designed by Air Conditioned + Ann Field | Country: United States + United Kingdom
The combination of beautiful colourful watercolour illustrations and white packaging would ensure this packaging stands out on a shelf.
November 1, 2010 | No Comments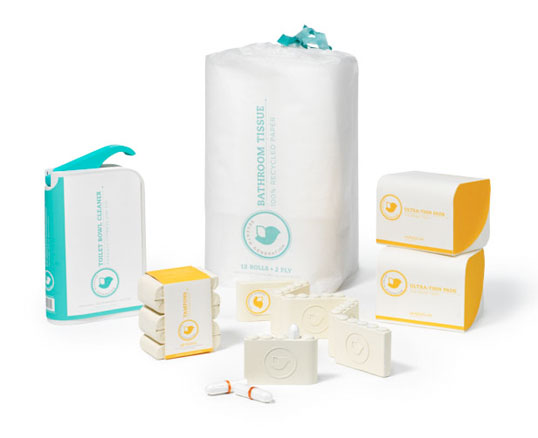 Designed by Johana Tran | Country: United States
"Through a redesign that exudes a natural charm and confidence, Seventh Generation offers consumers a promise of liberation from the burdens associated with mundane household tasks. The package design utilizes sustainable materials, while maintaining a hygienic appeal, ensuring a product that users can trust to be safe for both the environment and the body. Tampons are packaged in individual molded paper pulp packs of 5, featuring a quick dispense method for convenience, while also offering the advantages of being easily portable and discreet. Pads are packaged in a sturdy paper pulp box. Toilet paper is packaged in a reusable biodegradable bag and the toilet cleaner features a hygienic hideaway nozzle."
November 1, 2010 | No Comments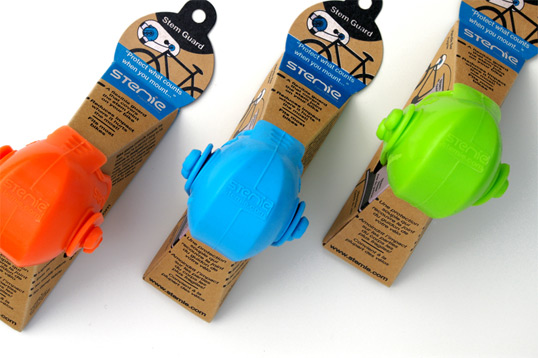 Designed by Cameron Snelgar | Country: Canada
"Growing up BMX riding and later trail bike riding for fun, I was always aware of the bike's stem (the component that fastens the handle bars to the bike frame). On most bikes the stems protrude towards the rider. They're a painful thing to hit. Stemie is designed to cover stem joints and cushion your body, thus reducing impact. The packaging needed to communicate what such a product does.
We decided to mimic the basic configuration of a stem riser and stem on a bicycle; by cutting a box diagonally across to resemble a triangle or 90 degree corner (basic shape of a bike stem). Originally we had the strap wrapping beneath the entire box, however later felt it would be more secure and intriguing, going through the box.
The package serves as a standing, hanging or upright display. As the product is durable and quite tactile, we mounted it on the outside of the box. The diagram on one side allows viewers to gain more understanding on how Stemie can be used."
November 1, 2010 | No Comments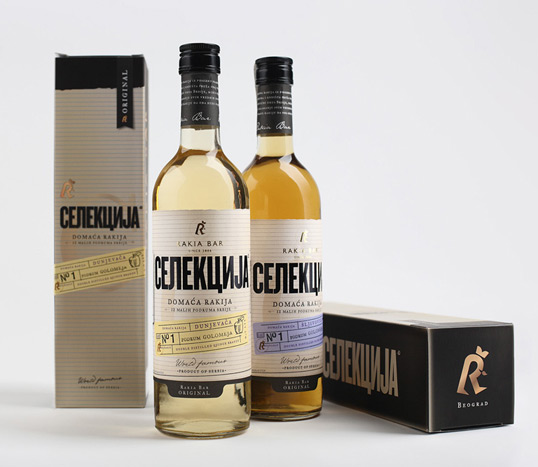 Designed by Coba&associates | Country: Serbia
"Problem: Rakia Bar is the original retail concept offering the traditional Rakia brandy in 165 different varieties throughout 3 bars in downtown Belgrade. The success of the concept brought them to start their own production of this precious spirit. World famous Slivovitz – the plum brandy and 5 other varieties needed a proper package in order to appeal to younger audience in search of quality and natural rakia.