December 31, 2010 | 3 Comments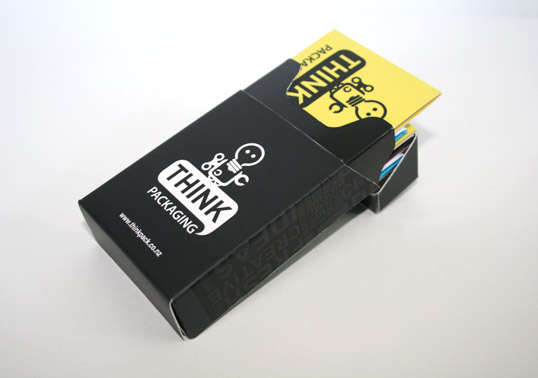 Designed by THINK Packaging | Country: New Zealand
"Developing a business card holder…
Creating a cigarette style pack, it's flip open lid is perfect for offering out a card. With the choice of the CMYK colours to choose from it adds a little sparkle than just passing a card that has been pulled out of a dusty old wallet. My cards make into a cool little box so the client is already engaged in the my ninja packaging skills right from the start."
December 31, 2010 | No Comments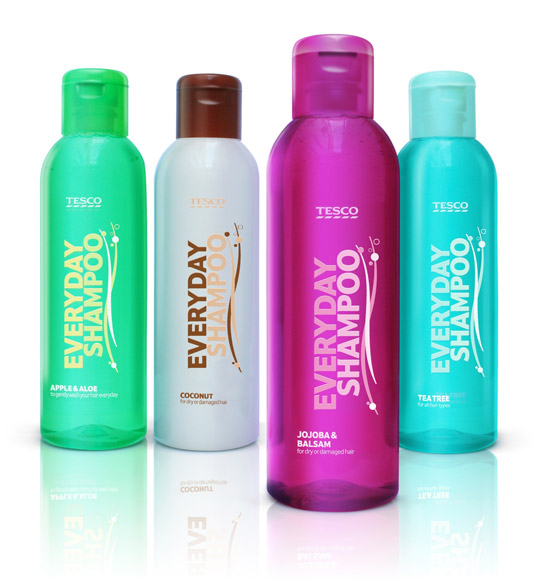 Designed by P&W | Country: United Kingdom
"International Design Consultancy P&W has redesigned the packaging for Tesco's health and beauty essentials range. The range, comprising of items such as shampoo, bath soak, shower wash is entry price point but needed to convey added value and quality. The design solution had to be unisex in some areas and have the potential to extend beyond heath and beauty.
Bold use of typography and benefit tone of voice with simple graphics make for a strong identifiable range. The result is a distinctive solution that has plenty of brand stretch for future categories.
December 30, 2010 | 1 Comment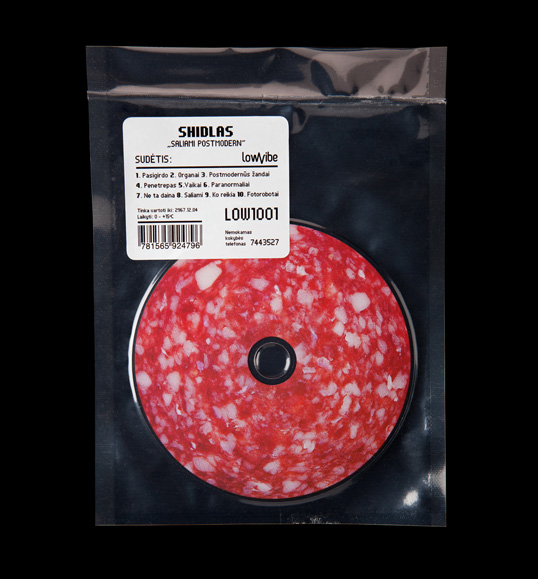 Designed by Mother Eleganza | Country: Lithuania
"An interesting CD package design by Mother Eleganza for
LOWVIBE. "This is the CD package design of Lithuanian musician Shidlas, album named Saliami Postmodern. The CD is vacuumed like real salami and the sticker with contents is like it would be from meat shop."
December 30, 2010 | 2 Comments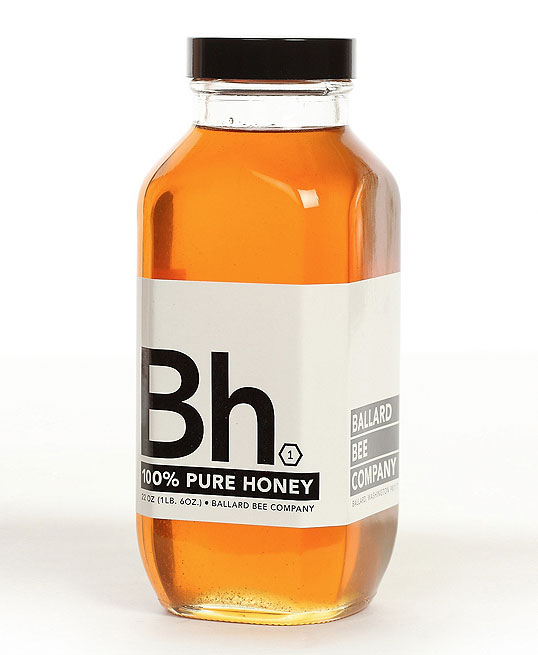 Designed by Ballard Bee Company | Country: United States
Heavily inspired by chemical elements, we love this unique packaging spin on honey which moves away from the traditional imagery associated with the product and goes in a bold new direction.
image via Blackbird
December 30, 2010 | No Comments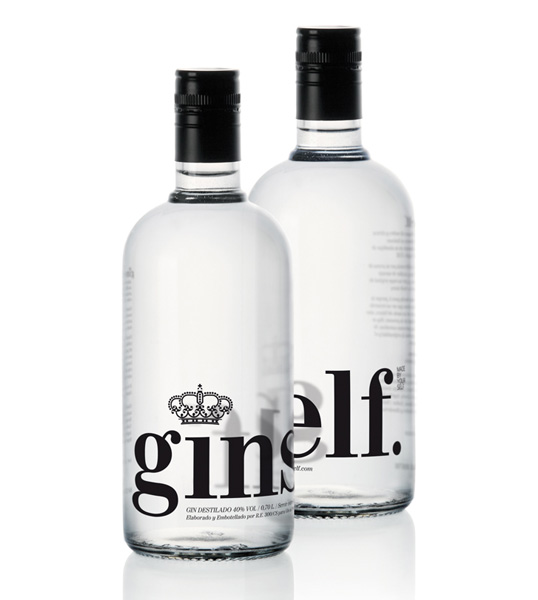 Designed by Conca&Marzal | Country: Spain
Ginself is the result of the enthusiastic pursuit of the perfect gin by its four creators, and is the first 100% premium gin in Valencia Spain.
December 30, 2010 | No Comments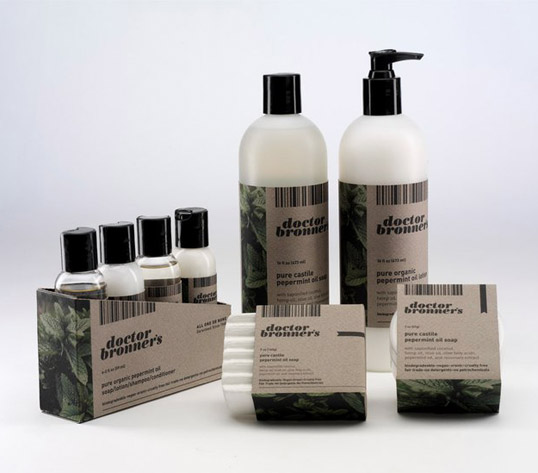 Designed by Tyler Hamilton | Country: United States
"Dr Bronner's liquid soap, lotion, bar soap, body balm, and 4 pack sampler of shampoo, conditioner, soap, and lotion."
December 30, 2010 | 1 Comment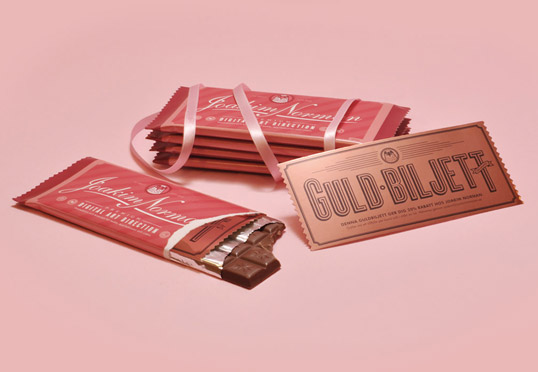 Designed by Joakim Norman | Country: Sweden
"I've always been intrigued by candy and confectionary aesthetics. The colors, the blissful feeling and total unpretentiousness. That's what I wanted my own business to feel like.
So I made hundreds of chocolate business cards, bigger chocolates to give away (with a golden coupon inside, Willy Wonka style), letters in classic swedish candybag-paper style, a bag with nougats that represents my services and a big box to send to potential customers. And of course a website. Everything folded and designed hand (except for the actual chocolate, I don't wanna poison people…) with lots of love."
December 29, 2010 | No Comments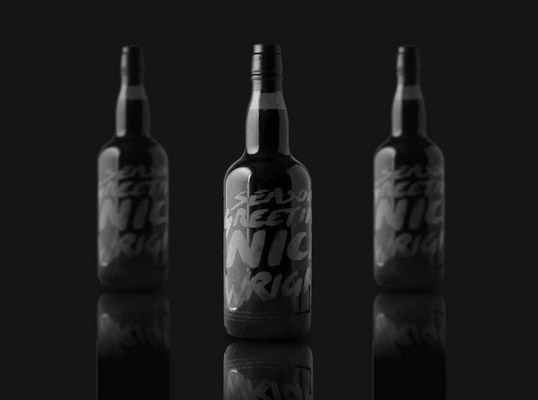 Designed by Organ Studio | Country: Australia
Perth Australia based Organ Studio created these laser etched wine bottles for their 2010 Christmas gift. They also put together a video documenting the process.
December 29, 2010 | No Comments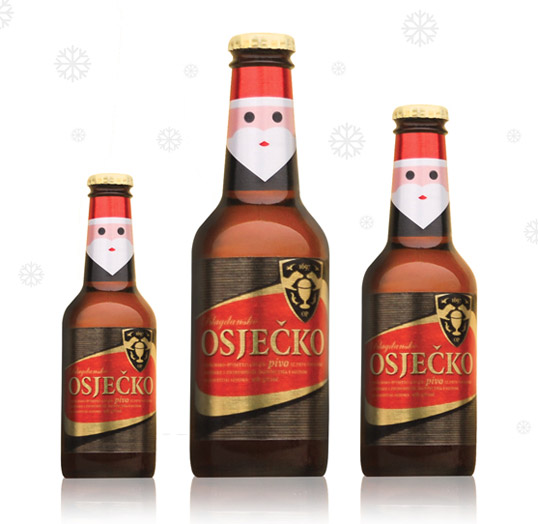 Designed by Manasteriotti and Maric | Country: Croatia
"Osječko pivo (Osječko beer) asked us to design a winter holiday edition of their beer, packaged in small, 0.25l bottles.
We used a simple neck label design to make the bottle resemble a Santa Claus. The usual bottle label was printed in red color. This small intervention retained their identity while adding winter flair.
Osječko pivo is the first beer brewery in Croatia, founded in 1697."
December 29, 2010 | No Comments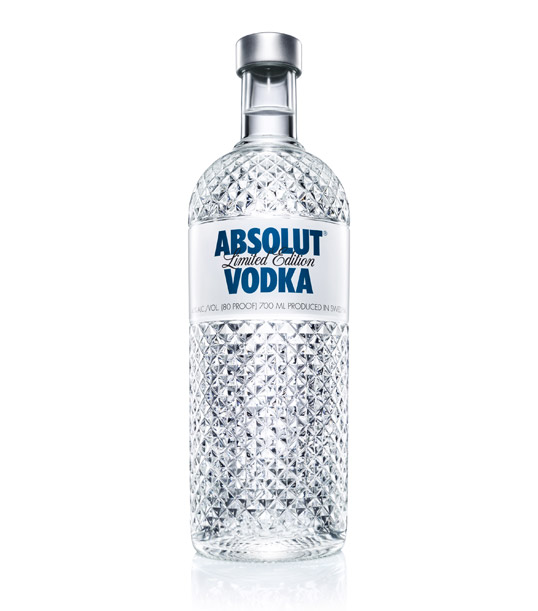 Designed by Cav Con | Country: Australia
"Making a departure from past executions where the famous bottle has been encased in a sleek second skin, AAbsolut Glimmer reworks the actual classic form in a stunning faceted surface of crystal patterned glass. A true collector's item, Absolut Glimmer is an elegant play of light, its stylish design challenging the norm of the traditional gift pack."