January 31, 2011 | 2 Comments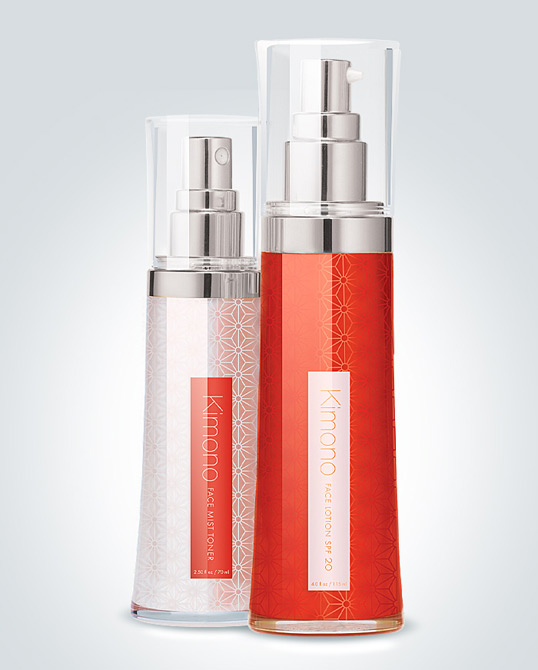 Designed by Belancio | Country: United States
"Kimono is a new luxury spa care line created to enhance the wellness of your skin, body and mind. The brand development included product packaging, logo development and art direction that captures the beauty and elegance of the entire line."
January 31, 2011 | 1 Comment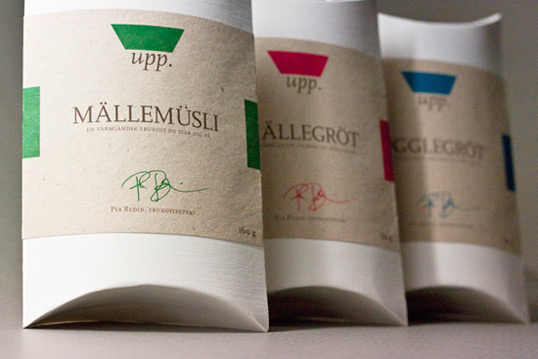 Designed by Niklas Hessman | Country: Sweden
"Upp is a concept for the home-cooked breakfast Värmland, made with organic ingredients. I developed both name and design.
The name refers to the notion of waking up the morning and the structure is designed as a pillow to help build on the concept. Värmland is the breakfast that gets you Upp in the morning."
January 30, 2011 | 4 Comments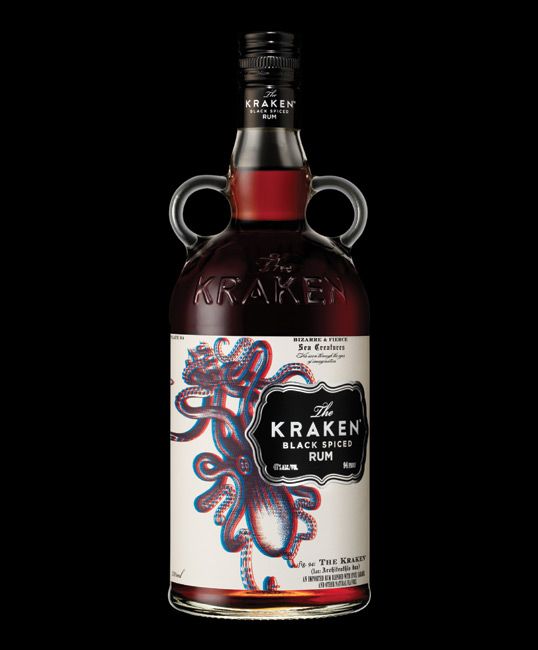 Designed by STRANGER & STRANGER | Country: United Kingdom
The Kraken Black Spiced Rum has introduced 3-D labels designed by London based STRANGER & STRANGER. The 3D kraken will adorn the 750mL bottles and will be available for purchase online.
January 29, 2011 | 1 Comment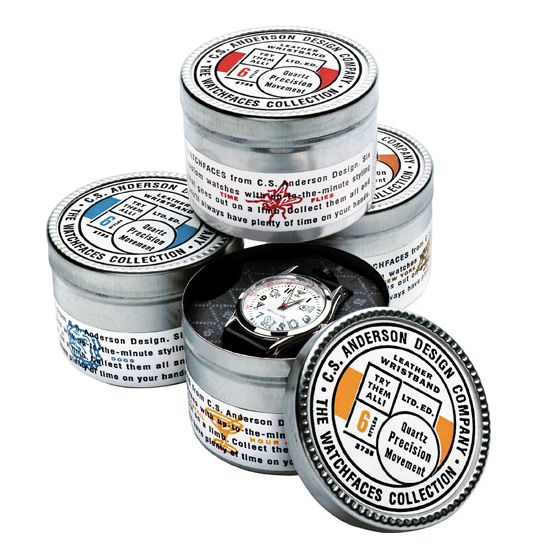 Designed by Charles S. Anderson Design | Country: United States
"This limited-edition series of highly-awarded, high-concept watches was a pet project of CSA Design, with manufacturing help from the Fossil Watch Company. Packaged in custom-tins with 2-color labels that were inexpensive to print but big on impact, with a clean typography treatment spiked with a pop of color and an icon representing each watch's "theme," which included Time Flies, Deadline, and 5 O'Clock Shadow."
January 28, 2011 | 5 Comments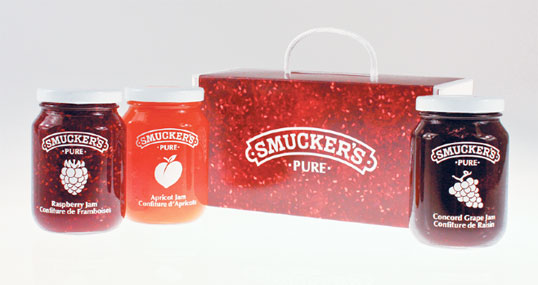 Designed by Michael Dibblee | Country: Canada
Description: Smucker's is a North American manufacturer of fruit spreads, ice cream toppings, health and natural foods, beverages, shortening, and natural peanut butter, dating back to 1897. When redesigning a number of products from the Smucker's Pure Jam line, I intended for the design to truly and uniquely portray the essence of quality and traditions based on the company's ideals in a new and innovative way.
Ideally, customers should be persuaded to purchase a product by its essence, and not simply by its label. This especially matters when it comes to a company that prides itself on excellent quality. Many consumers have experienced the growing, picking and preparation of fruit for spreads; in remembering the ease at which one can recognize the colours, textures and smells associated with the cooking process of jam, I created a design that emphasizes the jam itself.
After experimenting with die-cuts and windows that exposed the natural colours of the jam, I discovered that reversing this effect actually exposed more of the jam to the consumer. I recreated a silkscreen effect to contrast the rich natural colours of the jam and moved away from traditional label systems used by many competitors. Many rival companies and products embrace the use of photographic and illustrative images of fruits to give the consumer a taste of what the product offers. To break away from this conventional style and allow Smucker's to stand out when positioned on a grocery shelf, I depicted the fruits as icons. These white icons stand out clearly on the background colours of the jam, yet do not take away from the distinct colours and textures seen through the glass jars.
Overall, the design portrays a rich and elegant aesthetic that stands out from competitors and retains the quality that is associated with the Smucker's brand.
January 28, 2011 | No Comments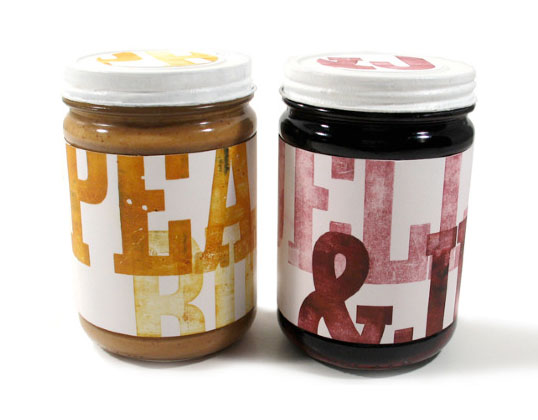 Designed by Jessie Harte | Country: United States
We love this label concept for peanut butter and jelly, created using wood type with ink mixed to resemble the actual product in the jar.
January 27, 2011 | 4 Comments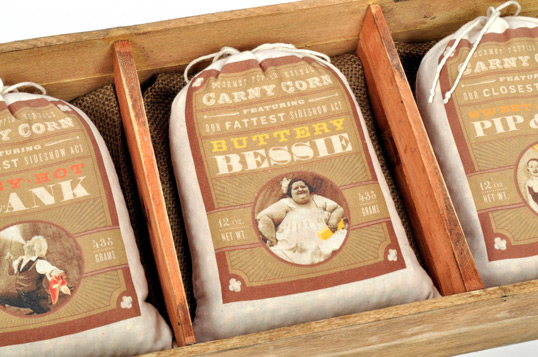 Designed by Theresa Decker | Country: United States
"The assignment was to design packaging and a carrier for three flavors of gourmet popping kernels called Carny Corn. I chose to do a Circus side show act theme including Buttery Bessie (worlds fattest woman), Firey Hot Frank (fire breather) and Sweet & Salty Pip and Pop (siamese twins). I used vintage broadsides as typographical inspiration and manipulated black and white imagery for each label. The bags are printed canvas and are held in a custom made wooden crate with transferred typography."
January 27, 2011 | No Comments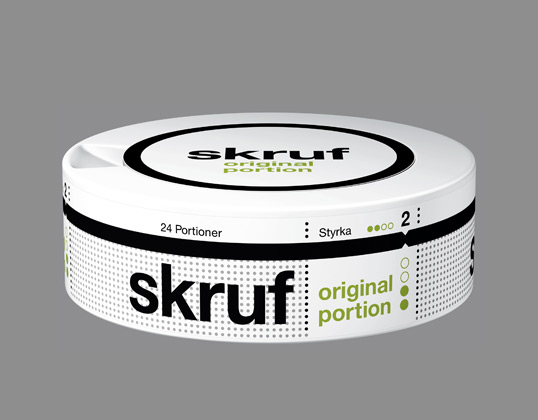 Designed by Neumeister | Country: Sweden
"The Swedish snus challenger Skruf Snus AB launches a new suit for all Skruf cans in the company's wide range. Behind the new design is Peter Neumeister from his own award-winning design agency. "Skruf's a bit cocky identity is the main thread in all the boxes and we have also considered the functionality when renewing the design. The expression is simple, stylish and modern", says Peter Neumeister.
January 26, 2011 | 7 Comments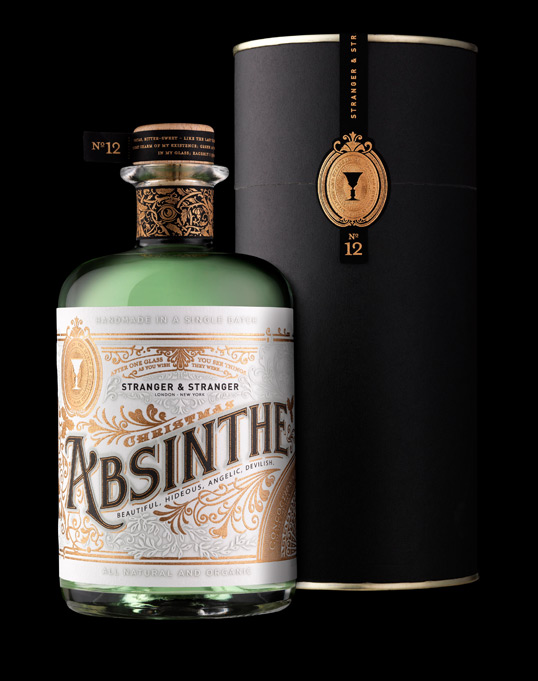 Designed by STRANGER & STRANGER | Country: United Kingdom
"For our 12th Christmas gift we resurrected the glory days of Absinthe and created a bespoke single batch of only 250 bottles.  We exhumed some old-school printers who worked their craft die stamping the inks and embossing pure cotton fibre paper. "Absinthe, mother of all happiness, O infinite liquor, you glint in my glass green and pale like the eyes of the mistress I once loved…" (Gustave Kahn) Available later this year in a limited second batch."
January 26, 2011 | 2 Comments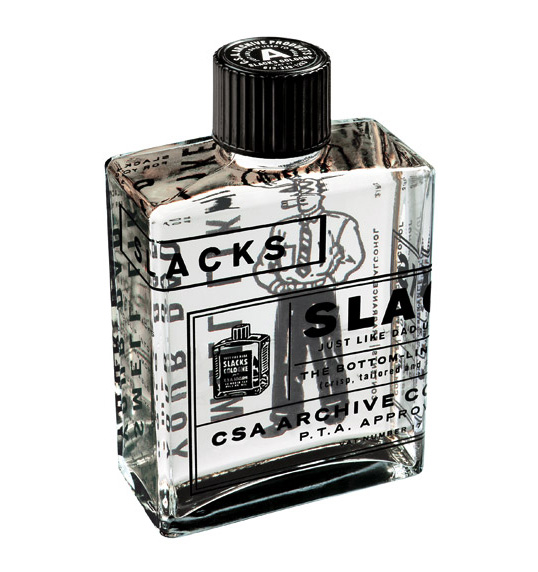 Designed by Charles S. Anderson Design | Country: United States
"Designed, bottled, packaged and sold to commemorate the publication of the first CSA Archive illustration book, Slacks was our first – and only – fragrance. Although it makes you "smell like your dad," it was created to be uni-sex, or as the screen-printed tin puts it, "even ladies love to wear Slacks."