April 20, 2011 | No Comments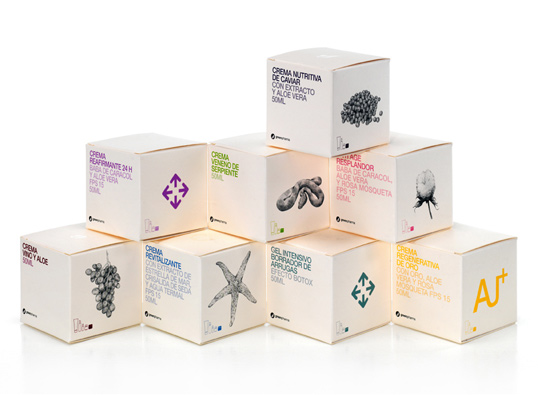 Designed by Grupo Habermas | Country: Spain
"Packaging design for natural cosmetic line Greenpharma, from Botanicanutrients brand.
A simple and elegant work, where information and ornamental details determine the final outcome. Examples are the illustrations, the text in bold colors, blind embossed or the paper used (Curious Metallics, from Arjowiggings brand)."
April 19, 2011 | 2 Comments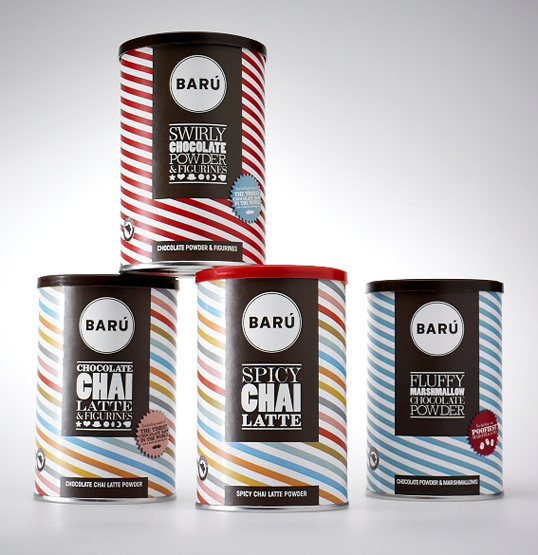 Designed by Creneau International | Country: Belgium
"Dark and pure, rich and honest, funny and crazy … as long as it says Barú on the outside, you know you're in for a delicious treat. Drawing inspiration from Barú's finest fluffy, swirly and nutty chocolates and sipping from their sensational chai tea, Creneau International designed a range of packaging that put the funk back in the chocolate and the glee back in the tea.
The best chocolates are little bites of happiness and the designers wanted the packaging to show just that. Adorned with retro colours and patterns, central to each wrapping is the signature element of the brown rectangular bar with the round Barú logo in it. The packaging features an array of typefaces reflecting the crazy playfulness and wonderful taste sensations."
April 19, 2011 | 1 Comment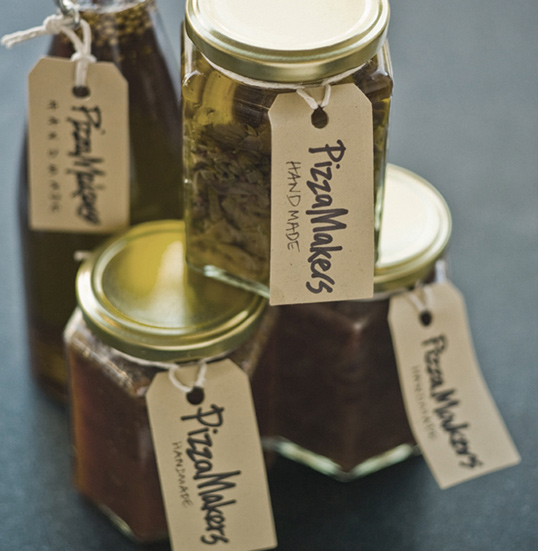 Designed by Smith & Milton | Country: United Kingdom
"How do you communicate 'just made' fresh pizza? Everyone thinks a 'pizza to go' is going to arrive as a hot, rich cheesy feast (reality: warm, greasy, disappointment). The Pizza Makers have turned the problem on its head and only MAKE pizza. It's fresh from their kitchens, so it can be delivered (or you pick up) to bake at your convenience.
They needed a brand idea to set the tone for all their communications. First a name that tells the story. And a strapline that completes it. Second, a store refit to bring the kitchen upstairs and into the shop window – people making pizzas is a great advertisement. Thirdly, a blackboard black and white, fresh everyday style to reflect it with the handmade quality of the process. The only colour online is the photography, and instore, of the excellent product itself."
April 18, 2011 | 2 Comments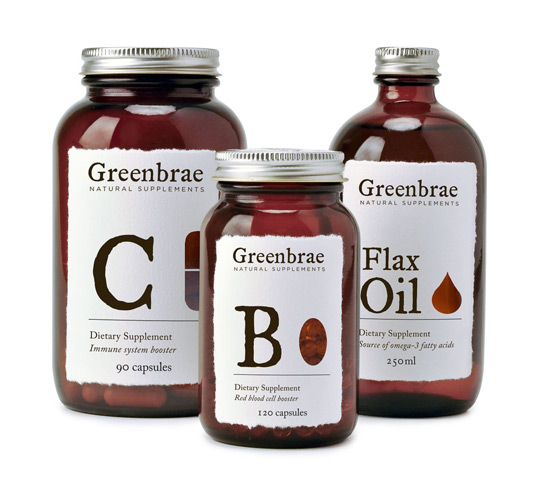 Designed by Ryan Chung | Country: Canada
"The brief: To create an identity for a line of vitamins sold in upmarket health food stores and organic markets. Design a logo and packaging.
The solution:The wordmark's hand-cut feel, paired with modern typography communicates quality. Deckle-edged labels with die cuts reveal the contents of the bottles. The warm brown of the bottles adds a nostalgic touch while protecting the contents from the sunlight."
April 18, 2011 | 3 Comments
Designed by Cowan London | Country: United Kingdom
"Cowan London have redesigned the packaging for Panda's traditional soft liquorice, making use of the product to produce a simple, unique and distinctive pack."
April 18, 2011 | 5 Comments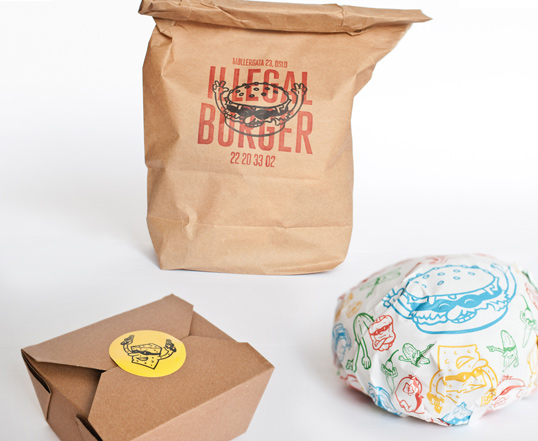 Designed by The Metric System | Illustrator: Frode Skaren | Country: Norway
"Illegal Burger is a tiny sit-in and take-out burger joint in Oslo, Norway. They serve high quality charcoal-grilled burgers at a low price. The restaurant is located in a space that used to be a no-licensed hole-in-the-wall bar, hence the name.
The Metric system design studio played played with classic visual fast food clichés: burgers and ingredients with faces, arms and feet and developed a series of food-crooks together with Illustrator Frode Skaren.
Materials used in the take-out packaging include brown paper bags and brown cardboard boxes to obtain the right lowbrow feel. The bags are printed with rubber stamps and boxed decorated with stickers. The wrapping paper is a four color PMS print with colors matching the tasty interior designed by Al Coulson."
April 17, 2011 | 1 Comment
Designed by Orontas | Country: Canada
"Orontas is fundamentally about keeping things simple and being straight forward so we wanted the aesthetic of our 2011 Spring/Summer line to reflected that.
When we entered the cycling maintenance market last year with our Bike Care Lubricant in Canada we were overwhelmed by how cluttered it was with over sized product lines; some we're toxic, some are wax, some are synthetic, some are "green". It's all confusing to the shopper who really just wants a product that will get the job done without making them feel guilty about using because of it's negative environmental impact.
Our goal was to communicate transparency, even if it meant showing product imperfections, like sediment. That's the reality of working with natural ingredients; it is what it is and the proof is in the pudding.
April 17, 2011 | 3 Comments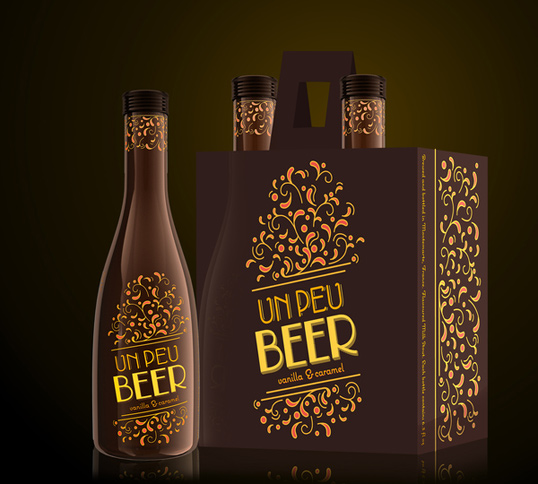 Designed by Sanyukta Kothari | Country: United States
"The dessert beer is called Un Peu, French for 'a little', which is exactly how an indulgence like this should be. It is bottled in small and slender 180 ml (6.3 fl. oz.) bottles, rather than the standard stubby 12 fl. oz. bottles, a size carefully chosen based on the unusual product category. It is also packaged in 2-packs, rather than 6-packs, as it is not boisterous frat-party beer meant to be consumed in giant quantities, but dessert beer, that calls for a more sophisticated and intimate drinking experience. Like a special date, with a close friend, or over fine conversation late into the night.
Drawing from the rich, warm colour palette of the Moulin Rouge and the ostentation, the label graphics depict the heady crescendo of flavours in the beer. The type is inspired by the French Art Nouveau typography of the late nineteenth century, and has been re-drawn and embellished to fit the modern context. The 2-pack has been designed to resemble a bag (similar to wine gift bags), perfect for gifting."
April 17, 2011 | 5 Comments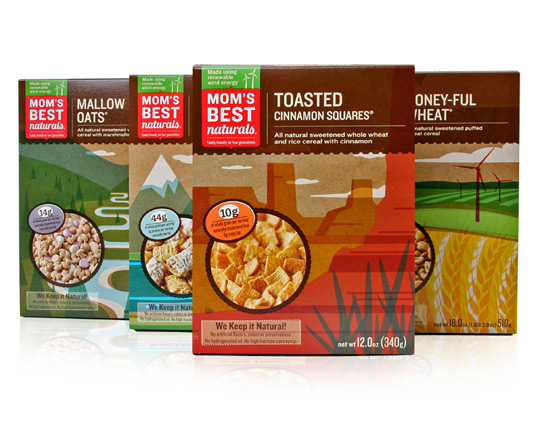 Designed by HartungKemp | Country: United States
"The makers of Mom's Best Naturals breakfast cereals recognized that their existing branding and boxes were impediments to growing their value brand's retail footprint nationwide. Their existing boxes looked "low price," but sacrificed brand equity, too.
HartungKemp's colorful, illustrated redesigns reprioritized "quality" and "natural" to put them first in the client's brand story. They also established emotional bonds and brand equity with cereal shoppers.
HK's new boxes made an immediate impact on the client's bottom line. The Mom's Best Naturals sales force and distribution channels demanded an expansion of flavors even before the first new cereal box had gone into production. Retailers embraced the new look based on how it stood out on the shelf and how it engaged consumers."
April 16, 2011 | No Comments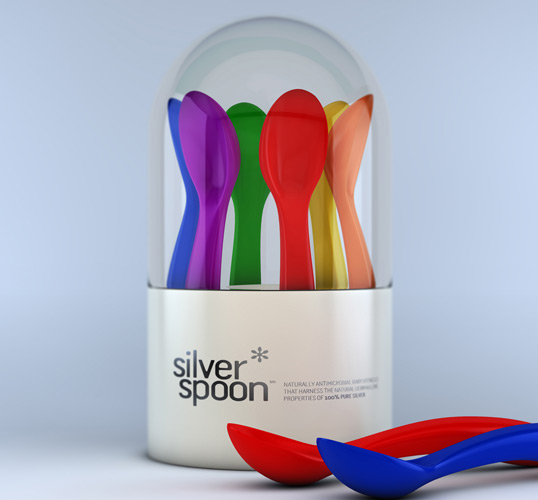 Designed by Special Projects | Country: United States
"There are two things you don't want to put into a baby's mouth – germs and chemicals. So we came up with a unique product to deal with this conundrum – Silver Spoon. It happens that silver is naturally antimicrobial, so we infused our recycled plastic baby spoons with 100% pure silver ions in order to keep your little one away from nasty germs without using common chemical germicides. We also wanted to create a gift-able item out of a otherwise utilitarian baby product, so we packed it accordingly."