July 25, 2011 | 3 Comments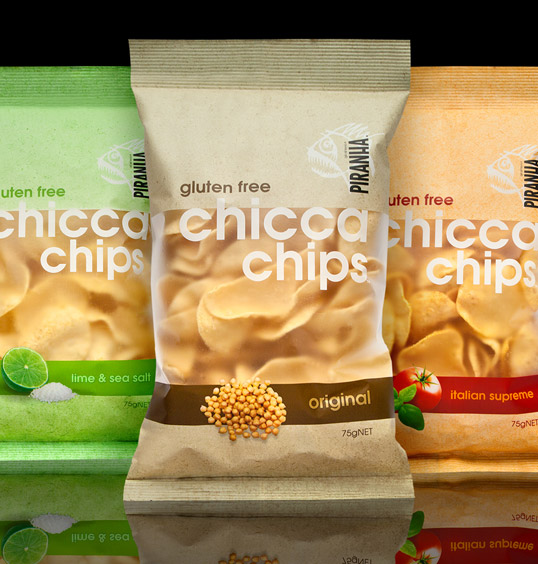 Designed by Watts Design | Country: Australia
"Watts Design, Melbourne, Australia is a brand specialist creating packaging for a variety of products for over 20 years. Watts Design was asked to create this new packaging for PIRANHA chicca chips, a gluten free snack thats made from chic peas. The film we chose for this product was a MATT BOPP, a semi transparent film that ads a touch of deli gourmet feel. With simple typography and basic flavour ingredient cameo photography, this design has been an instant success in the Australian marketplace. Very different, very tasty and very chic!"
July 24, 2011 | 2 Comments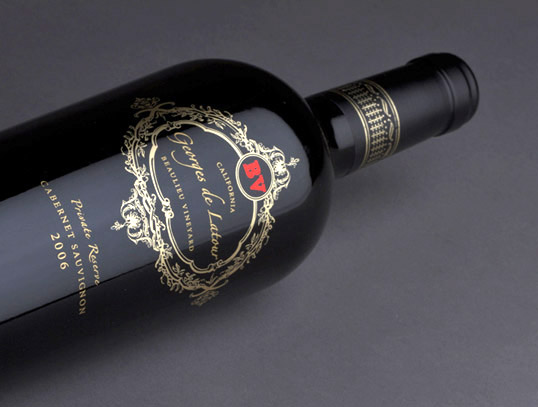 Designed by Phoebe Mak | Country: United States
"The assignment was to redesign an existing brand of wine in the market today. I chose Beaulieu Vineyard as my brand and designed labels for a lower end Cabernet Suavignon and Chardonnay and a higher end Cabernet Sauvignon along with a wine case."
July 23, 2011 | No Comments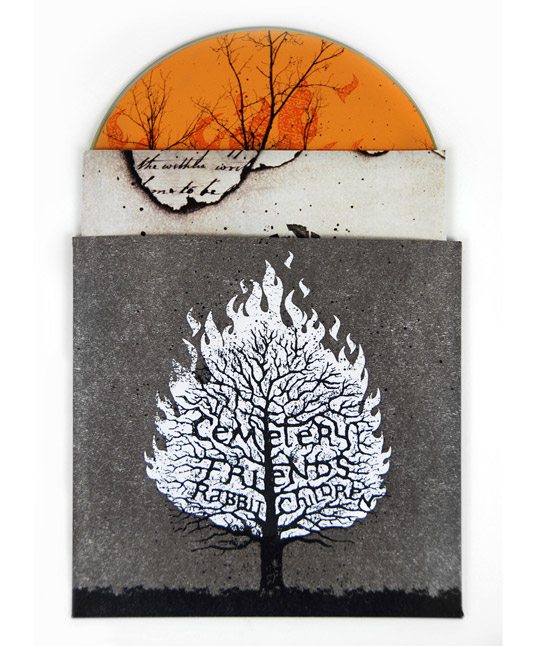 Designed by Brian Danaher | Country: United States
"The CD package may be on the decline but that decline also creates an opportunity to stand out. For their new EP, Rabbit Children wanted to create a package that could be used as both a self promotion tool and appeal to their fan base. The limited edition letterpress printed package, which includes an insert with illustrations inspired by the band's lyrics, was sent to music journalists and bloggers, radio stations and concert promoters. The packaging helped create awareness for the new release by standing out from the generic CD comps and digital download codes typically sent by most labels."
July 22, 2011 | 2 Comments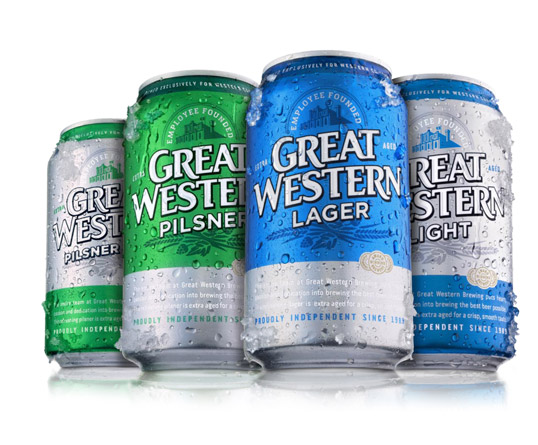 Designed by St. Bernadine Mission Communication Inc. | Country: Canada
"Saskatoon, Canada's Great Western Brewing Co's eponymous family of beers has been a regional favourite for over 20 years. In advance of moving into new markets, Saint Bernadine Mission Communications was asked to update the brand to better reflect the mainstream flavour profile and positioning and increase shelf presence.
Key messaging included refreshment, heritage, tradition, and dedication to quality, shown by research to be important to core consumers.
The existing logo was reworked to retain key characteristics and improve readability and shelf presence. A die cut label and award seal represent quality, the employee founded statement celebrates heritage, the brewery graphic acknowledges tradition, and the "extra aged" text highlights a true point of difference in their brewing process that results in much smoother beers. As well, a section was provided to enable someone to "dedicate" a case of beer to by way of thanks. The design system needed to accommodate four (and potentially more) flavours.
July 22, 2011 | 5 Comments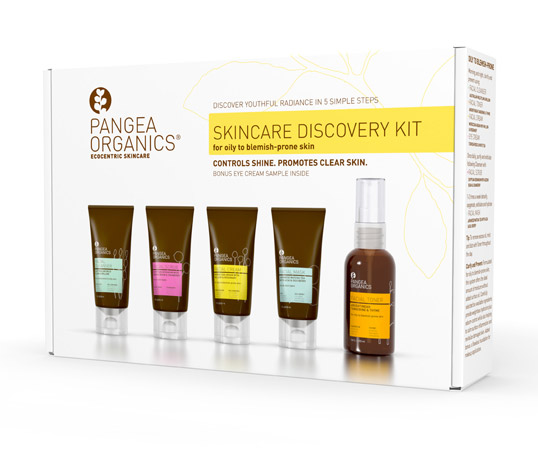 Designed by Josy Ivy | Country: United States | Fonts: FF DIN
New Pangea Organics Skincare Discovery Kits with travel size products enclosed. Three kits by skin type distinction.
July 21, 2011 | 16 Comments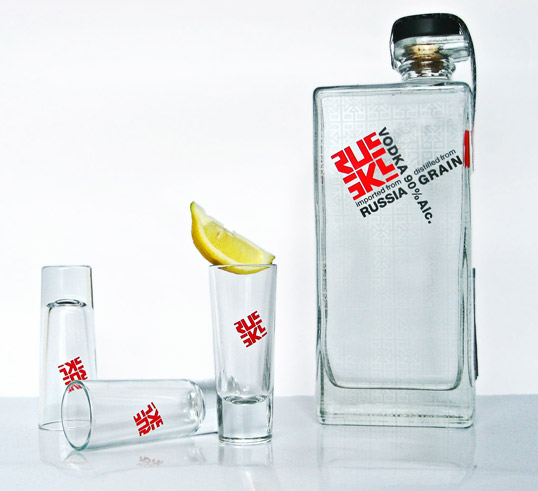 Designed by Larisa Mamonova | Country: United States
"Russky is a project for logo class where we had to come up with a hotel idea. I decided to go with Russian theme for my hotel idea.  Russky would be a prestigious and luxurious boutique opening it's location in the heart of San Diego. The hotel will have identity and branding system to appeal to hip and urban  young professionals, ages 25-40. The unique challenge of this task was not to relay on stereotypical elements of Russian culture that American audience is most familiar with, instead I decided to look beyond commonly known novelties. I searched for inspiration from vintage documentation during Soviet Era, 40's and 50's Russian fine art, and of course propaganda posters.  The key was to combine all those traditional and historical features with the clean look of contemporary design movement. With that combination of ingredients I was able to give a fresh look to a familiar subject of Russian constructivism and old world charm. Russky hotel is a history driven concept without looking dated provides an ultimate New Russian experience that is integrated into brand's sensibility through luxurious accommodations and attention to detail."
July 21, 2011 | No Comments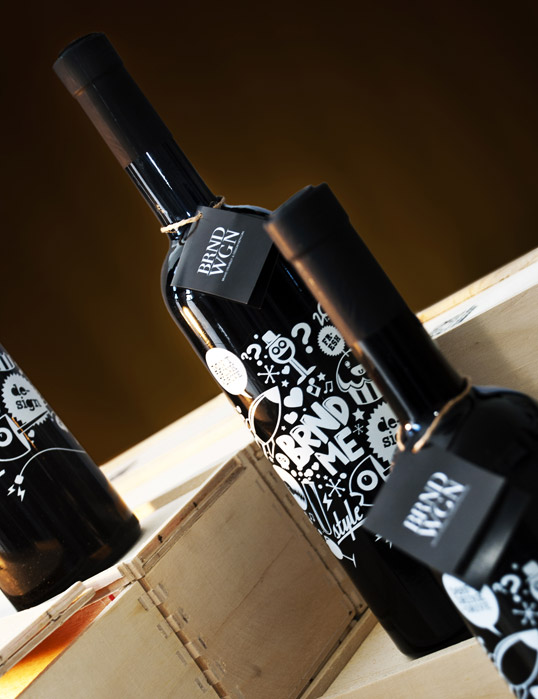 Designed by BRND WGN | Country: Malta
"What better way to celebrate Christmas than with a good bottle of fine Shiraz shared amongst good friends. To celebrate Christmas 2010, BRND WGN decided to thank clients, partners and friends with a bespoke labeled bottle of premium shiraz produced by a local boutique winery from hand picked grapes harvested from the sunny mediterranean island of Gozo. The label was hand drawn by senior designer Karl Attard and inspired by the various characters and personalties who make up the agency."
July 20, 2011 | 5 Comments
Designed by Adam Deleeuw, Laura Davis, Phoebe Mak & Harshyla Singh | Country: United States | Fonts: Gotham, Tungsten, Garamond Premier, Clarendon, URW Wood Type, FIdo
"We are students at the Academy of Art University, San Francisco. The following group project was done for Michael Osborne's Package Design 4 class.
The assignment was to rebrand Costco, keeping in mind a brand matrix, that consists of a "House of brands" and "Branded house." Kirkland being the dominant private brand for Costco was considered the "Branded house" and a line of hypothetical private labels were designed for the "House of brands."
Within Kirkland, we categorized the brand into six lines:  bath, cleaning, paper goods, apparel, home and food products. Within the hypothetical private labels, we created the following : Ollie's Baking Co. which is Costco's bakery and cafe, Counter 74, a premium line of chef quality kitchen equipment, and Noc Noc which is an eco-friendly kid's line. The entire project consisted of almost 80 – 100 fully comped items."
July 20, 2011 | 5 Comments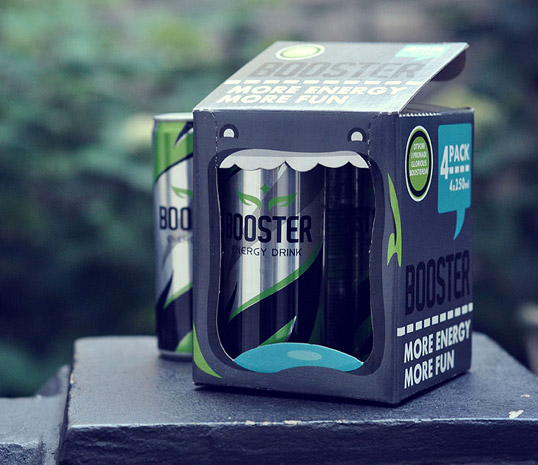 Designed by Saatchi & Saatchi Belgrade | Country: Serbia
"Packaging created for Booster Energy Drink in serbia as follow up to the accompanying advertising campaign. 'more energy – more fun'. The box is made from cardboard simple to keep production costs low and make them easy to manufacture. The design was kept simple by only using a few colours which also helped reduce printing costs."
July 19, 2011 | 4 Comments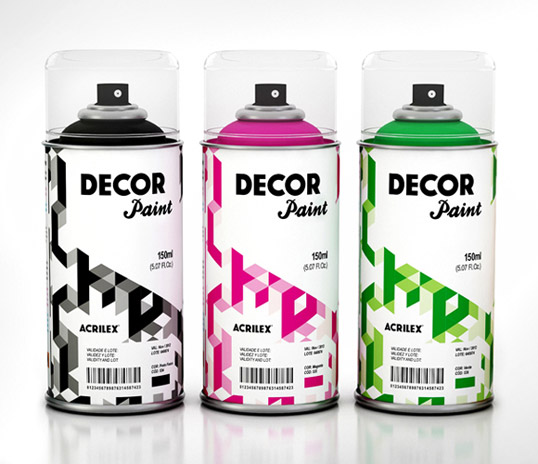 Designed by Da Urca Comunicação | Country: Brazil
"Market leader in Latin America in the segment of art materials, the company Acrilex sought to differentiate the point of sales and create greater added value in the Decor Paint product packaging. The solution was the upgrading of the brand and a complete redesign of their packaging."