August 11, 2011 | 2 Comments
Designed by Believe in | Country: United Kingdom
"Raw Lisa™ creates convenience based raw food products – a relatively new, yet fast growing concept in food retail. Founder Lisa Sture is also a leading figure in the Raw Food movement. Their products will initially be launched in the specialist food sector with the intention of reaching the mainstream via supermarkets. The objective is to appeal not only to Raw Food devotees, but also those looking for healthy convenient food options.
The Raw Lisa™ brand identity is bold and confident, reflective of the pure nature of the products. The logo is applied in conjunction with a series of abstract, germination-like illustrations which
grow from the aperture and represent the living ingredients. The shapes within the customised typeface reflect seedling shoots.
The strapline 'As nature intended' further emphasises the natural health benefits of the products."
August 11, 2011 | 5 Comments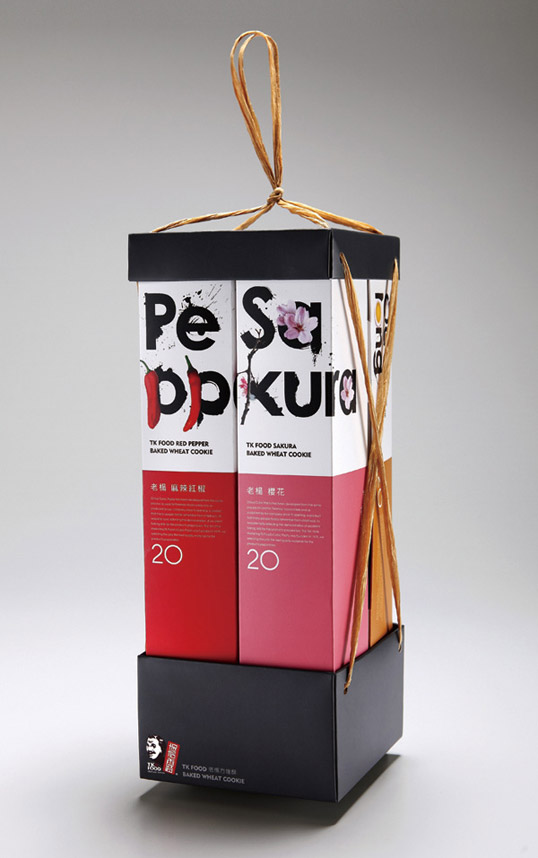 Designed by Victor Branding Lab | Country: Taiwan
TK Food created four brand new flavors of their baked wheat cookies. Cherry blossom flavor is clear and sweet; oolong tea flavor; salty snacks flavor and spicy mustard flavor. TK Food uses unique baking technique to blend various flavors with creativity. Every flavor contains 20 packages within a strip of rectangle. Four different flavors are collected in a rectangular box to express the brand's novelty and variety.
August 10, 2011 | 3 Comments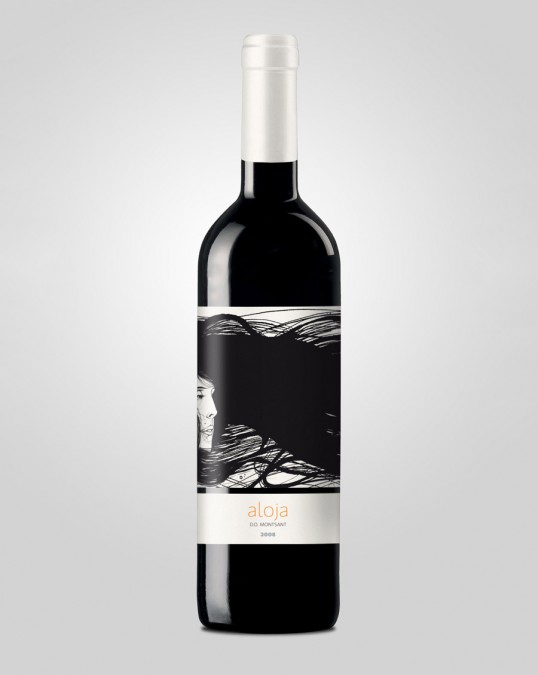 Designed by Atipus | Country: Spain
"Aloja is a sea goddess, energic but tender. The hair of the goddess involves the label creating a sinuous texture. Tasting notes: "Mediterranean character, with volume and prevalence of berries, balsamic and spicy."
August 10, 2011 | 2 Comments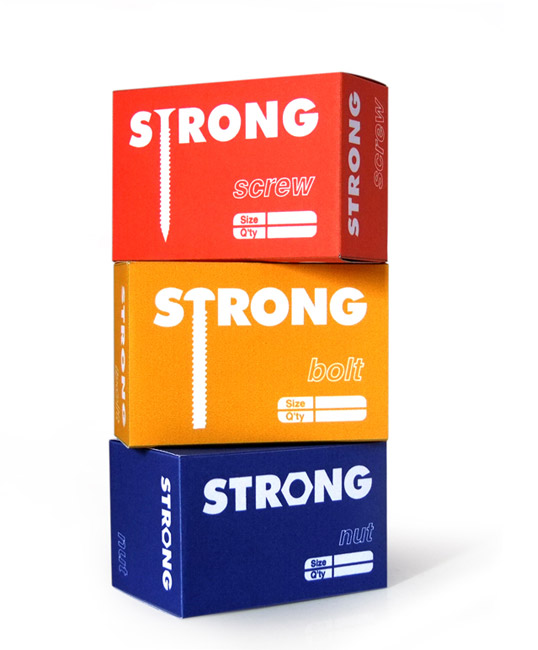 Designed by Sunnydesign | Country: China
"Bold colors make for  strong product differentiation, and one colour printing helps to keep costs low."
August 9, 2011 | 7 Comments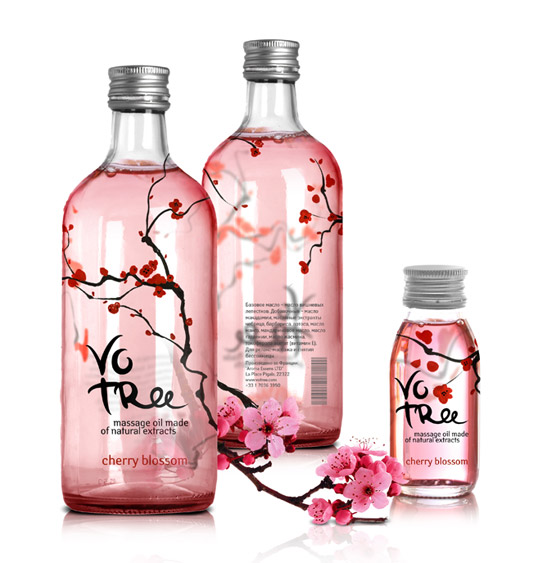 Designed by Ekaterina Dubeykovskaya | Country: Russia
"The massage oil VoTree is made from natural extracts, and comes in a variety of 3 flavors: cherry, fig and chestnut. I painted watercolor plants which became the basis of the design.
In Russian the title 'votree' sounds like a call to action – 'rub'."
August 9, 2011 | 1 Comment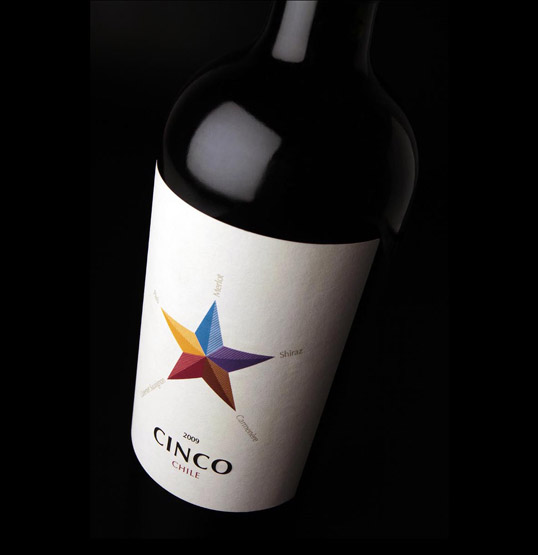 Designed by Diego Ballester | Country: Argentina
"Product created and designed for the Danish market. Five is a special wine"star" that conveys the history of Chile in a unique combination of its most emblematic 5 strains. Minimalist design, color and elegance in each of the points of the star represents a strain, with its color code."
August 8, 2011 | 1 Comment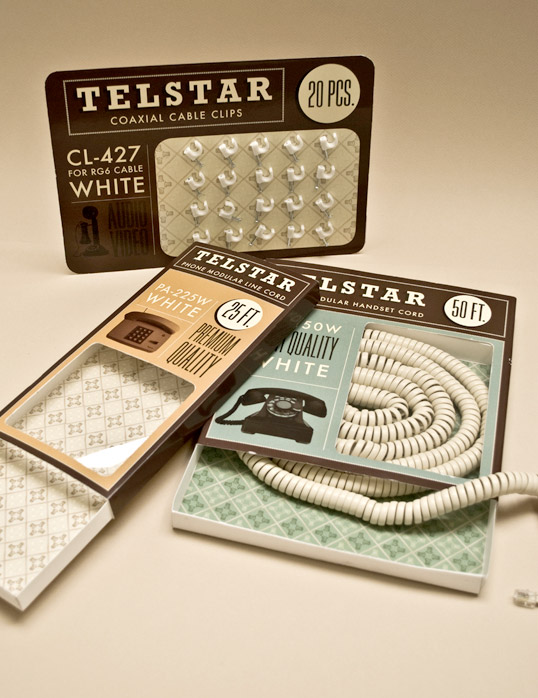 Designed by Roza Gazarian | Country: United States
"Package redesign of telephone cables and cable clips purchased at a 99¢ store."
August 8, 2011 | 9 Comments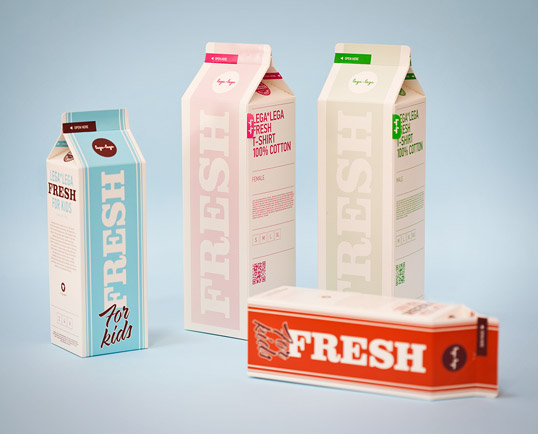 Designed by MIT | Country: Croatia
"This year's line of Lega-Lega t-shirts come in a specially designed gable top carton for extra freshness! Once opened, inside you'll find a cool Lega-Lega t-shirt, and a small sketchbook for doodling and sketching when you feel like it.
Lega-Lega is a cool brand of notebooks, diaries and t-shirts that offer these simple things in a colorful and charming way. It's the idea that people still prefer the warmth of writing and doodling on paper because it contains our individual touch, something that technology cannot mimic, it is at the heart of their philosophy."
August 7, 2011 | 8 Comments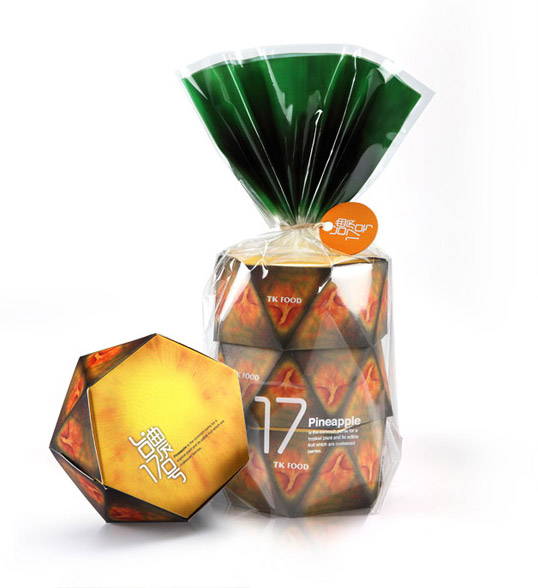 Designed by Victor Branding Lab | Country: Taiwan
"TK Food's pineapple pastry uses TN17 pineapples, which are sweet and fragrant. This series adopts the appearance of pineapple as packing design, which represents "a whole pineapple a fresh present." Besides emphasizing the real pineapple stuffing, the unique packing design is totally different from the general ones and becomes a best choice as a gift."
August 6, 2011 | 7 Comments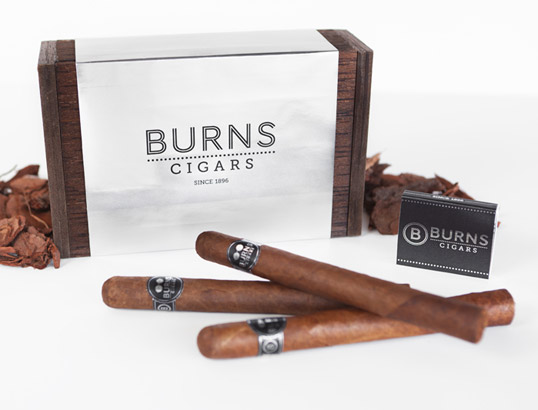 Designed by Paola Meraz | Country: United States
"Dark, rich, and flavorful, Burn Cigars are the ultimate trademark of masculinity and class. A classic icon of American humor and wit, George Burns was the inspiration behind the creation of Burn Cigars. As extemporaneous and off-the-cut as he was, George Burns never performed without a cigar in hand. For men in their late twenties and up, Burns Cigars is targeted for those with an appreciation and respect for fine quality and excellence. Black, wood, and aluminum were used in the design and appeal of these cigars, emblemmed after the late 1930's when George Burns began his lifetime as a classic and awed performer."