September 20, 2011 | 6 Comments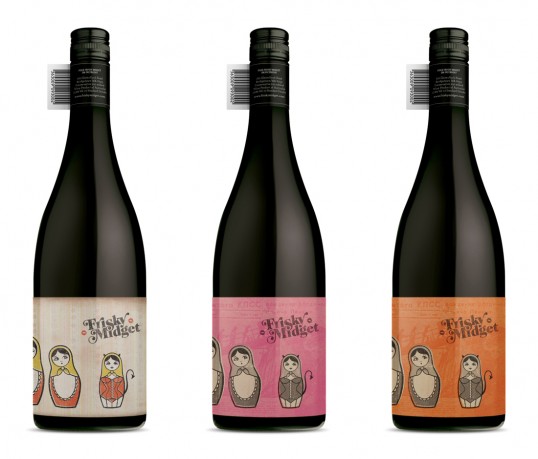 Designed by Studio Lost & Found | Country: United States
"The Frisky Midget wine labels were designed for Blackwood Valley producer Killinchy Wines.
When Andrew and Silke Highet took over running the family winery, they wanted to redefine what Killinchy Wines was all about, and develop a brand that really stood out in the marketplace. We took the client through our brand strategy development process, which led us to develop a firmly tongue-in-cheek brand, for those partial to the odd wine.
The Frisky Midget range is the first in a series of wines to be released under the new Killinchy Wines brand. The large wrap around label is a throwback to Communist Russia, revealing a series of Babushka / Matryoshka dolls with the final doll exposed as the 'Frisky Midget'. This cheeky character is a celebration of individuality and the freedom of self-expression.
Printed four colour process on Fasson Estate 8 uncoated vellum paper."
September 19, 2011 | No Comments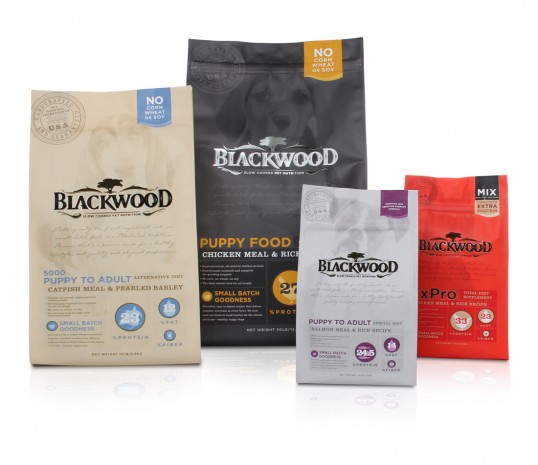 Designed by Kick | Country: United States
"Ohio-based Blackwood Pet Food's handcrafted, all-natural recipes have been loved by trainers of champion sport and show dogs for years. When the company decided to extend their retail footprint, they knew new packaging was key to wooing retailers.
Minneapolis design consultancy Ideas that Kick (formerly known as HartungKemp) created new bags that placed key nutritional values for each recipe front and just a bit off-center. So pet-loving families can feel great, at first glance, about what they're feeding Fido.
Kick's bags also make it easy for store clerks to recommend Blackwood foods. Kick's strategic thinking and smart design transformed this challenger brand into what the agency calls a Shelf Kicker™ in the premium pet food category."
September 19, 2011 | 5 Comments
Designed by Iris | Country: United Kingdom
"To celebrate Mr. Jack's Birthday in September. 200 000 bottles were produced."
September 18, 2011 | 2 Comments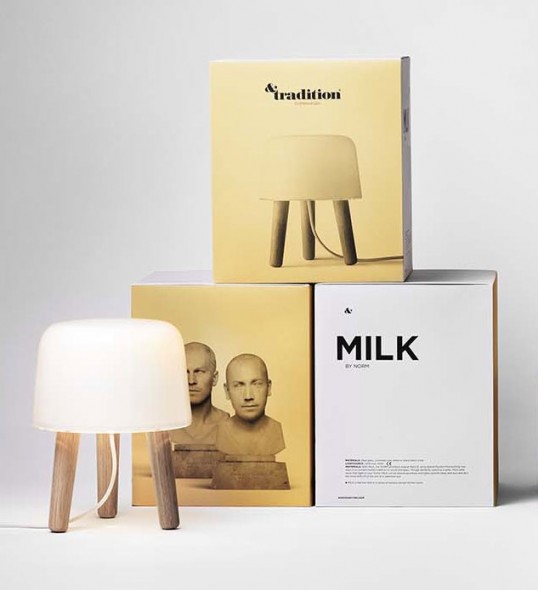 Designed by & Tradition | Country: Denmark
"Craft meets art. Function meets form. Material meets potential. This is our Nordic tradition and heritage. &Tradition aims to bridge these values to contemporary design, reshaping, redefining and reinventing materials, techniques and forms. &Tradition covers the masters of yesterday, the leading designers of today and the talent who may create the classics of the future. We scout for design talent and handpick production facilities globally. But our roots are still Nordic. We respect nature that provide our raw materials, and we believe in design that is made to last."
September 17, 2011 | 1 Comment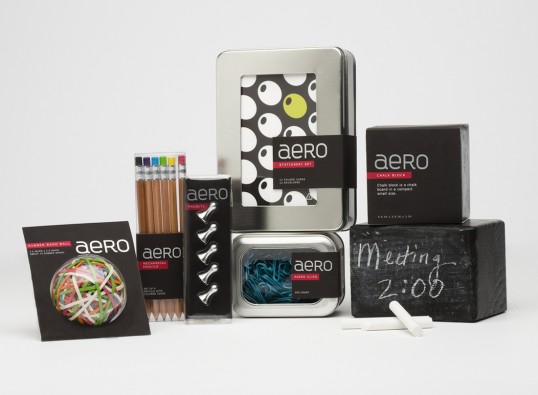 Designed by Caroline Saridewi, Gina Chang, Molly Weber & Sanna Luuka | Country: United States
"This project began with a question, If Target opened up a higher end store to compete with Crate & Barrell and WIlliam Sonoma, then how would they brand their products? Aero is the answer.
Aero is the line of branded house products that would be sold in Aero Stores. The line of departments are endless, however, we focused on office and performance products.
Aero store is targeted to deliver upscale quality home products and services in a friendly and sophisticated way. This store will be catered more to city dwellers and those who can choose to live a comfortable more rustic and modern design lifestyle. Aero's brand promise is to consistently deliver the highest quality, design forward products to our shoppers. Our commitment is to provide our guests with a superior shopping experience.
Taught under Michael Osborne at Academy of Art San Francisco."
September 16, 2011 | 5 Comments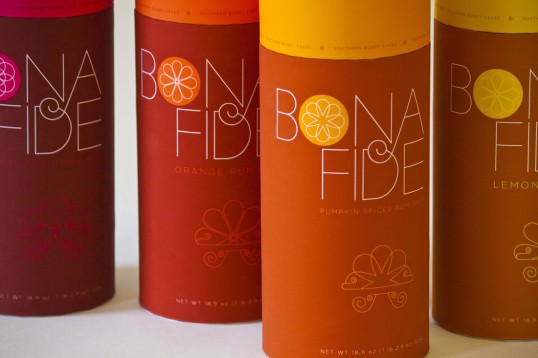 Designed Amy Nortman | United States
"Bonafide is a concept brand and product line that I named and created from scratch. The idea was to design a modern take on the tradition of Southern hospitality, creating a genuine Southern eating experience through beautifully handcrafted baked goods that anyone can access and enjoy, but taste as if ones own grandmother has baked them herself. The look and feel are designed to reflect this sentiment, and the illustrations to create a simple and friendly-fun, yet effective way to communicate."
September 16, 2011 | 2 Comments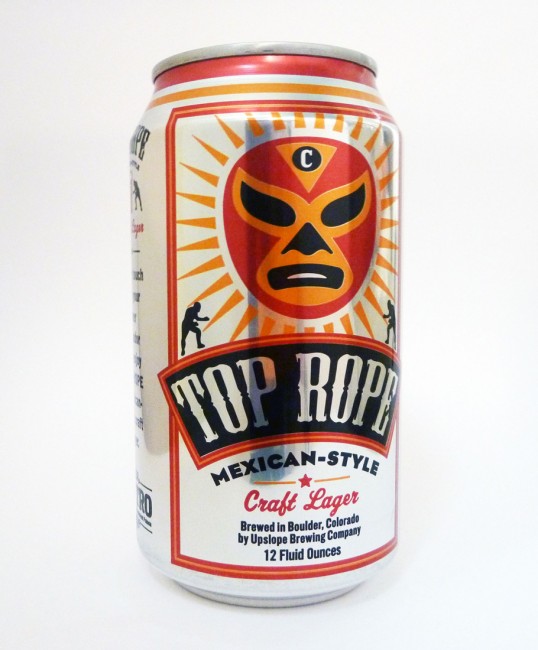 Designed by John Carlson Design | Country: United States
"Beer can design for Top Rope Mexican-Style Craft Lager. Produced by Upslope Brewery in Boulder, Colorado for Centro Latin Kitchen & Refreshment Palace, also located in Boulder.
Top Rope Beer has been available on tap at Centro for some time now. Centro requested a can design for Top Rope based on the Mexican Lucha Libre Imagery that is used as part of the restaurant decor and promotional materials."
September 16, 2011 | 1 Comment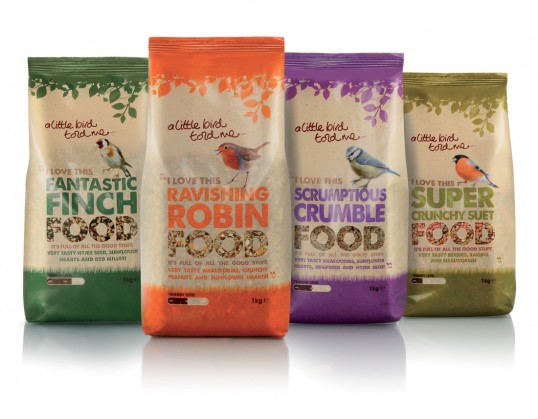 Designed by Stocks Taylor Benson | Country: United Kingdom
"Design agency Stocks Taylor Benson has created the name, identity and packaging for 'A little bird told me…', Pets at Home's latest standalone premium own brand range of natural wild bird food.
Pets at Home, which offers great products, tips and advice to keep your pet happy and healthy is currently trading with a huge range of branded and own label products in over 290 stores across the UK. The launch of 'A little bird told me…' follows on from the success of Pets at Home's premium natural standalone brands in other categories including Wainwright's (for dogs), Purely (for cats) and Woodlands (for small pets).
This brand range is premium in terms of a thoroughly researched mix formulation, whilst offering customers value for money through a lower price point than similar branded goods. The new brand will initially launch with a range of wild bird foods, but the design solution is versatile enough to work across future extensions such as wild bird treats and accessories.
Stocks Taylor Benson's challenge was to create a standalone brand name, identity and packaging solution, independent of Pets at Home, that oozes premium natural cues and has a striking on-shelf presence. The name 'A little bird told me…' suggests this is a well-kept secret to which the customer is now privy. The birds do the talking, conveying that this is what the birds would choose themselves if left to their own devices. Quirky phrases and descriptions explain the differences between the foods. Natural textures and earthy colours enhance the harmony of birds and nature. Plus windows allow consumers to see the actual product.
The new wild bird food range will be stocked exclusively in more than 290 Pets at Home stores from this week. It is available in 1kg packs and includes: Ravishing Robin Food, Fantastic Finch Food, Scrumptious Crumble Food and Super Crunchy Suet Food."
September 15, 2011 | 15 Comments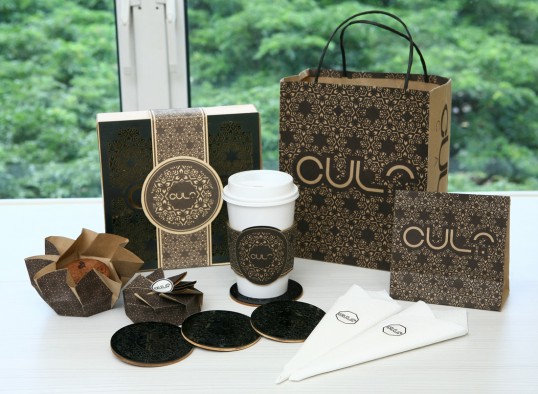 Designed by Brandon Sim | Country: Singpore
"As a part of my packaging class at Nanyang Polytechnic School of Design in Singapore we were asked to create a new cafe brand/identity and to design the packaging. The design was inspired by victorian patterns and laser cutting was used in making the coaster and the P.O.P. box.
September 15, 2011 | 1 Comment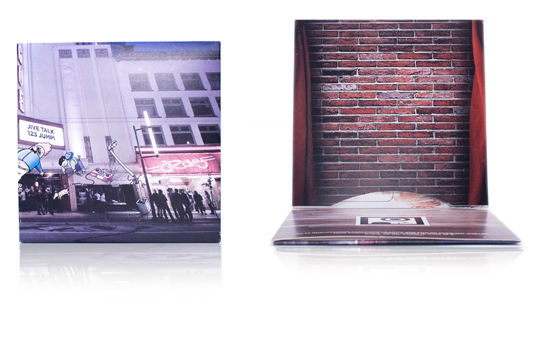 Designed by Rethink | Country: Canada
"This interactive CD package was designed for Jive Talk's latest album '123 Jump!'. To enhance fans' experience with the band, we created an online animated experience using Augmented Reality and Quick Response codes.
Fold the CD case to form the stage and scan the AR code to start the band's "live" animated performance. Watch the animated Jive Talk members perform their title track, "123 Jump!".
The inner booklet shows each of the four band members. Scan the QR markers, place your Smart Phone over the band members' mouths and watch the guys sing their music! Try experimenting with the music by scanning the band members at different times to remix the song, or break the song down and listen to each member individually."