November 17, 2011 | 15 Comments
Designed by Grisha Sorokin | Country: Russia
Packaging for coffee take away cups. The ingredients of each drink is illustrated on the cup to show that Shokoladnica provides quality coffee with deep knowledge of the best practice and to make each cup.
November 17, 2011 | 9 Comments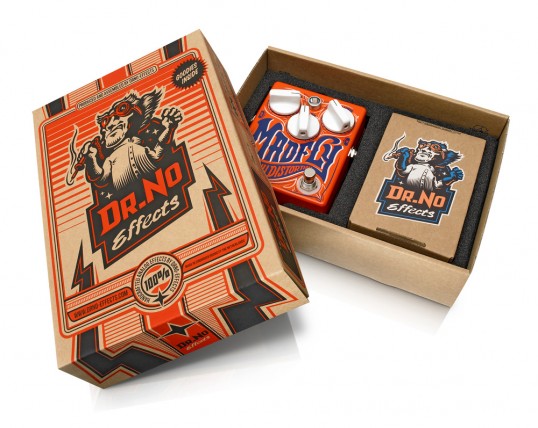 Designed by BoomArtwork | Country: The Netherlands
"I created the logo artwork and packaging design for DrNo Effects, a range of vintage guitar effect pedals. It has been an absolute pleasure to work on this job as I always love to mix graphic design, custom lettering and illustration.
This project had all of these elements. I started by doing rough sketches, and created six different vintage styles, one for each guitar effect. Within each artwork, I tried to reflect the sound and style of the effect. I created custom letters to make,
every effect is unique and special. Finally, I placed the sketches in Illustrator, traced them and added colour."
November 16, 2011 | 7 Comments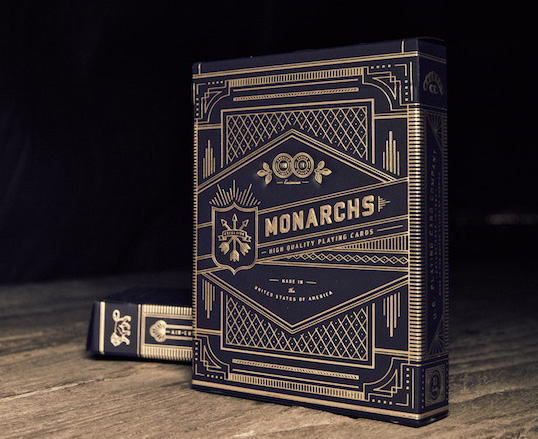 Designed by Neighborhood Studio| Country: United States
Monarchs have a vintage, timeless air to them that is unlike any other. The tuck case is printed in gold foil on an embossed, soft-touch navy blue card stock. Designed and produced in the USA using renewable energy sources, printed on Q1 quality stock with our signature Premium 909 Finish.
Monarch Playing Cards express elegance, clarity, and pride. We didn't want to settle with adequate or even greatness – we wanted perfection, with an uncompromising eye for quality and durability. These playing cards, and the tuck case, are fit for a king. The back design is truly a masterpiece.
November 16, 2011 | 18 Comments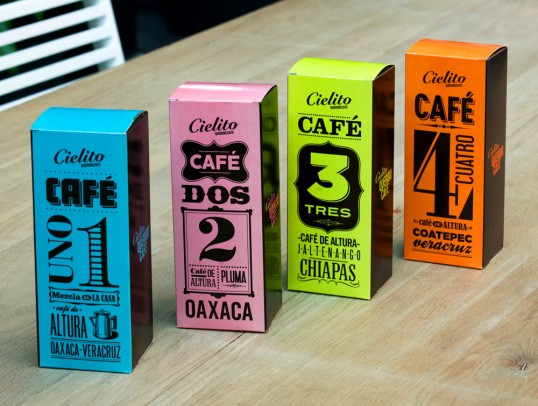 Designed by Cadena+Asoc. Branding | Country: Mexico
CIELITO ® it is a Latin American reinvention of the coffeehouse experience. A place that surprises, comforts and engages all senses through its space, aroma, taste, color, and histories.
November 15, 2011 | 3 Comments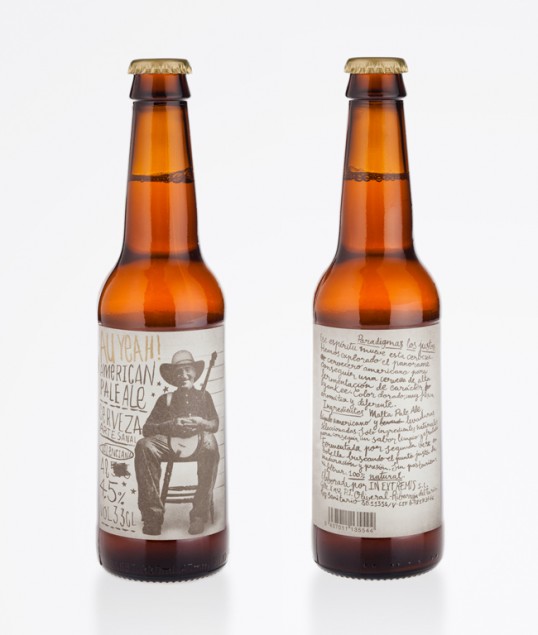 Designed by Estudio Mllongo | Country: Spain
"Au Yeah!, a valencian beer with an american style, dixie inspiration, texas beer hops and an authentic flavour. The mixture of cultures is shown with a touch of humor in the naming, a unique graphic design and a handmade typography."
November 15, 2011 | 6 Comments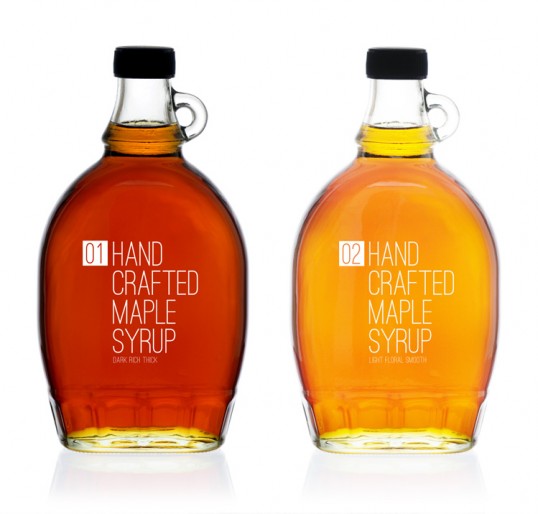 Designed by TACN Studio | Country: Canada
"Maple Syrup comes in different intensity grades, the numbers denote how strong or weak a grade of maple syrup is. The bottle is one typically used to package hand crafted maple syrup yet the typography is modern simple and classic – It's not a sales pitch, just pure unaltered product."
November 14, 2011 | 1 Comment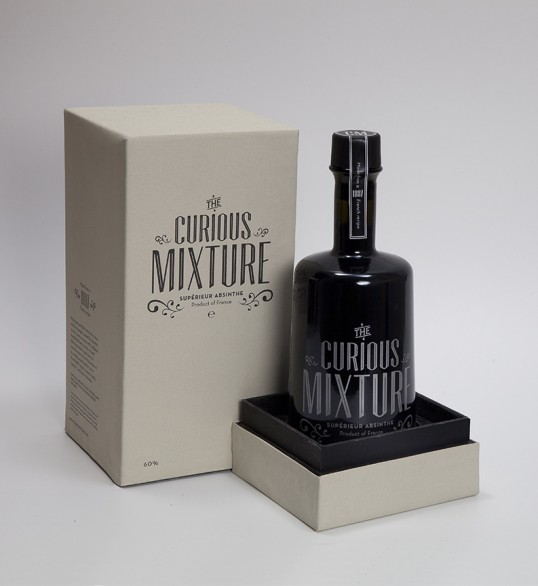 Designed by Stig Bratvold | Country: Norway
"Curious Mixture is a supérieur French Absinthe Les Blanche. The name is inspired from the curious mixture of herbs that are put together to make this Absinthe. The black bottle gives it a mysterious character."
November 14, 2011 | 4 Comments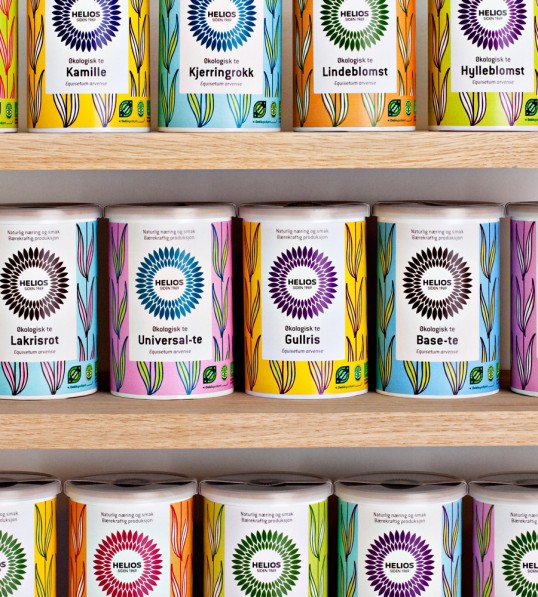 Designed by Uniform | Country: Norway
"Helios has since 1969 provided organic and environmentally friendly products to the Norwegian market. The products have traditionally been sold purely through specialty shops for organic products. Now the Helios brand is being launched to the people.
Uniform won the pitch to reposition the Helios eco-brand last year. The challenge was to transform the Helios brand from being a brand just for the typical eco-consumer, to become a brand for the regular retail customer.
November 13, 2011 | 4 Comments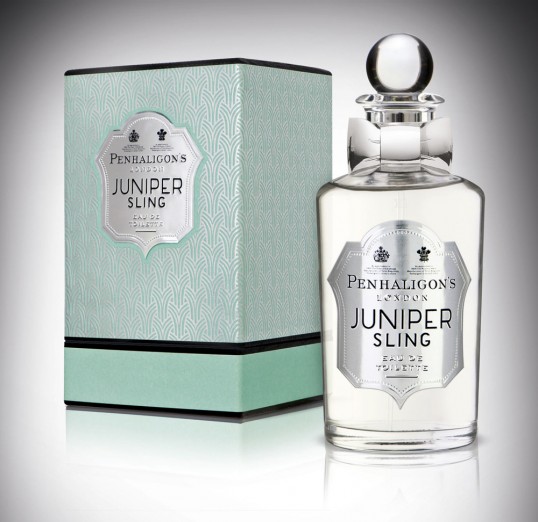 Designed by jkr | Country: United Kingdom
"The best scents tell a story, capturing a memory or a moment in time. This is true of the new Penhaligon's fragrance Juniper Sling, which launches this month with packaging designed by jkr.
"Juniper Sling is a very exciting concept. The fragrance is inspired by the botanical ingredients within London Dry Gin" explained Sarah Rotheram, CEO, Penhaligon's. "We look to create fragrances that have a very British beat to them, and Gin is very much a part of the history of London. To create this fragrance, we have had the pleasure of working with an icon within the fragrance industry, the perfumer Oliver Cresp".
"The brief was very clear on the mood and emotion we wanted Juniper Sling to conjure up from a design point of view" said Jovan Buac, Account Director, jkr. "It's about gin cocktails in the 1920's, bright young things and art deco nuances." As always, Penhaligon's aims to play on its heritage but with a nod to the modern. "The design aims to deliver simple elegance with patterns inspired by 1930's architecture but shown in a very subtle way through the use of silver foils on the box" said Liz Stannard, Designer, jkr.
With a newly designed over-sized box structure and metal bow-tie, jkr strived to add more weight and luxury to Juniper Sling, whilst still ensuring it fitted with the rest of the Penhaligon's range.
"This design is all about tactility and layering, but with simplicity at the heart of the design. The paper stock is tactile whilst the use of silver foils and varnishes helps create a luxurious feel" said Judith Allan, Production Director, jkr.
"The use of real metal features on the bottle & box was key. This aspect of the design was inspired by classic decanter labels and helped provide authenticity while building on the gin story at the heart of the fragrance" said Liz Stannard, Designer, jkr. "Of course, producing these labels was technically challenging, but the result is superb" added Judith Allan, Production Director, jkr."
November 12, 2011 | 4 Comments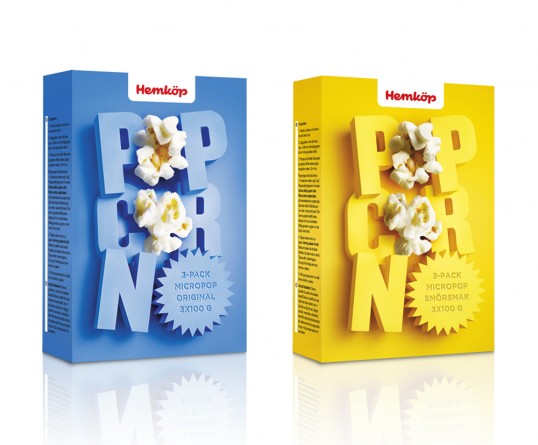 Designed by Kostym | Country: Sweden
"Hemköp is a part of the Swedish grocery chain Axfood. The stores are in central locations throughout Sweden. Hemköp offers its customers a wide and affordable range of inspiring foods and good service to meet and exceed customer expectations."