February 17, 2012 | 2 Comments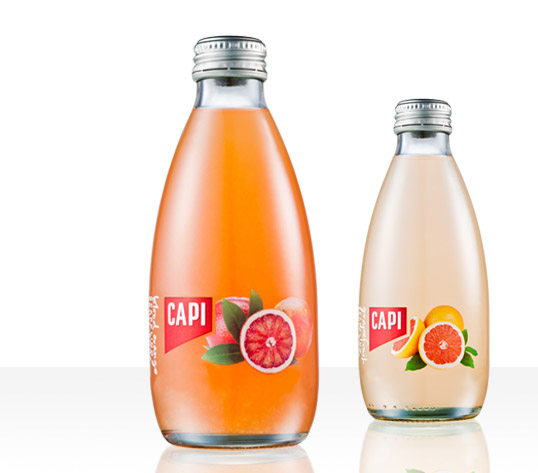 Designed by CIP Creative | Country: Australia
"The CAPI brand was born from a simple idea to produce Pure, Clean, Refreshing carbonated drinks. Taking on the sourcing and blending responsibilities themselves they have secured the finest natural extracts and botanicals worldwide to ensure their promise of authenticity.
Capi Beverages were after a bold new look for their new Capi Sparkling range. The new premium range included Mixers, Fruit Sodas and Mineral Waters and prides itself on the quality of ingredients it has sourced from around the globe.  The result is Premium Refreshment.
CIP Creative were engaged to create a Strong Brand Mark and distinctive packaging. When creating the brand and associated labels, we aimed for a crisp, fresh, no nonsense visual language puled together by a sharp logotype."
February 16, 2012 | 1 Comment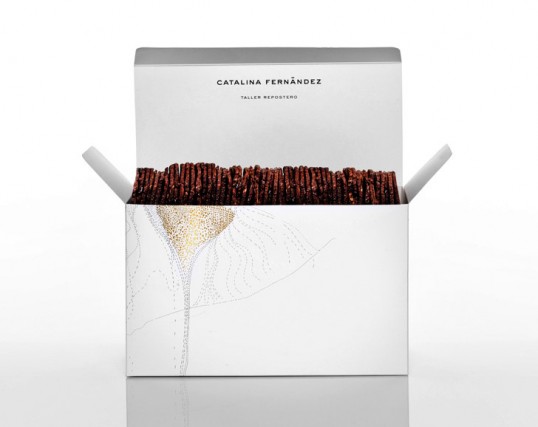 Designed by Anagrama | Country: Mexico
"Catalina Fernandez is your typical home based bakery that started in 1988 and eventually became a successful pastry shop.
Along with the shops growth, came the need to open more branches and to penetrate new generations of potential clients.
When the client approached us, she told us her desire of upgrading the brand to a much more sophisticated style. Based on these requirement we developed a very elegant identity, with a sans serif typeface to keep the brand neutral and give it a chance to evolve in the long run, with new designs for their packaging and other printed pieces.
The various boxes and bags were decorated with details in golden foil that, not unlike Catalina's pastries were, took many hours of attention to detail."
February 16, 2012 | 2 Comments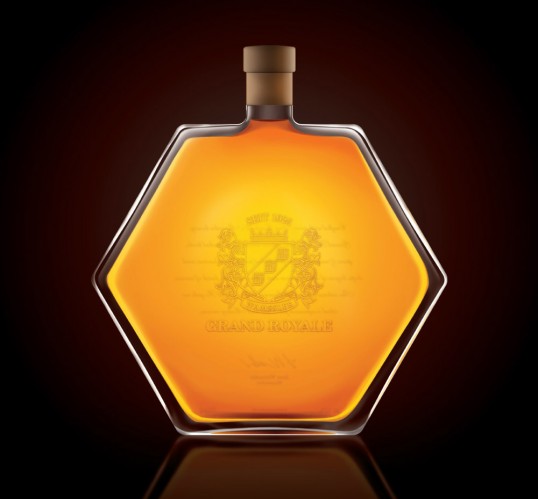 Designed by Boon How Low | Country: Malaysia
"This personal project is started because of my instant crush I had when I first had a sip of it.
Mead, also known as honey wine, is the first alcoholic beverage known to man. It is often known as an aphrodisiac drink as well as a preferred drink in the ancient Greece. Beside that, this historical beverage also had long been enjoyed in the medieval ages and featured in poetry, myths and folktales.
The packaging is designed with the intention to put it into the top-tier quality of mead, with an iconic status for the brand as well as the drink. As one of the main ingredients is honey, it makes a lot of sense to craft the bottle into a hexagonal shape, very much like the honeycomb. With simplicity and elegance in mind, I chose to have the logo etched on the front and the rest of the information printed on the back of the bottle."
February 15, 2012 | 4 Comments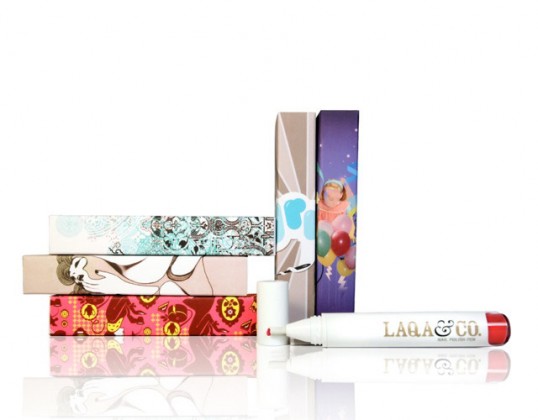 Designed by LAQA & Co. | Country: United States
"We are a start-up cosmetics brand that wanted not just to stand out, but to stand for something. More than just beauty, we try to provide inspiration for young women to achieve their goals and provide alternative roles models for them. Quite a tall order for a wee beauty brand, no?
Well we decided use our packaging as a canvas for young artists, featuring specially commissioned work, with artists receiving a profit share of each product sold.
Each product color is used to inspire each piece of art, that in turn can also hang on someone's wall. The box leaflet explains our mission and where to find the wall art for sale, in the most un-leaflet way possible."
February 15, 2012 | 5 Comments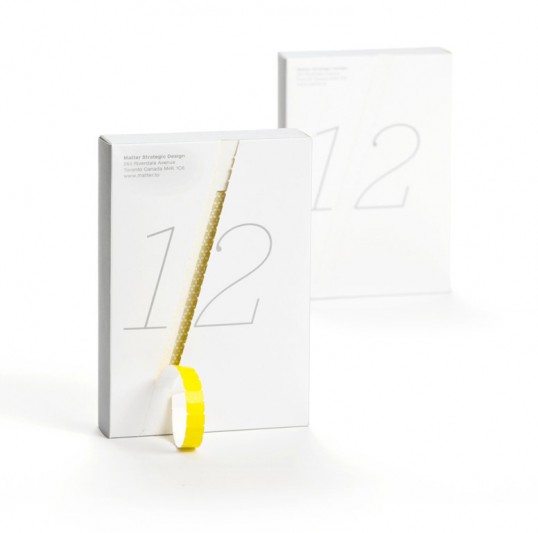 Designed by Matter Strategic Design | Country: Canada
Matter Strategic Design created these 2 custom notebooks housed in a zipper-perfed mailer as New Years gift to their clients.
February 14, 2012 | 3 Comments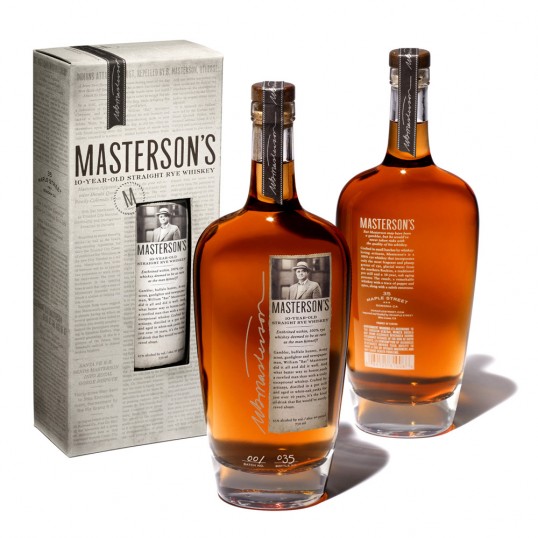 Designed by Studio 32 North | Country: United States
"Drawing inspiration from its namesake, the packaging is imbued with Bat Masterson's life and lore. The bottle has a strikingly graceful shoulder that's reminiscent of 19th century whiskey flasks, while the small front label lets the whiskey's glorious amber hue do most of the talking. Serving as a tribute to Masterson's days as a renowned journalist, the die-cut label resembles a clipped-out newspaper column, complete with torn edges like a real newspaper. The exterior box features a die-cut window, allowing the label to stand out-yet fit in seamlessly with newspaper articles printed over the surface of the box. The articles delve deeper into Masterson's life and were custom written in the distinctively verbose and dramatic turn-of-the-century tone."
February 14, 2012 | 10 Comments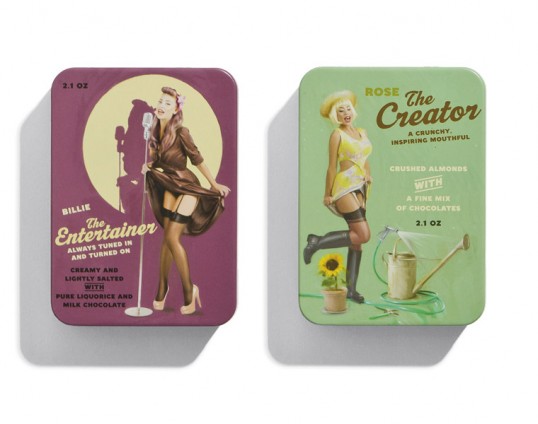 Designed by Bessermachen for Brandhouse | Country: Denmark
"12 archetypes.12 filled chocolates.12 months. Bessermachen design studio had a dream about how archetypes could be shown as young women, calendar girls in a classic 50s style, to create the perfect packaging for archetypes and chocolates. But we knew that for it to be authentic, it would have to be done right.
They were perfectionists in the 50s. First they photographed the model. Then they painted over the picture to achieve the right effect. There were no shortcuts. And speed was of the essence.
To create pin-up girl illustrations, you have to be faithful to the way it was done in the 50s. From the ground up and without compromise.
Packaging for the chocolates is a chapter for itself. Everything from weight to quality and coating needs to be taken into consideration. Suggestions range from using fabrics to cardboard. But in the spirit of the 50s we end up choosing tin boxes. The production, however, is modern and made in China."
February 13, 2012 | No Comments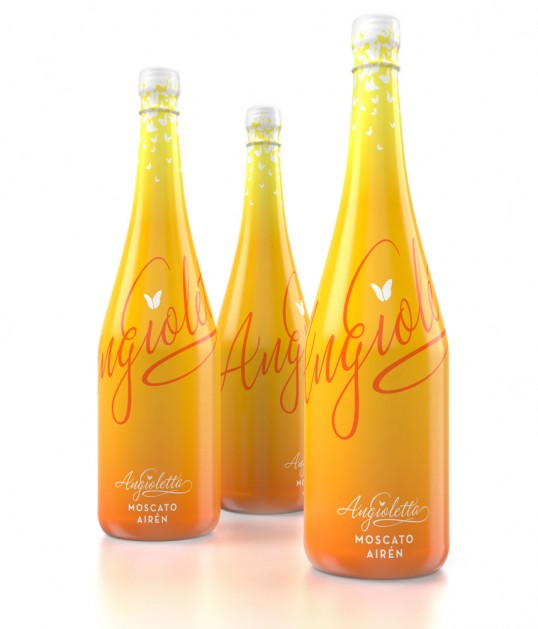 Designed by Kaleidoscope | Country: United States
"National importing company, Wein-Bauer, Inc., engaged Kaleidoscope to develop a simple and elegant packaging design for Angioletta, a sweet, "casual" white wine produced in Italy from a Spanish Moscato. Targeting outgoing, fun, adventurous young women, the packaging needed to be approachable, innocent and playful. The full body shrink label design delivers on its taste appeal but makes no mistake that this wine is for your cooler, not your cellar."
February 13, 2012 | 5 Comments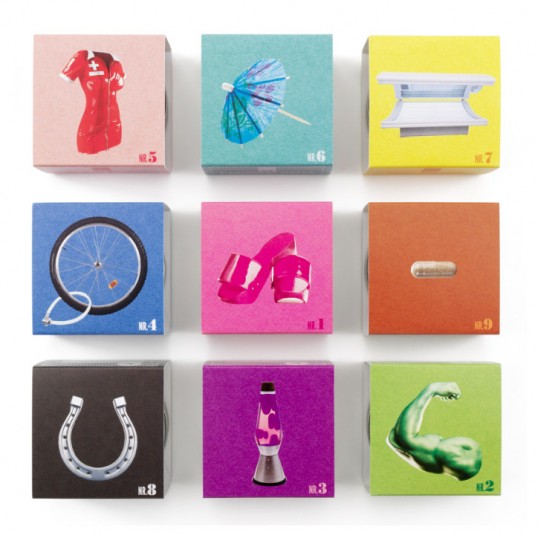 Designed by Proud Design | Country: The Netherlands
"Tea Bar is a Amsterdam based tea shop where you can select, mix and drink your own blend of loose leaf tea. We were asked to create a pack for their most favorite and special blends of loose leaf tea.
We created new names and images to reflect the individual character of each tea blend. Colourful sleeves for the tin containers to slide in. And larger sleeves for the female, male and green collection.
The result is a perfect give-a-way or keep-it-yourself."
February 12, 2012 | 7 Comments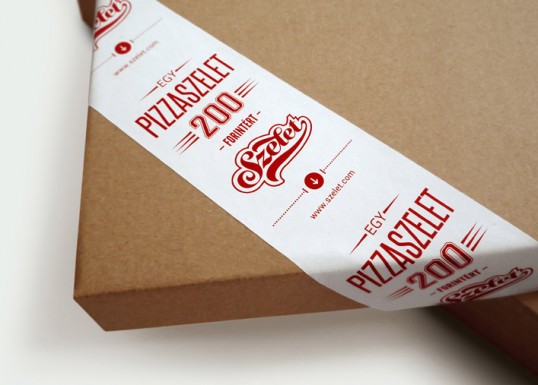 Designed by Kiss Miklos | Country: Hungary
"Szelet (it means a 'slice' in english) is a really small pizzeria which specializes in a slice of pizza. I started with inveting the name 'szelet'. After that I designed its identity, the interior design, the packaging and the web design. I wanted to choose a strong concept which can be developed into a franchise later. Therefore I have chosen a very intense colour – red – and a familiar shape that evoke the 'world' of pizzeria and fast food restaurants."