July 6, 2012 | 1 Comment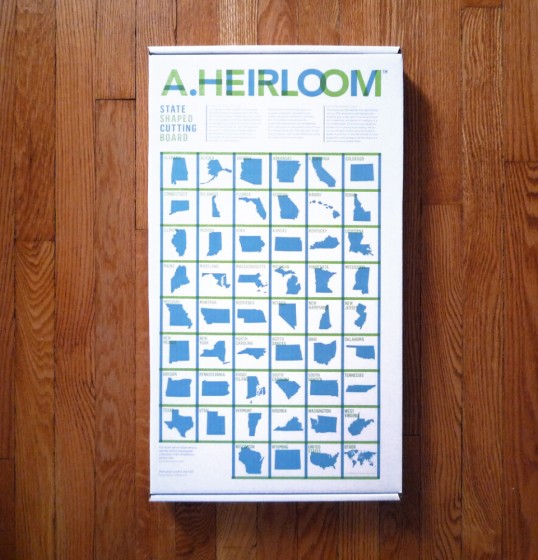 Designed by enormouschampion | Country: United States
"We worked with A. Heirloom, a company that makes US state-shaped cutting boards, to design a single box that could house all of their different shaped boards. The solution was to create a "periodic table" of state-shapes that could be marked off to indicate the box contents. There is also an additional "other" box for their occasional custom request."
July 6, 2012 | 8 Comments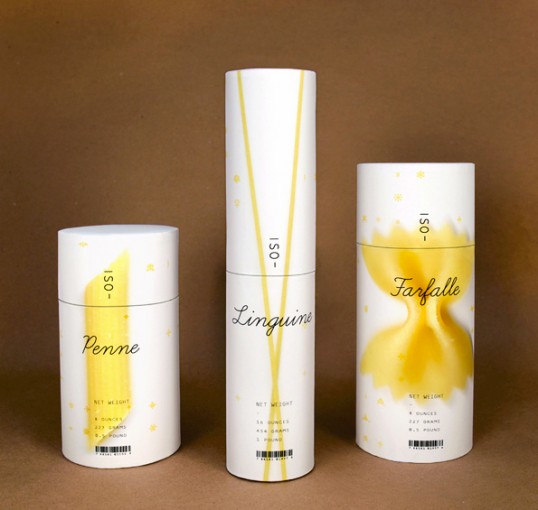 Designed by Bryan Ku | Country: United States
"Realizing that most people have a difficult time gauging how much pasta to cook. This is a fictional brand and packaging for pasta. The sustainable, cylindrical structures functions to help isolate the correct amount of pasta per serving while differentiating itself amongst its competition of sacks and boxes.
The caps double as a measuring device. The length of the caps are determined by the volumetric space of one serving size of any short-cut noodles.
Long noodles utilize an alternate mechanism within the cylinder. By rotating the upper half of the structure, the top of the package reveals an opening that allows exactly one serving size to pass through at a time."
July 6, 2012 | No Comments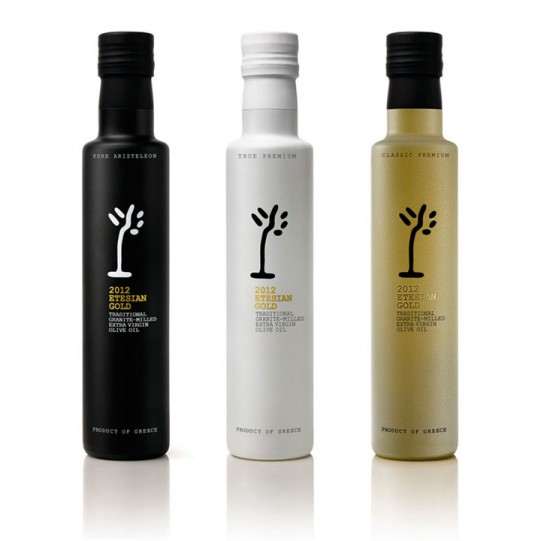 Designed by mousegraphics | Country: Greece
"Brief: we market our premium product abroad and mainly in the Far East, where it is considered a cosmetic, aside from being consumed as a precious food item.
Audience: consumers who appreciate pure ingredients and the rituals relating to their consumption.
Design: targeting a cultural milieu with very specific communication semiotics and particular habits, we opted for a design which, subliminally, speaks about archetypes, about the signs and symbols of the oldest civilizations. Product 
of an ancient land and a sacred plant, the 'etesian gold oil' is saved in an elegant bottle. It is sealed with the graphic symbol, used in linear b (an ancient greek pre-alphabet syllabic script) to mean 'olive'. Color tones and hues are kept to the minimum of an earthly palette."
July 5, 2012 | No Comments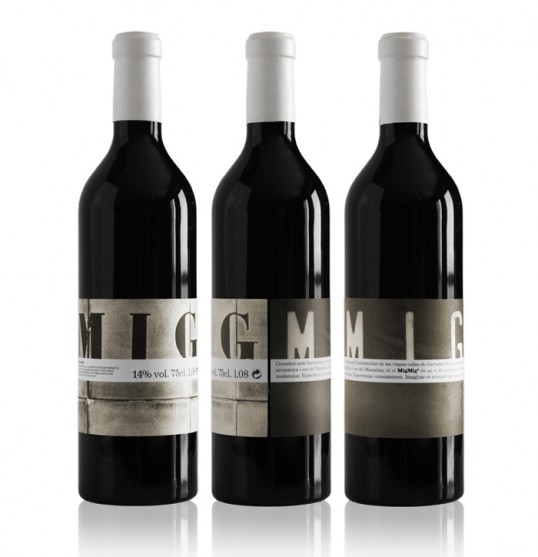 Designed by Senyor Estudi | Country: Spain
"Mig Mig –Fifty-Fifty in Catalan– is a wine of contrasts. Tradition and modernity. Experience and knowledge. Two opposite values, face to face! 50% Red Grenache –pure tradition–, and 50% Marselan –pure innovation, because it is an experimental variety–. One bottle, two faces, like Dr. Jekyll and Mr. Hyde. Light versus dark background, ceramic plate versus metal plate, serif typeface versus sans serif."
July 5, 2012 | 1 Comment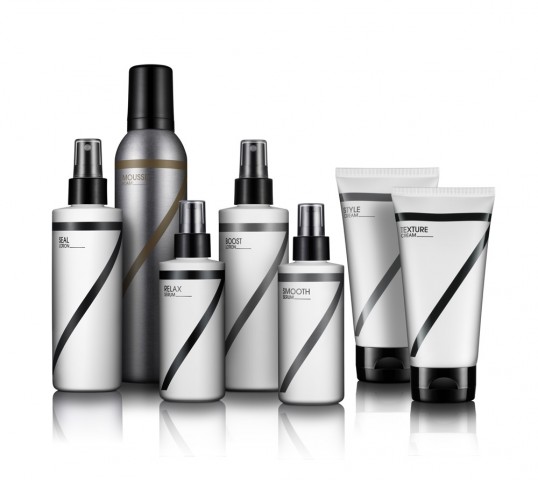 Designed by Turnstyle | Country: United States
"SEVEN Salon isn't interested in feeling like a spa, or in making you look like your favorite celebrity. Instead, with music spun by a live DJ, complimentary barista bar, and lights over the cutting stations that provide a feeling a being "on stage," it exudes a unique atmosphere of energy and vitality. The fashionable salon focuses on providing haircuts that defy trends by suiting a client's distinctive facial structure and features best. SEVEN believes your hair is the most important thing you wear and that is says who you are as an individual.
WIth plans to expand its influence by taking its robust line of 25 hair care products national, SEVEN partnered with Turnstyle to reinvigorate their brand identity and product packaging to more closely capture the essence of its stylish salon experience. The large san-serif numeral 7 logo, with its bold diagonal stroke bisecting the package, exudes a sense of confidence. Minimal, modern typographic titling and a limited black, white and metallic color-palette evoke a sense of fashion luxury. Boxes unify and enhance the on-shelf presence and further create a sense of premium sophistication."
July 4, 2012 | 2 Comments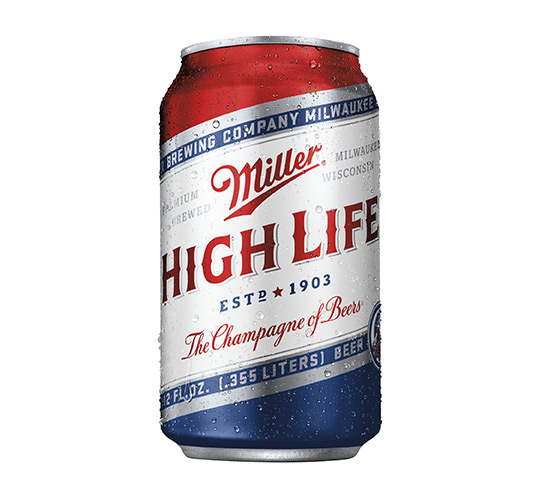 Designed by Landor San Francisco | Country: United States
"In 2010, Miller High Life reclaimed its status as the iconic American beer. The strategy was simple, embrace the brand's quality and rich 100+ year history. After reclaiming its old glory, High Life tests its true colors with this summer's special edition can. Standing tall in red, white and blue, Miller High Life is perfect for patrons and patriots alike."
July 4, 2012 | 3 Comments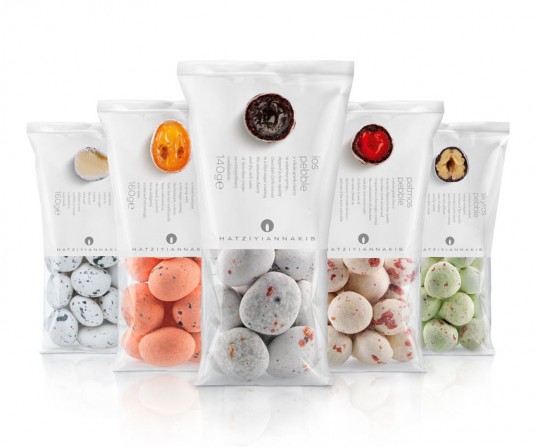 Designed by mousegraphics | Country: Greece
"Brief: our product is strange and unique. We want to make this clear.
Audience: bold and brave consumers, with a sweet tooth and a flair for discoveries. intellectuals of the gourmet type.
Design: to paraphrase the famous Marshall McLuhan expression, "the medium is the content" in this packaging extravaganza. Τhe symbiotic relationship of medium and message, (of which the media guru preached), is here translated into the eccentric coupling of package-product. Αn 'outer-inner' game of illusions is played here, for the eyes of the consumer. Τhe paradox of a sweet, eddible, even appetizing pebble, the beauty of an open crop, with its shockingly realistic flesh, fake cherries which can fool birds into coming to nibble at them like in the ancient paintings of Zeuxis, rocky-tasty formations: all these are mind treats we prepared for the consumer within a heightened – reality design environment."
July 3, 2012 | 1 Comment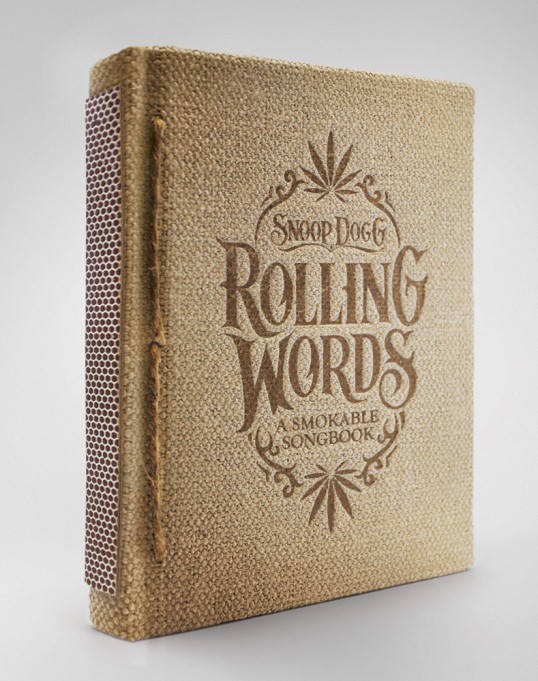 Designed by Pereira & O'Dell | Country: United States
"Introducing Rolling Words, Snoop Dogg's smokable songbook. A promotion for Snoop Dogg's Kingsize Slim Rolling Papers created by San Francisco agency Pereira & O'Dell.
Each page is a rolling paper with Snoop's greatest songs and lyrics written on them – in non-toxic ink – for your rolling pleasure. The pages are perforated making them easy to detach.
The book is made of hemp-related materials, with the cover, binding, and internal lining all made from hemp seed paper while the spine of the book is a match striking surface.
"We'd been working with Pereira O'Dell on the "Obrigado" song & video with Snoop Dogg & Marcel D2 to debut Jawbone's Jambox in Brazil when they came to us with the idea for Rolling Words," said Nick Adler, Strategic Brand Director, Stampede Management. "Honestly, we were kind of blown away. It's a fantastic brand extension for us, and totally captures the vibe and spirit of Snoop and our platform. We're excited about the project and eager to see where it takes us."
July 3, 2012 | 2 Comments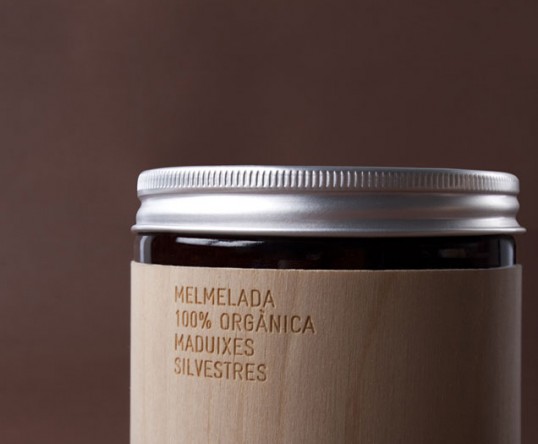 Designed by Marnich Associates | Country: Spain
"Packaging design for organic produce maker MamaBrown. The label is laser-engraved over thin wood."
July 2, 2012 | 3 Comments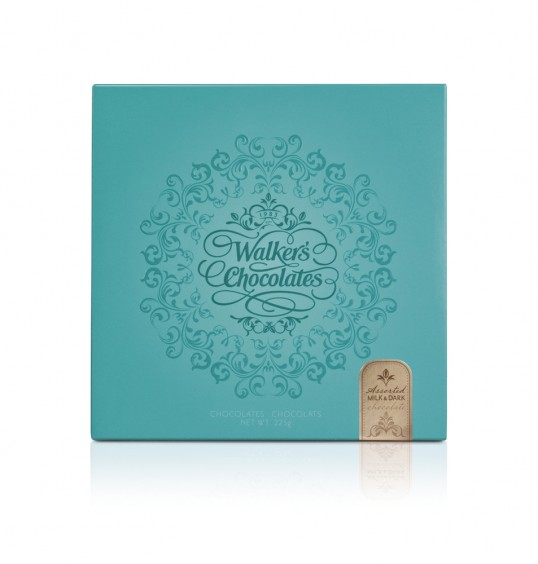 Designed by Bridgemark | Country: Canada
"The Walker's family has been creating confectionery in their Candy Kitchen in small batches, hand-stirred in copper kettles in the traditional way for almost 30 years.
Walker's Chocolate needed to carefully transform their brand to draw in younger consumers while continuing to appeal to their loyal and valued aging customer base. Bridgemark's boutique package stands alone as an exquisite, gift-able offering bypassing the need for additional wrapping which is costly and labor intensive.
What was once a utilitarian box is now a treasured gift. Walker's new versatile packaging is steeped in tradition with an inspired color palette that is bold and contemporary."