August 24, 2012 | 2 Comments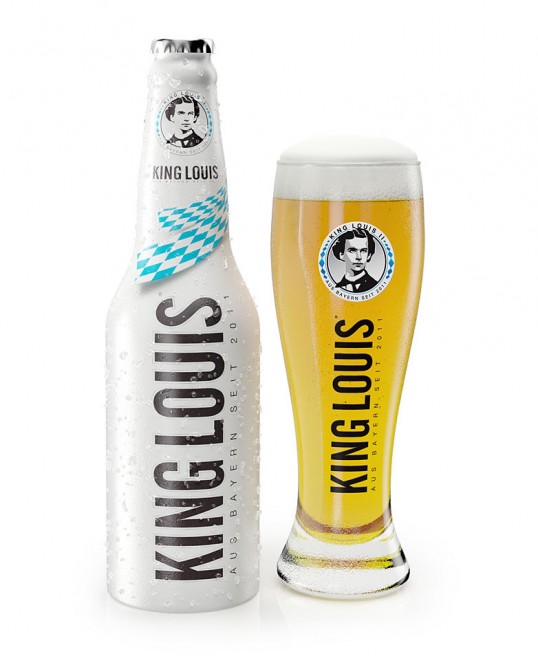 Designed by Insight Design Studio | Country: Serbia
"King Louis Bier is a young German (Bavarian) beer for young people. Bavaria is one of Germany's very unique states with strong traditions ("Lederhosen", "Oktoberfest", the Alpes mountains, etc.). The historical person of King Louis ("Koenig Ludwig II von Bayern" / King Louis II of Bavaria – last century's famous Bavarian king) represents this tradition."
August 23, 2012 | 9 Comments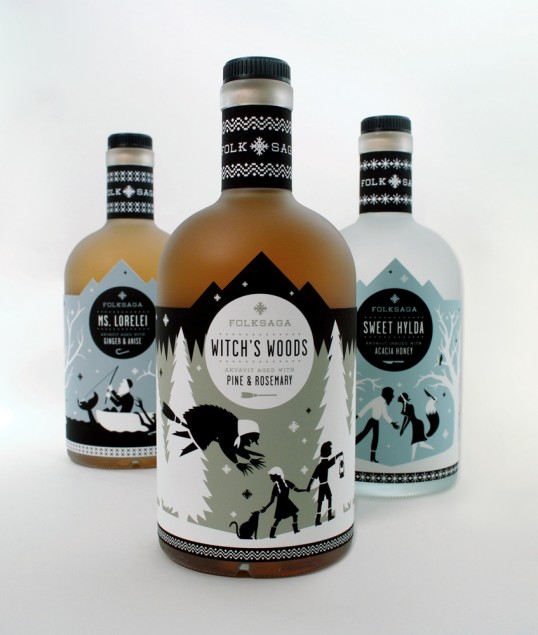 Designed by Caleb Heisey | Country: United States
"Folksaga is a Swedish dis­tillery of akvavit, a tra­di­tional scan­di­na­vian liquor fla­vored with ingre­di­ents such as car­away, anise, or gin­ger. The con­cept behind the project was to broaden akvavit's appeal to an American mar­ket while main­tain­ing its rich, nordic roots. Each bot­tle fea­tures a pop­u­lar folk tale from Sweden. Ranging from murky mer­maids to ter­ri­ble trolls, these mytho­log­i­cal char­ac­ters are always up to no good — prey­ing upon trav­el­ers lost in the wild. The project was art directed by Paul Kepple of Headcase Design."
August 21, 2012 | No Comments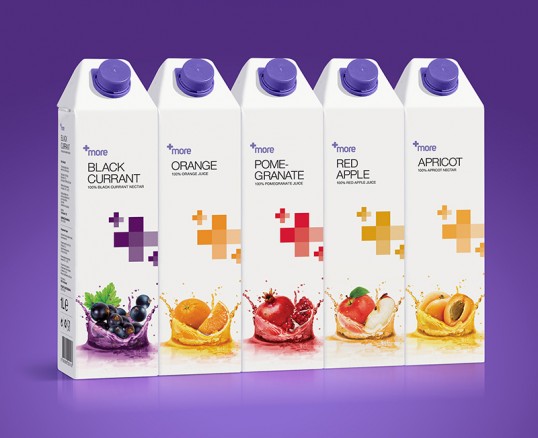 Designed by Kayhan Baspinar | Country: Turkey
"More is a premium fruit juice which contains high percentage of real fruit extracts, therefore the name "More" was selected for the brand. The plus (+) icon on the package is used as a symbol to indicate the rich fruit ingredient of More. The plus changes color according to the flavor. White is used all over the package. Plus and white emphasizes the health and triggers the perception of hygene. White is also differentiating the package of More from the other fruit juices on the market shelves and putting it forward. The simplicity of the package is an advantage. Illustrations on the package are effective but not distorting the simplicity."
August 20, 2012 | 1 Comment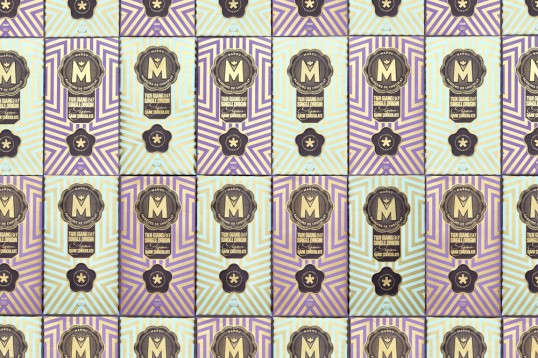 Designed by Rice Creative | Country: Vietnam
"When Wallpaper* Magazine discovered Marou Chocolate, our client, they felt that this singular dark chocolate, hand-crafted in Saigon using purely local ingredients was a perfect match for their third annual Handmade issue (an issue with a focus on unique products combining luxury, craft and inspiration). Marou offered to create a special edition Wallpaper* chocolate bar in time for exhibiting at the 2012 Salone de Mobile in Milan. The packaging we designed for this occasion would stay true to the inspiration behind the standard Marou chocolate bars and press further the attention given to lovingly hand printed details. We strayed some from the traditional motifs of the standard bars to embrace a more modernist approach while incorporating the well known Wallpaper* asterisk mark. It began by creating a new background pattern, which moved away from the traditional lattice and organic elements, replacing them by geometric elements forming an extension of the Wallpaper* asterisk.
The same hand mixed inks and screen-printing methods used on the standard Marou packs were employed, but a new palette of hues would be used, derived from the Wallpaper* handmade seal. The seal even informed a limited edition version of Marou's Monogram for this occasion. The final touch of hand embossing some of the pack's design elements set the stage for a fully considered hand crafted piece."
August 20, 2012 | No Comments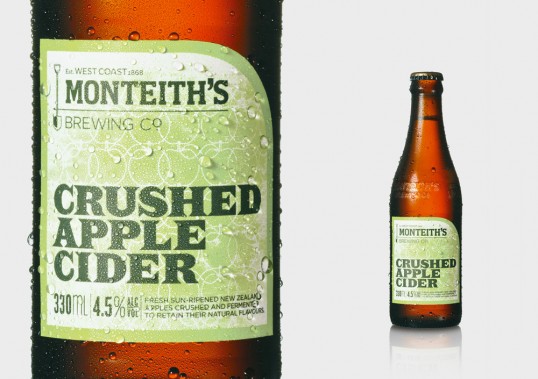 Designed by Designworks | Country: New Zealand
"Brief: Launched before the cider trend properly exploded onto the New Zealand market, the success of DB's Crushed Apple Cider soon led to a Pear variant, and the need for a new 12-pack range. The company had a strong offering in place: a premium cider, 100 per cent sourced from New Zealand raw materials instead of the concentrate used by competitors. What it needed was packaging that would vocalize the product's unique selling point."
August 19, 2012 | 1 Comment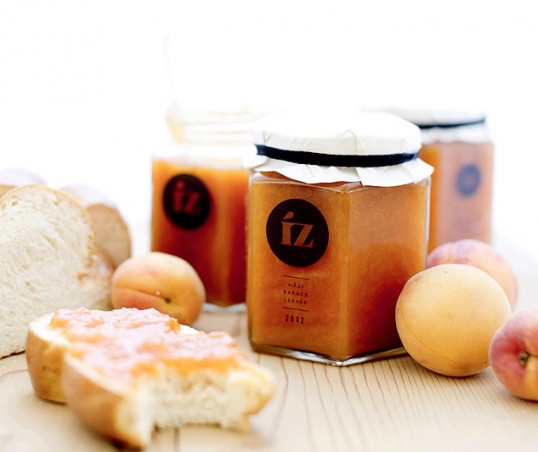 Designed by Eszter Laki | Country: Hungary
"I was invited to my mother's garden in Szentendre to pick apricots. The result was at least 5 kilos, so I had to think about a way to save it for the winter. I asked my friends to help me, so we decided to make jam out of it. We boiled and peeled them, and used a secret recipe of my friend's grandma. Next day we filled the jam into small jars, from then on I only had to think about some branding. Íz means "taste" in hungarian, but also the name of the jam you fill the pancakes with."
August 17, 2012 | No Comments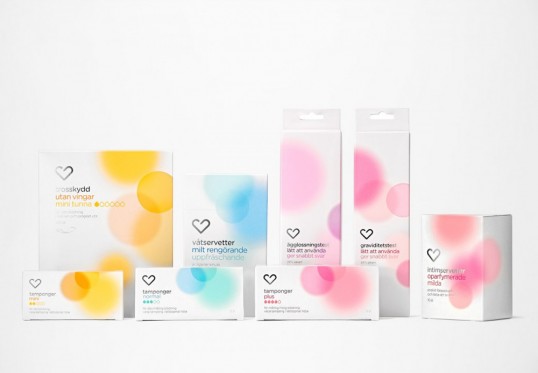 Designed by BVD | Country: Sweden
"Our most com­pre­hen­sive and com­plex assign­ment to date, and thus one of the most chal­leng­ing. For Apotek Hjär­tat, we devel­oped a com­plete graphic iden­tity from scratch and applied it to a wide vari­ety of iden­tity car­ri­ers. We have also given shape to all prod­ucts in Apotek Hjärtat's Pri­vate label range within dif­fer­ent cat­e­gories. More than 200 prod­ucts – and count­ing – all with their hearts in the right place."
August 16, 2012 | 5 Comments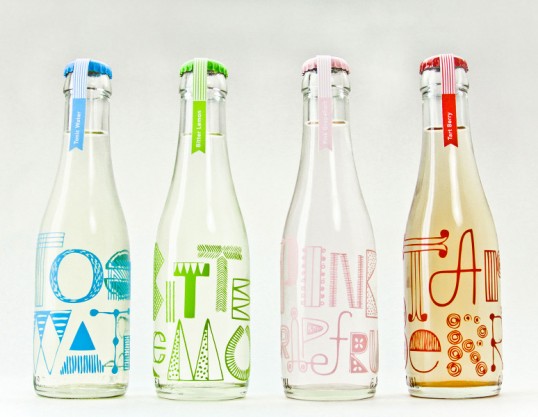 Designed by Miriam Altamira | Country: United States
August 16, 2012 | No Comments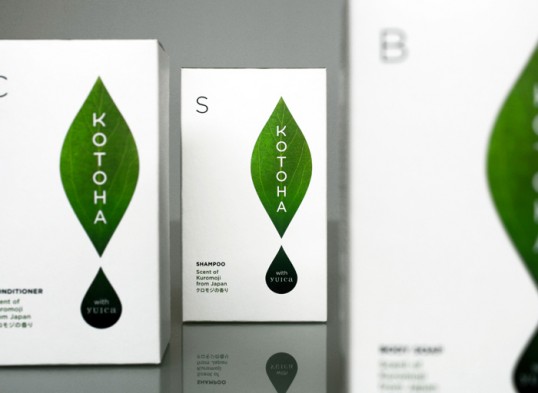 Designed by T-Square Design Associates | Country: Japan
"A new 'forest-bathing' brand from Japan.
From the refreshing scent of Japanese spicebush (kuromoji) to the exotic sweetness of Anise Magnolia (nioikobushi), yuica is the pure essence of Japanese forests, distilled into 100% natural essential oils. The benefits of yuica are perhaps best expressed by the term "forest-bathing", which has increasingly become popular here in Japan.
Kotoha, a new brand of hair and body care products with yuica's aroma oil, are made solely from plant-based ingredients. Kuromoji line-up will provide care for damaged hair, while Nioikobushi line-up will provide care for your scalp."
August 14, 2012 | 4 Comments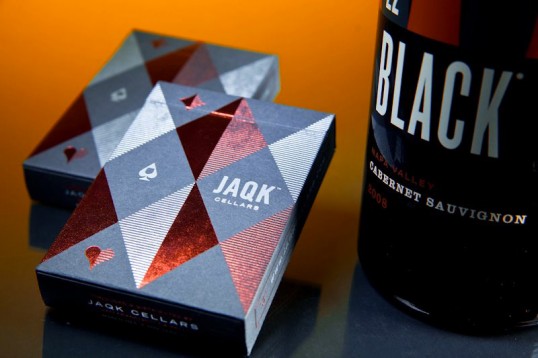 Designed by Hatch | Country: United States | Buy it
"JAQK Signature Playing Cards combine distinctive contemporary design with the peerless quality theory11 is known for. The tuck case is an elegant mix of red metallic elements on soft touch French paper. Exclusively at theory11."