October 31, 2012 | No Comments
Designed by Curious Design | Country: New Zealand
"Whenever you need a healthy mood lift, just turn to Curious Design –as the creators of Open1 did!
Open1 is a refreshing alcohol-free tonic that helps lift your mood in a healthy way. Crafted on a foundation of carefully selected amino acids and natural plant extracts, Open1 encourages feeling more open, uplifted, and connected.
Curious was commissioned by US client Synaptent LLC to create packaging that reflected the positive social nature of the product. By clever use of interlocking circles encasing a 'positive' central icon, this design truly connects with the target consumer."
October 31, 2012 | No Comments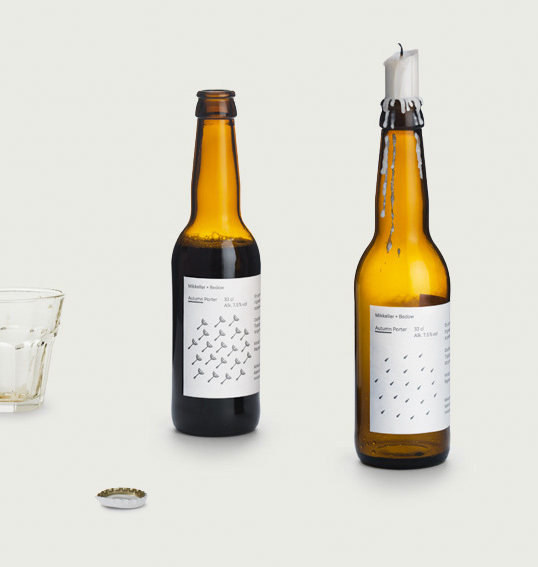 Designed by Bedow | Country: Sweden
"The autumn has come and with it our third beer in the series of four seasonal beers that we do together with the danish brewery Mikkeller. This time it's an Autumn Porter. By experimenting with heat sensitive color we visualize the transition from summer to autumn by a symbol that morphs from dandelion seeds (when the bottle is cold) to rain (when the bottle is warm)."
October 30, 2012 | 1 Comment
Designed by Neumeister | Country: Sweden
"Pistonhead is a brand from Brutal Brewing that has previously launched a number of conceptual beer variants – all inspired by Kustom Kulture aesthetics. Neumeister was assigned to create an expression in line with the current identity, yet allowing a growth of future brand extensions. There was also a need to stretch the brand for a different kind of alcoholic beverage.
Pistonhead Crude Oil is a chili based liquorice shot. Its iconic Calavera skull is the main sender and works as an integrated sub-brand to the Pistonhead name. Printing technique, typography and handling of details are more essential than for any prior line extension. The Kustom Kulture aesthetics simply had to be enhanced even further, preparing the brand to enter a wider spectrum of product categories – without losing its recognition."
October 30, 2012 | No Comments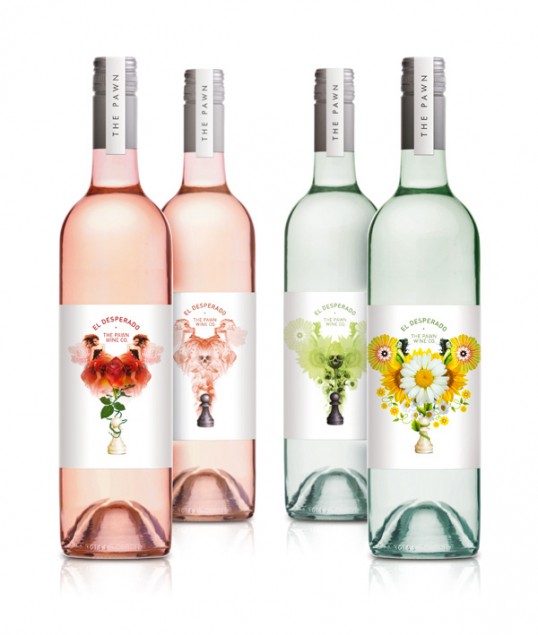 Designed by bmd brands | Country: Australia
"Due to an overly wet summer, vintage 11 (known as the "Vintage from Hell") saw The Pawn Wine Company sacrifice making their Sangiovese to create El Desperado, a limited edition Rosé style wine. In chess, El Desperado is a doomed pawn determined to give itself up to bring about a stalemate when captured. Setting out to do as much damage as possible the piece is deemed as good as dead.
Reflective of the name and circumstance that brought the wine to life, the label execution needed to be vivacious and ambitious. The use of Lenticular Printing produced an exciting double-image that morphs 'good' and 'evil' when tilting the bottle. A bold outcome for this brave little winery from the Adelaide Hills. As popularity (and sales) grow, the range has been extended to include a Sauvignon Blanc."
October 29, 2012 | No Comments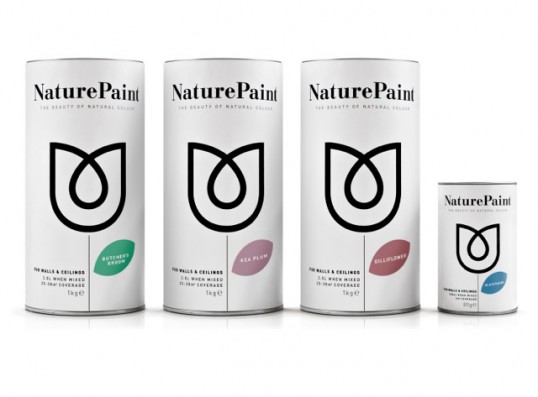 Designed by B&B studio | Country: United Kingdom
"From its base in rural Cornwall, Naturepaint makes the UK's only paint certified with zero VOCs – volatile compounds that contribute to pollution and are hazardous to health. Made only from natural ingredients, including local clays and pigments, Naturepaint is so safe it's the only paint that can be sold via post, and is completely biodegradable."
October 29, 2012 | 5 Comments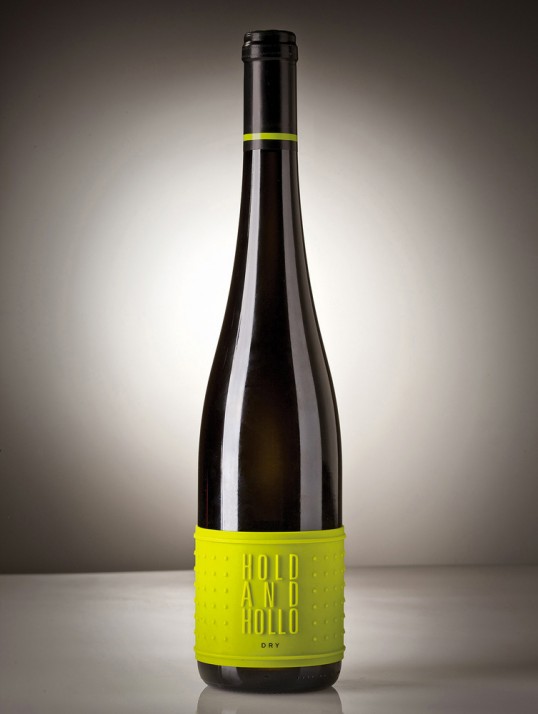 Designed by Örsi Juhász & Gergő Kovács | Country: Hungary
"Labels are widely used in trade and the default function is to display info about the product while also raising awareness by looking attractive, and creating a mood. For the large part labels are made of paper and the inclusion of colour, typography, images and so on combine to create the more complex function of a label. We would therefore like to create a label which combines the basic function with the extra functions. The silicone label is more attractive and has a tactile appeal. The label is easily removable and can even be returned for reusing or the inside surface of the label can be used to write on if one so wishes."
October 26, 2012 | 2 Comments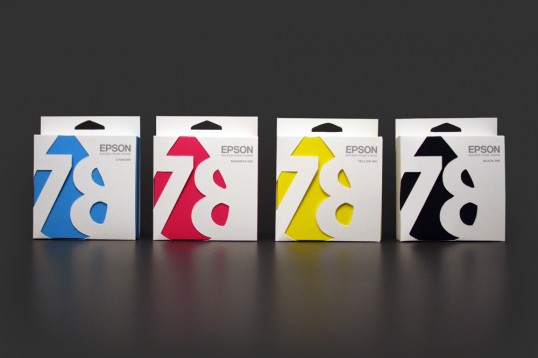 Designed by Ali Prater | Country: United States
"These are concepts I created for a new Epson ink cartridge packaging. I wanted them to have a clean and elegant disposition as well as a unique exterier, both of which distinctly separates them from their competition."
October 26, 2012 | 7 Comments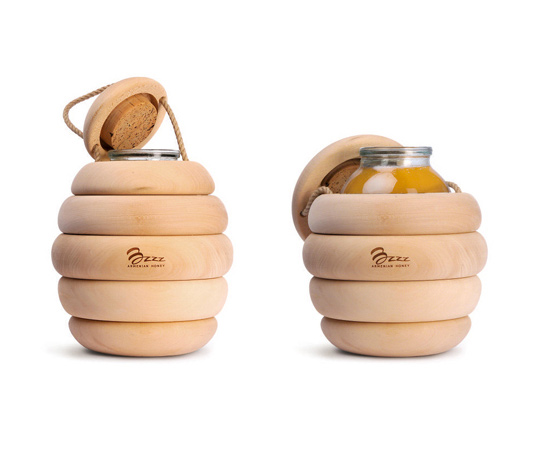 Designed by Backbone Studio | Country: Armenia
"The most tasty honey is in the beehive. But it is impossible to buy it in a market –  it was impossible. Designers of Backbone Studio have made it out of wood and hid the can with honey into the improvised beehive.  Simple but simultaneously original wooden wrapper is the message to the nature, ecology and pure taste. You immediately want to open and taste it. And there are no bees!"
October 26, 2012 | 1 Comment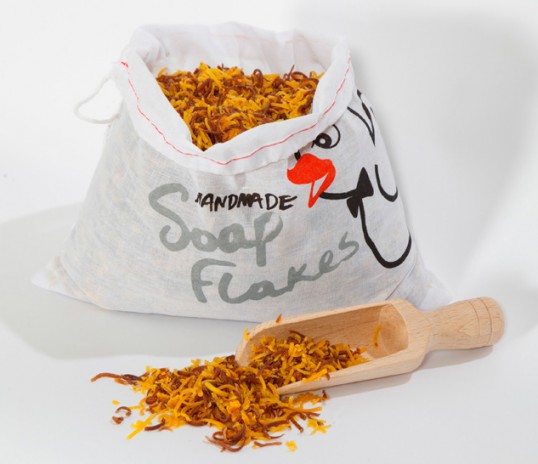 Designed by Marios Karystios | Country: Greece
"Your favorite handmade snob duck soap comes now in ducky soap feathers with the same snob attitude. Just a few flakes are enough to do the job… Why waste so much water making liquid soap?
Hand packaged in small cloth sacks which you can reuse afterwards."
October 24, 2012 | 4 Comments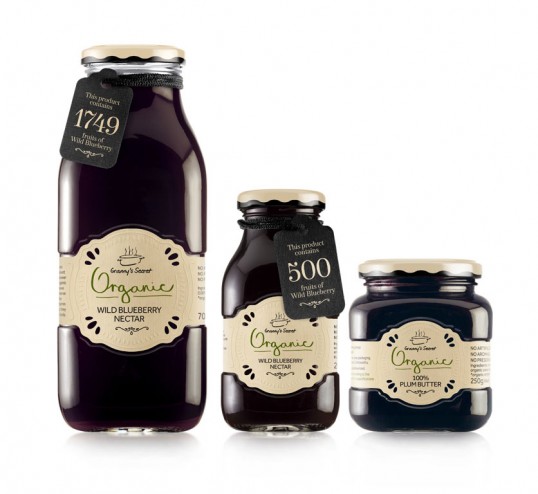 Designed by Peter Gregson | Country: Serbia
"Peter Gregson cooperation with Serbian home-style food brand Granny's Secret® continued with their line of organic products. We designed the label and cap and gave a fresh look to Granny's Secret® Organic."