January 19, 2013 | 9 Comments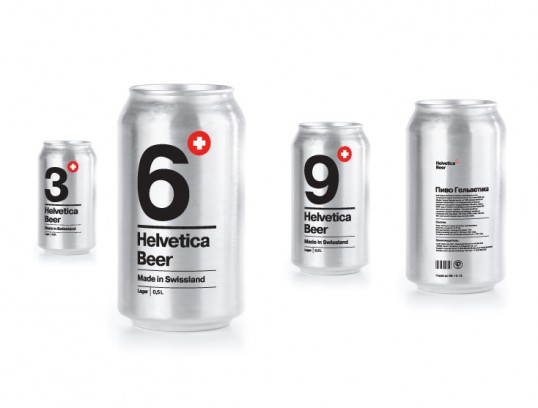 Designed by Alexander Kischenko | Country: Russia
"The task was to create a package design using only typography. I decided to create a packaging for a Swiss beer from Helvetica province brewery. So the font choice was pretty obvious.
The large numeral identifies the alcohol percentage in the beer, and the can color tells about a beer type – lager or stout."
January 18, 2013 | No Comments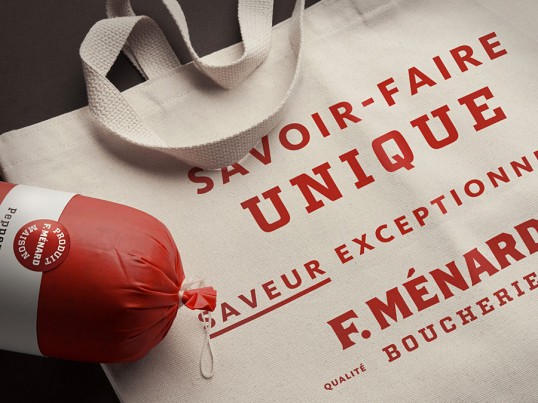 Designed by lg2boutique | Country: Canada
"F. Ménard is a family hog breeding and processing business. The company, which was founded 50 years ago by Fulgence Ménard, is managed today by his children and grandchildren. F. Ménard has more than 1,000 employees and produces 20,000 pigs/hogs per week which makes the company one of the largest pork suppliers in Quebec.  The company exports the majority (65%) of its production to countries around the world including Australia, Japan, Mexico, Russia, South Africa and the United States."
January 18, 2013 | 6 Comments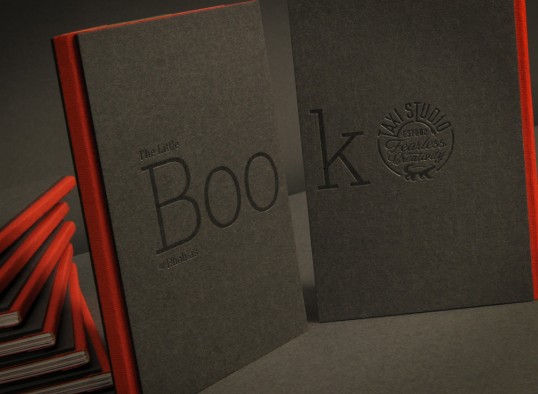 Designed by Taxi Studio | Country: United Kingdom
January 18, 2013 | No Comments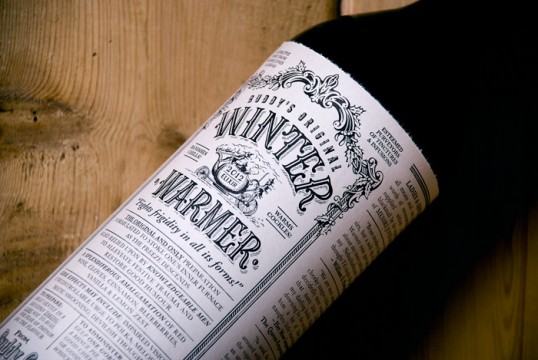 Designed by Buddy | Country: United Kingdom
"Each year we send out a festive 'Mulled Wine' to clients and friends. Mulled wine is a traditional winter drink served warm, making it the perfect tonic to banish those winter chills.
This year saw the birth of Buddy's Original Winter Warmer . The only sure and trusted way to ward off the icy claw of winter, and survive the manifold strifes of the festive season. Buddy's patented Winter Warmer is guaranteed to protect against the ill effects, both real and imagined, of Christmastide, including such seasonal maladies as Tinselitis and Turkey Pox, and such nervous disorders as Gravy Anxiety and Santaclaustrophobia."
January 15, 2013 | 2 Comments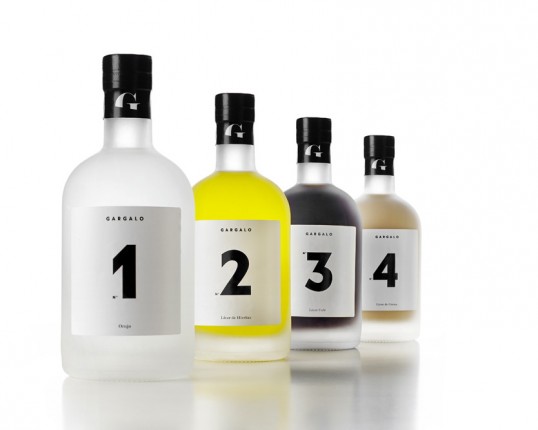 Designed by Solo | Country: Spain
"Naming and label design for the new line of spirits of Gargalo, based on the traditional flavors of galician liqueurs: "Orujo", herbal liqueur, coffee liqueur and cream liqueur. Each variety was given a number that consumers could easily identify and remember, creating a closer link with the company and maintaining the new corporate identity of sobriety and elegance."
January 14, 2013 | 6 Comments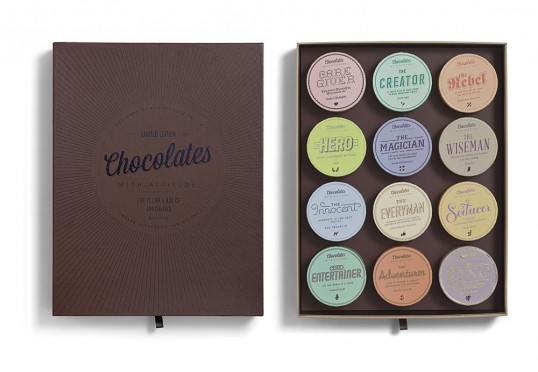 Designed by Bessermachen | Country: Denmark
"One big and beautiful box contains 12 smaller boxes and each box represents an archetype/a personality. The personality is expressed through a unique quote, a unique design and a unique type of chocolate.
The design differentiate the 12 personalities with a diverse and colorful use of typography and the small boxes are round like tiny hat boxes.
The chocolate is created by Coca Luxery Chocolates from unique recipes.
Everything was developed from the ground. The design and the packaging were created by  Bessermachen DesignStudio, and the archetypes and the idea were created by Stiig Helgens Binggeli / Brandhouse."
January 14, 2013 | No Comments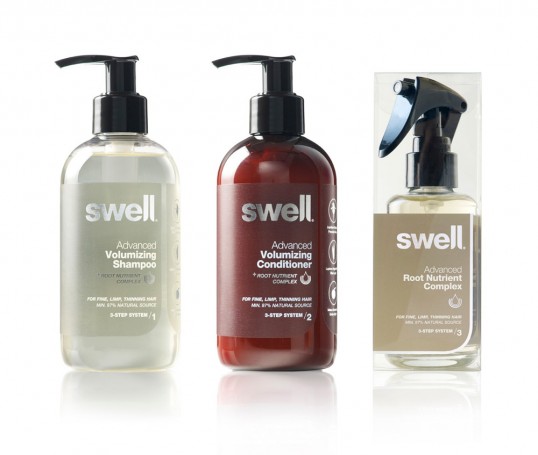 Designed by Aloof | Country: United Kingdom
"Aloof has designed branding and packaging for Swell, a no compromise natural hair care brand.
Swell is a breakthrough 3-step system with a unique Root Nutrient Complex, bringing root-to-tip volume and health to fine, limp and thinning hair.
The packaging is designed to communicate the efficacy of the products, with the negative space between the two 'l's' creating an icon that resembles a root-to-tip hair follicle, echoed in the die cut, full-wrap label gap positioned on the face of the packaging."
January 13, 2013 | 5 Comments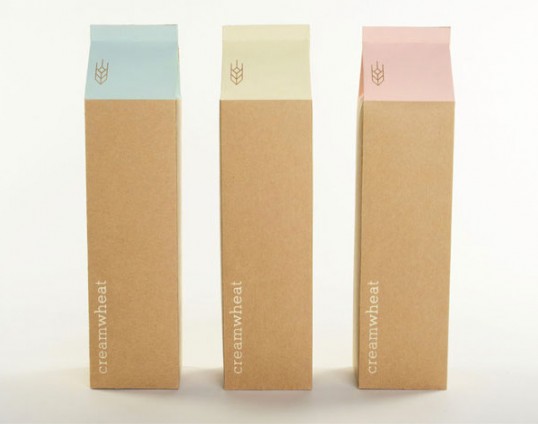 Designed by Kate Mikutowski | Country: United States
"The project was to create a package and branding for a breakfast cereal. I chose to the classic and childhood favorite, cream of wheat. Creamwheat aims at giving the cereal a more contemporary feel, by making the branding simplistic, elegant, and modern. The colors of Creamwheat are lighthearted, leaving the consumer feeling warm and comforted. Start your day off right with a bowl of Creamwheat!"
January 13, 2013 | 2 Comments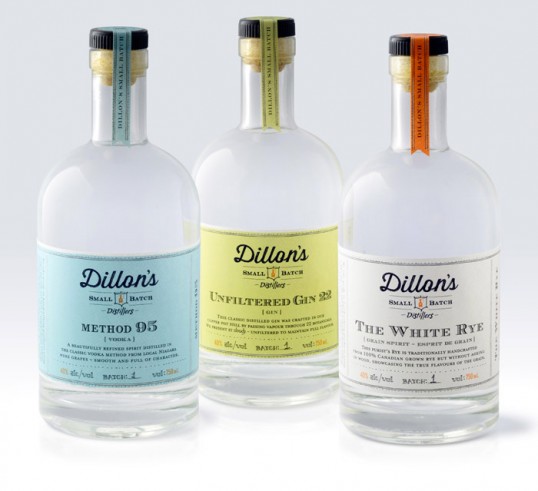 Designed by Insite Design | Country: Canada
"Dillon's Small Batch Distillers is a new entry into Canada's craft spirit scene; making crafty ultra high quality spirits in a Chad copper pot still in Beamsville Ontario, the heart of wine country. The goal was to create a crisp, easy and cheerful brand and package that could tell the story of pure natural ingredients and transparency in the Dillon's process.
Among the core products — Gin, Rye, Vodka and Bitters, Dillon's creates ever changing seasonal spirits in small batches so a packaging solution that could be fashionable while cost effective for small volumes was imperative. Consequently the stripped down palette and clear reliance on colour does the trick; modest low volume print costs while telling the brand story and creating a sunny presence on their store shelves and your bar."
January 12, 2013 | 9 Comments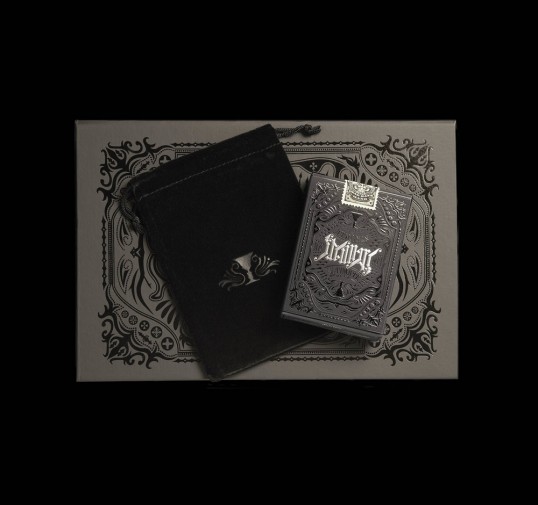 Designed by Stranger & Stranger | Country: United Kingdom
"To celebrate the year we broke out of our alcohol comfort zone and designed premium olive oils, fine foods, luxury luggage, and just plain crazy new stuff, we teamed up with the amazing Dan & Dave to create this, our Ultimate Deck."