April 23, 2013 | No Comments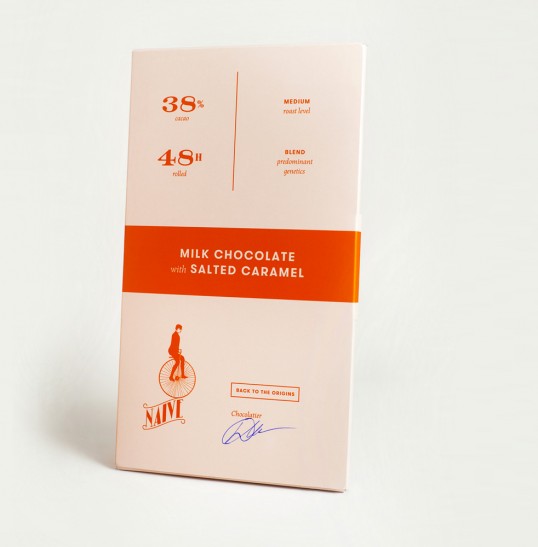 Designed by Chocolate Naive | Country: Lithuania
"In a little town named Giedraičiai by the beautiful lake Kiementas on the Eastern side of Lithuania, Chocolate Naive make their bean-to-bar chocolate.
Each and every morning, the chocolate master carefully roasts fresh cacao beans whose delicious aroma gently awakens the residents of the town. Just as they were hundreds of years ago, cacao beans are slowly rolled and conched to release their extraordinary bouquet of fruits, nuts and flowers in a delicately finished chocolate bar. These hand crafted bars are later stored to mature and form a complicated array of tastes and seasonings.
Chocolate Naive has great pleasure in introducing the "Back to the Origins" collection. With every piece of chocolate made, we try to give away a piece of our philosophy, our land and our fresh countryside air. We take great pride in informing eaters not only where we source our cacao beans from, but who actually produces our honey or which farmer supplies the butter for making the caramel. We are pleased to cooperate with growers from around the world, but we also celebrate local heritage."
April 23, 2013 | 1 Comment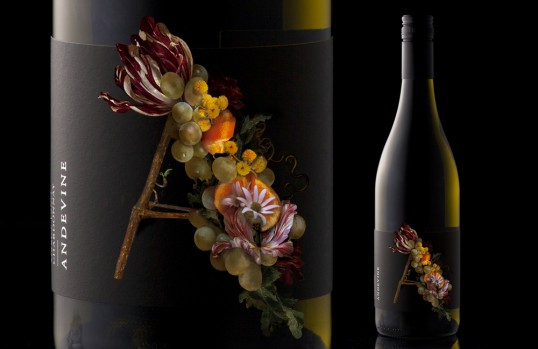 Designed by _Co Partnership | Country: Australia
"Andevine is a boutique wine brand designed by Sydney based agency _Co Partnership.
Created for Australian Hunter Valley winemaker Andrew Leembruggen's first ever release, as a signature wine it was important for the design to reflect Andrew's two biggest influences, his Dutch ancestry and his Australian upbringing.
We illustrated this story with the national flowers of Holland, Australia and New South Wales, intertwining with the letter A to create a memorable icon in the style of the Dutch oil masters. The brand is given further meaning with the name Andevine, a fusion of the winemakers first name and the very beginnings of the story, the grape vine."
April 22, 2013 | 3 Comments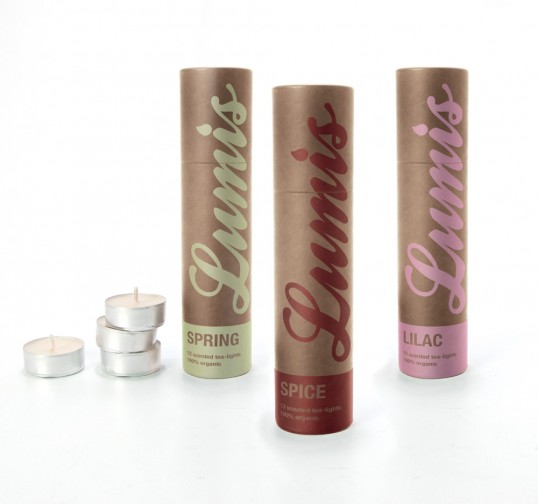 Designed by Megan Sarah | Country: Canada
"Lumis is an environmentally conscious candle company. I designed packaging for their tea-lights to honour this commitment to sustainability. A recycled cardboard container with a lid will protect the candles better during transport and also be re-sealable after opening. Once the candles are gone the consumer can re-purpose this container to store something else, or easily recycle it. Allowing the natural cardboard to show, and using simple graphics and a single colour makes it instantly apparent that the minimum amount of materials and resources were used for the package. The tactile qualities of the cardboard and natural inks convey quality while also providing effective and attractive storage."
April 22, 2013 | 1 Comment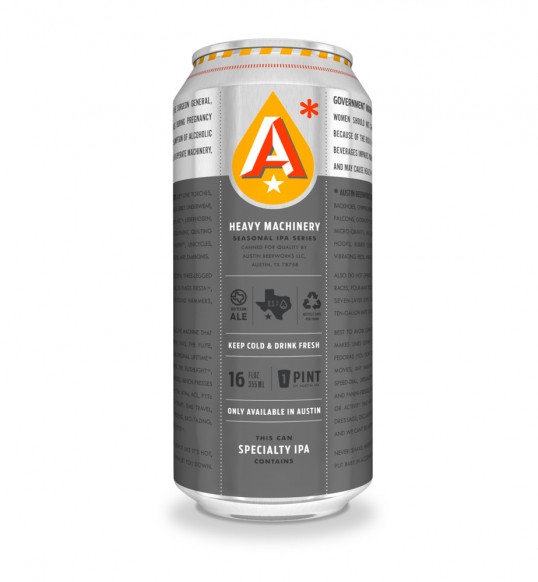 Designed by Helms Workshop | Country: United States
"Working with Austin Beerworks to name and package their new IPA series posed a few unique challenges.
The brewery planned to produce a different IPA every two months, ranging from traditional to experimental IPAs, and to distribute them as a limited-release series throughout the year. With each beer release being smaller than the minimum run of cans, we needed to design a single packaging solution and naming convention that could be used for all eight IPAs."
April 21, 2013 | 1 Comment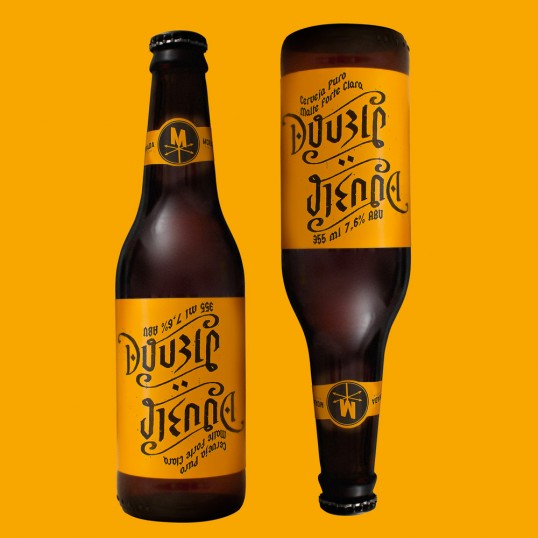 Designed by D-Lab | Country: Brazil
"Concept and creation of a beer label Double Vienna for Morada Cia Etilica from Curitiba, Brazil.
The label design was inspired by ambigrams, in which a graphical representation of one or more
words can be rotated with same phonetics and visual representations."
April 20, 2013 | 3 Comments
Designed by Heather Nguyen | Country: Canada
"NOBLE Handcrafted is a brand that embraces the collaboration of craft with the pioneering of our new American food tradition, a tradition that is being continually refined."
April 12, 2013 | 2 Comments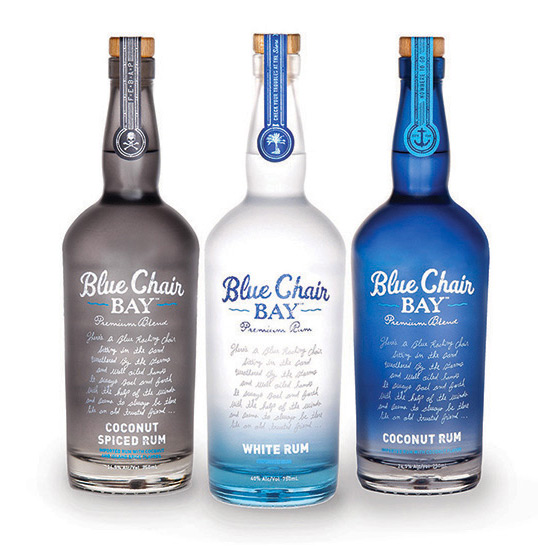 Designed by Ptarmak, Inc. | Country: United States
"Blue Chair Bay is a collection of premium blended rums created onthe beaches of the Caribbean and inspired by the island life of Kenny Chesney. The hallmarkof the design system is a poetic, unclutteredaesthetic with subtle detail. The spirit of Blue Chair Bay Rum is freedom. It is freedom from the pressures of day-to-day commitments and just letting go. It is the energy of a good party, the joy in the company of old friends, the relaxation of drifting in a boat in the middle of the Caribbean. Blue Chair Bay reminds us to enjoy life and live in the moment."
April 10, 2013 | No Comments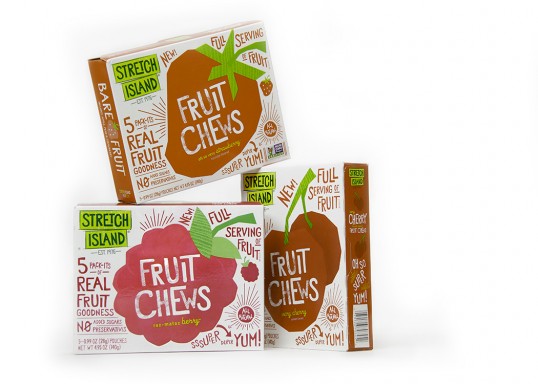 Designed by Ptarmak, Inc. | Country: United States
"Stretch Island Fruit Company has an extensive line of fruit snacks. They came to us looking for a brand refresh and packaging overhaul that would bare fruit. We responded with a concept that truly focuses on the benefits of real fruit in a fun and playful way, appealing to both kids and kids at heart. We used a gloss coating to add depth to the design in a unique way for each sku, and created a truly versatile design system. We hope you enjoy the fruits of our labor."
April 10, 2013 | 1 Comment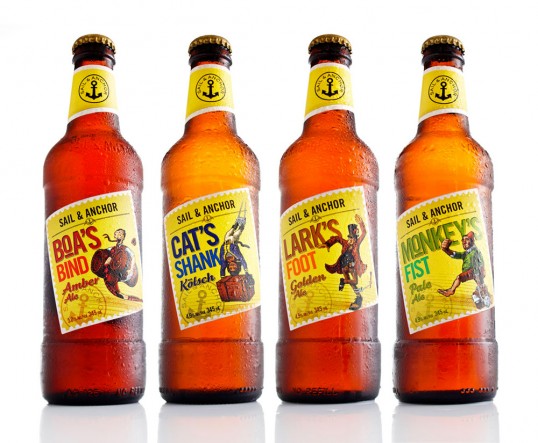 Designed by Marque Brand Consultants | Country: Australia
"The Brief: the Pinnacle group tasked Marque Brand consultants with extending the portfolio of its mainstream Sail & Anchor brand into a craft beer territory for a new range. Knowing that the craft beer drinker most likes the authenticity in their great tasting beer of choice, and revels in the detail of crafted ingredients, Marque delved into the history of the Sail & Anchor brand to unearth a truth that could be the bedrock of the craft range. What it so excitedly discovered was that the Sail & Anchor brand has over a century of heritage in the seafaring port of Fremantle, where sea shanties have been sung and beers have been brewed in the Sail & Anchor hotel off and on for decades and is still being brewed there today.  The Sail & Anchor hotel had seen many seafaring characters and personalities walk through it's doors and the resulting brand weaves wonderfully romantic stories of Sailor's Knots used in days gone by, elements of Fremantle history, a little touch of humour and brings them to life in an endearing illustrative form." Continue…
April 9, 2013 | No Comments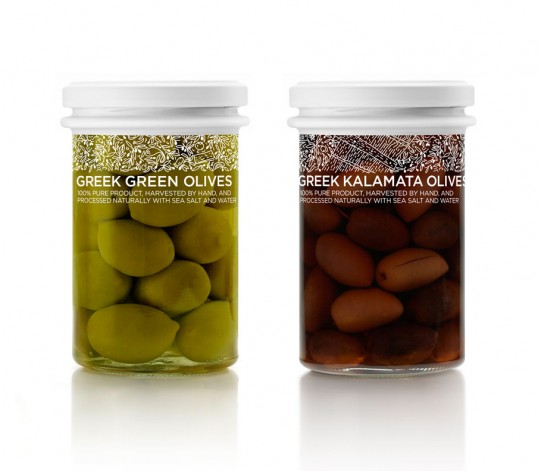 Designed by mousegraphics | Country: Greece
"The products our client exports needed a rich but simple design language in order to reach different foreign markets. We began by designing a logo, where the first letters of the two-words brand name (Food Wealth), are engulfed by the Greek flora, the lush foliage of plants. We thus created the illusion of a tiny 'garden' and allowed for the immediate association with the idyllic land where these products grow. Taking this a step further we designed the outlines of branches and tree leaves, referencing the source plant for every product. Olive trees and thyme are printed on the transparent glass jars, complementing the food within, in a way which allows easy and pleasurable identification. Instead of using color codes, bold graphic symbols and such we aimed for a product differential characteristic closely related to the values of the brand."