April 9, 2013 | 3 Comments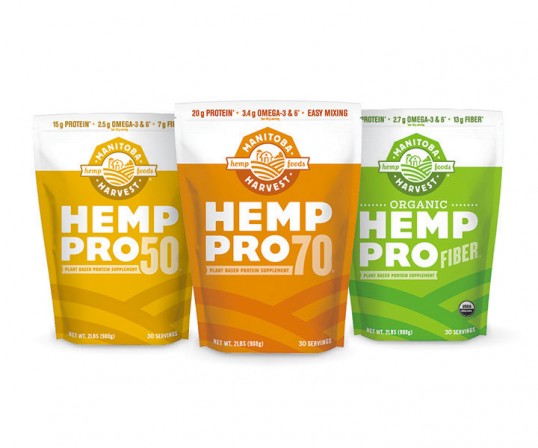 Designed by Ptarmak, Inc. | Country: United States
"Our collaboration with Manitoba Harvest began in 2010, as they were looking to expand their portfolio of offerings. Their packaging and branding had remained relatively untouched since their founding in 1998, and was due for a refresh. While sales were stable, their existing system was not differentiated from other competitive products in the category. It was medicinal, uninviting, unappetizing and dated–all things that do not evoke energy, vitality and health which has been Manitoba's mission since inception. Since it's launch, brand awareness is up and Manitoba Harvest has seen significant growth as an internationally successful hemp food brand. The versatile branding and packaging we created together has set them up for future expansion as they continue to embark on new hemp food ventures, continually promoting health and wellness."
April 8, 2013 | 1 Comment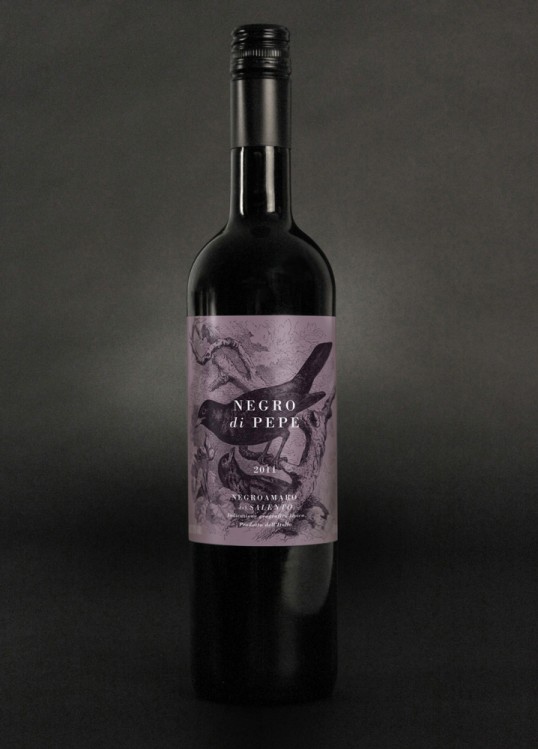 Designed by Positivity Branding | Country: The Netherlands
"An elegant italian wine, created for Grapedistrict – an innovative wine retailer in The Netherlands"
April 8, 2013 | 6 Comments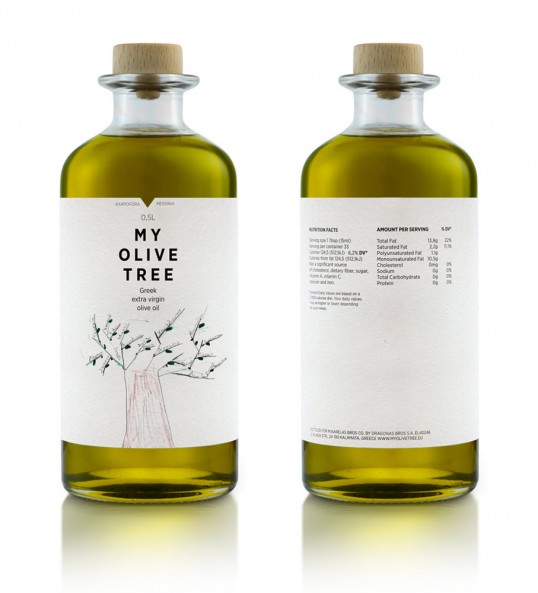 Designed by mousegraphics | Country: Greece
"The brief: "we have been producing olive oil for many years, growing trees in our family's homeland in the Peloponnese. We now want to bottle it, mainly as a present for our friends and family". The target audience: foreign clientele. People who can appreciate product provenance and family care."
The design: it is very rare for a client to come to us with the simple request of "creating a family gift" and this is exactly what happened in this case. We were asked to create a product identity -naming and packaging design of a product – which was meant to address first of all the members of a Greek family of olive oil producers in Karpofora, Messinia. We had to pay tribute to a strong, living tradition and this is exactly what we did."
April 7, 2013 | No Comments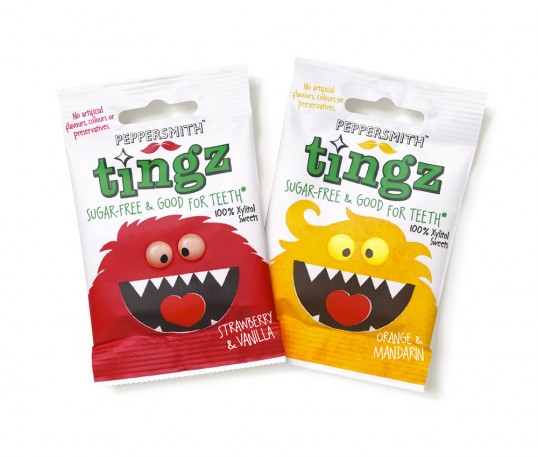 Designed by B&B studio | Country United Kingdom
"For the past four years, we've been helping Peppersmith reinvent the healthy confectionery market, first with chewing gum then with mints. With the grown-ups satisfied, it was time to turn our attention to kids with the launch of tingz – little bags of delicious sweets that are actively good for teeth. Made with xylitol – a natural wood sugar – these British Dental Health Foundation accredited sweets help reduce plaque and lessen the risk of tooth decay."
April 6, 2013 | 6 Comments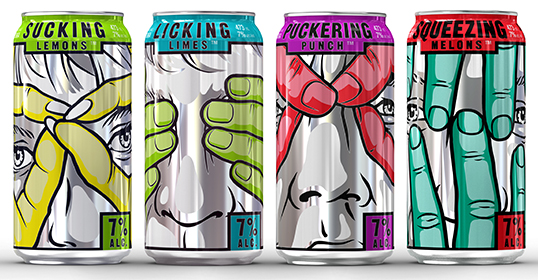 Designed by Brandever | Country: Canada | Fonts used: CgGothicNo4
"Sucking Lemons, Biting Oranges, Puckering Punch, Squeezing Melons, Licking Limes … Jaw Drop Vodka Coolers. Brand Strategy, Packaging Design and Product Naming by Brandever."
April 6, 2013 | 5 Comments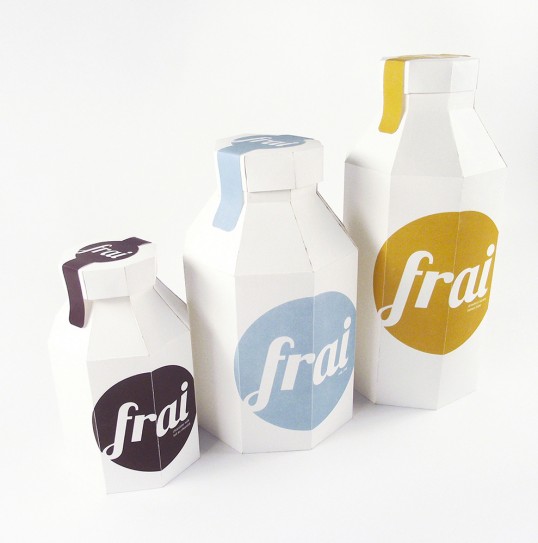 Designed by Cassandra Cappello | Country: Canada
"This is a student project for an invented brand and redesign of a line of milk and juice cartons. These packages are specifically for milk, chocolate milk, and strawberry banana juice. The shape is inspired by old metal milk containers and the minimalistic design allows this line of packages to stand out on shelves. The packages are also bilingual, written in both English and French."
April 5, 2013 | 2 Comments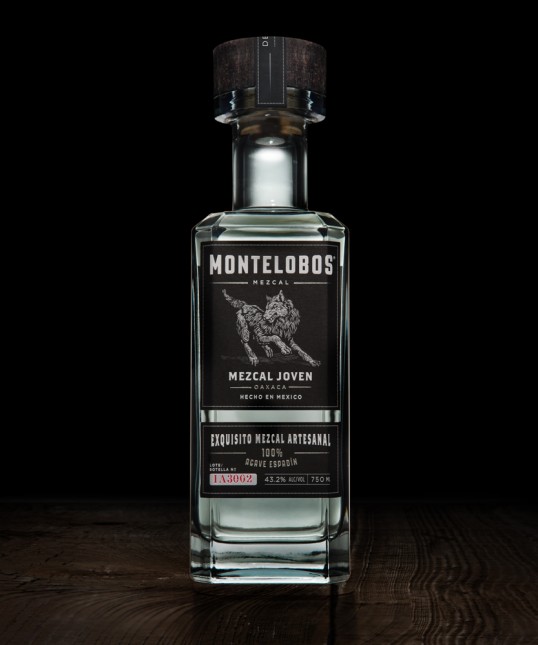 Designed by WeHolden | Country: United States
"Working with Casa Montelobos, William Grant & Sons, and Dr. Iván Saldana, the world's leading agave expert, WeHolden developed the packaging design for Montelobos (Mountain of Wolves) a premium mezcal joven that launched in New York, California, and Texas in late 2012."
April 5, 2013 | 4 Comments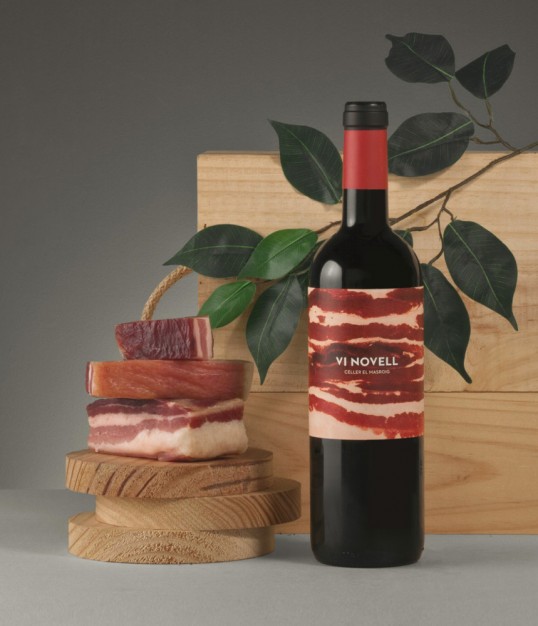 Designed by Atipus | Country: Spain
"Traditionally, in November, coinciding with the celebration of the slaughtering of the pig, the 'Vi Novell' is bottled. This is a fresh and fruity wine which is bottled before its fermentation is finished.
Therefore, the wine doesn't mature in the bottle and it must be consumed within a short space of time. It is a wine for enjoying; a wine for celebration."
April 4, 2013 | 3 Comments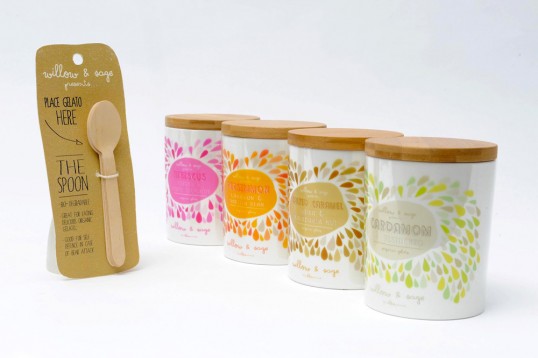 Designed by Zoe Blow | Country: Australia
Organic gelato packaging for a conceptual brand called Willow and Sage from RMIT student Zoe Blow.
April 4, 2013 | 3 Comments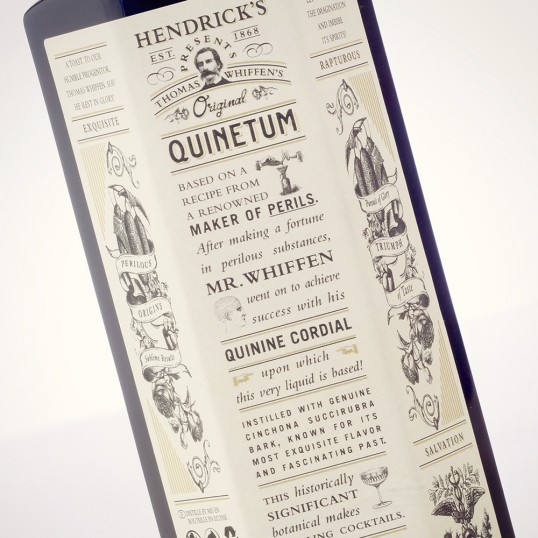 Designed by Quaker City Mercantile | Country: United States
"After much intensive research and development, Philadelphia-based Quaker City Mercantile is thrilled to present Quinetum, a highly exclusive quinine cordial from Steven Grasse, creator of the iconic Hendrick's Gin.
Quinetum is a unique and complex blend comprised of Cinchona Succirubra Bark, from which Quinine is derived, and a range of botanicals (4% ABV ethanol). It is designed to be a bartender's tinkering tool when used as a cocktail ingredient or can be lengthened with soda water and combined with Hendrick's in place of tonic.
Grasse decided to bring the curious history of quinine to life channeling the ethos of Thomas Whiffen, a renowned maker of poisons who established The Quinine Works of Battersea, London and whose likeness graces the Quinetum bottle. He was the first person to synthesize quinine in the 1800's, which at the time was a lifesaving drug against malaria."