August 28, 2013 | No Comments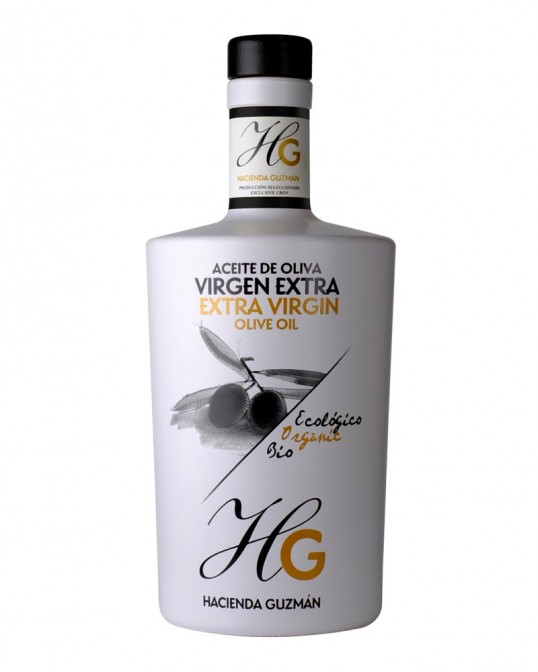 Designed by Centralpack | Country: Spain
"Exquisite design. Termination lace printing on ceramics. Hacienda Guzmán represents the history of the Andalusian Extra Virgin Olive Oil. In the 16th century, it became the biggest and most important Estate in Spain.
This healthy and high quality product has been produced according to strict organic standards, without the use of artificial fertilizers or chemicals.  The entire production process is controlled yielding a product that enriches our diet and benefits the environment."
August 28, 2013 | 3 Comments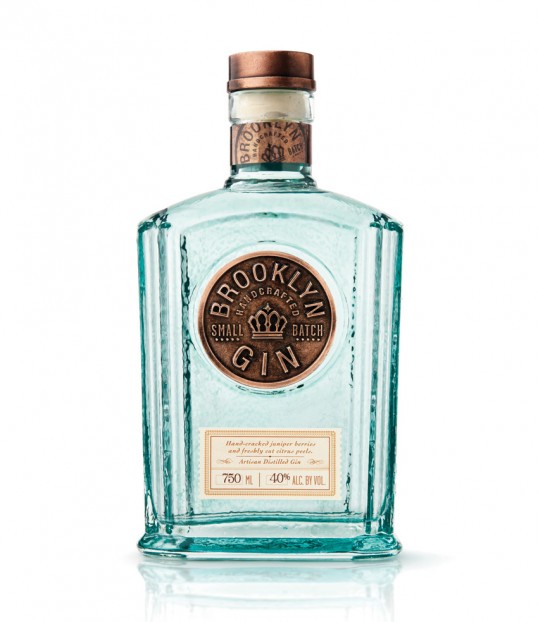 Designed by Spring Design Partners, Inc. | Country: United States
"Spring Design Partners was selected to create the Brand Identity and Package Design for a new super premium Gin that reflects the essence of its birthplace and engages Mixologists with its hand-crafted, micro-distilled pedigree. Inspired by the ingenuity of Brooklyn, a sometimes gritty, but always soulful borough, we crafted a visual identity for Brooklyn Gin that blends old-world craftsmanship with today's artistic, vibrant culture. The bottle structure pays homage to the apothecary origins of gin, reinforcing its place in the new speakeasy, while the medallion label – stamped in metal – celebrates the authentic spirit at the core of the brand. For the modern Mixologist, Brooklyn Gin captures the magic and magnetism of a time and a place where the cocktail is king The package has generated tremendous attention resulting in national media coverage by The New York Times and The Huffington Post along with hundreds of blog posts. Brooklyn Gin is now sold in over 55 on-premise accounts and dozens of off-premise locations throughout the 5 boroughs. With over 300 cases sold in 1Q 2011, the brand is on its way to exceeding its sales target for 2011."
August 21, 2013 | 1 Comment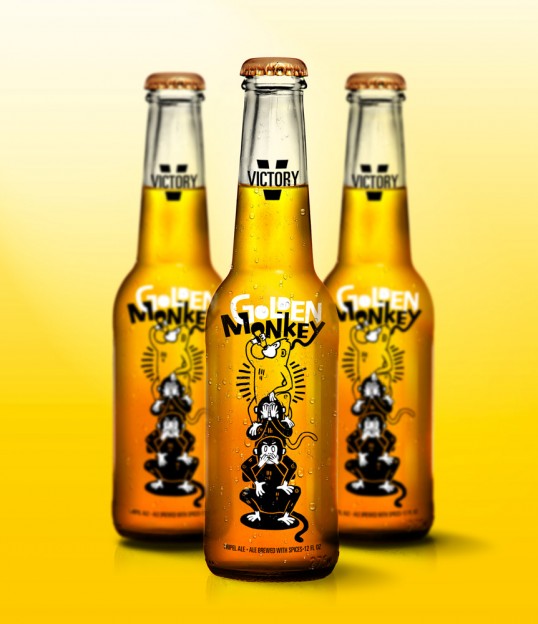 Designed by A.J. Poholski | Country: United States
"Golden Monkey is a Tripel brewed ale with a rich warming flavor. Through this label, the beautiful color of the beverage within is showcased as the glowing fur of the legendary golden monkey. This monkey on top embodies everything about this ale, a playfulness, a cleverness, and a satisfaction that can only be found in a beverage of such quality. The three wise monkeys have stood for their respective meanings for centuries and this top monkey has seized the opportunity and broken free from his long held position. The golden monkey is wise enough to know that the brother that can see can not say a word and the brother that could speak in protest is blind to his actions. Be the golden monkey."
August 20, 2013 | 3 Comments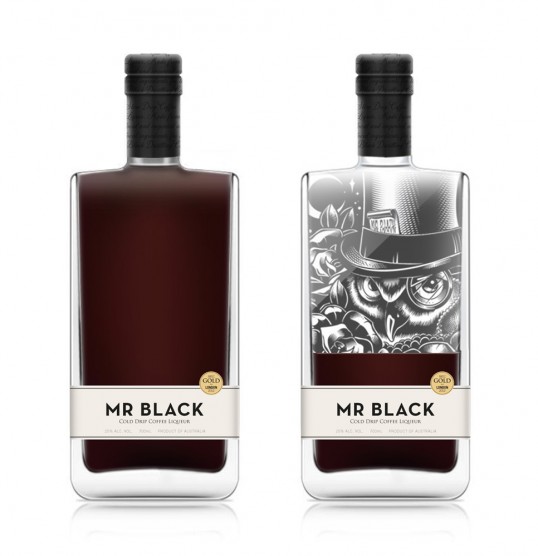 Designed by MR BLACK | Country: Australia
"We know MR BLACK isn't for everyone, it's not some cloying sickly sweet kiddie drink. It's a rich, cold drip coffee liqueur for those who appreciate good coffee so our packing needed to speak to that. At MR BLACK we're lovers of creative culture, so we knew we had to get a local artist in to help complete the product. At the same time, we didn't want it to be an overpowering element of the design or to draw attention from the liquid inside.
Sydney artist Dale Bigeni created an original artwork for the bottle that is screen printed on the back face, revealing only as the liquid is drunk. This allows us to have quite a bold and minimal design on shelf, but has some interest and playfulness once taken home. At the end of the day, we just wanted MR BLACK to look as good as it tastes."
August 20, 2013 | 1 Comment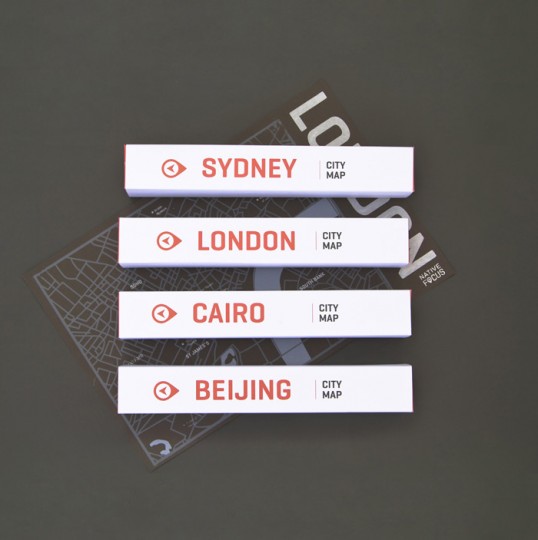 Design by Beth Sicheneder | Country: United States
"These packages were developed to hold maps of some of the largest and most traveled cities in the world. They display city destinations boldly and clearly with the use of large, eye-catching typography. The vibrant, minimal coloring was chosen to create a vibe of excitement and clarity. In the complex world of travel, finding your way should be made easy."
August 19, 2013 | 1 Comment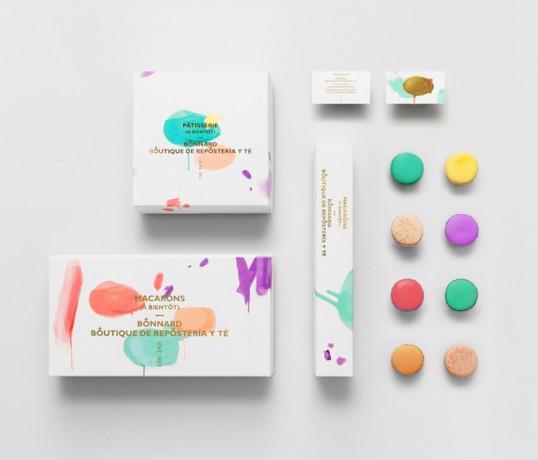 Designed by Anagrama | Country: Mexico
"Bonnard is a Mexican french-inspired tea and confectionary shop.
The brand's distinct brush strokes and color selection are based on Pierre Bonnard's postimpressionist paintings. The simple art direction, together with french words and phonetics round up the brand's gallic concept effortlessly, spontaneously and efficiently.
Our approach with clean, sans-serif typography gives Bonnard a luxurious feel mostly associated with high-end fashion brands.The gold foil stamp and clean type directly contrasts and at the same time elevates the would-be informal paint marks.
The rounded cross icon detail found in the wording relates to the shapes of macaroons, one of Bonnard's prime delicacies."
August 19, 2013 | No Comments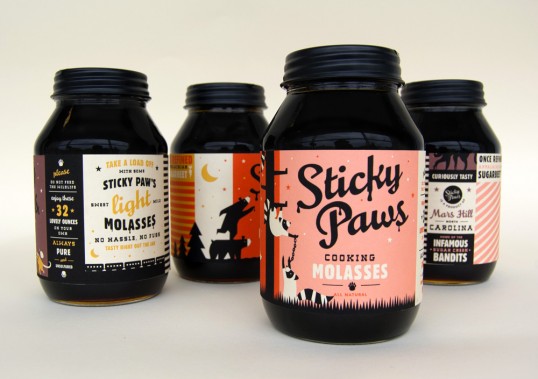 Designed by Caleb Heisey Design | Country: United States
"Often thought as old-fashioned, molasses is a quickly vanishing condiment, mostly only found in grandma's dusty recipes. To make molasses more appealing to a younger audience, I designed the labels for Sticky Paws to capture the trend of the 1930's dustbowl aesthetic while giving it a modern spin. For each type of molasses, a different mischievous animal is attempting to steal the ooey goodness."
August 18, 2013 | 3 Comments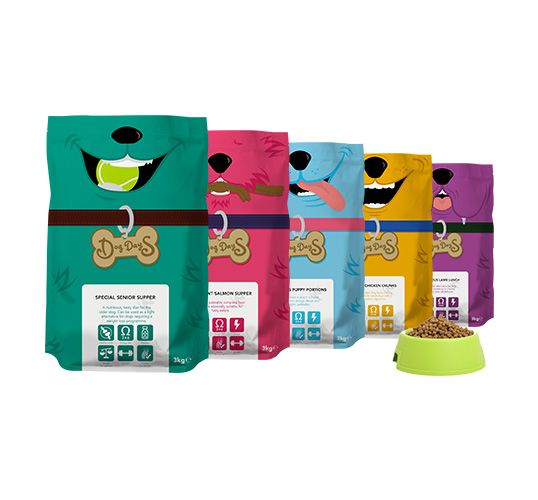 Designed by Epoch Design | Country: United Kingdom
"In 2012, a local 19-year-old entrepreneur approached us in need of a brand, visual identity and packaging for his startup, a Prince's Trust-funded dog food and pet accessories company. Epoch developed the brand name and created a bright, fun identity with heaps of tail-wagging personality. The new packaging designs sure stand out from the litter – no more rrruff dinnertime for me! (Sorry, couldn't resist.) This brought a fun new brand to the pet food aisle, sure to secure our client a truly loyal consumer fan base for the affluent urban demographic he wanted his products to appeal to."
August 17, 2013 | 4 Comments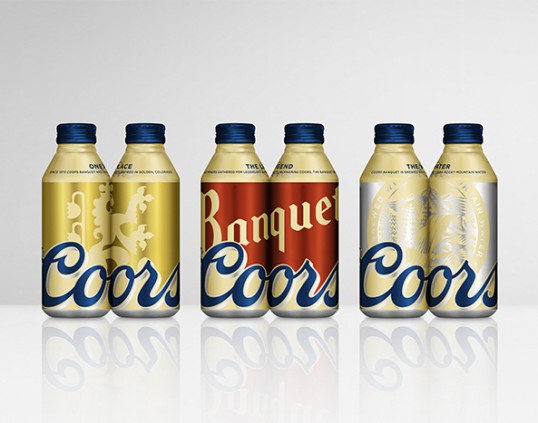 Designed by Landor | Country: United States
"From its origin as the beverage of choice at Colorado miner banquets to its high-quality ingredients, Coors Banquet is the one and only beer that exemplifies the legendary timeless western spirit.
The Banquet Beer celebrates its rich heritage with the limited release of three special edition pint designs, each commemorating an iconic symbol that has made Coors Banquet The Legend Since 1873."
August 16, 2013 | No Comments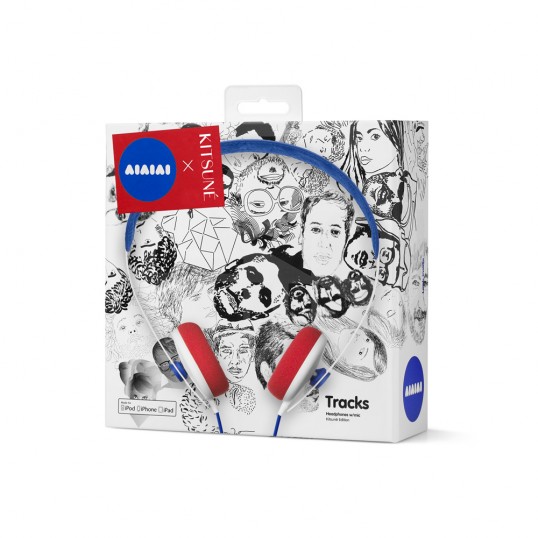 Designed by AIAIAI | Country: Denmark
"AIAIAI has teamed up with the renowned Parisian record label-slash-house of style, Kitsuné, for a collaboration, which sees the award-winning Tracks headphones undergo a colourful makeover. Celebrating the classic beauty of the French flag and the timeless yet contemporary creativity of Kitsuné, this special edition colab was somewhat inevitable."