December 30, 2014 | No Comments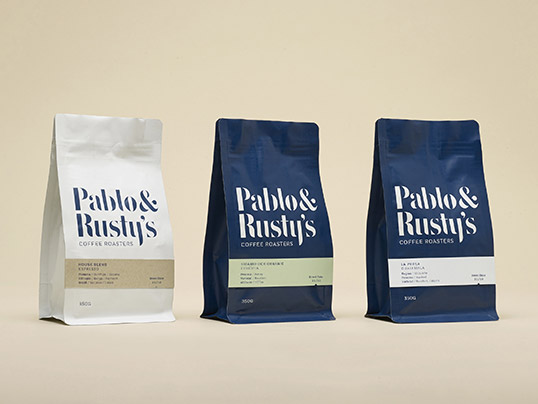 Designed by Manual | Country: United States
"Pablo & Rusty's is an award-winning small-batch coffee roaster based in Sydney, Australia. They strive to find amazing coffee; determine the best way to roast it; take it to one of their four stores and deliver an exceptional experience to their customers. Pablo & Rusty's have a strong company culture, are passionate about sustainability, and are in constant pursuit of perfection.
Pablo & Rusty's approached Manual to rebrand the company and better reflect the values they'd developed over the past decade. An immersion into the brand began with a brief research trip to Sydney to learn more about local coffee culture and experience Pablo & Rusty's retail locations."
December 28, 2014 | No Comments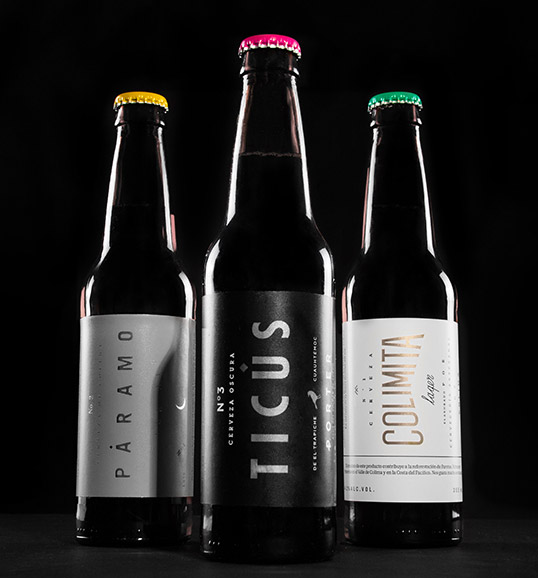 Designed by Anagrama | Country: Mexico
"La Cervecería de Colima" is a new Mexican brewery located in the town of "El Trapiche" in the state of Colima in Mexico. The brewery dedicates all its hard work into perfecting its three unique handcrafted beers for international sale and distribution.
Our branding proposal is a modern visual translation of every distinguished traditional element from Colima and its surroundings, such as its magnificent local Colima volcano. We developed a friendly, simple-looking brand that honours the human touch and workmanship behind every product.
Three craft beers were brewed to mark the beginning of the brand's legacy. First, the main one: Colimita, the beer from the earth and favorite of the sun. Second, Páramo, a Pale Ale inspired by the whisperings in the streets of Comala. And finally, Ticús, relative of the crow, Cervecería de Colima's dark beer. From light to dark labels and bright colored caps, the bottles' design resemble the uniqueness and the hard work behind each individual brew."
December 26, 2014 | 2 Comments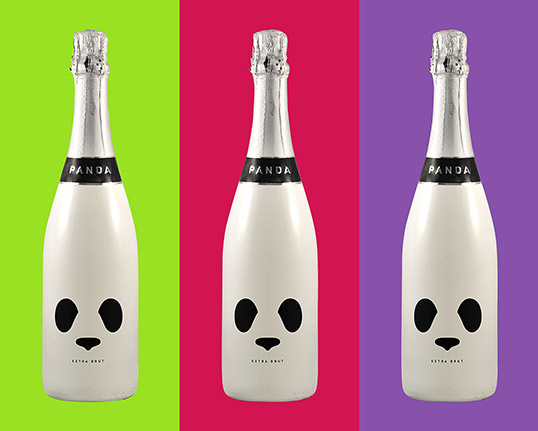 Designed by Dizen | Country: Argentina
"Provide brief rationale behind the work being submitted: Vigneron S.A. came to the studio with the requirement to design the image for a sparkling wine focused on a young, modern and sophisticated target. We design a minimalistic image taking advantage of the iconic force of the name."
December 26, 2014 | No Comments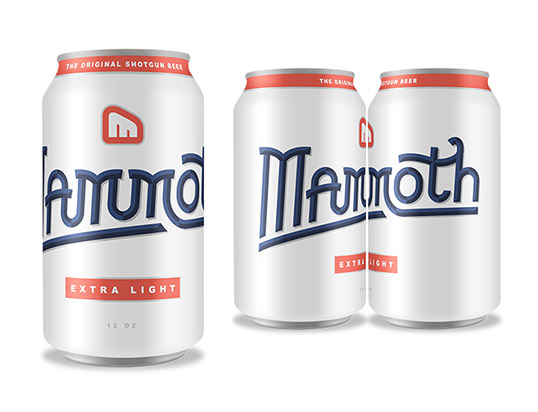 Designed by Sam O'Brien | Country: United States
"Raging Mammoth's inaugural product, the Tusk, provided a simple and clean way to "shotgun" beer. As their brand gained popularity after a successful backing on Kickstarter, the founders explored expanding their product line into other beer tools and even beer itself.
This spec work highlights Mammoth, "the Original Shotgun Beer."
Our Nation's colors shine forth bold and true in the brand's identity to pay tribute to what college America is all about– cold, crappy beer and binge drinking."
December 26, 2014 | 1 Comment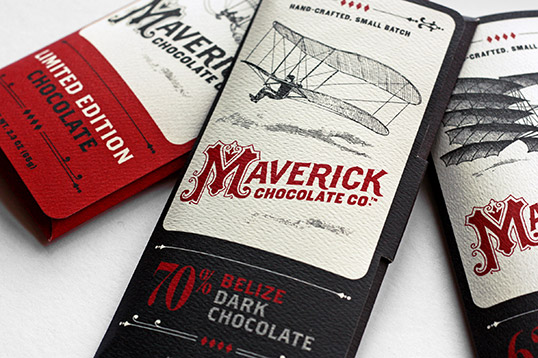 Designed by Jessica Jones | Country: United States
"Maverick Chocolate Co. is a startup company that hand crafts finished bar in their shop at historic Findlay Market in Cincinnati, Ohio chocolate in small batches from the bean to the.Beans are ethically sourced from smallholder farmers; ingredients are organic.
Maverick's brand salutes gentleman adventurers of yesteryear — those who did things a little differently, just like the company itself. Packages feature vintage engravings of "mavericks" and their whimsical flying machines, a nod to the company owner's prior career in the aviation industry. The wine-bottle inspired color palette is dramatic and bold. A different flying contraption is pictured on each flavor of bar along with the tagline, "Bean-to-bar chocolate for the adventurous palate."
Packages for Maverick chocolate bars are die-cut recloseable wallets, printed in 2 colors on textured paper."
December 25, 2014 | 1 Comment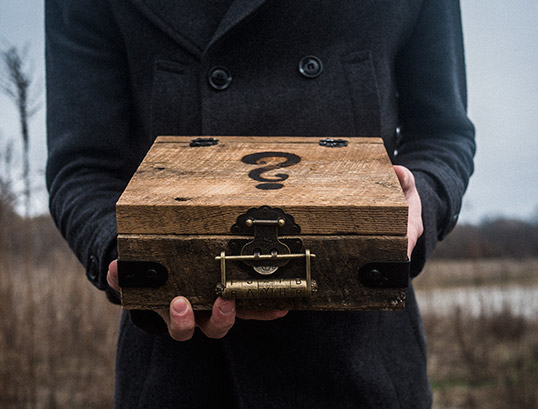 Designed by Theory11 | Country: United States
"An all-new edition of The Mystery Box, produced by theory11 in collaboration with JJ Abrams, Bad Robot, and 826 National. Featuring black on black foil design, individually hand-wrapped and sealed for you alone to discover.
The choice to open the box, or not, is yours.
With inspiration from JJ's original Mystery Box – received as a gift from his grandfather – this new Mystery Box contains 12 premium, designer playing cards with art direction by JJ Abrams and Jonathan Bayme. Many secrets reside within.
The set is available individually for $9.95, or in an iron-branded wooden lockbox for $150. Proceeds benefit 826 National, a remarkable charity that promotes creative writing classes in schools and workshops across the USA."
December 24, 2014 | 2 Comments
Designed by Stranger & Stranger | Country: United Kingdom
I'm a huge fan of Stranger & Stranger. The level of craft and thought that goes into their work never ceases to amaze me. For the past seven years we've been receiving their annual Christmas gift designed for clients and friends alike, and every year it's one the gifts I most look forward to receiving.
"Twenty years is a long time in studio years and so we thought we'd celebrate the year with something a little less frivolous than our typical offering. The Book of Stranger features a few hundred of the four and a half thousand jobs we've done in that time and the cover, inspired a little by Hieronymous Bosch features all of them. We were looking for appropriate packaging and the human skin covered books of the Bosch era seemed appropriate. Just kidding, it's not human. It is skin though."
December 17, 2014 | 1 Comment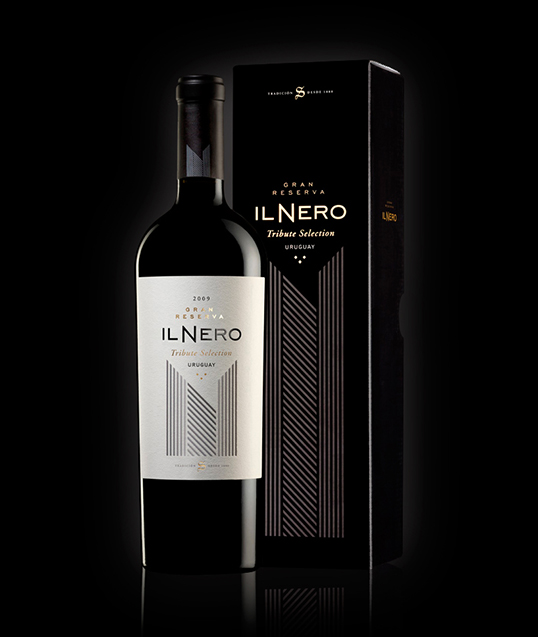 Designed by Dizen | Country: Argentina
"The studio was commited to design the image for the top wine of Antigüa Bodega Stagnari. This wine was created as a Tribute to the Winery founder: Don Héctor Nelson Stagnari.
Il Nero Gran Reserva presents an stylized "N", the three stars represents the 3 generations that are actually actives in the Winery."
December 17, 2014 | No Comments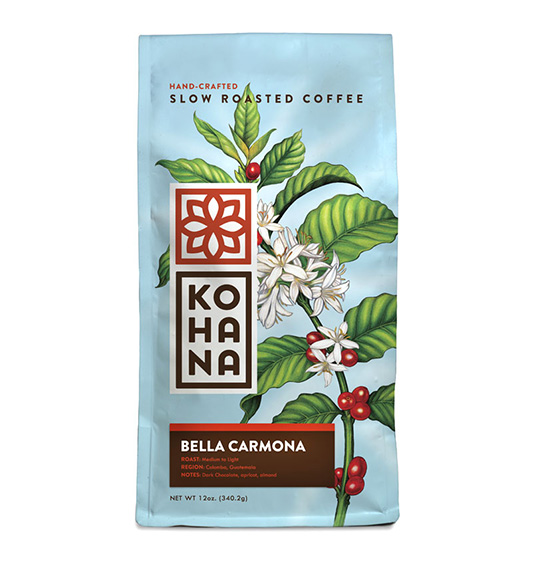 Designed by Helms Workshop | Country: United States
"Kohana's coffee is exceptional, but their brand identity was dated, out of sync with their values and missing the mark with contemporary coffee culture. With the brand poised to enter the national market and launch a new product line, it was a perfect moment to shun evolution in favor of revolution.
We proposed a bold transition from a dated packaging system to an identity focused on the islands that inspired the brand, its values and the ritual of enjoying a cup of coffee. To help, we invited artist Abi Daniel to capture the beauty and energy of the coffee plant. The result is a striking package that not only conveys a sense of Hawaii, but translates to just about anywhere people enjoy a moment of reflection."
December 16, 2014 | No Comments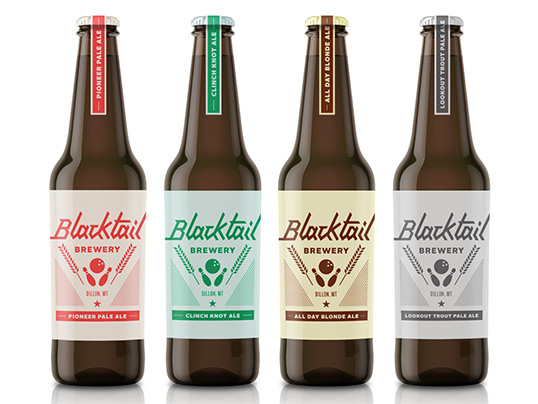 Designed by Glenn Chan | Country: Singapore
"Blacktail Brewery is a concept project for a small microbrewery based in Dillon, Montana. The owners had purchased an old bowling alley as a place to start their business, and needed an identity and packaging that differentiated themselves from the rest of the other microbrews.
A bowling bowl and pins hints to the microbrews' roots, while a bespoke blackletter logotype helps them stand out from other beers. The pastel color palette also works well in contrast to the hard-edged blackletter logotype."