April 28, 2015 | 1 Comment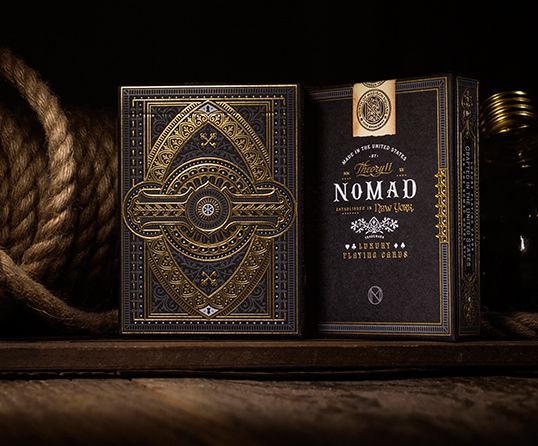 Designed by Chad Michael | Country: United States
"NoMad Playing Cards from theory11 were produced in collaboration with The NoMad Hotel in New York City. In the 19th century, The NoMad District of New York was the meeting place of the era's elite – from Oscar Wilde to Charles Dickens, Mark Twain to Nikola Tesla. Our vision was to create a deck of cards that would serve as a monument to The NoMad. The result is a timeless blend of beauty and elegance."
April 27, 2015 | No Comments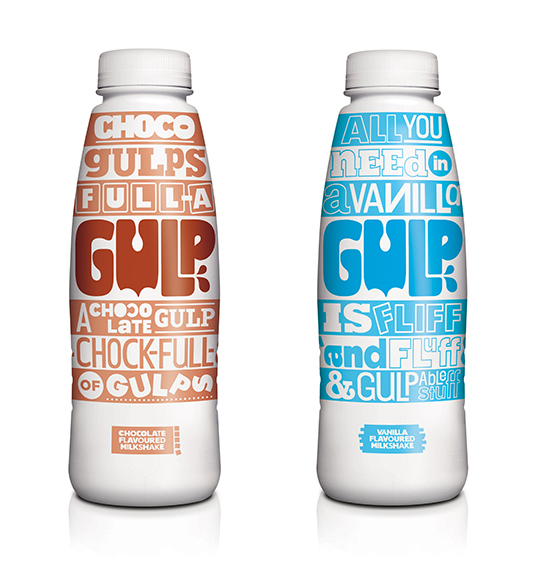 Designed by Wieden + Kennedy London | Country: United Kingdom
"Our role was to create the brand tone of voice and from that devise the package design for a new-to-market ready-to-drink milkshake, Gulp. We've made a bespoke wrapping for each of the vanilla, chocolate, strawberry and banana flavours.
Gulp isn't just a name; it's an attitude. It's a way of behaving. The design is born from the fact that milkshakes need be to shaken to be enjoyed to the max. The typography literally shakes things up expressing Gulp's cheery personality. The stripes running through the design bring to life the stages at which you should enjoy the drink to full effect – in big, bold gulps."
April 27, 2015 | No Comments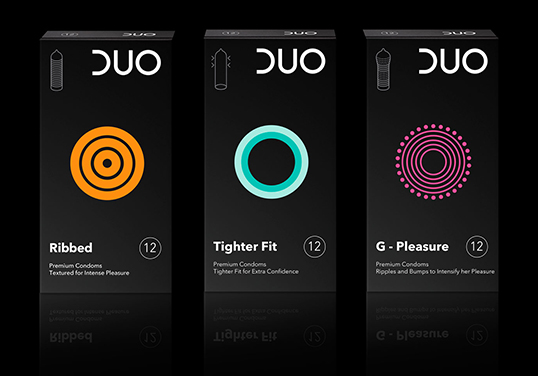 Designed by mousegraphics | Country: Greece
"The briefing: DUO brand identity needs to be revised in order to update its worldwide look for new target audiences, better codify relevant communication and refresh its market presence.
The target consumer: Existing consumers of all ages and sexes as well as new audiences of younger people, web natives and design conscious buyers.
The design: To respond to our clients request we had to review the new languages of communication based on emoticons, shortcuts, symbols and condensed messages and imagine an original, codified, contemporary idiom legible by all and adaptable to all national markets, respective cultures and particular religious or social sensitivities. The DUO logo has been cleared from the oblong form around it so that the logo is better integrated within the packaging surface, and emphasis is redirected on the circle, one of the most essential, primordial forms, and also the characteristic plan – view of a condom. To address the multiple variations of DUO condoms, mousegraphics developed the playful, sensual lexicon of a "DUO – coded" language. This DUO vernacular emerges, color-coded in vibrant tones on stark black surfaces. Circle based, symbolically abstracted design and outlines reference fruits (as in the flavoured variety), languid time (as in the retarding variety), machine joints (as in G-pleasure) etc."
April 24, 2015 | 1 Comment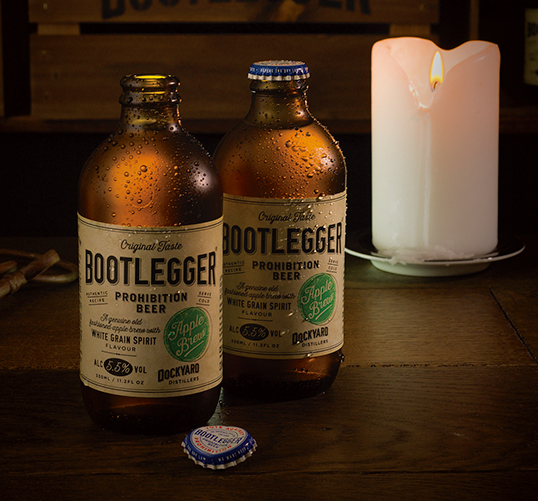 Designed by Halewood International | Country: United Kingdom
"In the years of Prohibition, Moonshiners used fruit juice to sweeten their raw, illicit booze before transporting it in used spirit bottles. Inspired by these lawless rebels, independent drinks company Halewood International created Bootlegger Apple Brew – an old fashioned apple beer that's flavoured with White Grain Spirit.
The packaging is inspired by American Prohibition and vintage drink labels and has a raw, hand made feel, featuring simple black typography on an old paper background. The variant is communicated using a green stamp which adds a pop of colour and reflects the apple flavour. A 330ml stubby bottle was chosen to give the brand a point of difference from the rest of the spirit beer category and reflects the uniquely distinctive liquid.
To complete the look the bottle features a red, white and blue crown inspired by the anti Prohibition badges of the era."
April 20, 2015 | No Comments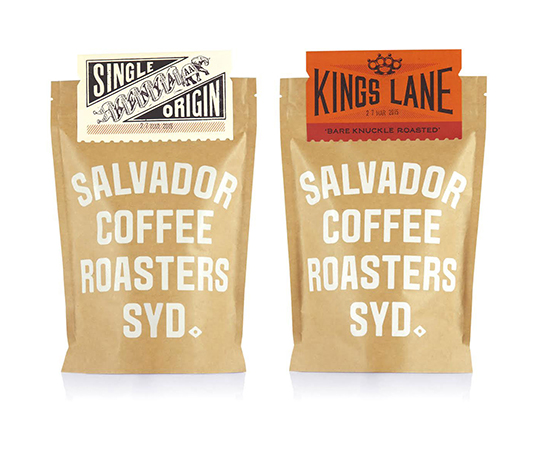 Designed by Co Partnership | Country: Australia
"Salvador are roasters of fine imported coffee beans from around the world. Their high-grade roasts have long been prized amongst Sydney's inner city crowd, however their previous branding had failed to attract new wholesale clients.
Marcio the owner of Salvador is a friendly expressive and very Brazilian character. He meticulously crafts each roast to perfect its own unique character and flavour, with a reputation among his peers in the trade for his artisan approach to roasting. With this hands on style, he retains the romantic Brazilian flair learnt from his grandfather Quintana Salvador, his inspiration for the brand.
Co Partnership have brought new life to the brand, strengthening its brand story with a confident authentic look to capture the wonderful brand story. The core logo design works in harmony with the different roast labels and on its own to provide a strong stand alone identity for everything from signage to merchandise."
April 15, 2015 | 2 Comments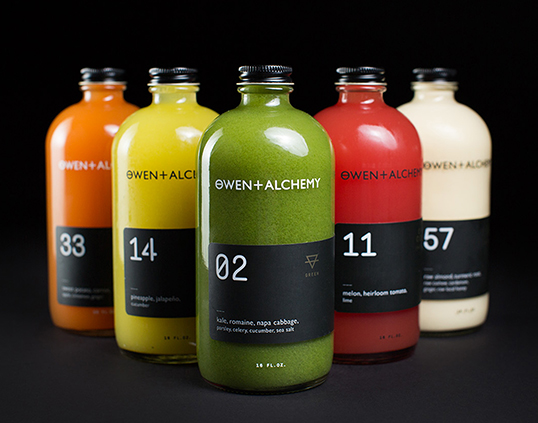 Designed by Jack Muldowney & Potluck Creative | Country: United States
"Owen + Alchemy is a small 'juice apothecary' in Chicago's Logan Square neighborhood, a very trendy and flourishing part of town. The owner, Anne Owen, has a background in fashion publications in Miami and wanted to bring that simple, stark and fashion-forward look to her juice bar. Her name, paired with the alchemic approach of their juice and food concoctions led us to create this brand inspired by old alchemic symbology, with a modern twist."
April 15, 2015 | No Comments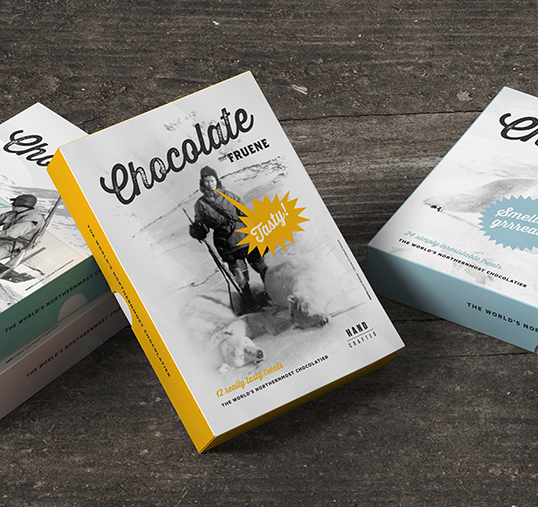 Designed by Tank Design Tromsø | Country: Norway
"The brief was to create a full range identity for a popular café in Longyearbyen on Svalbard. The client had recently started up the world's northernmost chocolaterie, and were producing a wide range of handmade quality chocolate that needed packaging for the tourist market. The clients name Fruene means «The Ladies» and refers to strong female characters who during the last century made their mark in a male dominated and extremely rough hunter and trapper society. The end result is an homage to those women and to the unique stories of both the people and the animals that inhabit Svalbard. We have worked closely with both the client, writers and the Svalbard Museum in order to find the best stories and pictures. Simple color coding and clean typography distinguishes the different boxes from each other and leave the story in focus."
April 14, 2015 | 1 Comment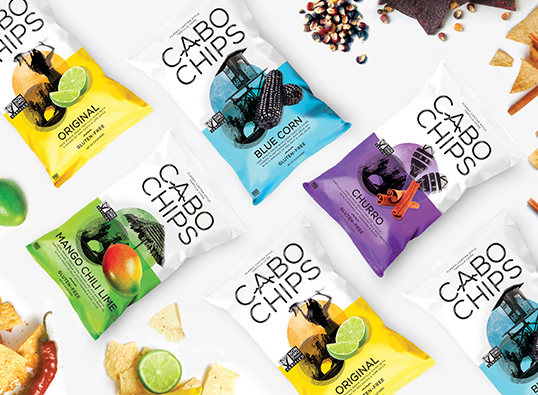 Designed by ROOK | Country: United States
"The challenge: Create a new compelling visual identity and packaging design for Cabo Chips to better express the brand's provenance, personality, spirit and unique taste.
Our perspective: Virtually every tortilla chip attempts to communicate Mexican provenance in one way or another. The opportunity was to find a new way to reflect location; one that's compelling, contemporary and born out of a genuine story.
"The approach needed to be different: Not stereotypically authentic, not symbolic, but expressive. We wanted to create a sense of place for Cabo Chips that reflects the experience of Baja through lifestyle, emotion and energy. It's not about simplifying a complex origin into a single symbol, icon or style, but about communicating Baja's depth, richness and mood in an expressive and layered way." – Creative Partner and Founder of ROOK, Mark Christou."
April 13, 2015 | 2 Comments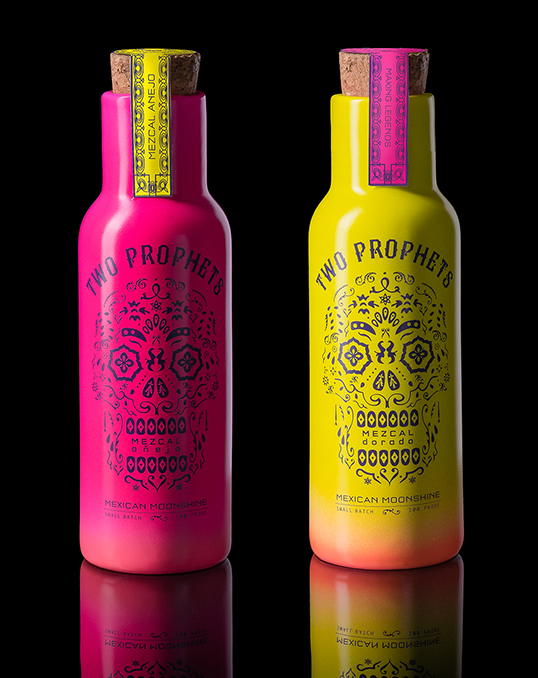 Designed by Aaron-Harper Lee | Country: United States | Student Work
"The objective was to design sustainable packaging for multiple units of breakable items such as glass or ceramics while keeping shelving and display in mind.
The concept was a hybrid of polar worlds where the dead meet the living. A homage to the Mexican holiday Dia De Los Muertos (Day of the Dead), was merged with the American tradition of Moonshine crafting. Two varieties of Mezcal Liquor – Añejo and Dorado – represent legendary twin warriors reincarnated as the sun and the moon. Presented together as a pair of bottles with respective shot glasses, this project demonstrates that it is possible to design sustainable packaging for multiple units of breakable goods with little material.
The target audience for Two Prophets are thrill-seekers and curious millennials."
April 13, 2015 | 1 Comment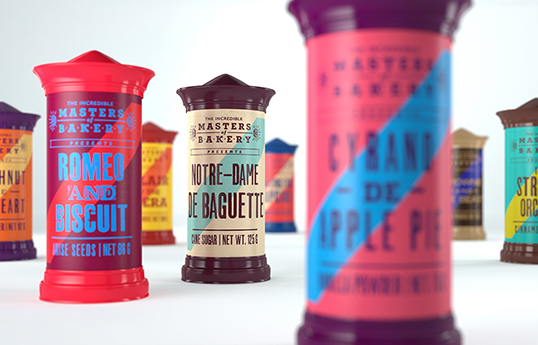 Designed by Tough Slate Design | Country: Ukraine
"Spices play the main role in an epic play called Bakery. The shape of the package resembles a theatre cabinet with that houses posters on it. However, there are a little adjustments which make theatre plays feel tasty and sweet."