October 19, 2015 | 1 Comment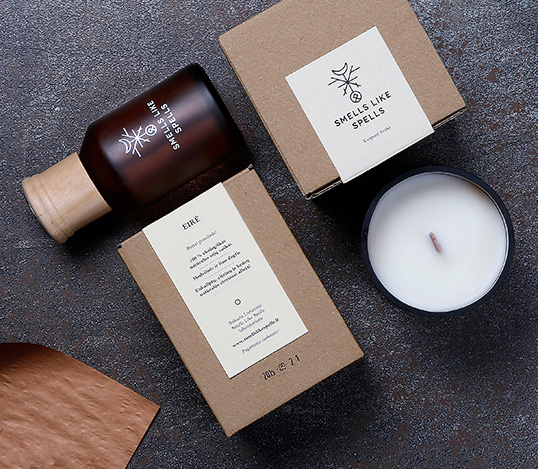 Designed by Edvardas Kavarskas & Gintarė Ribikauskaitė | Country: Lithuania
"Smells Like Spells production is a harmonized combination of natural fibre, ecology and a drop of esoteric know how. Each product is hand made, followed by original recipes, synchronised of both – traditional folk wisdom and experience, also modern perfumery, candle and insence craft methodology. We discover the tender distance between daily usage of unique products and the touch of magic in our life. A kind of charming exclusive game that brings a piece of secret to our routine.
The essence of Smells Like Spells packaging is to keep all products opened, vital and transparent. Role designed calls to assist not to persist. The second Smells Like Spells is taken, you appear in a pleasant unpacking adventure. We contribute towards the luxury of less – subtle and elegant. This is the reason why material and ingredients chosen are natural and laconic, followed by design which first brings that delight sense of touching."
October 16, 2015 | 1 Comment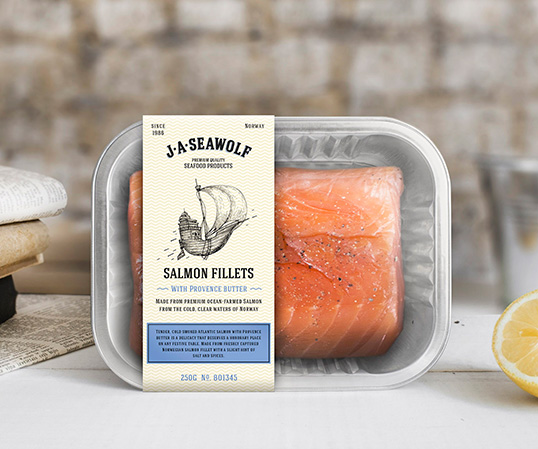 Designed by Field | Country: Latvia
"J.A. Seawolf inspiration is old sailor's stories of the adventures. These stories are so ancient, that the thin line with reality has been erased completely for the enjoyment of our fantasies – gigantic sea creatures, mystic islands and devastating hurricanes.
Label design tells these stories with featuring the elements of the tale. Each product has a unique story to tell, that creates a series of adventures. This approach is opening limitless possibilities for the new product lines in the future – with new adventures.
To differentiate the product flavours we are using pastel colour fields for taste description. Main design element – hand drawn story illustrations are to attract attention to the product in the shops and to evoke the interest about the brand. By creating this product I want to tell exciting stories that are united with exquisite taste and company's heritage."
October 16, 2015 | 1 Comment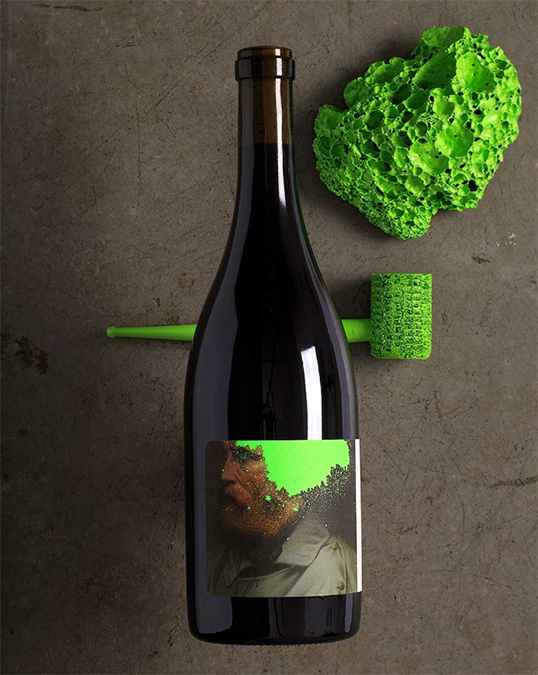 Designed by Force & Form | Country: United States
"With the growing popularity of boutique wines, it has become increasingly important for small producers to embrace packaging that is expressive, intriguing and atypical. To do so, we drew inspiration from the Cruse Wine Company's maverick attitude by contrasting tradition with irreverence. As winemaker Michael Cruse puts it, that juxtaposition reflects his goal to "return to California roots and California classics…but doing it in a modern way."
Because the winery also specializes in rare varietals such as Valdiguié and Saint Laurant, we recommended an image-dominant label to encourage curiosity. So instead of a consumer asking themselves "What is Valdiguié?", they ask "Is that a cow?" The cow is familiar and familiarity warms them up to exploring something new. On a humorous note, we once overheard a customer ask her friend "What's Valdiguié?". Her friend replied "I don't know, but the label looks great. Let's try it."
October 15, 2015 | 1 Comment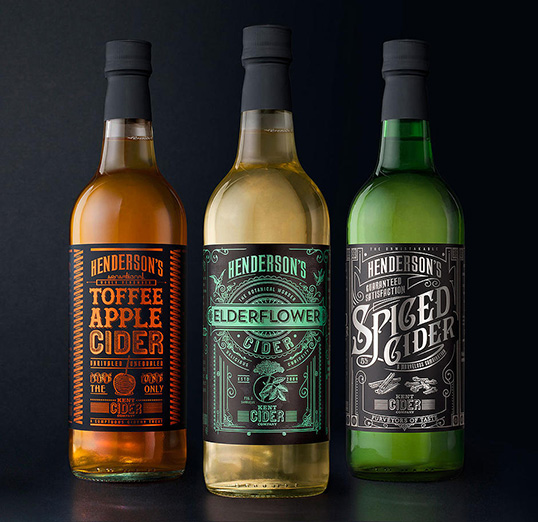 Designed by Sand Creative | Country: United Kingdom
"The Henderson's range from the Kent cider company offers a more traditional flavours to the core range.Previous designs eluded to a Victorian age and we really expanded on this idea. Each variant is inspired by a different Victorian poster style. The toffee apple takes inspiration from old circus posters, the Elderflower is inspired by botanical book plates and the Spiced cider models itself on Victorian elixirs."
October 14, 2015 | No Comments
Designed by Jar Design | Country: United States
"Big Cork Vineyards, a startup winery in Maryland, came to us with a problem: they wanted to make a BIG impact as they launched their new winery and 10,000 sq ft state-of-the-art tasting room… but they were stuck with fragmented and out-dated graphics from a local design firm assigned to the initial round of design efforts for the project. Jar's goal was to rebrand, giving Big Cork a palette of unique, proprietary and memorable assets to rebuild on, so that the name didn't always overshadow the product, or the guest's experience, in an overtly sexual way. Once the key attributes of the brand were solidified (clever, unexpected, happy, adventurous, playful and discover) we were free to create a wide range of designs, labels, stationery, photography, signage, interior design, and more… relaunching to much press, fanfare and success."
October 14, 2015 | 2 Comments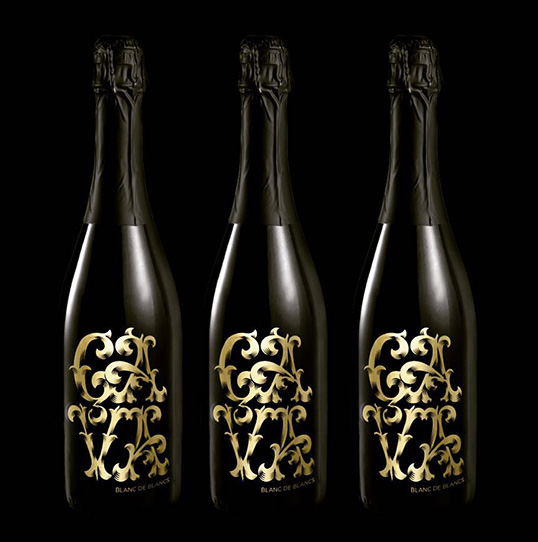 Designed by Alex Trochut | Country: Spain
"Typographer and Illustrator Alex Trochut brought his Barcelona-meets-Brooklyn flare to this interactive, digital art installation featured at ART.FAIR, the highly anticipated German trade fair for modern and contemporary art.  Alex teamed up with the popular champagne brand Mumm & Co. to design the brand's newest limited edition bottle that is set to be released in Spring 2016.  He uses both hand sketching and digital art mediums to transform the many flavors of Mumm into these abstract patterns and interactive displays."
October 13, 2015 | No Comments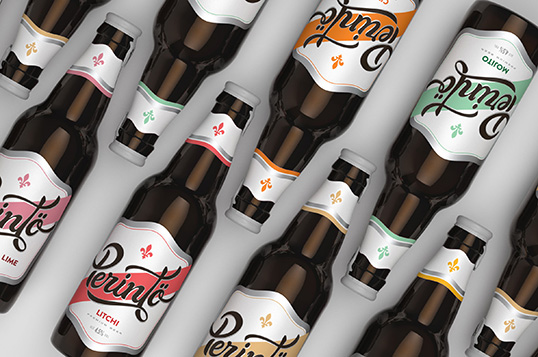 Designed by Butcher & Butcher | Country: New Zealand
"DeVANS Modern Breweries approached Butcher & Butcher with a new product development that challenges traditional concepts in beer. They created a fruit flavoured beer that would challenge existing category norms in the market. We worked closely with Devans to create a contemporary beer brand that would inspire a new generation of beer lovers in India.
We focused on a key aspect of the product to inform our design decisions and align our design thinking, and from this created two guiding principles:1. Challenge Tradition 3. It should still look like a beer.
The design direction came from the name itself, with Perintö being Finnish for heritage. From here we subtly combined other European and Indian iconography to create a postmodern collection of elements; challenging tradition and expected juxtapositions of cultural iconography. The Perintö personality is one unafraid of challenging the past — high spirited, adventurous, curious and proudly spontaneous. The result was a dynamic, colourful collection of beer flavours with a delightfully adventurous feel."
October 13, 2015 | No Comments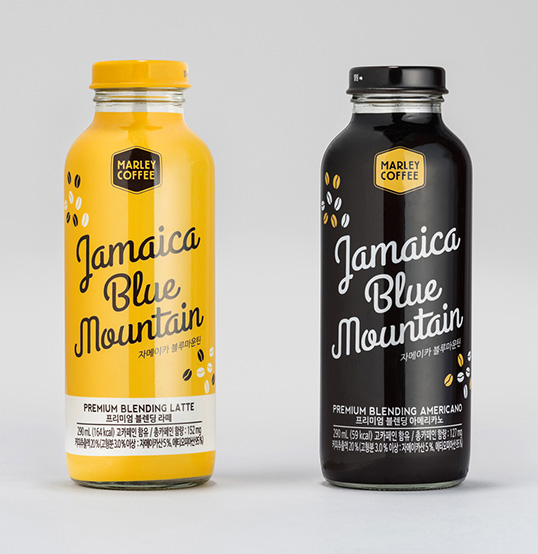 Designed by YANG:RIPOL | Country: United Kingdom
"These are the first RTD (ready-to-drink) products launched in Asia by Marley C&V International. The initial range includes Jamaica Blue Mountain premium blend Americano, Latte, and a special edition single origin Americano.
The design is contained and essential in its element distribution, but the font and bean motif suggests a hint of exuberance.Most of the consumers in the RTD coffee market in Asia are young female, and the design is gently geared towards this demographic.
Marley Coffee is a brand established by Rohan Marley which provides Jamaican coffee with a social conscience, responsibly farmed and respectful with its community. Marley C&V Int. brings this high quality product and social ethos to Asia."
October 12, 2015 | No Comments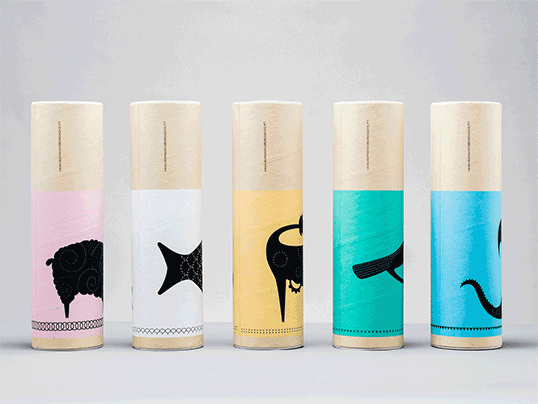 Designed by VOLTA | Country: Portugal
"Românico Bordados (embroidery) wants to recover the famous Vale do Sousa (an area in Northern Portugal) embroidery and turn these fantastic linen and cotton goods into luxury items. Noticing that the motifs of these embroidery have been the same since the XII century (they are inspired in the motifs found in Romanesque style Route monuments of Northern Portugal), they asked VOLTA to create a brand that showed off this fantastic longevity, the exquisite embroidery of their products and a traditional, handmade look.Our solution was to create a symbol based on the monument's motifs, allied to a decorative but strong typography (Estilo Pro by portuguese typeface designer Dino dos Santos). We used kraft-like paper for the tags and product boxes, printing only in one color.
We also created the brand's kids range, Românico Baby. With illustrations by Helena Soares, based on animals portrayed on the monuments of the Romanesque Route, this brand range has, on the other side, a focus on color and decoration. Each animal has its own geometric shape and color, with this palette allowing us to create very colourful packaging and product displays."
October 11, 2015 | No Comments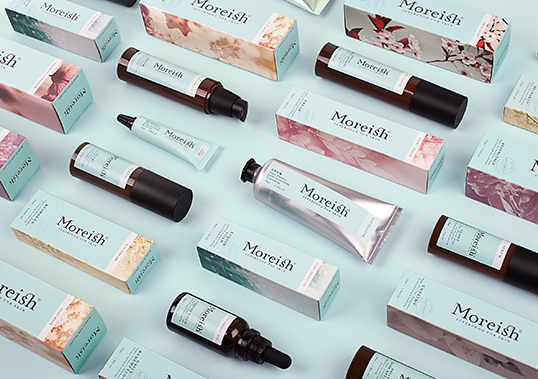 Designed by Milk | Country: New Zealand
"The luxury segment is experiencing the strongest growth in skincare. Moreish was an existing, but underperforming range in pharmacy. The existing brand was centred purely around argan oil and its Moroccan provenance, but the visual architecture was very pharmaceutical in aesthetic and not embraced by consumers. While the already effective formulas have only been slightly altered, the brand positioning, language and design were completely up for grabs.
The new differentiated Moreish proposition is now more relevant to our target audience, we brought this new positioning alive through a more sophisticated pack language. The new positioning needed to work harder than focusing solely on a key ingredient, as these are subject to fads and potentially negative media. The skin is the body's largest organ, and whatever goes on the skin is 'consumed' by the body, so therefore anything applied to the skin should truly nourish like nutrient-rich food does. Leveraging this simple insight, we repositioned the brand as 'Superfood for Skin'."