October 11, 2015 | No Comments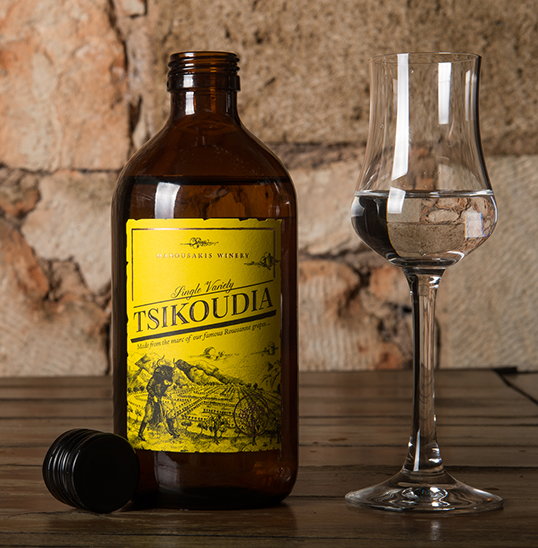 Designed by Marios Karystios | Country: Cyprus
"Manousakis Winery releases Tsikoudia, a distillate made from the marc of their Roussanne grapes and only drunk by the mighty! Tsikoudia has a long standing history in Crete and is used not only as an aperitif, but also for it's healing powers that locals believe it has. Traditionally, most households produce this strong spirit and enjoy it either at room temperature or directly from the freezer.
The packaging is inspired by old style pharmaceutical bottles enclosing this mysterious liquid that has been more or less a local secret for thousands of years. The label portrays the Minotaur planting a labyrinth vineyard and wearing the traditional Cretan costume."
October 10, 2015 | 1 Comment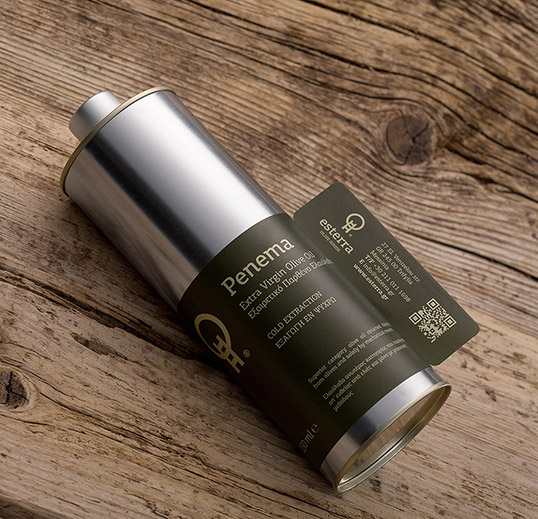 Designed by Chris Trivizas | Country: Greece
"Esterra® is a family Company that deals with the cultivation, commerce and export of olive oil, as well as other quality products based on the olive. Our enterprise has as goal to develop and expand its activities to other agricultural products, cultivated in the fertile land of Messinia.
The name of the Company comes from the union of the archaic "es" (from) with "terra" (land, in latin) and its goal is to express the connection of the Company to the traditional cultivation and the purity of the products of this land.
The design of the symbol of its trademark also stems from the values that mark this Company. Thus, knowledge and tradition lead to the design of an eternal unique olive tree, which has a ladder as a trunk, an element that symbolizes at the same time the traditional way of collecting olives as well as the modern, dynamic prospects of the Company."
October 10, 2015 | 2 Comments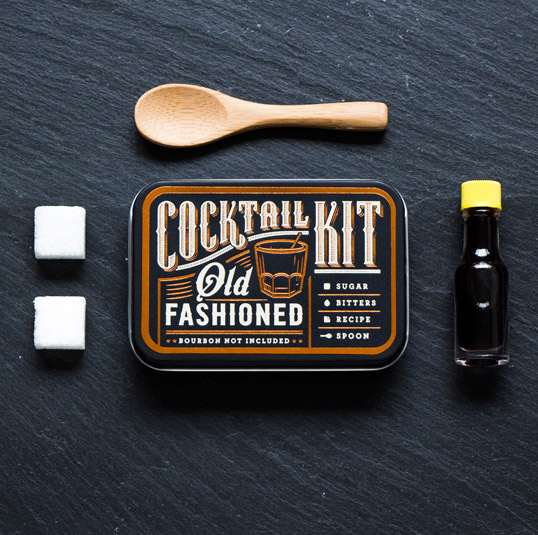 Designed by Cody Petts | Country: United States
"Our vision for this project was to merge together styles of vintage & modern to create a new/fresh design with callouts to rustic design heritage and old fashioned techniques. The kits themselves are pocket sized and can be transported anywhere. They include two main ingredients alongside a recipe instruction card and a muddler spoon. Just add your own favorite spirit and enjoy."
October 9, 2015 | No Comments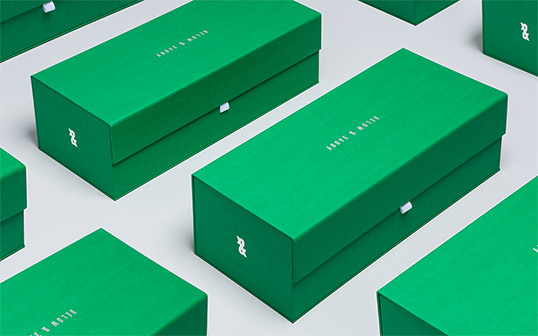 Designed by Butcher & Butcher | Country: New Zealand
"Above & Below by Gbenda-Charles is a single-source, organic skincare solution for men.
The task set to Butcher & Butcher was in positioning Above & Below as a unique challenger brand within the existing—and rapidly growing—men's skincare category.
The key to achieving this was in calling back to the Gbenda-Charles master brand in endorsing and informing product development. The core vision of Gbenda-Charles is one of quality and extraordinary simplicity, and this is echoed by the Above & Below product itself: one ingredient, from one sustainable source, creating a single solution for men's skin care and grooming."
October 9, 2015 | No Comments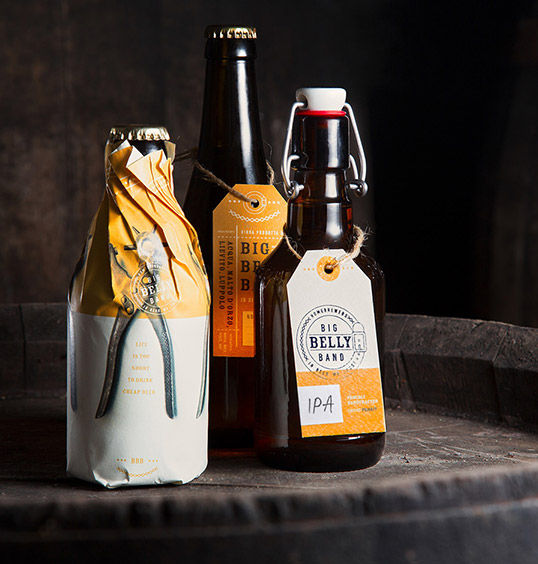 Designed by Daniele Simonelli | Country: Italy
"Inspired by a tour inside the Guinness Factory in Dublin, during the Autumn of 2011 I started to brew my own beer with some friends of mine. Even though we didn't have any knowledge of the art of home-brewing, step by step we learned the craft and started to produce some pretty nice beer. Our intent has never been to create a commercial beer, but a homemade and handcrafted one. We wanted to have fun while brewing and to create a beer to share among our families and friends. Following this vision, I designed a brand identity which reflect the handmade nature of our beer: the BBB beer is totally handcrafted, from the brewing to the label."
October 8, 2015 | No Comments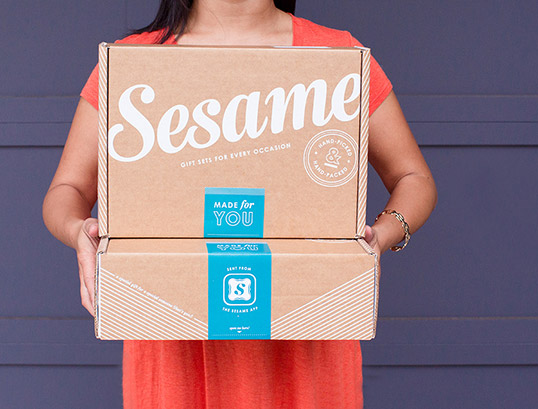 Designed by Jaclyn Lee | Country: United States
"Aimed at providing an over-the-top unboxing experience, our newly designed gift box, reflects the fun, exciting experience of receiving a surprise at your doorstep, while also showcasing the gorgeous, artisanal products we curate into our gift boxes.
Each Sesame gift set includes a kraft gift box designed with playful messaging and bold patterns, an enjoyment guide featuring vibrant imagery and details about each gift set item, luxurious vellum concealing the items, and a personalized message card slipped into a sleeve. A vibrant, Sesame blue, wrap-around sticker seals the gift set and adds a pop of color to the outer gift box. While the gift box acts as a neutral backdrop, which allows the gift items to take center stage, it is a stunning addition to the unboxing and gift set experience."
October 8, 2015 | No Comments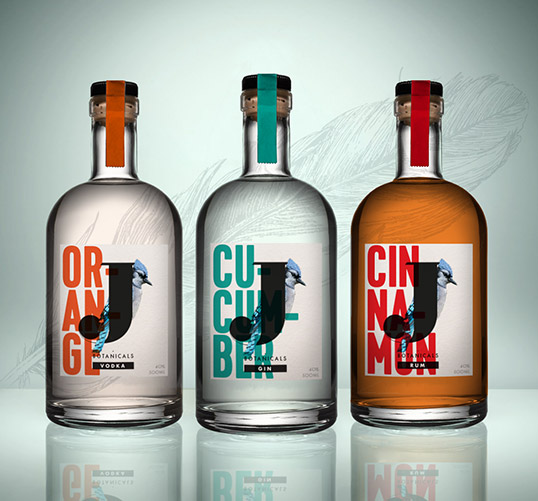 Designed by Christopher Aigar | Country: United Kingdom
"The Jays Distillery situated in the quaint county of Suffolk specialise in spirits created using the best in locally sourced ingredients. The distillery works out of a historic town house which at its original erection was called the 'The Jays' due to the pure amount of Jay birds surrounding the hamlet it was situated in, this directly influenced the graphics using the Jay bird as a visual device throughout the packaging."
October 7, 2015 | No Comments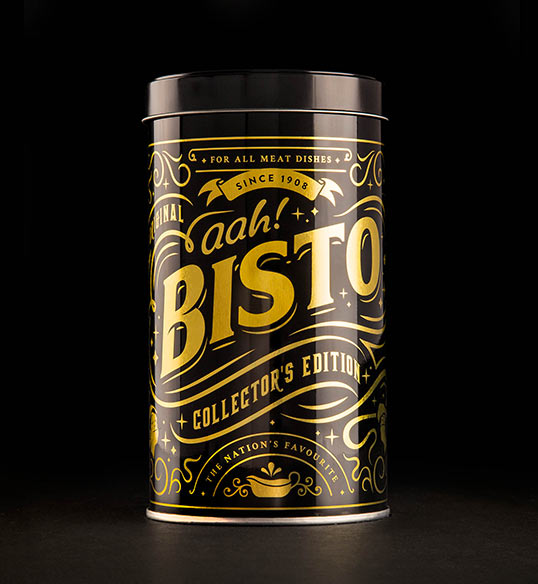 Designed by Robot Food | Country: United Kingdom
"Bisto is the Nation's Favourite gravy and one of the most recognisable brands on shelf and as such, deserved a fitting tribute for this year's annual collector's edition tin. To help celebrate the Bisto brand and put a contemporary spin on a retro offering, Robot Food were called in to put their creative heads together and deliver something with huge standout.
With the aim to launch in time for the upcoming winter season, Robot Food were responsible for the proposition and design of the Limited Edition Bisto gravy tin exclusive to Tesco stores nationwide. By taking cues from Bisto of old and mixing them up with contemporary touches; the new collector's edition tin is an apt homage to the proud heritage of the Bisto brand. A luxurious gold finish and subtle pack embossings help bring the tin into the 21st century, whilst the bulk of the design remains very much vintage. The Bisto children and old school messaging make a welcome return and when surrounded by intricate flourishes and subtle details, give the pack a stylish, retro that remains very current. A Limited Edition tin worthy of the title, fit to display in the kitchen and use again and again."
October 7, 2015 | No Comments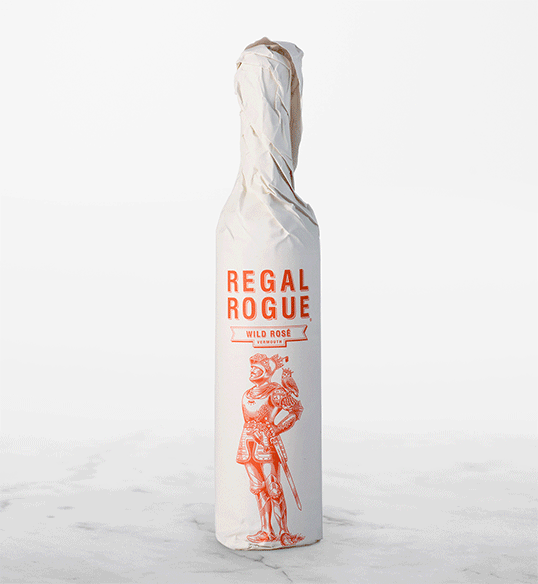 Designed by Squad Ink | Country: Australia
"Regal Rogue is leading the vermouth renaissance by uniquely marrying a daring selection of native Australian aromatics with Hunter Valley wines.
Squad Ink has been proudly shaping the Regal Rogue brand since it's debut in 2011. Four years on and this Australian disruptor is moving into a new and exciting era with the release of the family of Rogues: Lively White, Wild Rosé, Bold Red and Daring Dry.
The Regal Rogue brand has received an amazing response, rejuvenating a dusty alcohol category with a fresh and innovative approach. From the beautifully detailed label to the cleverly crafted launch material, the brand takes shape around a charismatic knight and his devoted owl companion. Achieving the right balance between the old and the new was paramount. The etched illustrative style allowed us to develop the traditional cues and build a credible brand aesthetic, where the bold use of colour and copy allowed us to unleash the youthful spirit of this Australian disruptor.
Squad Ink have created a new and exciting story with a classic tone to introduce an adventurous product to the Australian and international markets."
October 6, 2015 | No Comments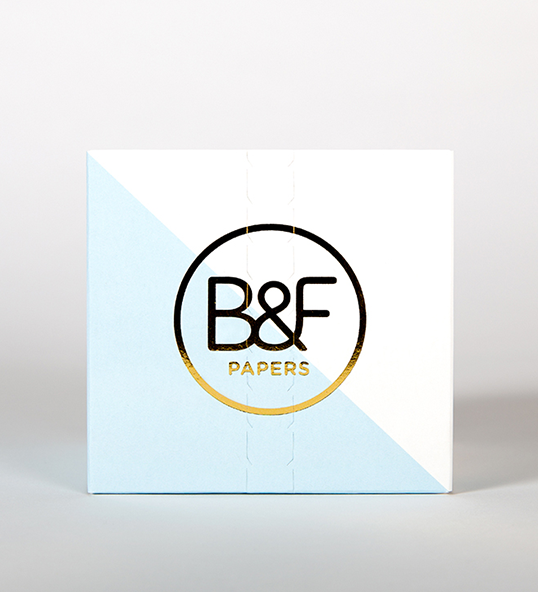 Designed by Supply & Think Packaging | Country: New Zealand
"Working with Supply, specialist New Zealand paper merchant B&F Papers recently decided to release a carefully considered packaging stock collection. Given that the packaging sector has some large suppliers already established, they realised they had to create a promotional piece that was unique; a crafted design item that appealed to both designers and printers alike.
Supply collaborated with cardboard engineer Think Packaging to develop a packaging piece that embraces the enjoyment and discovery of opening a well crafted form of packaging. The recipient is encouraged to explore the piece; turn it over their hands; be surprised by opening the packaging in a number of ways and enjoy the different contrasts found in the combined stocks, varnishes, foils, untreated stocks, unexpected folds, playful colour and typography."