November 10, 2015 | No Comments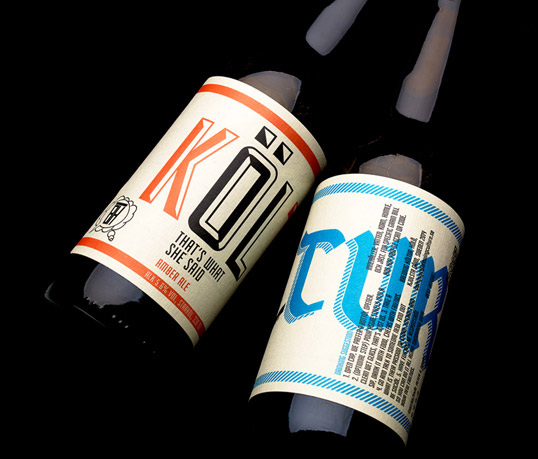 Designed by The Kitchen | Country: Sweden
"The work is for a small craft brewery based just outside of Stockholm called Brewing Költur. Being a small start up with obviously no budget they asked for a label that they would be able to update themselves with low design abilities needed.
What we came up with was quite simple, and the answer was given to us in their name. Their name is a play on the words Brewing Culture (Brewing Kultur), they simply changed culture to Költur, ÖL in English means Beer, so this to us defined what the label should look like. We chose two (well crafted) low cost typefaces to reflect their first two beers, putting emphasis on the work ÖL and placing it on the front of the bottle. Simply stating 'this is beer'.
The simplicity of the design means that the client from now on is purely in control of the whole beer process, from brewing to final labelling and design of the product. All they need to do is to choose a font that represents their beer and place the ÖL on the front. In this way is becomes for them a very natural experimental progression."
November 9, 2015 | 2 Comments
Designed by Studio–JQ | Country: United Kingdom
"I've always been fascinated with crisps packaging and ahead of starting a new packaging project this week, I wanted to give myself a quick fun branding exercise. I wanted to develop my own brand 'QUINTINS&CO' and to give it a modern edge and look with catchy brand names and a lively and diverse colour range. Supporting this are abstract shapes and symbols to finish the look. What's your favorite flavour?
November 9, 2015 | No Comments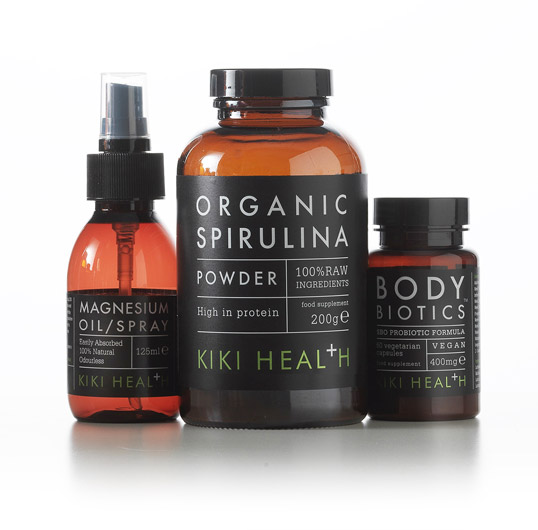 Designed by Studio h | Country: United Kingdom
"Studio h has redesigned the brand identity and packaging design for Kiki Health natural foodsupplements. With a range of over 40 premium supplements, the challenge was to give Kiki Health astrong voice and clarity of product communication in the confusing and crowded supplements market."The tabular format with science lab typography was designed to complement Kiki's apothecary stylebottles. The flexibility of the system also makes it easy to add products to their fast growing range"says Rob Hall, Creative Partner, Studio h. The cross/plus icon replacing the T gives a playful dynamicto the understated brandstyle and emphasises the efficacious nature of the brand."
November 9, 2015 | No Comments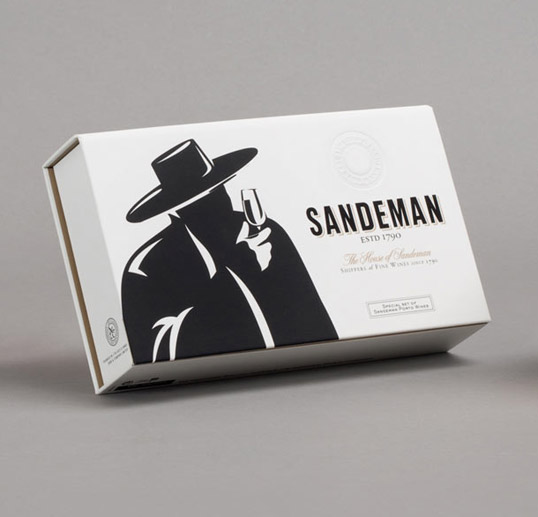 Designed by VOLTA | Country: Portugal
"Sandeman challenged VOLTA to create a tourism multi pack of 5 mini-sized Porto wine bottles, for some strategic POS, Sandeman Cellars and Dutty Free's. VOLTA should use Sandeman's early 20th century iconic advertising materials, such as Jean D'Ylen's "The Centaur" or Loxton Knight's "Femme Fatale", and incite customer's to buy it as a gift for their family and loved ones.
VOLTA decided to create a customizable pack, resembling a postcard. The person buying the Tourism Pack could write a message in the front and address it to the person receiving the gift. With premium finishings, we ended up producing two postcard packs and a generic one, with Sandeman's iconic symbol, the DON, as the protagonist."
November 4, 2015 | No Comments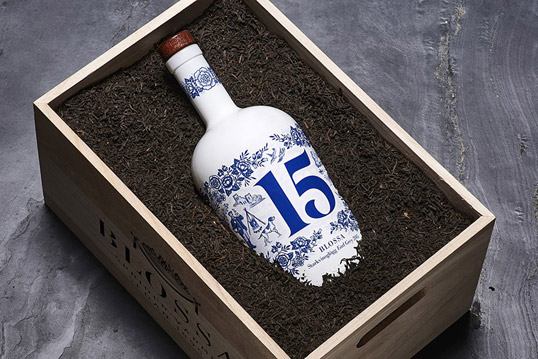 Designed by Scandinavian Design Group | Country: Sweden
"Challenge: since 2003 Blossa has launched an annual limited edition of glögg (mulled wine) with a new flavour and design. The launch is considered one of the prime happenings for Swedish glögg lovers. For many years, Blossa held an unthreatened position in new and innovative mulled wine flavours. Today, this is not the case. Competitors have started to catch up and launch their own versions of unexpected flavours as a means of competition. So what could we do to vitalize the brand further and manifest the position as a market leader?
Solution: when starting working with Blossa for the 2011 edition we created a design concept that could evolve and develop with each new annual release, moving the brand into a larger context beyond the packaging design and the perception of a traditional Christmas drink. The concept is based on new and interesting places where Blossa travels to find inspiration and exciting flavours. Coordinates on the bottle guide us to the exact destination that has inspired this year's flavours.The taste of Blossa 11 is coffee, Arabica. A challenge every year is to find those right ingredients and flavours that goes perfectly with the traditional glögg spices. To find the ultimate coffee beans this year, Blossa went to El Salvador. The coordinates guide us to the plantation Finca las Delicias where the coffee is grown. The bottle is made in a brown matt, opaque finish with the year 11 distinctly printed and integrated in the coordinates."
November 4, 2015 | No Comments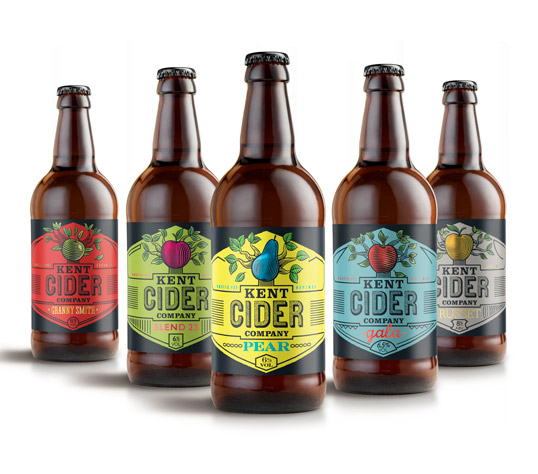 Designed by Sand Creative | Country: United Kingdom
"The Kent Cider Company is proud of its traditional methods of production, but its outlook is more contemporary than most Cider brands. The redesign reflects this, while giving it a more vibrant and upbeat personality.
Navigation was difficult with the previous design so each variant was made more distinctive, starting with its own stylised tree, each bearing one huge fruit to communicate the single variety used in production. All the information below is held within its roots.
A hexagonal shape, inspired by the corners of apple crates, was also introduced to create a more distinctive badge, to which bold vibrant colours were added.
The detail continues to the bottom of each label. The Russet variant for example is also known as 'old leather coat' due to its rough skin. This is reflected in the illustration and the supporting graphic elements, such as the Alcohol volume holding shape which is also the sign for leather."
November 3, 2015 | No Comments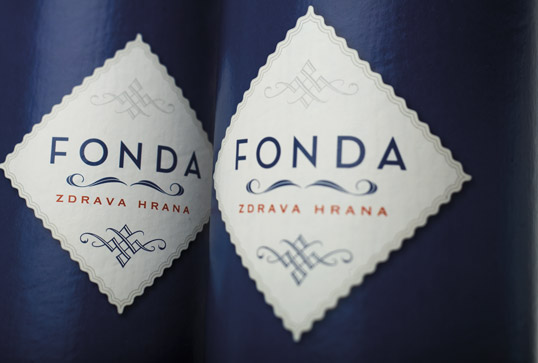 Designed by HUMAN1ST | Country: Slovenia
"The Fonda fish farm builds its identity on the basis of a combination of high-quality products and family tradition. Boris Balant participated in the establishing of the Fonda brand and then worked in close cooperation with the family to develop the family company's overall visual identity in parallel with its development. Humanist then designed the further development and reinvigoration of the brand with a focus on transparency, dynamics and youthfulness, with a simultaneous emphasis on the family' indigenous origins, based on authentic images of the family. The family saga of a top-quality world-class fishery also received fresh impetus through the redesign of the logo, expansion of the contents and a new website."
November 3, 2015 | 1 Comment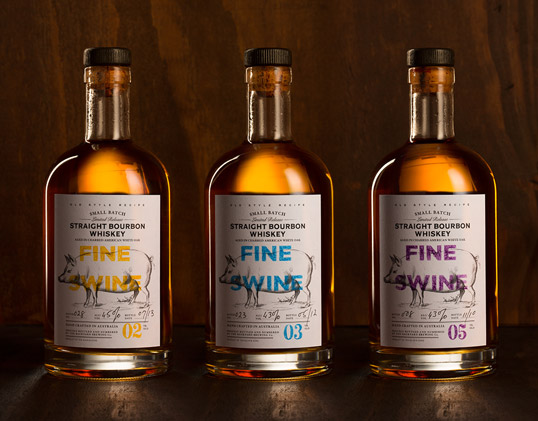 Designed by The MARK Studio | Country: South Africa
"This is a whiskey pulled together from a patchwork history of influences, in-jokes, and muddy adventures. It's straight bourbon, made the traditional American way, but distilled in Australia. The name itself comes from the owner, who had previously gotten his hands dirty on the family pig farm. For all that, the labels are designed to evoke a premium product, made with care."
November 2, 2015 | 2 Comments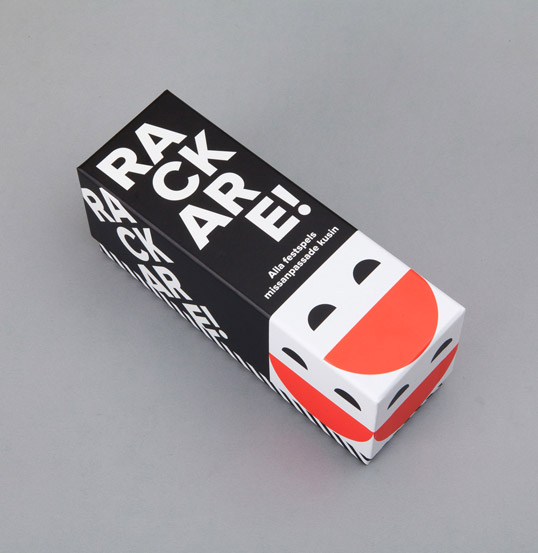 Designed by Ninja Print | Country: Sweden
"Rackare is a Swedish adaptation of the (in)famous party game "Cards Against Humanity". After a few alterations to the gameplay and loads of new cards written and tested the guys over at Ninja Print asked me to give it a look of its own. The very appropriate black-and-white-cards-theme got to stay, since it's simplicity goes well with that of the game. However, I felt the game needed a cheerful vibe so the black-and-white got paired with the big smiling logo in a clean minimalist design based on three colours. A third of the cards are white, two thirds are black and hence the top lid of the box has the same proportions of black and white. Its width is also one third of its length. Both these features create a number of fun ways to display the game in stores."