March 26, 2014 | 1 Comment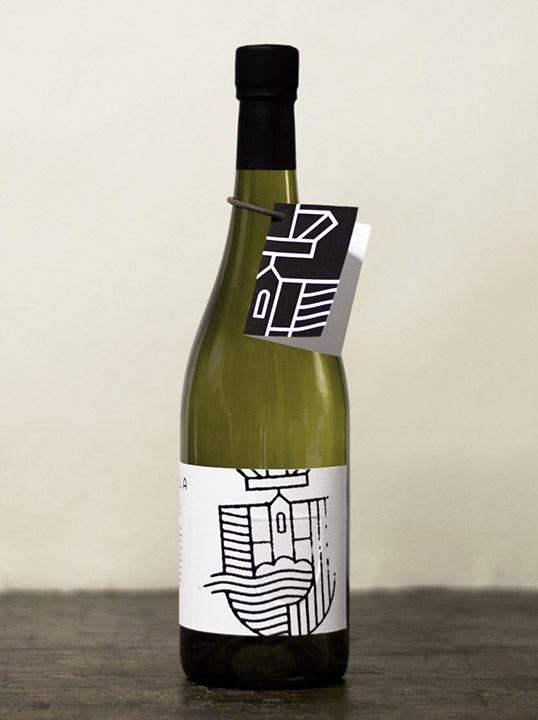 Designed by Kata Moravszki & Richárd Lakosi | Country: Hungary
"The Figula winery vineyards are located at Balatonfüred and its sounding places. One such place is Balatonszőlős – Sóskút. This winery is one of the most beautiful areas and it is mentioned as a crown jewel of the winery. From here came our idea to deal with the coat of arms of the two areas. In compliance with the rules of heraldic coat of arms the combination of the two places has been created. As a great shield the coat of arms of Balatonfüred embraces the coat of arms of Balatonszőlős in a shape of a heart. This is the Fess Point, the most important element of the coat of arms. Thus this sign embodies in a authentically manor the relationship between Wine, Winery and Sóskút-vineyard. 
In this concept we created a custom font for the winery that is modern, but also reflects to the basics of the heraldic emblems."
March 25, 2014 | No Comments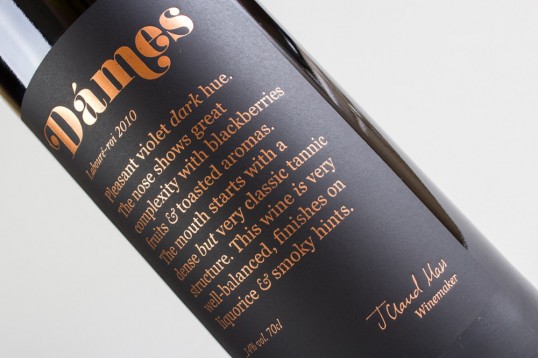 Designed by Fifty3 | Country: United Kingdom
"Dámes Labouré-roi 2010 is a classic complex French red. The brief was to make a classic Bordeaux bottle seductive, mysterious and complex. So we made the taste notes the key element on this print, with a rich copper foil on a substantial recycled board it really makes a pretty good looking bottle label. Each bottle is hand dipped in a copper wax to finish is off."
March 19, 2014 | 1 Comment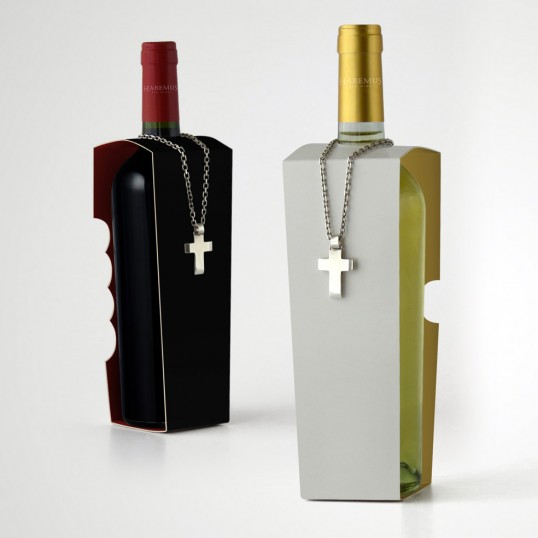 Designed by La Croqueta Estudio | Country: Argentina
"A project that pays homage to the first South American Pope in history. From Argentina, the birthplace of Pope Francisco, a wine designed in two varieties (Malbec and Chardonnay) represents the transformation of Jorge Bergoglio (Cardinal) to Pope Francisco."
March 11, 2014 | 1 Comment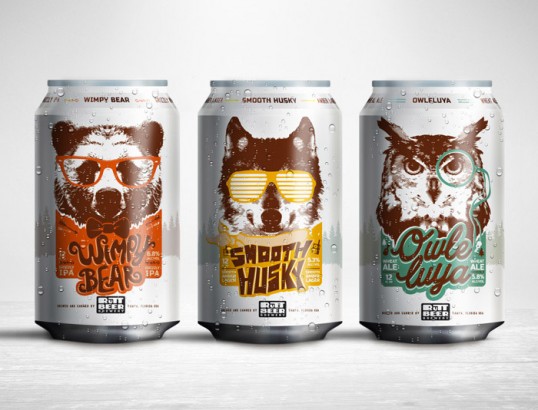 Designed by StudioMax Design | Country: United States
"RuTT Beer Brewery is a small company from the Tampa Bay Area born with a passion for craft beers. We produce Gluten Free specialty beers rich in flavor, aroma and personality."
March 10, 2014 | No Comments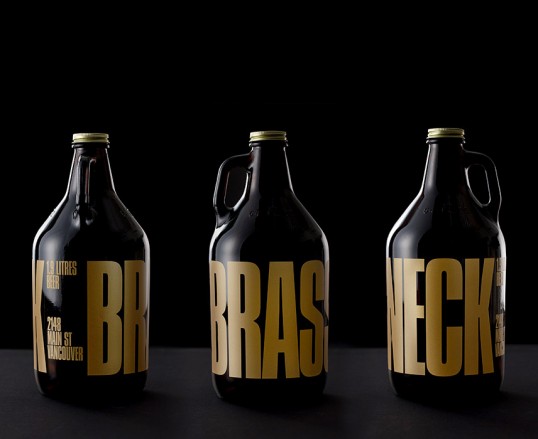 Designed by Post Projects | Country: Canada
"Brassneck Brewery is a new retail brewery in the Mt. Pleasant neighbourhood of Vancouver, BC. Brassneck offers brewed on-site selections at their growling fill station or their cozy tasting lounge. Post was commissioned to establish Brassneck's visual identity; the identity makes use of bold typography, starkly contrasted by more loose, whimsical ink drawings by artist Maggie Boyd."
March 2, 2014 | 1 Comment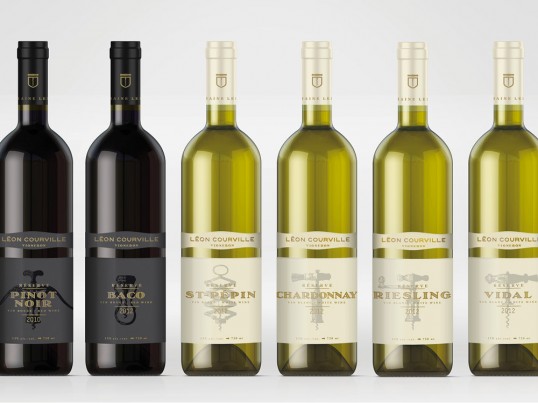 Designed by lg2boutique | Country: Canada
"A wine grower at the forefront Quebec's winemaking industry, Léon Courville mandated lg2boutique to redesign its entire brand platform and adapt it to all its product lines. Combining passion, ingenuity and wine-growing know-how, Léon Courville Vigneron and its team of experts produce an international-calibre wine from Quebec soil, one bottle at a time. The new identity had to reflect the history of the vineyard and the tradition it proudly upholds."
February 24, 2014 | No Comments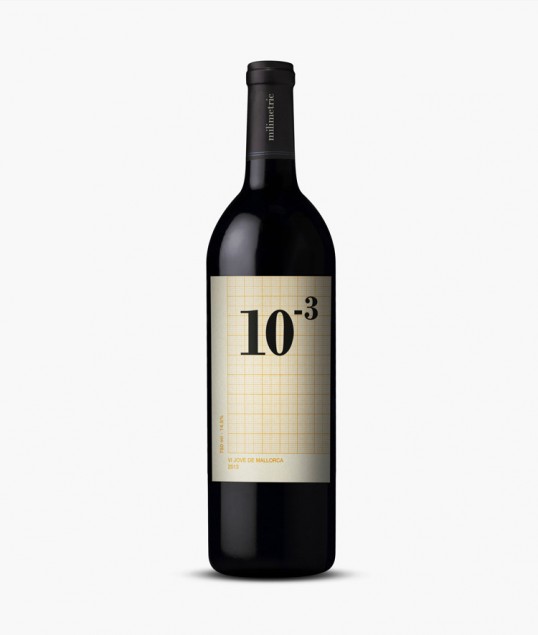 Designed by Walrus | Country: Spain
"As men have been experiencing and gaining knowledge about the processes of wine production, they have also been increasingly incorporating technological elements, which have significantly improved the quality of the products obtained, its predictability and consistency of results. From these developments emerged what is now called Precision Viticulture.
The main objective of this project was to combine the traditional look of the wine, with the concept of precision. The paper used, and the wine's name refers to accuracy or precision, and ten to the minus three power equals one thousandth of a meter, or what is the same, to the millimetre."
February 19, 2014 | 1 Comment
Designed by Brennan Gleason | Country: Canada
"This self directed student project for my final semester of design school was initiated with the goal in mind of creating a unique, eye catching identity and packaging design for a craft brewery.
High Seas Brewing Co. is a home brewed brand myself and my roommate created to give our small batch beer an identity all its own. With his love of the high seas and my love for crafty, simple, eye catching design I saw this as a perfect opportunity to create something great."
February 18, 2014 | 2 Comments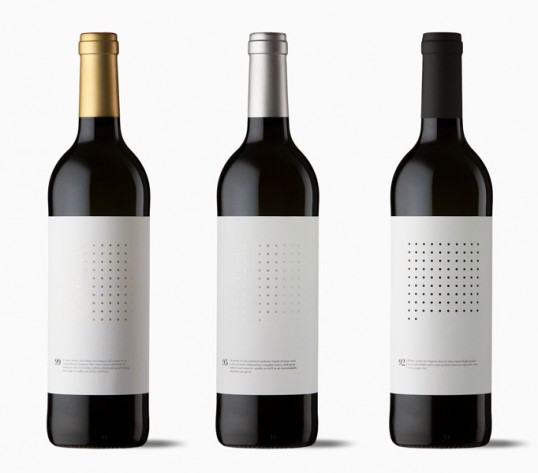 Designed by TSMGO | Country: Spain
"The main graphic element is a registered Dotted Grid®. The second one is the typeface: Didot, the Didot types defined the characteristics of the modern (or Didone) roman type style, with their substantial stems flowing into extremely thin hairlines; the serifs are straight across with virtually no bracketing. Because of the very fine hairlines that are characteristic of modern romans, their use was somewhat restricted in metal types."
February 17, 2014 | No Comments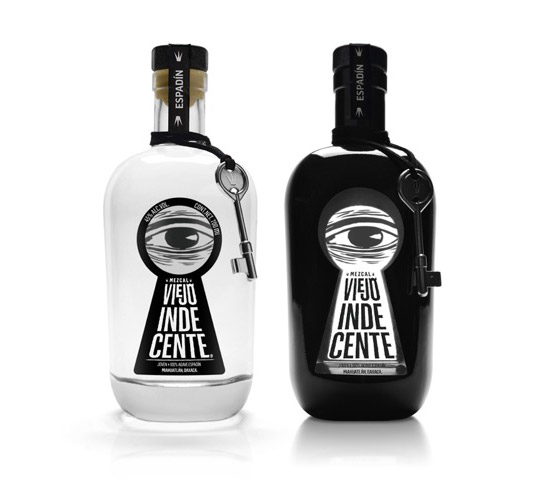 Designed by YuJo! Creatividad Aplicada | Country: Mexico
"We all have a dark side. It may remain hidden most of the time, but every once in a while, a glimpse of our other selves cannot be denied. 
Viejo Indecente opens the door to that other you. Is someone peeking through the keyhole or is it you who is looking into the forbidden? 
With a transparent spirit and bottle, we made the keyhole real by printing the eye in the back and letting an alpha circle in the upper part of the front label. 
Either by holding the bottle with both hands o rotating it over the table, this mysterious character's eye comes to life and follows you as you fight with your inner, darker self."