December 17, 2013 | No Comments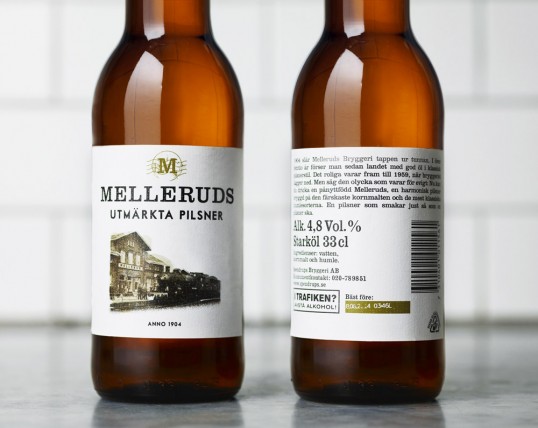 Designed by Neumeister | Country: Sweden
"Whoever said you can't recreate the past, apparently never told Spendrups master brewer, Richard Bengtsson. Inspired by archives and a fascination with historical brewing techniques, Bengtsson did just that, re-launching a Swedish classic that hadn't been around for over 50 years. Although Melleruds brewery is long gone, we wanted to respect the rebirth of its prized pilsner with a design language that presents the nostalgia and unvarnished aesthetic of the 1940s in a way that is current and inviting. Everything from the logotype to label design and packaging takes you back to a time when simplicity trumped sophistication, colour was a fad, and the words 'ordinary' and 'traditional' were considered high praise. Fast-forward to the present and you've got design that gets noticed, because it is honest. That stays fresh, because it is authentic. The perfect dressing for a beer Bengtsson considers "just as it should be."
December 16, 2013 | 2 Comments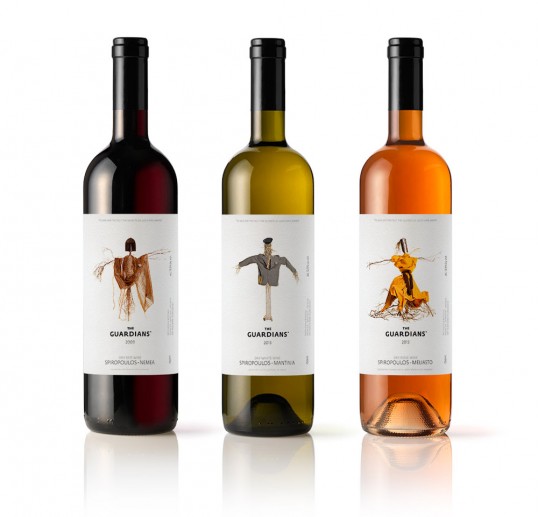 Designed by mousegraphics | Country: Greece
"The briefing (in brief):  we have a new type of wine which we would like to brand in an interesting way.
The target consumer: mass market product of good value and good price. Foreign and Greek markets.
The design: The client gave us freedom to think in any possible direction in order to create a consumer friendly, interesting identity for the new wines, which will be sold in Greece and abroad. This is an old family of prestigious winemakers with close ties to the land, the vineyards and even the unique buildings situated since the 19th c. in historic buildings, at the areas of Mantinea and Nemea in the Peloponnese. Updated with organic farming methods, the company's activity aims to produce high quality grapes and wines while protecting the ecosystem and the environment. All the above inspired a design based on the age old figure of the vineyard guardian: the scarecrow. An item of folk art, of basic necessity and common practice, the scarecrow has been the object of fascination by artists and village people alike. Festivals are organized around the world to celebrate the imagination and ingenuity involved in its making. Mousegraphics commissioned a well known Greek artist to draw and then make three different scarecrows to represent the white, red and rose labels. They were then photographed by a fashion and art photographer, with equal care. The brand name "the Guardians" is accompanied on the packaging by the small phrase: "to serve and protect the secrets of good wine-making ", and this summarizes our concept and its references."
December 13, 2013 | 1 Comment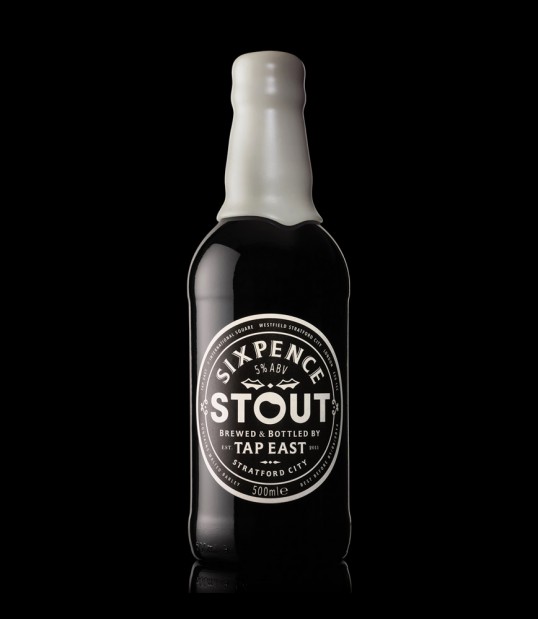 Designed by Midday | Country: United Kingdom
"With a subtle flavour profile of a traditional christmas pudding, our brief was to name and design this festive stout. Our solution, 'Sixpence Stout' was inspired by the coin traditionally baked into a Christmas pudding in Victorian times for good luck. The design references the Christmas pudding with a festive holly placed above the "O" of the stout and the brandy butter inspired waxing on the neck of the bottle. The design also takes influence from vintage ale labels of the period."
December 9, 2013 | No Comments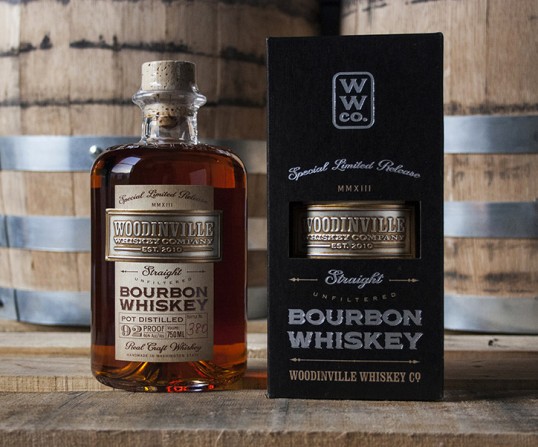 Designed by David Cole Creative | Country: United States
"I am proud to work with Woodinville Whiskey Company. They are producing some fantastic spirits and they're doing it with soul – and lots of local flavor (not to mention local grains). This project included an original label and carton design for their first ever straight bourbon. It's a special moment for a young distillery to release their first straight whiskey – it takes years of patience and there's no shortcutting it. I took the same approach on the package design."
November 14, 2013 | No Comments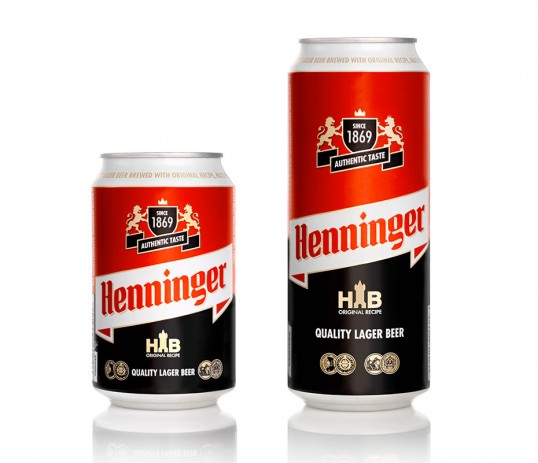 Designed by mousegraphics | Country: Greece
"The briefing (In brief):  We need to redesign our brand in order to reach a wider contemporary audience.
The target consumer: Various ages, mostly young and middle age consumers of both sexes, especially men.
The design: A case of redesigning visual identity, this was a challenge that we approached by analyzing carefully all the elements of the existing logo and its context. We decided to keep and rearrange them in a meaningful way: the emblem (a coat of arms with 2 lions) was separated from the brand name, the overall design became more clear and linear, a frame based message was introduced. This evolved like a scrabble game with visual elements in the place of letters."
November 12, 2013 | 2 Comments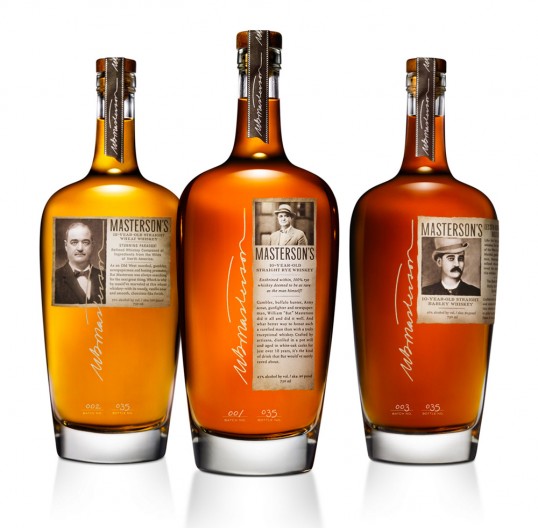 Designed by Studio 32 North | Country: United States
"Bat Masterson was an original old West Renaissance man. He lived large. He was a U.S. marshal, a buffalo hunter, a gambler, a businessman, a boxing promoter and a newspaperman. He was the embodiment of manifest destiny, always exploring, never settling, always striving to improve. Along those same lines of thinking 35 Maple Street Spirits created three whiskeys that honor this multifaceted man, each one representing a different aspect of Masterson's life."
November 12, 2013 | No Comments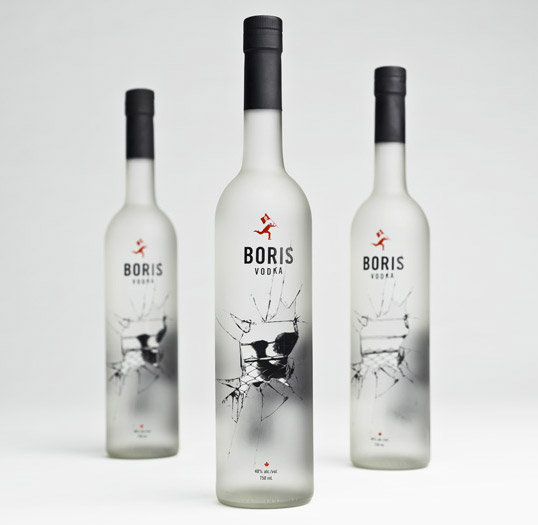 Designed by lg2boutique | Country: Canada
"lg2boutique pulls off a coup for the new Boris Vodka.
Boris once again expanded its family of products with an entry into the world of spirits. The brand new product, a Quebec-made vodka, can be found on SAQ shelves, a first for the Boris brand, whose products had only been available in supermarkets and convenience stores until then."
November 11, 2013 | No Comments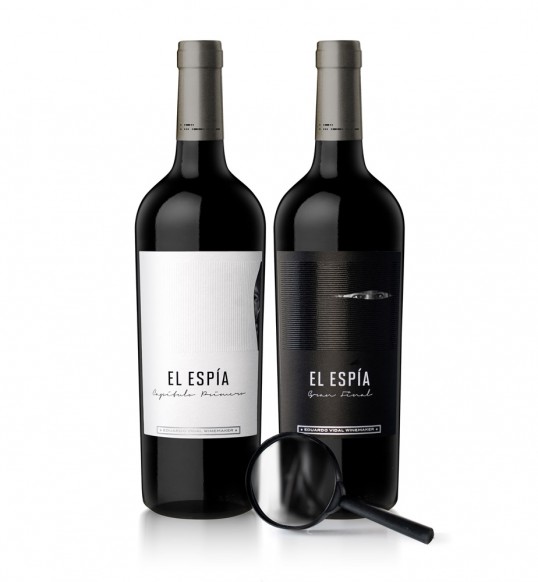 Designed by Estudio Arena-Bahamonde | Country: Argentina
"This is one of Estudio Arena-Bahamonde's new projects. This wine is surrounded by mystery. That is why we designed modern, minimalistic labels inviting wine lovers to discover each of its secrets. Morse code-written capsules, messages to decipher labels, mysteries to solve on the web or with social media."
November 3, 2013 | 3 Comments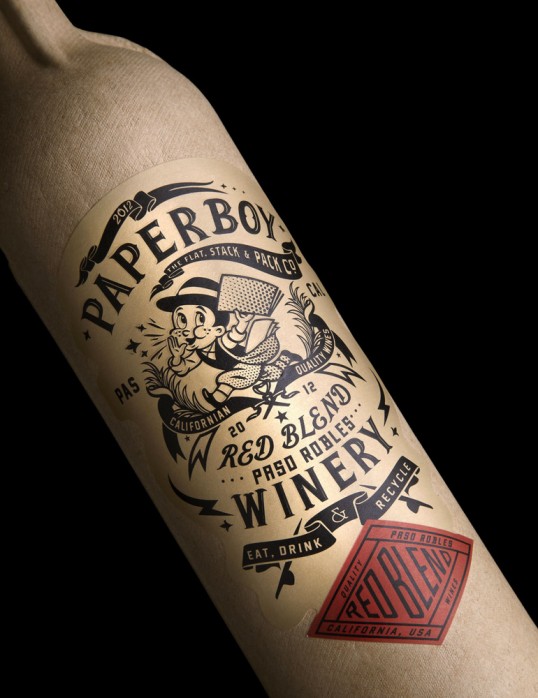 Designed by Stranger & Stranger | Country: United States
"Paperboy is about as green as it's possible to make a wine bottle. It's made out of a compressed recycled paper, printed with natural inks and the inside contains a recyclable sleeve like you find in a box of wine. The bottles are rigid and strong – they're even icebucket safe for three hours – and take only 15% of the energy that regular glass bottles take to produce. They weigh only an ounce when empty so save a huge amount of energy on shipping. In Safeway now and available nationwide soon."
November 3, 2013 | No Comments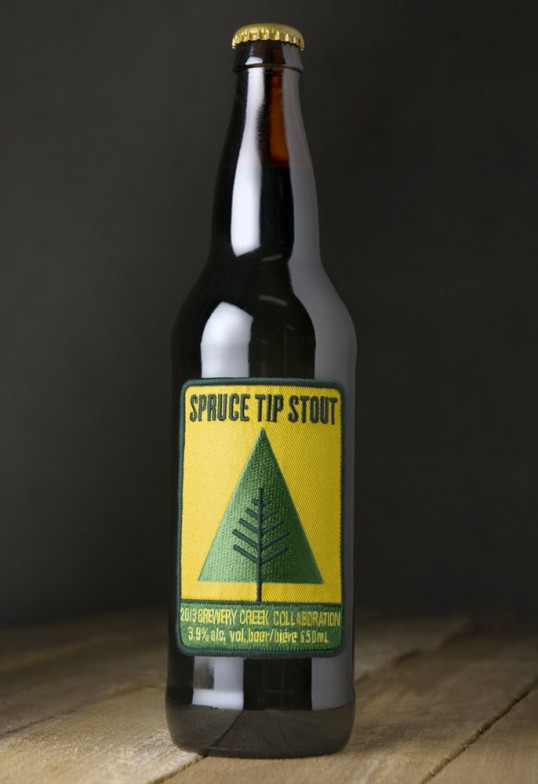 Designed by Saint Bernadine Mission Communications Inc. | Country: Canada
"Five West Coast craft brewers teamed up to create a collaboration beer that required a packaging solution that not only celebrated craft and teamwork – but also saluted the craft beer drinkers bold enough to give it a try. Spruce Tip Stout, made with real Spruce tips, was brewed to celebrate BC Craft Beer Month by R&B Brewing, Brassneck Brewery, Red Truck Brewing, Main Street Brewing, and 33 Acres Brewing – all British Columbian breweries that call the Brewery Creek District of Vancouver home."