November 24, 2015 | No Comments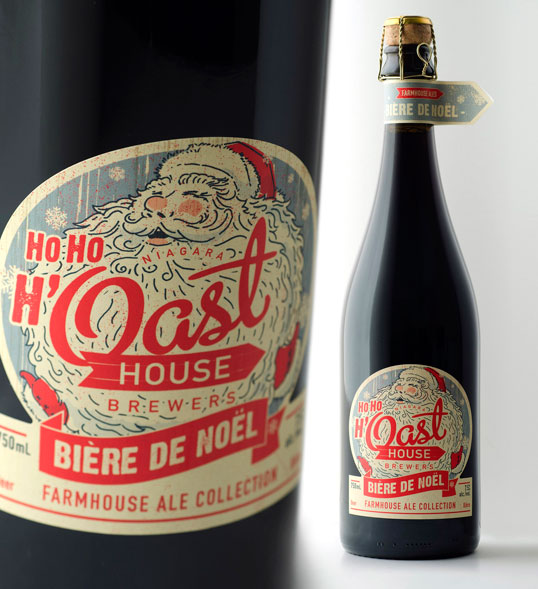 Designed by Insite Design | Country: Canada
"The Niagara Oast House Bière de Noël is a limited edition winter warmer and like their other Farm House Ales, it's brewed and bottle conditioned in a traditional Belgian style.
Continuing on the series of seasonal Farm House Ale packages, we envisioned this jolly Ho Ho H'Oast calling Santa with a more robust and à la mode beard. A beard Noel one might say."
November 23, 2015 | No Comments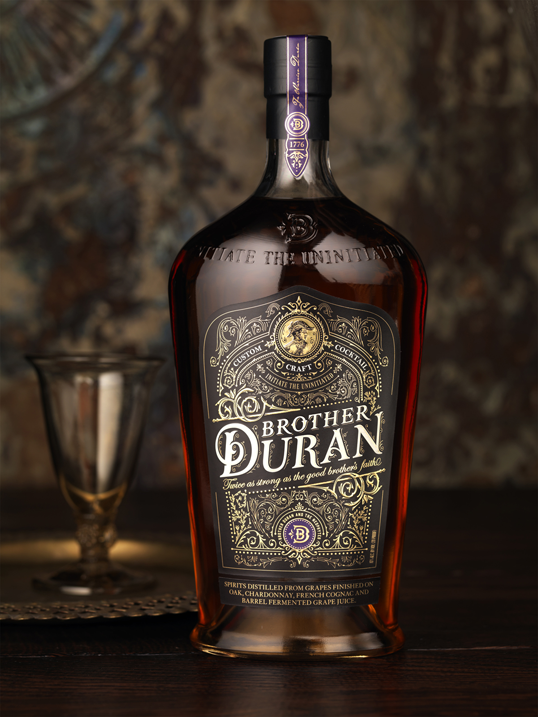 Designed by CF Napa Design | Country: United States
"The client came to CF Napa to design the custom bottle, identity and packaging for their new grape-based spirit, inspired by a brandy recipe developed by Father Narciso Duran (Brother Duran) while serving in the California missions during the early 1800's. His brandy was described as "double distilled and twice as strong as the good brother's faith." Taking our lead from the time period, we designed a custom bottle that pulled cues from historic brandy bottles and a label that imbues a texture of rich gold filigree to complete the opulent embodiment of this luxury spirit."
November 19, 2015 | 2 Comments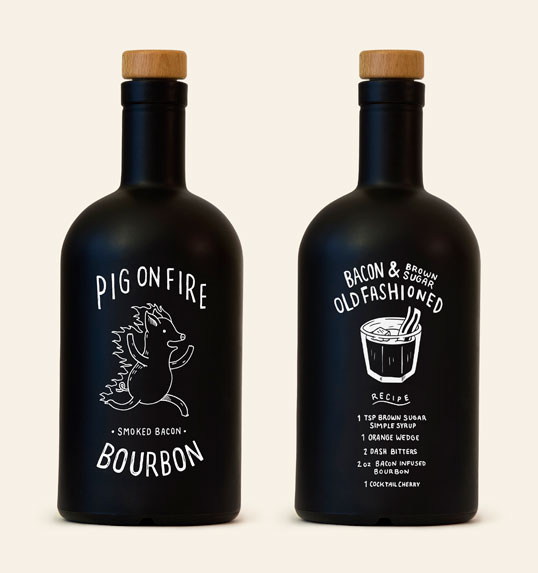 Designed by John Larigakis & Jon Mandell | Country: Canada
"Pig On Fire is a small batch hand crafted bourbon infused with applewood smoked bacon."
November 18, 2015 | No Comments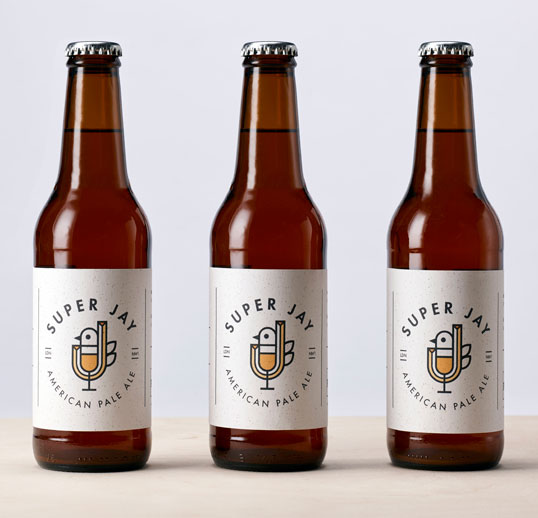 Designed by PWW | Country: United States
"Combining a warming back-story, an illustrative packaging style, and organic American Pale Ale – Super Jay is born!
PWW is a strategic design firm based in London and Seattle, and Super Jay is our very own craft beer made from the bottom up. During beer production, the flavour comes first and the brand identity second, and this is what differentiates Super Jay from other craft beers. Super Jay's brand identity firstly combines character and individuality, with the beer itself following on to match.
The creation of Super Jay is the result of two back-stories merged together. Beginning with the 'Jay' part came from PWW's Graphic Designer Mark Johnson, growing up near Lake District and surrounded by Jaybirds, this became his focal drawing point and inspiration for Super Jay's graphic design. 
Directly linking to the history of beer, Jaybirds colonised Asia, Europe and Africa, to then eventually migrate to North America, which is close to PWW with our second studio based in Seattle. Consequently, beer made the same transition between multiple continents, growing in Europe, to then eventually end up in North America within the leading craft beer movement.  
The 'Super' part comes from PWW's final beer in the craft series, which will be marketed and available to buy. The recipe will be for a strong shandy, with a memorable flavour."
November 18, 2015 | 1 Comment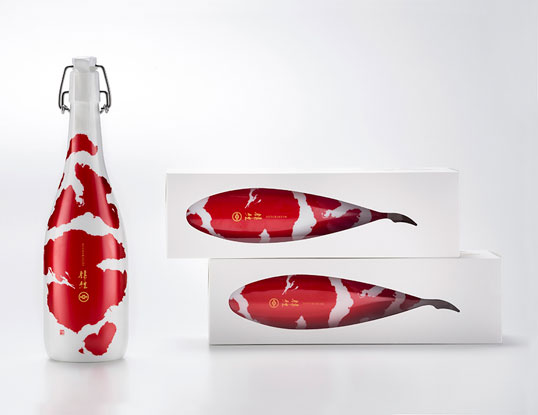 Designed by BULLET Inc. | Country: Japan
"This package is for Japanese Sake, which is called KOI. The KOI is a vividly patterned ornamental fish that represents Japan (KOI is also known as "Nishikigoi")
KOI is ornamental carp that have beautiful colored markings on the spindle-shaped heroic body. They can be defined as inedible carp that have admirable figure, markings or colors. Also they are known as a "living jewel". In 1918, first KOI was born in Niigata Japan where the Imayotsukasa Sake Brewery has their brewery.
Likening the white porcelain bottle to the shape of a KOI, we graphically applied a KOI pattern to the surface of the bottle. The package is complete with an outer box, which has a KOI-shaped window to make the display even more appealing. The target will be the people who don't drink sake daily. Because KOI has unique bottle appearance it is able to appeal to the people who don't drink Sake much. Of course Sake lovers are also our main targets."
November 17, 2015 | No Comments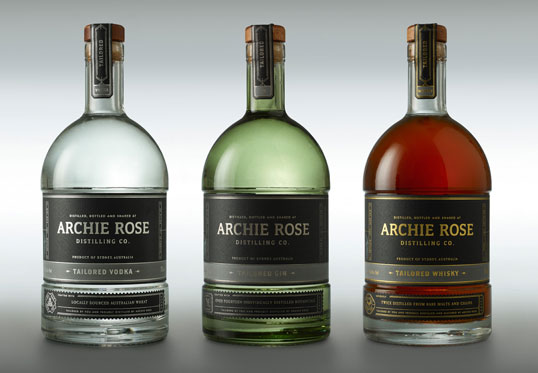 Designed by Squad Ink | Country: Australia
"Squad Ink has created a world first where everyday spirit lovers have the ability to customise their own single bottle of vodka and gin or cask of whisky all from their phone. They even get their name on the bottle.
"We'd been working with Archie Rose Distilling Co. for almost 2 years leading up to it's launch in Rosebery, Sydney, so we knew everything there was to know about their incredible operation. During a workshop we floated the idea, 'What if you could customise your own spirit online?' Will Edwards (Founder), pretty much said 'Yep, we can make this happen'. We had been following the craft craze with Sydney-siders getting right behind hands on projects like, cheese making, producing their own honey and even beer. This was just the beginning but it was time to take it online and offer a unique consumer experience, available to anyone, anywhere, anytime.
The Tailored Spirits range is a truly bespoke, one of a kind offering, so Squad Ink created packaging worthy of the title. "We were given the green light to go all out, so we produced stunning foiled stamped labels, that feature your customised spirit specifications and even your name on the bottle. We found that people were dying to create spirits for friends so you can now add a lucky mate's name to the bottle."
November 17, 2015 | No Comments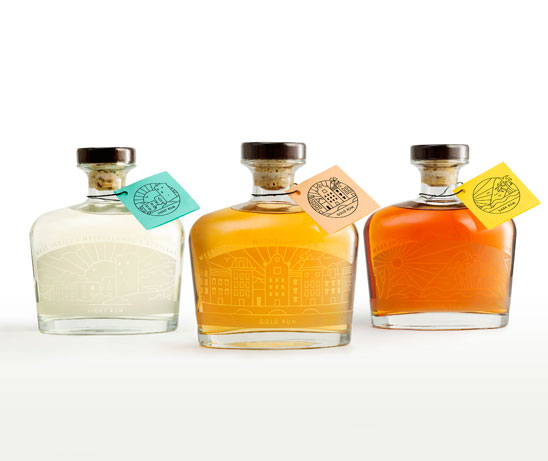 Designed by Front Page | Country: United Kingdom
"2011 marked the start of a quiet revolution happening in the whisky industry; the world's first virtual whisky blending lab was launched online. Whisky Blender proved to be an award-winning smash hit and now, just four years on, they are launching Rum Blender.
Seven exquisite rums, handpicked for you to create your own bespoke blend by the bottle, simply blend it, name it, and before you know it you'll proud be the owner of a truly unique bottle of rum unlikely to exist anywhere else in the world.
To celebrate the launch of the site they collaborated with award-winning design agency of 25 years, Front Page, to create a limited run of an engraved decanter set representing their story. These illustrations were all created on a single uniforming grid we had developed to ensure that – although three different designers were working on each individually – they would all work together and share the same style and weight."
November 16, 2015 | 3 Comments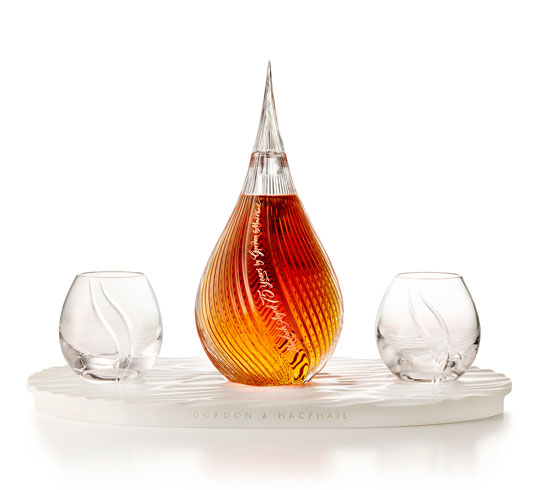 Designed by Contagious | Country: United Kingdom
"Edinburgh agency Contagious worked in close collaboration with client Gordon & MacPhail to create the decidedly modern interpretation of traditional whisky packaging which was recently launched at The Royal Opera House, Covent Garden.
According to Creative Director and MD of Contagious, Matt Chapman: "This incredible liquid spent 75 years maturing in darkness and our brief was to interpret the client's product proposition of sharing, owning and drinking by packaging and presenting Mortlach 75 Years Old to be displayed, shared and enjoyed by a new generation, not hidden away in a box to gather dust. We took that 'spirit of sharing' as the big idea behind our creative strategy."
The agency's starting point was the elegant teardrop shaped hand-blown crystal decanter that is the iconic feature of the Generations range of which Mortlach 75 is the newest release. Working with master craftsmen, Contagious introduced 75 ribbon-like channels, hand-cut into the crystal of each of the 100 decanters, which were then uniquely numbered. Marrying traditional craftsmanship with cutting edge technology, the team designed and commissioned a seductively tactile plinth which features 75 gently undulating ripples across its cool white surface (a subtle nod to Speyside's soft water), to hold and display the decanter and two hand-cut crystal glasses. Each element was then packaged into a luxurious Aniline leather travel bag. James Hartigan, Senior Designer, explains: "This is a unique and luxurious weekend bag, perfect for the sophisticated traveller, it's certainly not just a single-use presentation case. We wanted to create a package that's designed to be unpacked for a whisky that's meant to be drunk."
November 13, 2015 | No Comments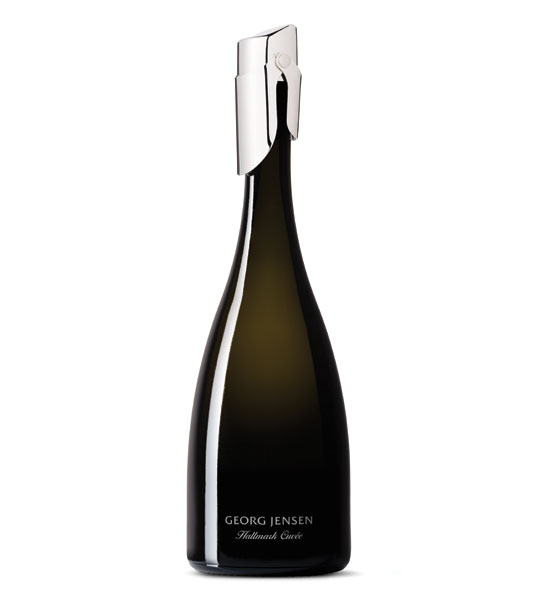 Designed by Denomination | Country: Australia
"Leading drinks design specialist Denomination (formerly The Collective Design Consultants) has joined forces with Danish design house Georg Jensen to produce an innovative sparkling brand featuring a re-sealable closure and a sleek, elegant packaging design.
Designed for luxury Tasmanian brand Heemskerk, the Georg Jensen Hallmark Cuvée was a collaboration of creative minds – Georg Jensen and Denomination – each bringing a shared appreciation of refinement and minimalism, and a wealth of experience in their respective fields.
Denomination set out to capture the hallmark qualities of Georg Jensen craftsmanship and timeless aesthetic when designing this first-to-market re-sealable closure that is a permanent and integral feature of the sparkling wine packaging.
November 11, 2015 | No Comments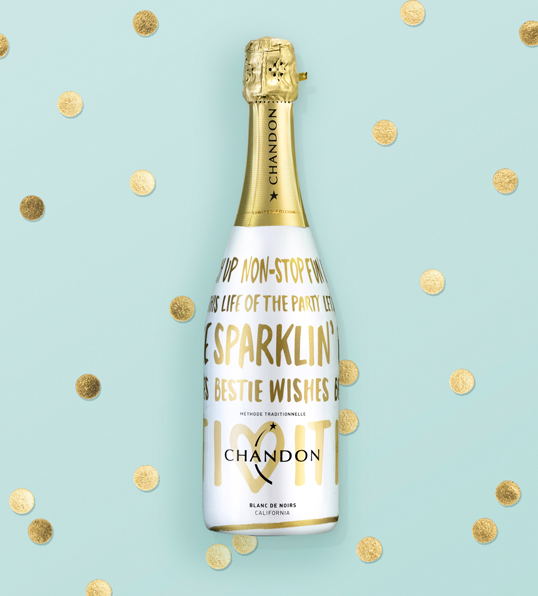 Designed by ButterlyCannon | Country: United Kingdom
"To kick off the 2015 holiday season, Chandon gave ButterflyCannon the opportunity to give their Blanc de Noirs sparkling wine a fresh, festive and shareable new look, that was perfect for parties, gatherings or even nights in with 'besties.'
The bottle is wrapped in a shrink sleeve showcasing a series of playfully festive messages in the same contemporary tone of voice as Chandon's female millennial consumers. Wrapping seamlessly round the bottle and designed to invite and maximise the opportunities for sharing on social media platforms, these messages reflect the fun, spontaneous spirit of the brand and its 2015 festive communication platform, #BestieWishes."