November 10, 2015 | 2 Comments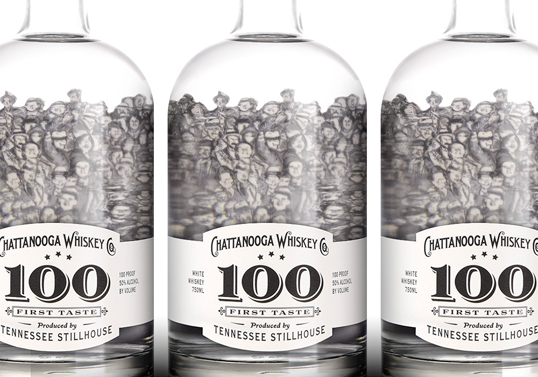 Designed by Tennessee Stillhouse | Country: United States
"Chattanooga Whiskey 100 is the first whiskey to be legally produced in Chattanooga in 100 years, officially ending prohibition in this city – It has been illegal distill spirits in Chattanooga since 1915, a city which was once home to almost 30 distilleries in the downtown area.
This limited edition unaged whiskey, or "First Taste," was made in a 100 gallon still, proofed to 100, which came to a perfect 100 cases.
To celebrate Chattanooga's official end of prohibition, Chattanooga Whiskey has been using the tagline "Whiskey to the People" – So to illustrate this, without literally saying it, we illustrated a scene from the end of prohibition in 1933 – representing Chattanooga's end – And printed the illustration on the back of the bottle, so the people came though the white whiskey."
November 10, 2015 | No Comments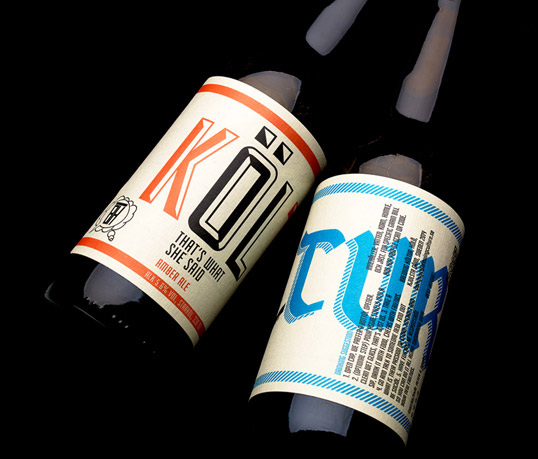 Designed by The Kitchen | Country: Sweden
"The work is for a small craft brewery based just outside of Stockholm called Brewing Költur. Being a small start up with obviously no budget they asked for a label that they would be able to update themselves with low design abilities needed.
What we came up with was quite simple, and the answer was given to us in their name. Their name is a play on the words Brewing Culture (Brewing Kultur), they simply changed culture to Költur, ÖL in English means Beer, so this to us defined what the label should look like. We chose two (well crafted) low cost typefaces to reflect their first two beers, putting emphasis on the work ÖL and placing it on the front of the bottle. Simply stating 'this is beer'.
The simplicity of the design means that the client from now on is purely in control of the whole beer process, from brewing to final labelling and design of the product. All they need to do is to choose a font that represents their beer and place the ÖL on the front. In this way is becomes for them a very natural experimental progression."
November 9, 2015 | No Comments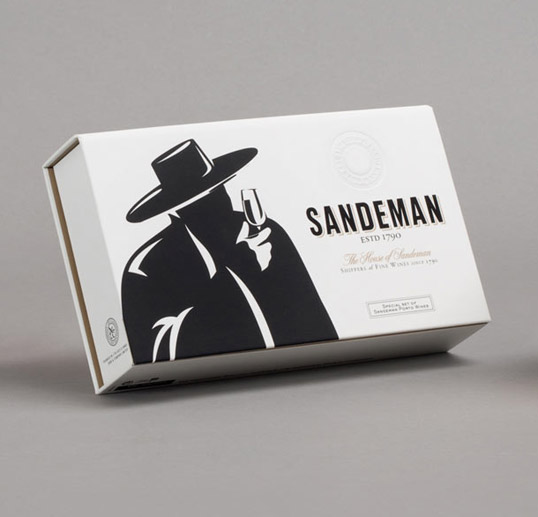 Designed by VOLTA | Country: Portugal
"Sandeman challenged VOLTA to create a tourism multi pack of 5 mini-sized Porto wine bottles, for some strategic POS, Sandeman Cellars and Dutty Free's. VOLTA should use Sandeman's early 20th century iconic advertising materials, such as Jean D'Ylen's "The Centaur" or Loxton Knight's "Femme Fatale", and incite customer's to buy it as a gift for their family and loved ones.
VOLTA decided to create a customizable pack, resembling a postcard. The person buying the Tourism Pack could write a message in the front and address it to the person receiving the gift. With premium finishings, we ended up producing two postcard packs and a generic one, with Sandeman's iconic symbol, the DON, as the protagonist."
November 4, 2015 | No Comments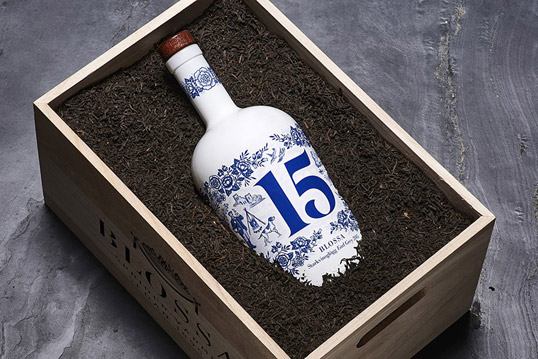 Designed by Scandinavian Design Group | Country: Sweden
"Challenge: since 2003 Blossa has launched an annual limited edition of glögg (mulled wine) with a new flavour and design. The launch is considered one of the prime happenings for Swedish glögg lovers. For many years, Blossa held an unthreatened position in new and innovative mulled wine flavours. Today, this is not the case. Competitors have started to catch up and launch their own versions of unexpected flavours as a means of competition. So what could we do to vitalize the brand further and manifest the position as a market leader?
Solution: when starting working with Blossa for the 2011 edition we created a design concept that could evolve and develop with each new annual release, moving the brand into a larger context beyond the packaging design and the perception of a traditional Christmas drink. The concept is based on new and interesting places where Blossa travels to find inspiration and exciting flavours. Coordinates on the bottle guide us to the exact destination that has inspired this year's flavours.The taste of Blossa 11 is coffee, Arabica. A challenge every year is to find those right ingredients and flavours that goes perfectly with the traditional glögg spices. To find the ultimate coffee beans this year, Blossa went to El Salvador. The coordinates guide us to the plantation Finca las Delicias where the coffee is grown. The bottle is made in a brown matt, opaque finish with the year 11 distinctly printed and integrated in the coordinates."
November 4, 2015 | No Comments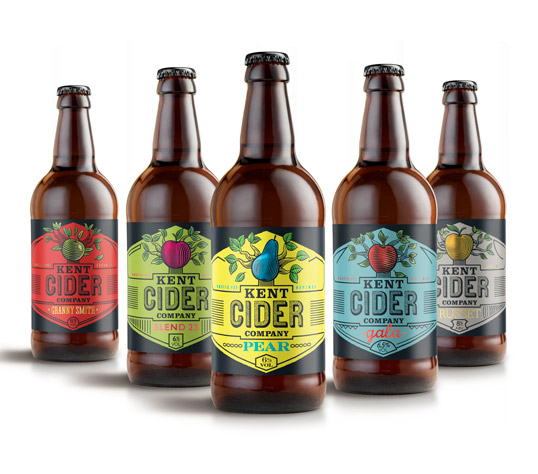 Designed by Sand Creative | Country: United Kingdom
"The Kent Cider Company is proud of its traditional methods of production, but its outlook is more contemporary than most Cider brands. The redesign reflects this, while giving it a more vibrant and upbeat personality.
Navigation was difficult with the previous design so each variant was made more distinctive, starting with its own stylised tree, each bearing one huge fruit to communicate the single variety used in production. All the information below is held within its roots.
A hexagonal shape, inspired by the corners of apple crates, was also introduced to create a more distinctive badge, to which bold vibrant colours were added.
The detail continues to the bottom of each label. The Russet variant for example is also known as 'old leather coat' due to its rough skin. This is reflected in the illustration and the supporting graphic elements, such as the Alcohol volume holding shape which is also the sign for leather."
November 3, 2015 | 1 Comment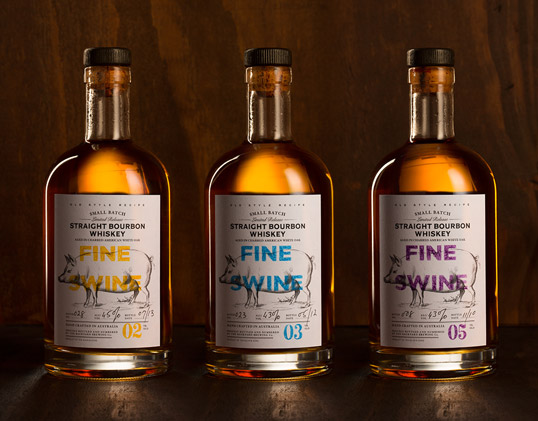 Designed by The MARK Studio | Country: South Africa
"This is a whiskey pulled together from a patchwork history of influences, in-jokes, and muddy adventures. It's straight bourbon, made the traditional American way, but distilled in Australia. The name itself comes from the owner, who had previously gotten his hands dirty on the family pig farm. For all that, the labels are designed to evoke a premium product, made with care."
October 29, 2015 | No Comments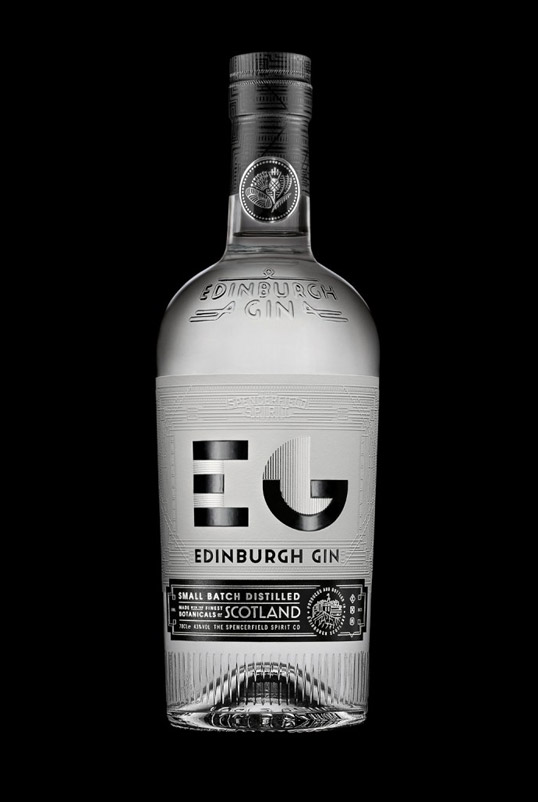 Designed by Stranger & Stranger | Country: United Kingdom
"Edinburgh; elegant, neoclassical, home to The Scottish Crown Jewels and a small batch handcrafted gin."
October 28, 2015 | 2 Comments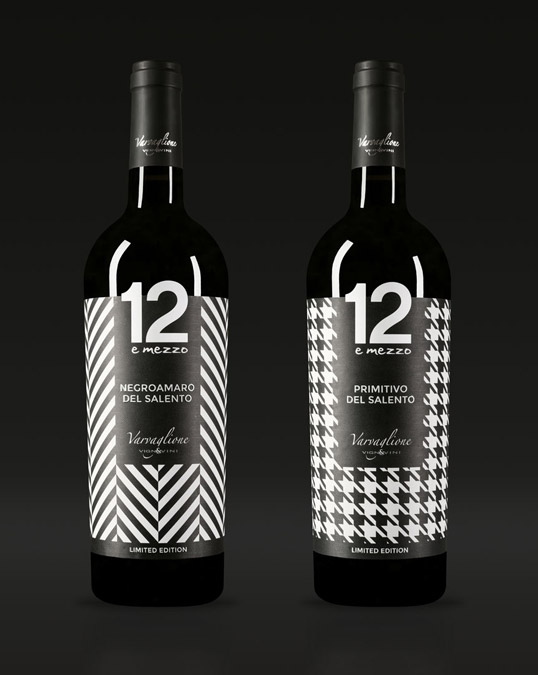 Designed by Idem Design | Country: Italy
"The Limited Edition Collection for Varvaglione consists in a series of packaging for two different types of Italian red wine: Negroamaro del Salento and Primitivo del Salento. The idea was to create a design object, a cult, something precious and unique. Our aim was to "dress" the bottle like a living object and, to do that, we took inspiration from fashion world by which we were fascinated. The fashion area we analyzed was the textile one, in which we chose two textures to "sewed" our packaging around the bottle. Our work didn't stop here, we also designed two special gift boxes (one for each texture chosen), in which are contained 6 bottles of wine."
October 28, 2015 | No Comments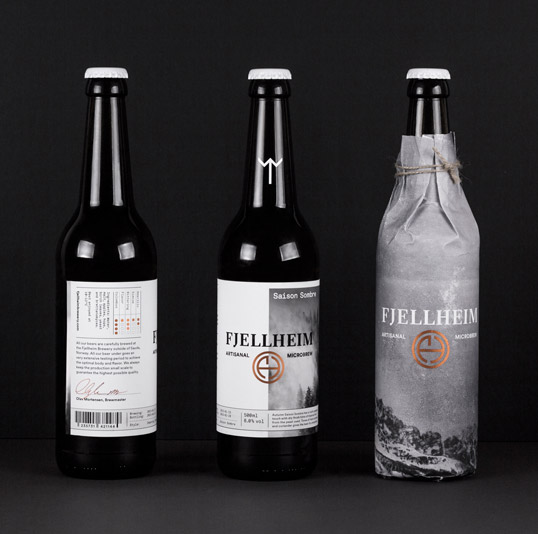 Designed by Erik Berger Vaage | Country: United States
"Fjellheim is a Norwegian micro brewery that believes in bridging the ancient with the modern and the earthy with the refined, while staying true to the unique characteristics of the Nordic culture and landscape. The identity and packaging is based on the simple, unblemished honesty of Norwegian nature, while at the same time paying tribute to the Scandinavian qualities of authenticity of materials, painstaking craftsmanship and calm yet emotional design."
October 26, 2015 | 1 Comment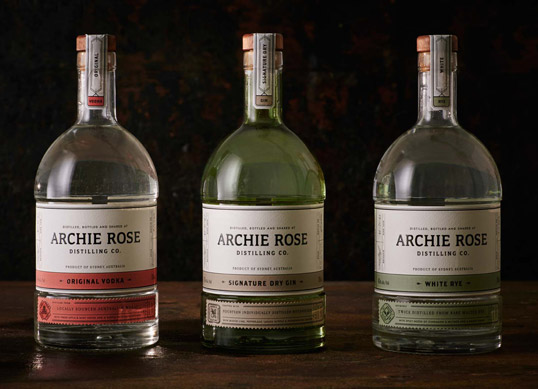 Designed by Squad Ink | Country: Australia
"Archie Rose Distilling Co. is the first independent distillery of craft spirits in the City of Sydney since 1853. Archie Rose honours this rich history while offering Sydney-siders the chance to experience genuine grain-to-glass spirit production onsite with an incredible cocktail bar to boot.
Squad Ink was engaged to brand, package and launch this incredible craft distillery and range of spirits, including a Dry Gin, Original Vodka and a White Rye.
We opted for a heavy-weighted base, bullet style bottle that borrows its shape from the copper pot stills from which the gin, vodka and whisky flow. It's a nod to the classic whisky bottles of the prohibition era in the United States – confident yet completely unpretentious. Of course, the specific bottle we sketched out didn't exist as a stock bottle so we had a custom mould created. This opportunity allowed us to distribute more glass in specific areas, such as the neck and shoulder, making way for an authentic mottled glass appearance and heavy in-hand assertiveness. We also added a 360 degree recessed label indentation across the so that the full-wrapped belly label could be profiled as a hallmark design feature. We also embossed "Archie Rose Distilling Co." out of the base of the bottle in the fashion of a craftsman's mark – subtle and out of plain sight."