September 7, 2014 | No Comments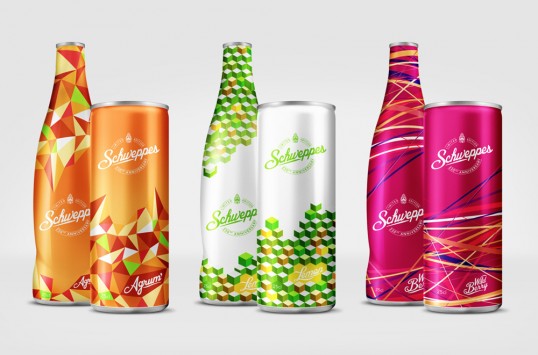 Designed by French Toast | Country: Belgium
Concept work from Liege based French Toast celebrating Schweppes 230th anniversary.
"Schweppes celebrated their 230th anniversary. We designed three bottles & cans, as limited edition. For each taste, we tried to convert the flavor into colors & graphic element, using a geometrical pattern system."
August 20, 2014 | 1 Comment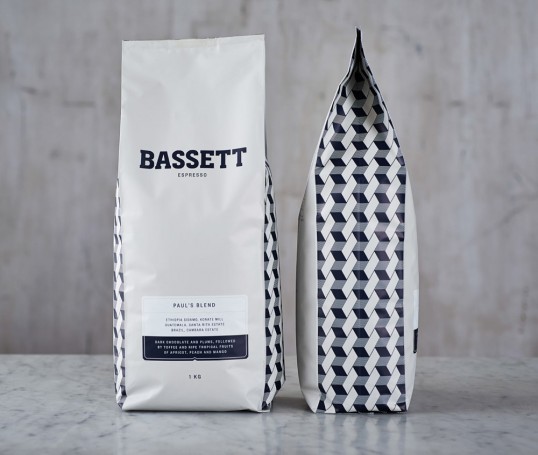 Designed by Squad Ink | Country: Australia
"Paul Bassett, former World Barista Champion, is the visionary behind Bassett Espresso. From the moment Paul presented us with the challenge to reinvigorate his existing coffee brand, we recognised what was to be a truly rewarding collaboration.
Bassett Espresso is a reflection of Paul's personal taste. It portrays his journey of creative expression and the continuation of his relationship with coffee, capturing the imagination and potential of quality espresso."
July 23, 2014 | 8 Comments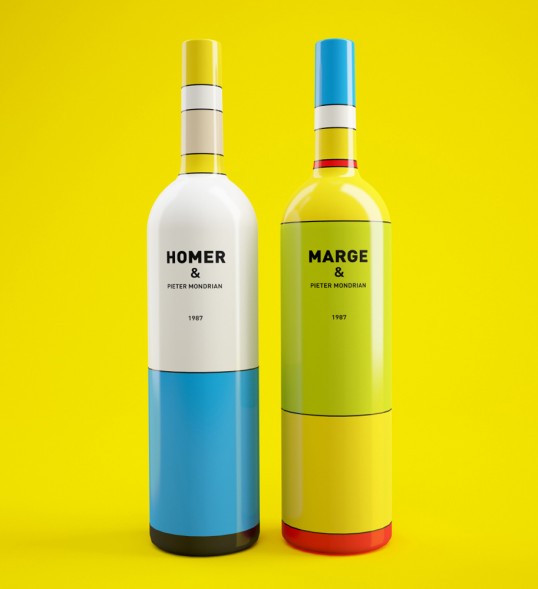 Designed by Constantin Bolimond | Country: Belarus
"The drink was brought to life together with the cartoon characters in 1987. Maybe it's wine, may be not. We are inviting you to find out yourselves. The contents have been kept secret for 26 years now. While the ingredients remain the same, their proportions differ from time to time. That is why you will never get bored from this drink! We can assure you that you will not be left disappointed.
The design is inspired by the works of Pieter Mondrian."
June 18, 2014 | 1 Comment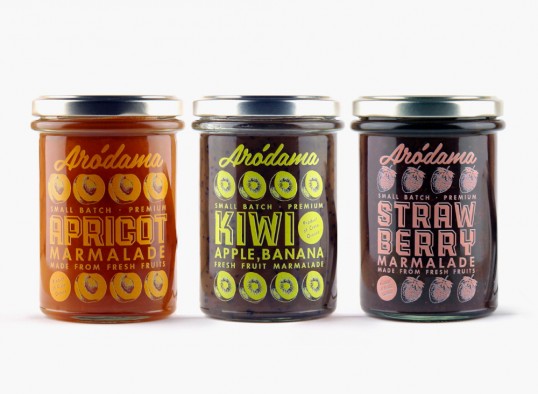 Designed by Bob Studio | Country: Greece
"Branding, packaging design and naming for the Arodama family, a new series of traditional Cretan products, aimed mostly to foreign markets.
Both the given name (Arodamos is the tender shoot in the Cretan dialect) and the design of the whole series using vivid colors and illustrations, give a cheerful and playful character to the products. Food is one of the best joys in life, especially for the Cretans and we wanted to transmit that through our design. We drew illustrations for every product showing its basic ingredients and created a pattern that applies to all labels in order to achieve a consistent image for the whole product family.
Products and corporate identity share the same design elements in order to create a direct relationship between them and a strong consistent image. The design patterns and illustrations have been implemented in jars, olive oil and raki bottles, packages, press kits, bags and the website."
June 16, 2014 | No Comments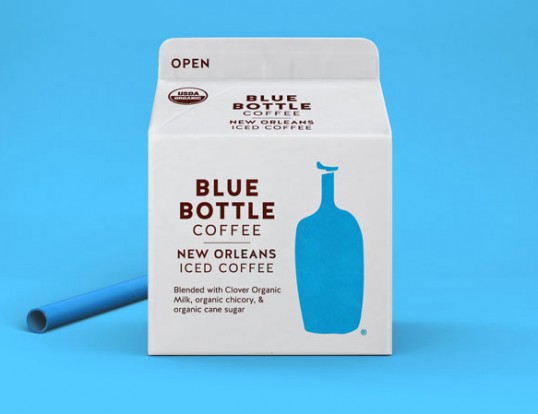 Designed by Pearlfisher | Country: United States
"Task: To create a new expression for Blue Bottle's New Orleans Iced Coffee, extending the intimate Blue Bottle experience from carefully curated cafes to a carton, reaching a larger audience and standing out on shelves in mass retailers.
Scope: Brand strategy, identity, and packaging design.
Solution: The new design for Blue Bottle's New Orleans Iced Coffee stays true to the heart of Blue Bottle, challenging coffee category cues while remaining modest and utilitarian. Pearlfisher has elevated Blue Bottle's current equities and clarified their word mark to increase its stature, simplifying messaging on pack and playing up the Blue Bottle blue to increase shelf impact."
May 20, 2014 | 1 Comment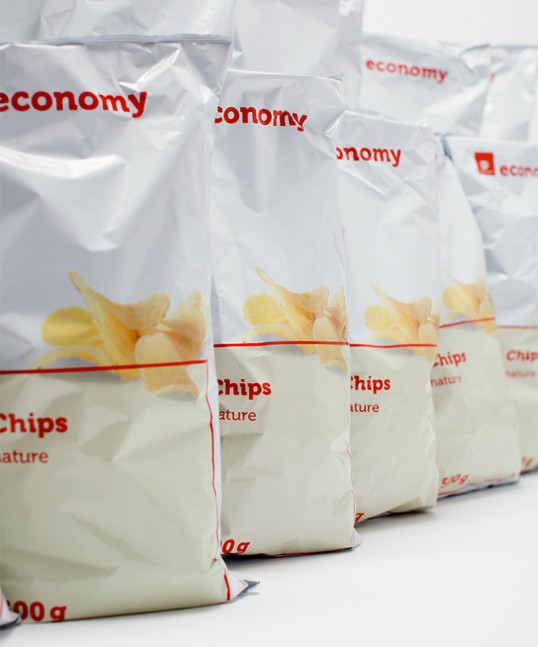 Designed by Facing | Country: Switzerland
"The brand identity of the economy line stands for a strong cost-performance ratio. The economy range focuses on price without being positioned on the lowest level. The legal requirements are more than met.
The line delivers brand quality for a good price as well as a wide product range. The quality of the food is as good as the products of any manufacturer`s brand."
May 17, 2014 | No Comments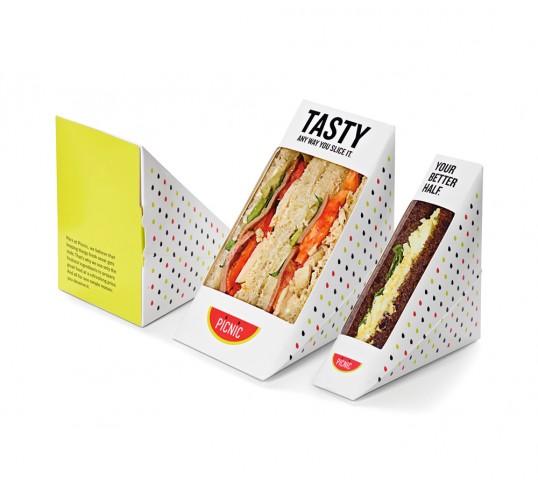 Designed by TAXI | Country: Canada
"The challenge: When our client came to us he knew Toronto was hungry for a grab-and-go lunch spot that focused on fresh, quality food. He came to us with a big ask and a clean slate: create a retail brand from scratch that breaks through the competitive quick-serve food service category.
The approach: Busy people want food that's delicious, unpretentious, and affordable, so we gave them a PICNIC. It's a brand name that stands for the kind of quality and charm you'd find in your own wicker basket on a sunny day in the park. And drawing inspiration from a classic picnic staple, the watermelon, we developed collateral pieces as fresh and fun as the food."
May 15, 2014 | No Comments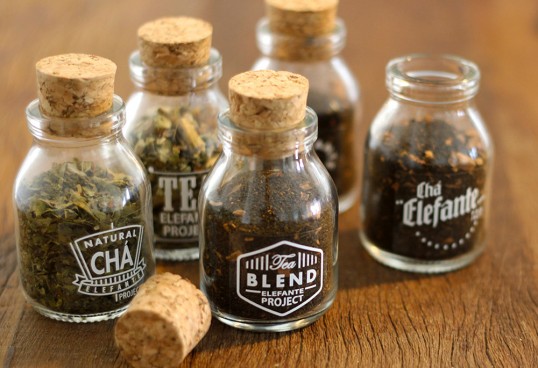 Designed by Elefante Project | Country: Brazil
"Exclusive gift of 100 limited edition pieces. The idea of offering a unique blend of tea came to stimulate a break moment and encourage the slowdown. We visited the Tea House Paratea, and after an afternoon tasting various ingredients we developed four special blends for the Elefante Project. Delivered in a charming glass and four different labels, carefully designed referring our special care with the organic tea."
April 29, 2014 | No Comments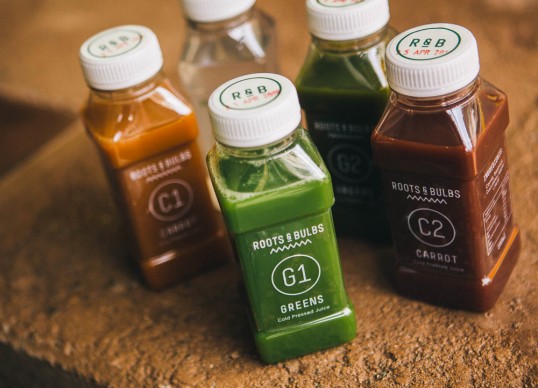 Designed by Robot Food | Country: United Kingdom
"Juicing has taken the UK by storm and new company, Roots & Bulbs, has responded with London's first cold pressed juice bar. Their first shop recently opened on Thayer Street (off Marylebone High Street) with branding and packaging by renowned branding agency, Robot Food.
Stories of celebrity juice diets and the health benefits of juicing are widespread, and with John Lewis reporting a 1000% increase in sales of juicers from 2012 to 2013, it seems juicing is here to stay."
April 21, 2014 | No Comments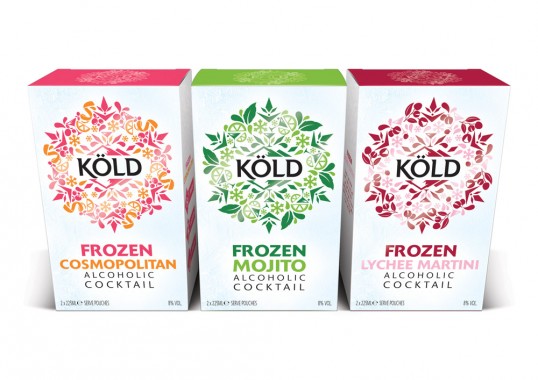 Designed by Slice Design | Country: United Kingdom
"Nick came to us with his idea of creating authentic high-quality RTD frozen cocktails and challenged us with the task of identifying a positioning, naming and packaging design for the brand.
The current competitors in the market did not emulate the flavour and quality of hand mixed cocktails. We identified a brand positioning for Köld, which focussed on the idea of sophisticated urban cool and tapped into the trend for all things Scandinavian. This allowed the brand to be clearly differentiated from the competitors who mostly focussed on fun with fruity sweet cocktails. Köld targets those who enjoy authentic cocktails and want to be able to recreate this taste experience at home. Köld cocktails are sealed into individual serve pouches which are placed in the freezer and then squeezed into your glass and served KÖLD, a perfect cocktail guaranteed every time.
As it is a frozen cocktail, we wanted something clear, pure and unique. The snowflake gave us the opportunity to create something bold and iconic for impact at fixture, whilst allowing the flexibility for individual flavour communication."