July 1, 2010 | 4 Comments
Designed by Studio Output | Country: United Kingdom
"Pandora Bell is an artisan confectionery brand from the West of Ireland, practising under the philosophy that a high quality daily treat is healthier – and more satisfying – than a mouthful of artificial flavourings. We were asked to create branding and packaging to give their mouth-watering products the sophisticated presence they deserve. The resulting designs take inspiration from vintage food packaging and labels, giving them a contemporary twist through the use of different production techniques for the graphic components. The logotype, silhouette and patterns are used in varying degrees across the packaging, and executed in a range of finishes from foil to screenprinting."
June 18, 2010 | 6 Comments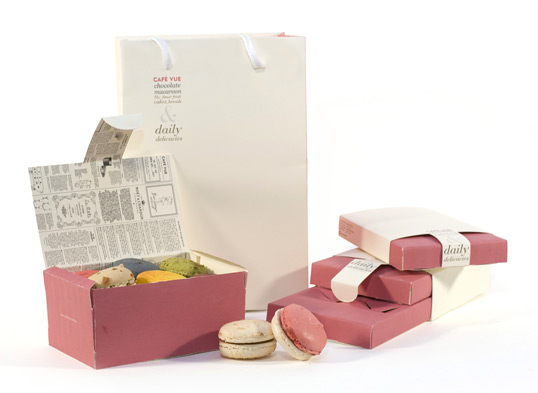 Designed by Kim Hei Ip | Country: Australia
"This is a packaging project to design a range of "packs" that can house the macaroons and chocolates produced by Café Vue. Also materials should be considered. Inside the macaroons box, a paper platform is added to separate the macaroons, so if the customer want to buy six macaroons, they can just put it under the paper platform. If they want twelve's, they can put another six on the top of it.
For the chocolates box, a tray that can holdup to six different shapes of chocolates is designed. And also, two different paper holder was designed that can fit one tray or two trays."
June 11, 2010 | 3 Comments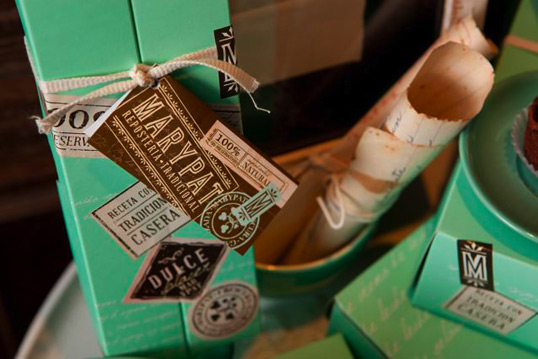 Designed by Walnut Studio | Country: United States
"The product is totally natural and only accesible by delivery… It just made me dream about all the places this products will end up. That took me to remember those vintage french suitcases filled with stamps of interesting, romantic places they went to.
I've designed a set of stamps and stickers that are placed randomly on every box and bag, and then tied in an old fashion way to make it all a unique experience."
June 9, 2010 | 3 Comments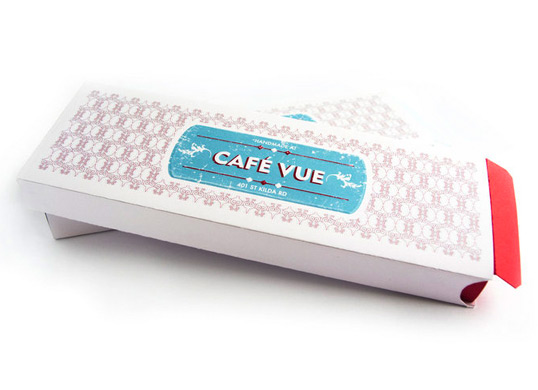 Designed by Ben Osborn-Macpherson | Country: Australia | Fonts used: Geometric 415, Gotham,
3rd year Communication Design student Ben Osborn-Macpherson from RMIT University in Melbourne sends us some of his work.
May 31, 2010 | 3 Comments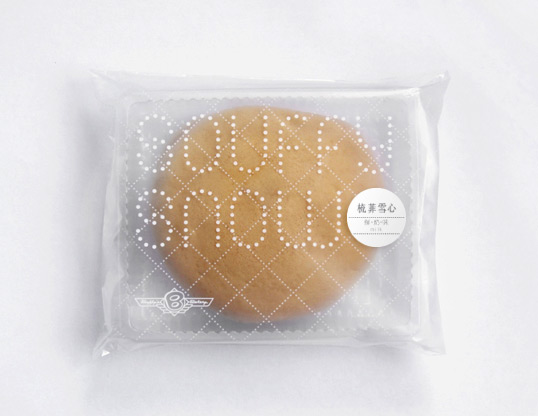 Designed by BLOW | Country: Hong Kong
"We have created the name and packaging design for a new product of Buffy's Bakery. Souffy Snow is a souffle-like cake that needs to be kept in the fridge. Different labels will be used for different flavors.
The simple and modern packaging design effectively delivers the feeling of the product – Souffy Snow."
May 28, 2010 | 4 Comments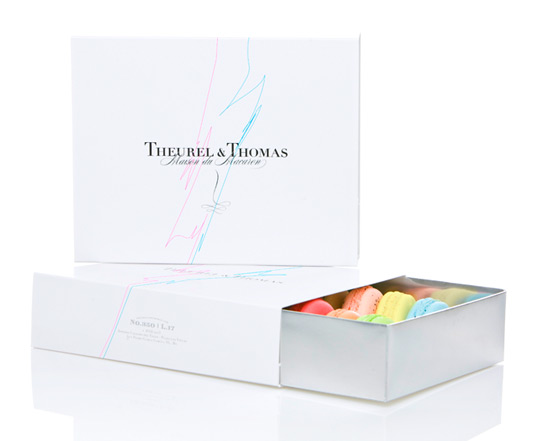 Designed by Anagram | Country: Mexico
"Theurel & Thomas is the first pâtisserie in Mexico specialized in French macarons, the most popular dessert of the French pastries.
For this project it was very important to create an imposing brand that would emphasize the unique value, elegance and detail of this delicate dessert.
White was our primary tool for design. As a result of this the attention was fully oriented to the colorful macarons. We placed two lines in our design in cyan and magenta, as a relation with a modern French flag to inject a vanguard vision to the identity. We selected Didot (created by Firmin and Pierre Didot), a French typography that would present the brand with sophistication."
May 24, 2010 | 2 Comments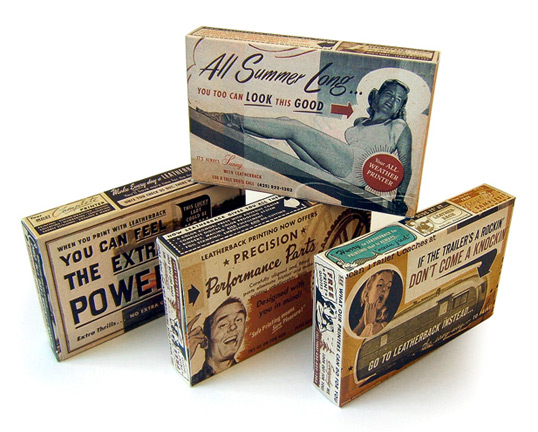 Designed by Niedermeier Design | Country: United States
"With summertime approaching, Leatherback wanted to create a self-promotional piece advertising the purchase of a new printing press and the expansion of their production capabilities. Having a sweet tooth of their own, the owners liked the idea of sending out nostalgic candy in small gift boxes. On a slow Tuesday afternoon, who doesn't like a little something sweet to help get them through the rest of the day?"
May 17, 2010 | 6 Comments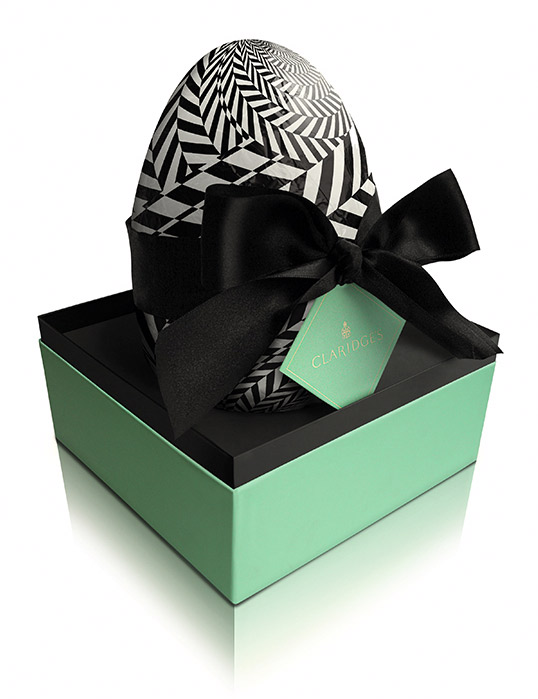 Designed by Construct | Country: United Kingdom
"London design studio Construct has given the branding of London's famous Claridge's hotel a thorough overhaul. Because it is a working hotel with a huge number of items traditionally branded (from teapots and egg cups through to slippers and dressing gowns), Construct's task of not just branding, but implementing a consistent and cohesive sense of identity throughout the hotel and the objects within it was by no means straightforward. In fact, the rollout of the new branding is ongoing throughout this year as there are so many different ideas to implement across a huge range of items.
As well as introducing a sophisticated colour palette of jade, gold, white and black, bold architecturally inspired chevron patterns appear on the inside of bags, envelopes and on various objects, publications and goodies guests at the hotel are lilkely to encounter."
May 14, 2010 | 6 Comments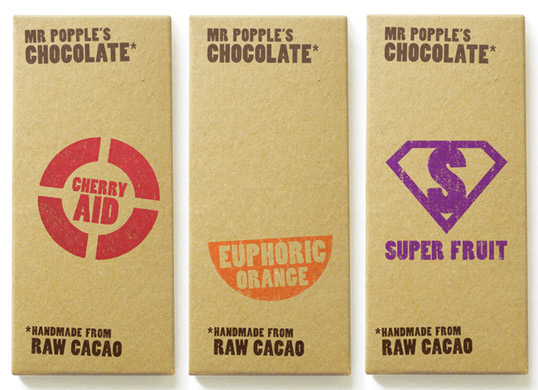 Designed by KO Creative | Country: United Kingdom
"Chocolate maker Mr Popple creates his bars using only raw cacao and organic, natural ingredients making them super healthy and super ethical. Each bar has a fun name which references the powerful nature and health benefits of the individual ingredients. These are each supported by a simple, solid graphic which is printed onto recycled card using rubber stamps and water based inks. The material for the boxes was chosen because of its rough appearance reflecting the raw nature of the ingredients. Using this technique means each time a box is printed, the graphic elements vary slightly in strength and position giving the customer a pack as individual as the handmade product inside. The chocolate bar inside is wrapped in soya based plastic, so in an all this is a totally environmentally-friendly product. Mr Popple's Chocolate stands out as looking quirky and unique compared to the mass produced confectionery in the health food shops where it is stocked."
May 13, 2010 | 4 Comments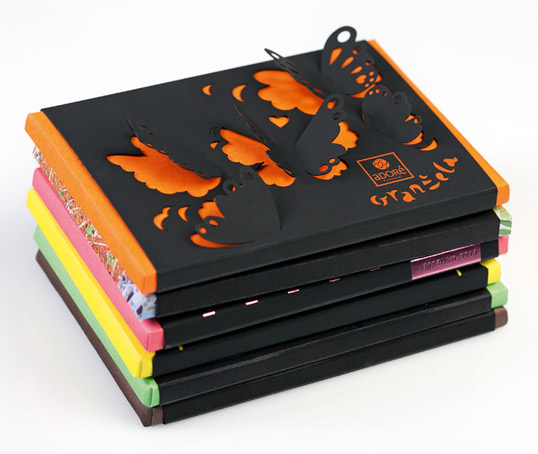 Designed by Coba & Associates | Country: Serbia
"Adoré are hand-made chocolates and as such fall under the category of higher quality status both in terms of product quality and packaging design, as well as consumer communication. Bearing in mind the active period in the development of the brand, we needed to create packaging for a new product – the chocolate tablet. The idea was to come up with packaging for 10 different flavors.
Each flavor got its own look and name! Whether it is Crunchy Mint or Orangella, each flavor received a specific packaging which are (from a production standpoint) very specific in this region. Using thermal block foil, laser-cut paper and special printing techniques have resulted in designs that communicate that Adoré Chocolate provides more than just taste – it is a brand that takes you on a journey."