February 14, 2012 | 10 Comments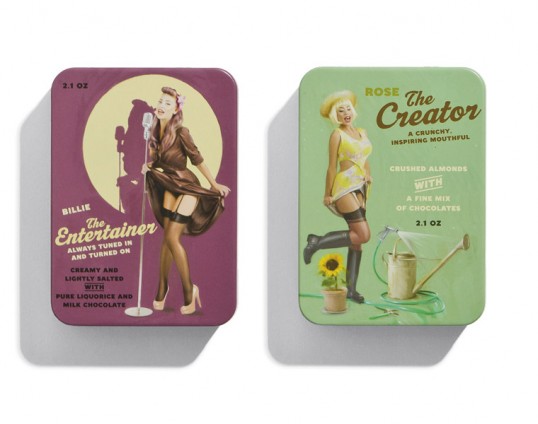 Designed by Bessermachen for Brandhouse | Country: Denmark
"12 archetypes.12 filled chocolates.12 months. Bessermachen design studio had a dream about how archetypes could be shown as young women, calendar girls in a classic 50s style, to create the perfect packaging for archetypes and chocolates. But we knew that for it to be authentic, it would have to be done right.
They were perfectionists in the 50s. First they photographed the model. Then they painted over the picture to achieve the right effect. There were no shortcuts. And speed was of the essence.
To create pin-up girl illustrations, you have to be faithful to the way it was done in the 50s. From the ground up and without compromise.
Packaging for the chocolates is a chapter for itself. Everything from weight to quality and coating needs to be taken into consideration. Suggestions range from using fabrics to cardboard. But in the spirit of the 50s we end up choosing tin boxes. The production, however, is modern and made in China."
January 16, 2012 | 7 Comments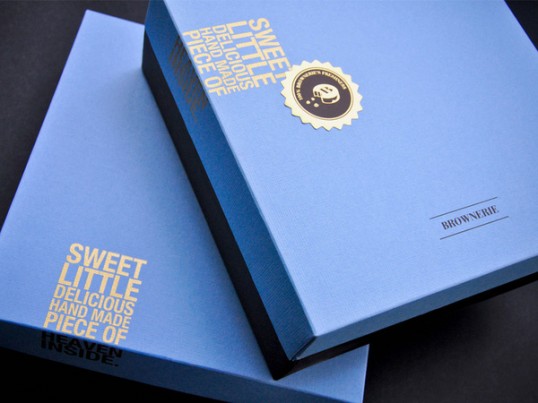 Designed by Index43 | Country: Mexico
"This project consisted of designing an identity and packaging for a bakery specializing in gourmet brownies. The business model is oriented towards selling brownies mainly as a gift and/or for special ocasions. With this in mind we focused on creating a simple elegant package that would work as a frame to showcase the rich texture and different toppings of the brownies."
December 27, 2011 | 1 Comment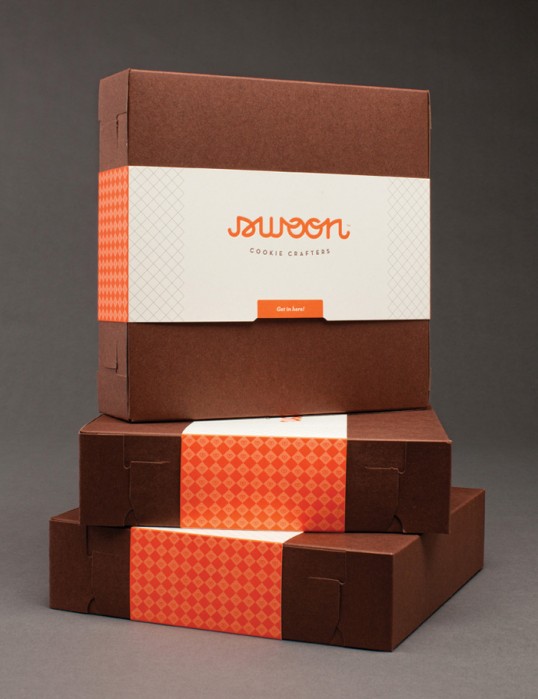 Designed by Meers | Country: United States
"Originally called PS-Sweets, this custom sugar-cookie maker was ready for a complete rebrand to spur new business nationwide and position the company for the future. We created a new name, color palette and more elevated look and feel (via letterpress printing primarily) for the packaging and identity that embodied the premium fun of the product. To keep costs containable for this small company, we elected for a ready-made box and put effort into a custom band to enclose it."
December 23, 2011 | 1 Comment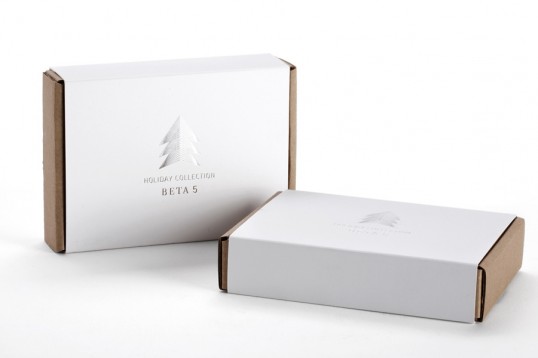 Designed by Glasfurd & Walker | Country: Canada
"BETA 5 chocolates are produced in small batches using ethically sourced estate chocolates and premium ingredients.
The name comes from the form-5 beta crystal structure which is the most stable form of cocoa butter crystallization, formed through the controlled melting, and subsequent cooling (tempering) of liquid chocolate.
As an addition to their core range this range of packaging was developed for their holiday products."
December 13, 2011 | No Comments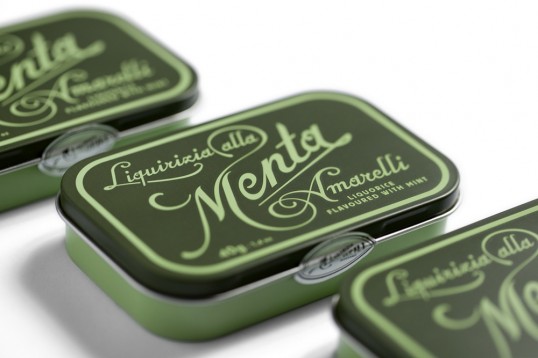 Designed by Angelini Design | Country: Italy
"New Amarelli packs by Angelini Design. This new packaging is the latest "pearl" that Angelini Design has created for centenary Calabrian confectionery company Amarelli. The small boxes are made in metal and mimic the colors of anise and mint. The typically retro style, material and finish are the result of a mix of quality, refinement and attention towards tradition, values that Amarelli has always carried forward with coherence, allowing it to maintain a solid position as one of the longest standing Italian brands."
December 7, 2011 | 4 Comments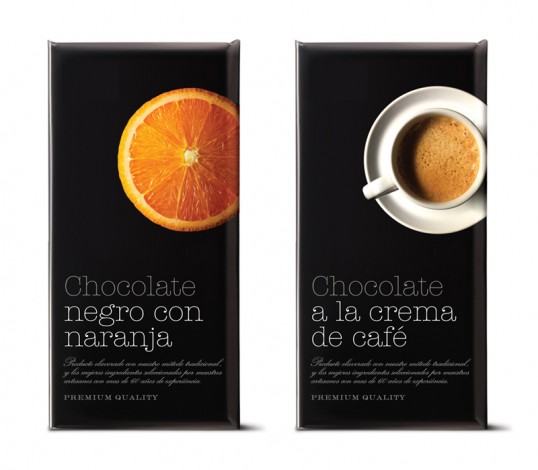 Designed by Puigdemont Roca | Country: Spain
"In a hyper-competitive market, standing out from the competition is crucial. To this end, we decided to show the basic ingredient of each flavour of premium chocolate with a fresh perspective, shooting the images from a zenith angle. In this way, we managed to convey the concept of 'top end', and in turn raise a range of emotions in the consumer."
December 2, 2011 | 4 Comments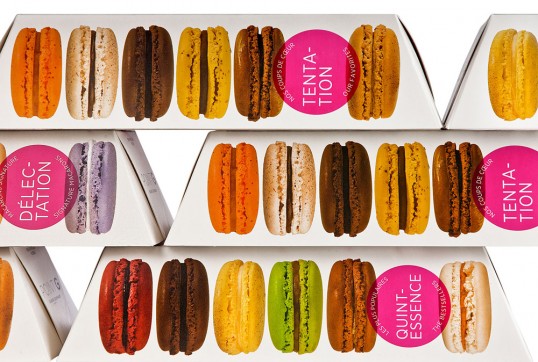 Designed by Chez Valois | Country: Canada
"Point G a French word, meaning the G spot… but make no mistake, don't get any ideas, we are talking here about a gourmet spot, the rallying spot of all foodies!  Because gastronomy mixes both pleasure and sensuality, it can be shared, offered, discussed… in flavours, colours, images and words. Ode to gastronomical delights in all their forms. With the new packaging platform, you lick (léchez), drink (buvez), crunch (croquez), experiment (expérimentez)… gulp (gobez), spread (tartinez), roll (tirez), pearl (perlez), sear (saisissez), share (partagez), and so on…
November 2, 2011 | 7 Comments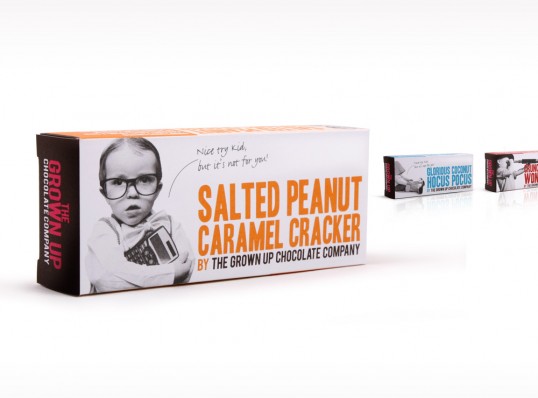 Designed by Toast Design | Country: United Kingdom
The Grown Up Chocolate Company had created a range of luxury hand-made chocolate bars inspired by childhood favourites.  This company and its wonderful bars offered a unique way of satisfying the most discriminating chocoholic, but needed to be branded and designed to ensure the customers experience started before they even tasted the goods – so they turned to Toast Design.
October 5, 2011 | 1 Comment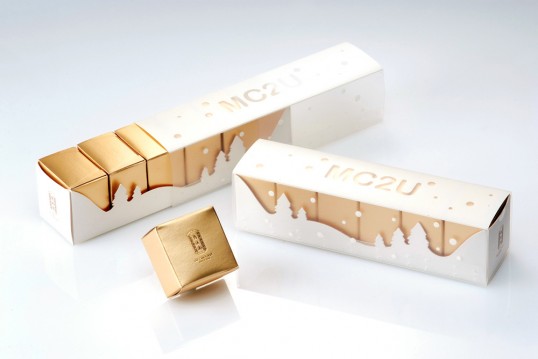 Designed by Gidea Group | Country: Taiwan
"As the leader of Taiwan's traditional cake industry, JZM has be worldwide known for its pineapple cakes packaged in this little golden  box for a long time.
On this  seasonal packaging design, we implemented  the classical golden pineapple cake package with the joyful Christmas design, also bringing out a sense of East meeting West.
This special Christmas packaging was a commercial success for JZM, especially loved by Japanese and Hong Kong tourists who came to Taiwan to spend their Christmas Holidays, a chic and lovely souvenir to take home with!"
October 4, 2011 | 4 Comments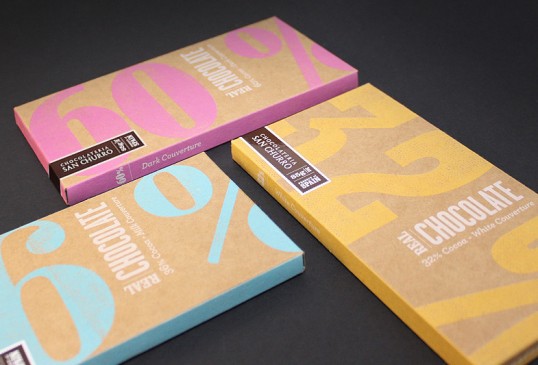 Designed by Studio Alto | Country: Australia | Fonts: Garage Gothic, Archer
"San Churro's Real Chocolate is a product range developed in reaction to a chocolate market flooded with inferior 'confectionary' chocolate.
In the words of San Churro – "When it comes to chocolate, the truth is that there's no substitute for REAL cocoa butter. It's like ketchup without tomatoes, or an omelette without eggs – it's the key, essential ingredient. Chocolate without it simply is not chocolate, but rather a sub-standard B-grade pretender: all show, no substance."