April 23, 2010 | 4 Comments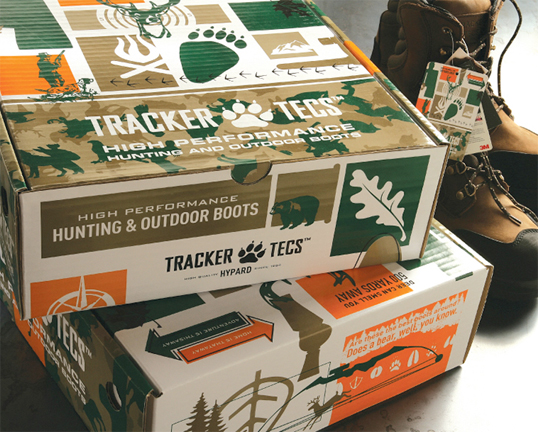 Designed by CJ Marxer | Country: United States
An interesting shoe box for outdoor boots using a limited colour palette and a wealth of graphic symbols.
April 14, 2010 | 22 Comments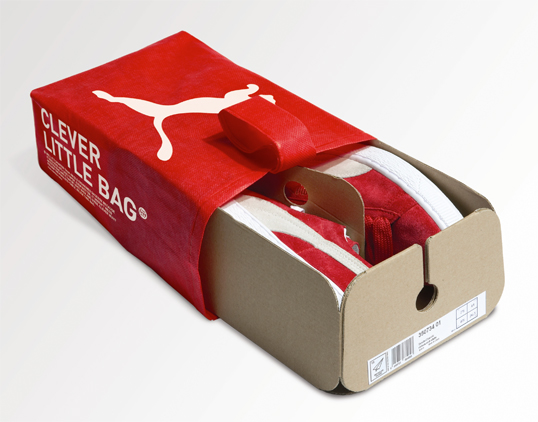 Designed by Yves Behar of Fuseproject | Country: United States
"For the last 21 months we have been thinking about shoeboxes: how to fold them, how to ship them and how to reduce them. In the end, we decided to get rid of them altogether because along the way we discovered a new design solution….a "clever little bag".
Why so clever? By providing structure to a cardboard sheet, the bag uses 65% less cardboard than the standard shoe box, has no laminated printing, no tissue paper, takes up less space and weighs less in shipping, and replaces the plastic retail bag. Now happy Puma customers will take home the clever little one instead.  Oh, and that little bag is non-woven which means less work and waste (it is stitched with heat), and after accompanying you in your suitcase wherever you may go, our little friend is even recyclable.
With our "clever little bag", Puma kicks-off the next pivotal phase of its' sustainability program.  The tens of millions of shoes shipped in our bag will reduce water, energy and diesel consumption on the manufacturing level alone by more than 60% per year. In other words: approximately 8,500 tons less paper consumed, 20 million Megajoules of electricity saved, 1 million liters less fuel oil used and 1 million liters of water conserved. During transport 500,000 liters of diesel is saved and lastly, by replacing traditional shopping bags the difference in weight will save almost 275 tons of plastic.
That such a little bag can have such a big impact…you can see why we called it clever."
April 9, 2010 | 2 Comments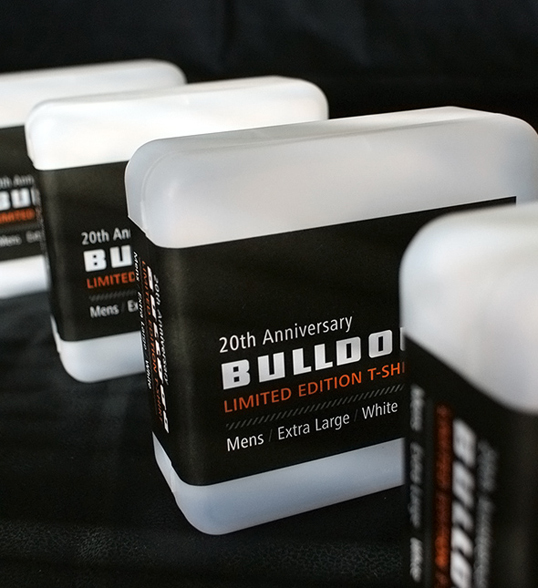 Designed by Bulldog | Country: Malta
"Over the years, our company has been very comfortable with presenting a witty face to the world – from our choice of name to the imagery that people associate with Bulldog.
We developed this visual pun to commemorate our 20th anniversary on February 10th, 2010. The piece fuses a crossword puzzle with our logo to create a playful visual shorthand for what Bulldog has done over the last 20 years.
April 8, 2010 | 1 Comment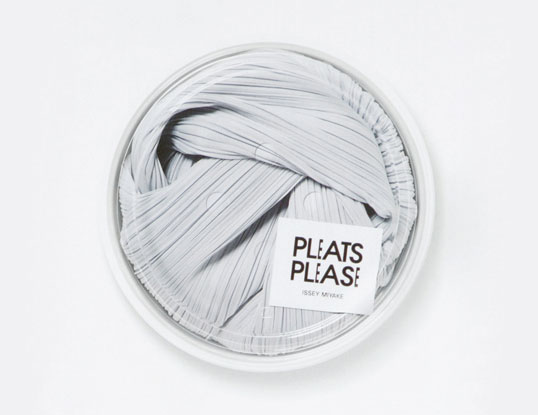 Designed by Taku Satoh Design Office | Country: Japan
We're a little unclear as to whether these were designed just for Issey Miyake magazine ads or if they were actual product packaging, but nevertheless it is some lovely, minimalist design work, which is what we have come to expect from the creatives at Taku Satoh Design Office.
April 6, 2010 | 2 Comments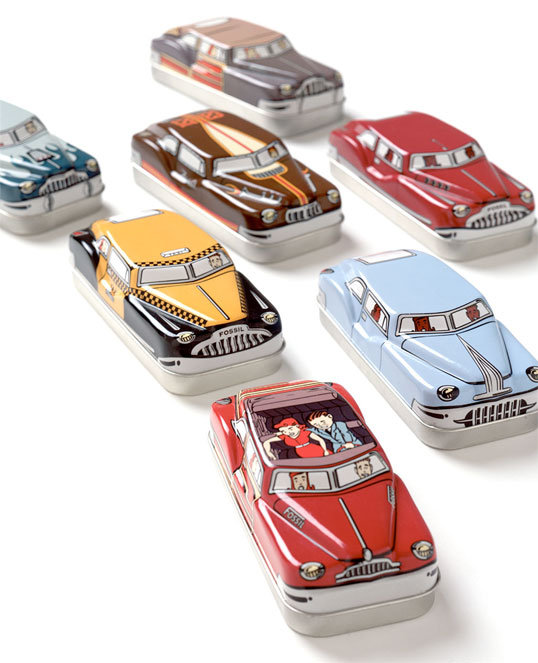 Designed by Perez Design | Country: United States
Limited Edition packaging created for Fossil watches.
April 1, 2010 | 3 Comments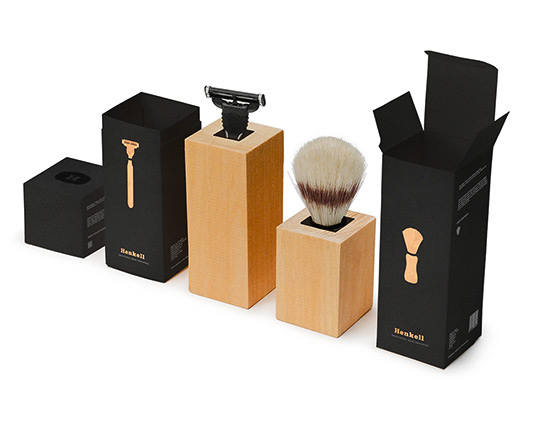 Designed by John Larigakis | Country: Canada
A great collection of work from Capilano University graduating student John Larigakis.
March 28, 2010 | 7 Comments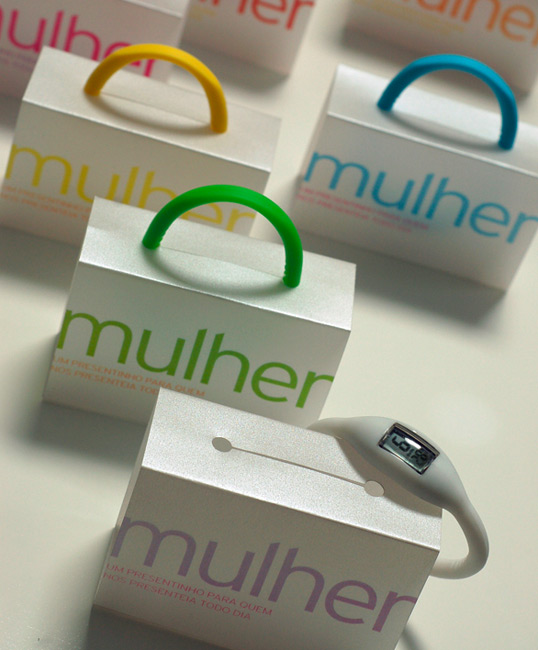 Designed by Liga Design | Country: Brazil
"This is a gift we created for our female clients for the International Women's Day. The package was created to conceal a watch and look like a small bag, since we know girls love to shop. The copy goes like this: "Woman, a small gift for you who present us everyday"
March 27, 2010 | 2 Comments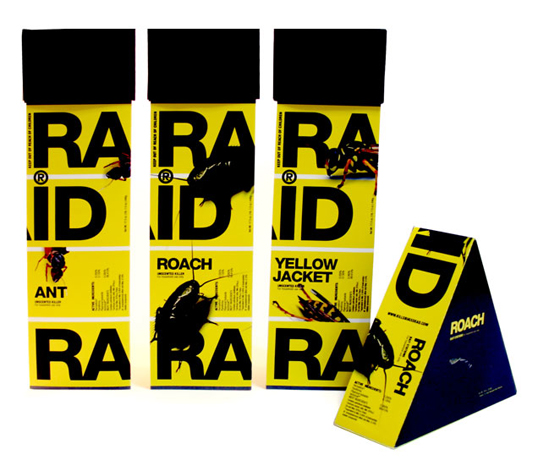 Designed by David San Miguel | Country: United States
A great portfolio of work from Art Center College of Design student David San Miguel.
March 25, 2010 | 11 Comments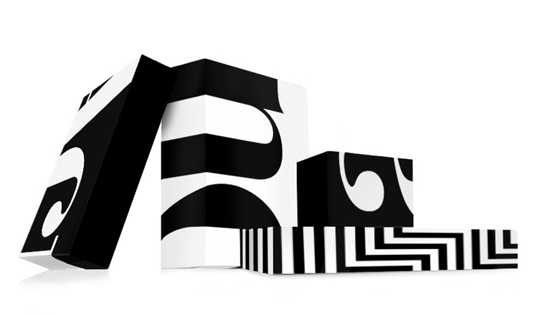 Designed by Kevin Cantrell | Country: United States
"This proposed rebrand for Swedish based Acne Jeans focuses on Acne's iconic name by incorporating crops and using a stark black and white color palette"
March 23, 2010 | 4 Comments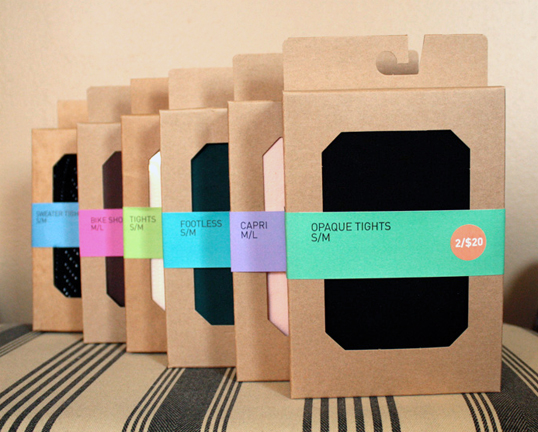 Designed by Dan Gneiding / Grayhood | Country: United States
Thanks to designer Dan Gneiding for sending us this simple packaging solution he created for Urban Outfitters hosiery.
"This box solution allows for the tights to be hung as well as displayed stacked on a table. The old plastic bag package could only be hung. In addition to the merchandising versatility we added a color coded system to make them easier to shop."