September 6, 2011 | 2 Comments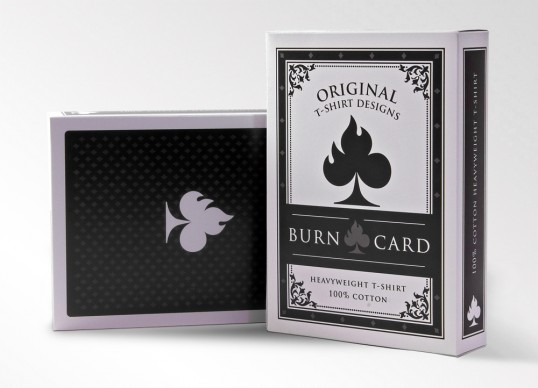 Designed by Burn Card Clothing | Country: United Kingdom
"Burn Card Clothing make original t-shirts all of which proudly adorn the iconic Burn Card emblem. Our whole brand is themed on classic playing cards which we have always felt have a really cool style about them. We ship all of our t-shirts out in oversized playing card boxes to tie all the elements of our brand together."
August 12, 2011 | 8 Comments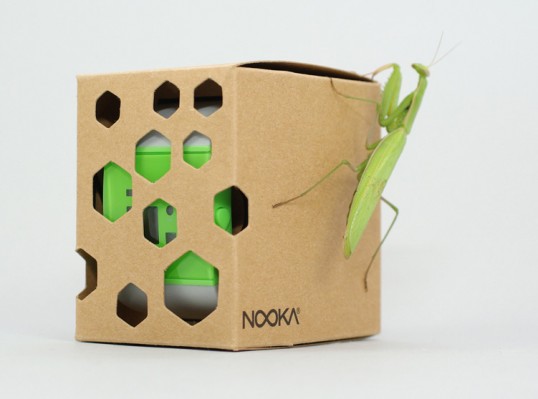 Designed by Nooka | Country: United States
"Nooka is continuing its tradition of green packaging with the introduction of the Nooka Glue-less custom box. This paper packaging is truly eco-friendly, requiring minimal material, minimal labor and is biodegradable. The new packaging will be shipping with the Zub 40 line as part of our fall 2011 collection.
Nooka is a New York fashion design company founded by artist/designer Matthew Waldman. The ethos of Nooka is universal communication, which guides the creation of products with enhanced functionality that engage the mind as well as the body—mindstyle™.
Most prominently known for its line of timepieces, Nooka has expanded their range, creating a Mindstyle™ brand with the addition of innovative accessories and a fragrance."
August 8, 2011 | 9 Comments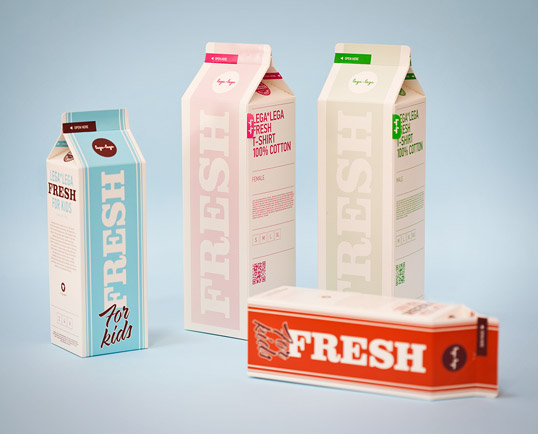 Designed by MIT | Country: Croatia
"This year's line of Lega-Lega t-shirts come in a specially designed gable top carton for extra freshness! Once opened, inside you'll find a cool Lega-Lega t-shirt, and a small sketchbook for doodling and sketching when you feel like it.
Lega-Lega is a cool brand of notebooks, diaries and t-shirts that offer these simple things in a colorful and charming way. It's the idea that people still prefer the warmth of writing and doodling on paper because it contains our individual touch, something that technology cannot mimic, it is at the heart of their philosophy."
July 16, 2011 | 5 Comments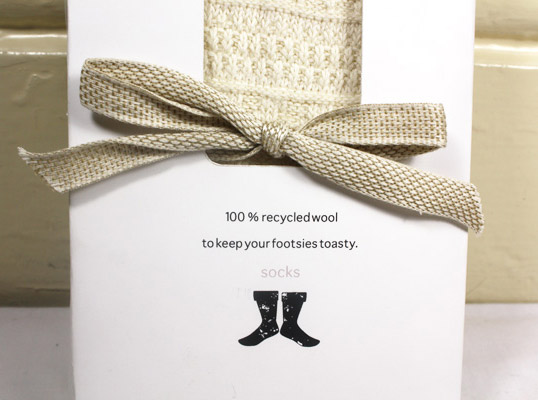 Designed by Lauren Elise Cassar | Country: Australia
"A wool store -Rust Suffolk is a fictitious store which overall encapsulates the spirit of the Australian woolen culture, combined with a modern day look to attract the inner city client. My design solution employs the soft coloured tones of natural wool, the packaging formulated to be naturally bought and given as a gift, for small woolen accessories such as gloves and socks. Tags were also designed, to be simply wrapped around a ready made scarf using twine."
July 2, 2011 | 11 Comments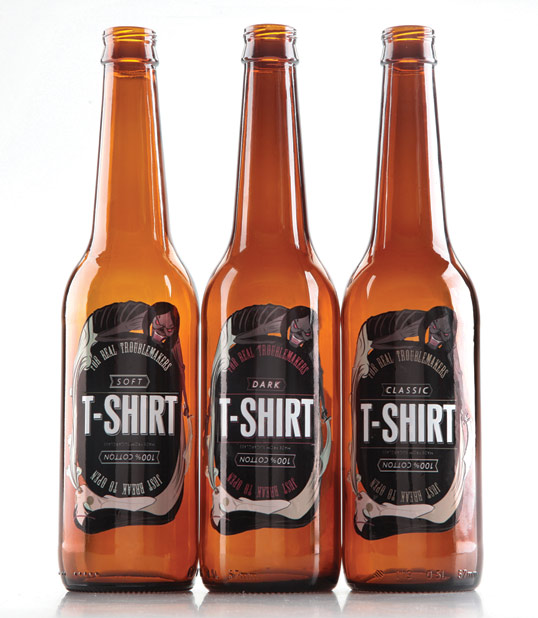 Designed Anna Leushina | Country: Russia
"T-shirts are packaged into recycled beer bottles, the most popular drink in underground culture. The bottles are smashed to get the t-shirt out –according to an underground practice of fighting with bottles and using them like a self-defence device.
Like different beer types and music styles, shirts are divided into three types – soft, classic and dark. The illustration can be turned both up and down to look properly and symbolize an eternal circle."
June 24, 2011 | 2 Comments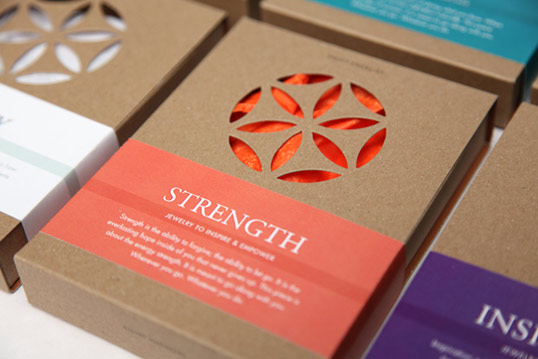 Designed by Estudio Rumba | Country: Argentina
"We worked with a German fashion accessories manufacturer who requested a very special package for necklaces and bracelets which would suit their "Eight Energies" brand. This name evokes the eight energies that are transmitted to the wearer by the gems contained within the accessories. As explained on the pack: "Each piece of Eight Energies is created with passion and love; made to accompany you on your journey."
We opted to design a single pack based on eight colors reflecting each of the eight energies. The pack can be easily transmuted to accentuate any of the eight energy selections: love, happiness, well-being, success, beauty, strength, intuition & inspiration."
June 1, 2011 | 1 Comment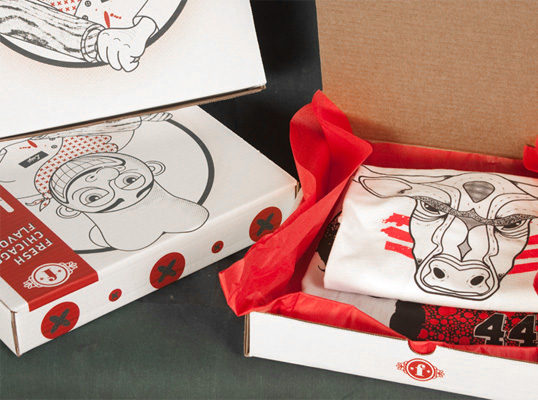 Designed by Laurent Varlet | Country: United States
"The Fineprint Chicago wanted some innovative t-shirt packaging to display in retail locations and possibly use for shipping. Since the company designs mainly Chicago-inspired graphics, I decided to make a Chicago-style pizza box packaging. Since we could screen print on the flat box and then fold, it greatly reduced production costs without limiting the design. The piece can also be sent through the mail.
Screen printing on corrugated cardboard is tough! Problems arise registering your colors with such a thick item to print on. Also, due to the nature of the cardboard, there are random creases in the product that can lead to inconsistent prints."
May 9, 2011 | 6 Comments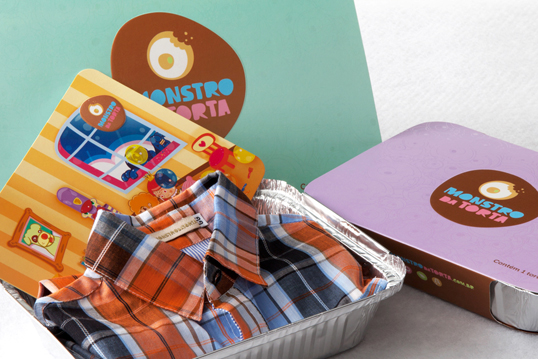 Designed by Fernando Fernandes & Silmo Bonomi | Country: Brazil
"O Monstro da Torta means The Pie Monster in English and it is a new fashion brand of baby clothes in São Paulo, Brazil.
The challenge was to create a stylish package to be different in this market. The brand's concept is about a Monster, who came from a place called Monstozelândia, very close to New Zealand, and he found in Brazil happiness and some good mates. He also LOVES meat pies and does everything to eat them. He is lovely, friendly, blue and huge. He likes kids but he never appears in the story, just small parts of his body.
After a lot of effort to make our idea viable in terms of costs and production we came up with the idea to use pie packages (very popular in Brazil) and bring to them a refined look. They are printed in 5 colors (one being metallic), plus varnish and lamination BOPP.
This brand has a very clear mindset. They want to become a kind of fairytale and once that happens, they will launch new products expanding their business to different segments such as; books, food, toys, etc."
May 7, 2011 | No Comments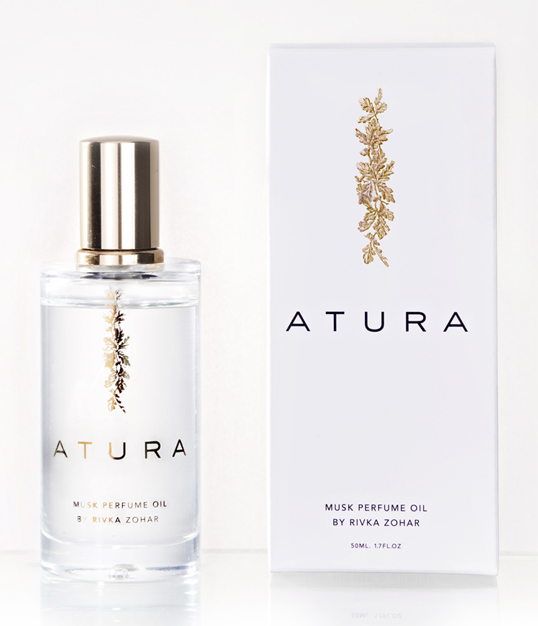 Designed by Koniak Design | Country: Israel
"The name 'Atura' is a biblical word meaning 'adorned' or 'crowned'. Atura is a bespoke musk perfume formulated by Israeli singer Rivka Zohar. The Perfume logo and packaging aim at reflecting the unique spiritual quality of the singer's voice. The leaf ornament was produced in gold foil stamping on glass and paper."
May 2, 2011 | 6 Comments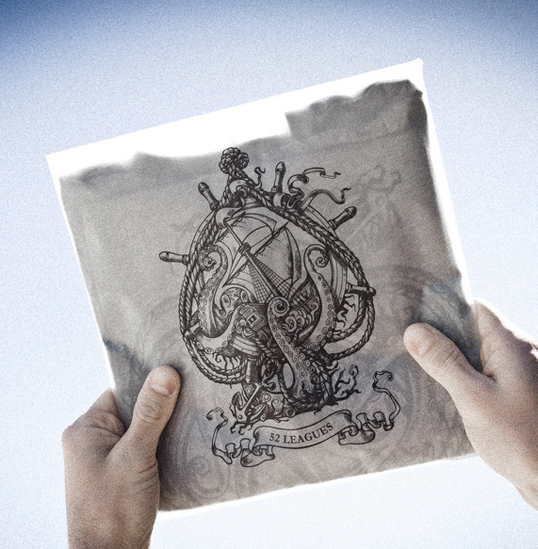 Designed by D&D Clothing | Country: United States
"Twin brothers, Dan and Dave have been a creative force in the magic industry for well over a decade. Their latest venture goes beyond anything they've done before and into the exciting world of fashion. D&D Clothing was inspired from their interest in design and love for magic, this new endeavor expresses a their lifestyle and hopefully yours too.
52 Leagues is the first in a series of t-shirts that will be available in a variety of colors. The title was inspired by the Jules Verne classic with the spade and "52" contributing to our obsession for playing cards. The design depicts a giant Octopus crumbling a Pirate ship into the abyss. Pre-washed and made from 100% Pima cotton for a soft and lightweight feel. Graphics on the front, back, and inside collar. Packaged inside a custom vellum envelope with an organic hemp hangtag. No detail was left out."