July 7, 2010 | 3 Comments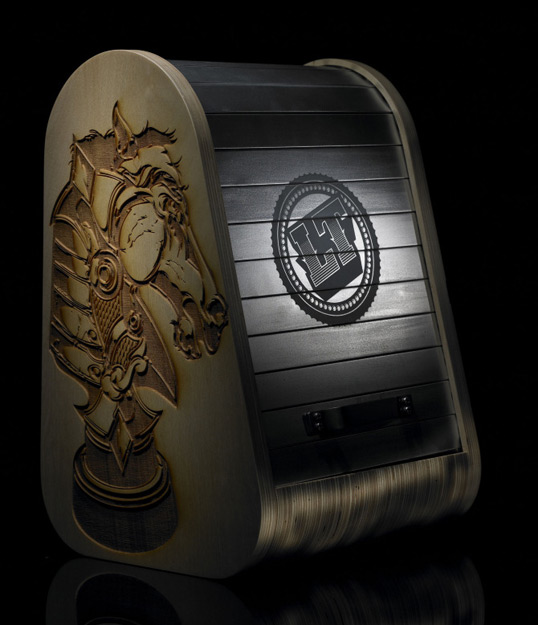 Designed by Jason Murphy | Illustration: Hydro74 | Country: United States
"These photos are from a project concepted by the Nike Athletic Training Brand Design Team and the Football Marketing Team. LaDanian Tomlinson was paying a visit to the Nike campus for the first time and our team decided to do something special for LT. This project was a joint collabo between E. Scott Morris of the Footwear Team, Jason Murphy of the Brand Design Team, Joshua Smith of Hydor74, Isaac Perry of Paradox Media, Julian Duncan of the Football Marketing Team and Jason Badden of the Innovation Kitchen. The Innovation Kitchen funded the project and assisted in it's development. We produced a book, a T Shirt, 1 of 1 sneaker and a one of a kind box. LT absolutely loved it. The goodies were presented to him at an event held on campus..This was truly a great project and special thanks goes out to all involved."
July 2, 2010 | 4 Comments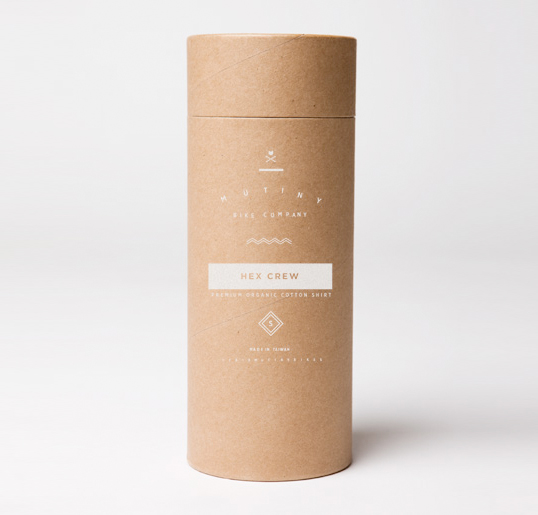 Designed by Caleb Owen Everitt | Country: United States
Kraft tubes screenprinted in a single colour are used to package tees for this bicycle company.
July 2, 2010 | 2 Comments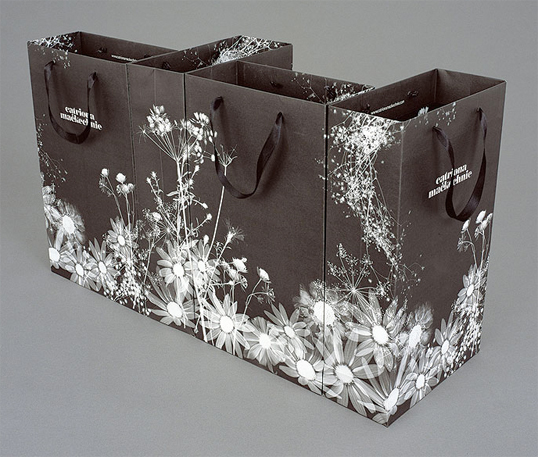 Designed by Bibliothèque | Country: United Kingdom
"Bibliotheque were responsible for producing the identity and brand positioning for Catriona Mackechnie, a luxury boutique in downtown Manhattan. A floral visual language was used to express the delicate, translucent products across all printed items."
June 29, 2010 | 4 Comments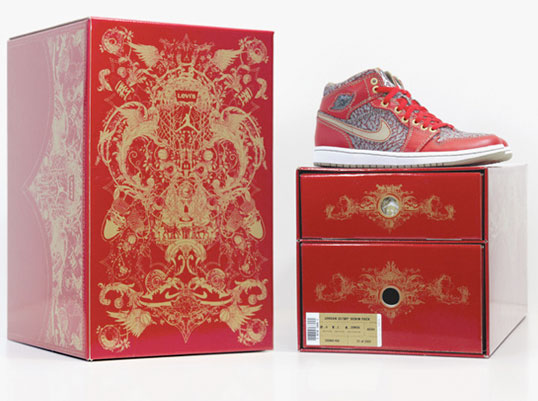 Designed by ILoveDust | Country: United Kingdom
"We worked with Brand Jordan to create the packaging and illustration for the collaboration between Jordan and Levi 501's. The packaging featured specially designed Jordans and Levi's as well as an illustrated Tee shirt and perspex split box dividers."
June 25, 2010 | 5 Comments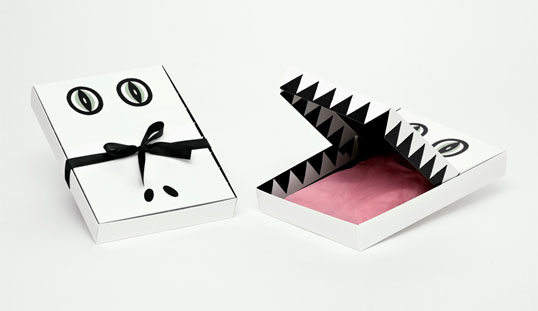 Designed by Lowe Brindfors | Country: Sweden
It is normally quite unusual to see anything sophisticated being designed for children's packaging, but these crocodile boxes are both clever and engaging, with a 'mouth' lid which opens to reveal triangular teeth and a pink silk 'tongue' lining. Produced for the children's section of a Swedish department store.
June 23, 2010 | 11 Comments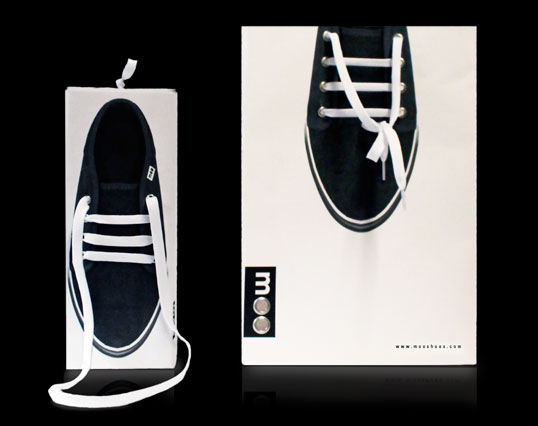 Designed by Alistair Marshall | Country: United Kingdom
"This packaging is from a proposed re-brand for a vegan/ environmentally friendly shoe brand in the U.S. The idea was to raise the profile of the brand and communicate to a younger "trendier" audience. The box (on the left) carries hemp canvas deck shoes folded almost flat to minimize packaging materials. The laces from the shoes within are used to lace up the image on the box creating carrying handles, expelling the need for a carrier bag. However since the company also sell a range of other branded footwear, a carrier working on a similar principle, made out of thin recycled paper was also necessary."
June 22, 2010 | 2 Comments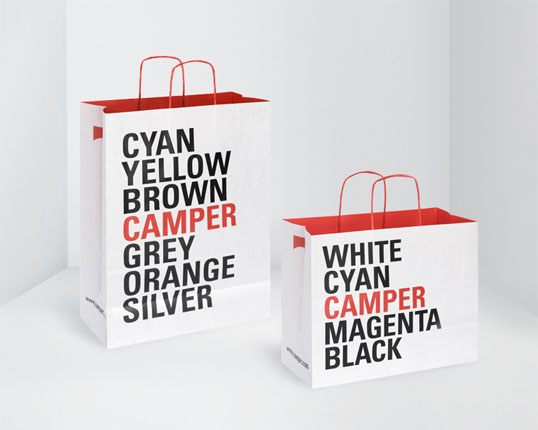 Designed by Ruiz+Company | Country: Spain
Lovely premium bags for Camper footwear by one of our favourite design studios. The coloured interior paired with the stark white exterior and strong black type make these bags look clean and simple, much like the product they sell.
June 21, 2010 | 4 Comments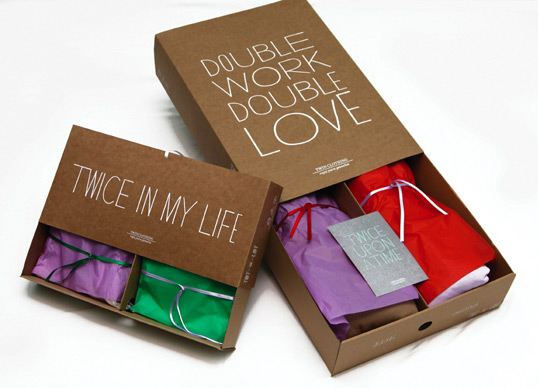 Designed by WESEMUA | Country: Spain
"TOT-a-LOT is a brand dedicated to design clothes for twins. After designing the brand, we devised a packaging that conveys the idea of twins and also thought to be reused in the form of drawers for clothes. Having two babies at the same time takes effort and money. TOT-a-LOT is very responsible with the environment so all materials and inks used in their clothes are eco-friendly, so we designed a simple but impressive packaging focusing on the tone of voice of the brand. Did not need anything else to do it so appealing. The boxes are personalized with the names of babies and parents can begin putting their first clothes each in its corresponding drawer."
June 3, 2010 | No Comments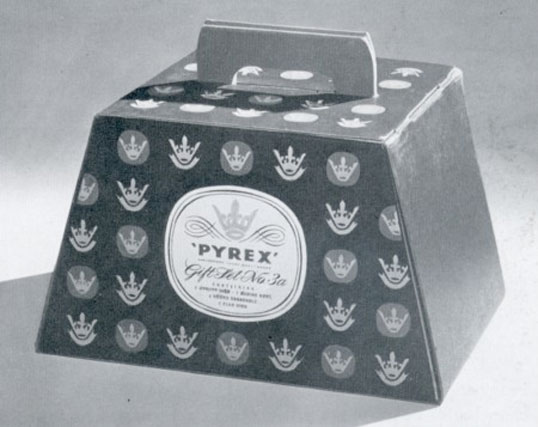 Designed by Milner Gray, circa 1950s | Country: United Kingdom
A collection of packaging design sourced from a 1956 publication of Graphis (no. 69)
May 7, 2010 | 5 Comments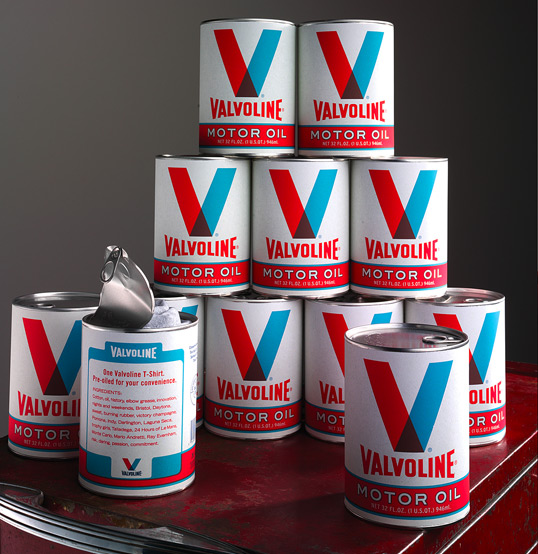 Designed by Eric Stevens for Borders Perrin Norrander | Country: United States
"Promo piece designed to embody the history of the Valvoline brand (hence the "throw back" 50's-era can design) while giving gearheads a practical (and pre-oiled) shirt that they could wear proudly while wrenching in the garage on the weekend. The label copy lists some of the values, venues and personalities that the Valvoline brand has come to be associated with over the 100+ years of its existence.