October 19, 2015 | 1 Comment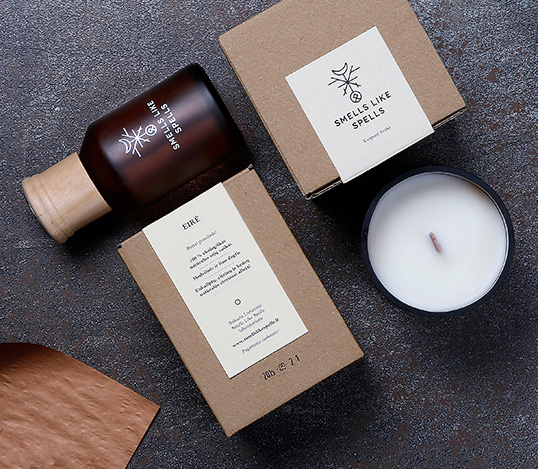 Designed by Edvardas Kavarskas & Gintarė Ribikauskaitė | Country: Lithuania
"Smells Like Spells production is a harmonized combination of natural fibre, ecology and a drop of esoteric know how. Each product is hand made, followed by original recipes, synchronised of both – traditional folk wisdom and experience, also modern perfumery, candle and insence craft methodology. We discover the tender distance between daily usage of unique products and the touch of magic in our life. A kind of charming exclusive game that brings a piece of secret to our routine.
The essence of Smells Like Spells packaging is to keep all products opened, vital and transparent. Role designed calls to assist not to persist. The second Smells Like Spells is taken, you appear in a pleasant unpacking adventure. We contribute towards the luxury of less – subtle and elegant. This is the reason why material and ingredients chosen are natural and laconic, followed by design which first brings that delight sense of touching."
October 12, 2015 | No Comments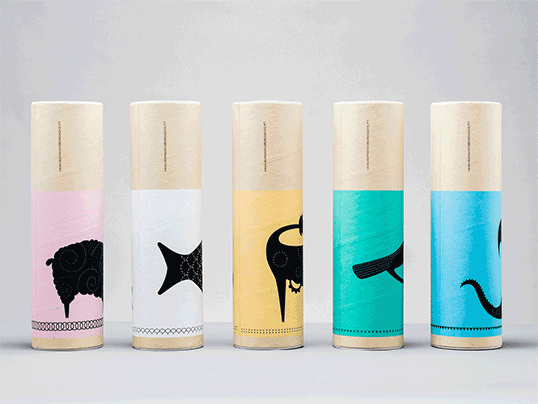 Designed by VOLTA | Country: Portugal
"Românico Bordados (embroidery) wants to recover the famous Vale do Sousa (an area in Northern Portugal) embroidery and turn these fantastic linen and cotton goods into luxury items. Noticing that the motifs of these embroidery have been the same since the XII century (they are inspired in the motifs found in Romanesque style Route monuments of Northern Portugal), they asked VOLTA to create a brand that showed off this fantastic longevity, the exquisite embroidery of their products and a traditional, handmade look.Our solution was to create a symbol based on the monument's motifs, allied to a decorative but strong typography (Estilo Pro by portuguese typeface designer Dino dos Santos). We used kraft-like paper for the tags and product boxes, printing only in one color.
We also created the brand's kids range, Românico Baby. With illustrations by Helena Soares, based on animals portrayed on the monuments of the Romanesque Route, this brand range has, on the other side, a focus on color and decoration. Each animal has its own geometric shape and color, with this palette allowing us to create very colourful packaging and product displays."
August 3, 2015 | No Comments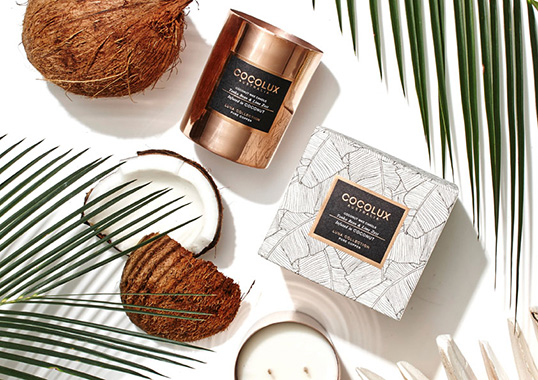 Designed by Cocolux | Country: Australia
"Where design and luxury meet mother nature
Bringing coconut wax and pure copper together for the first time, Cocolux Australia launches with eight fragranced candles in two collections, Sol and Luna.Cocolux candles are scented with the finest fragrances and hand poured from clean burning coconut wax. Organic by nature, coconut wax is made by coldpressing and hydrogenating its raw material – the protected coconut flesh. Unlike many other waxes, production is sustainable and free from toxins,the use of pesticides and the need for deforestation.
The copper vessel was designed with purpose to be re-used as vase, container or planter. Stunning in the home, polished or verdigris –copper's oxidised, natural patina, copper's glamorous lustre will add a little 'lux' to any stylish interior."
August 3, 2014 | No Comments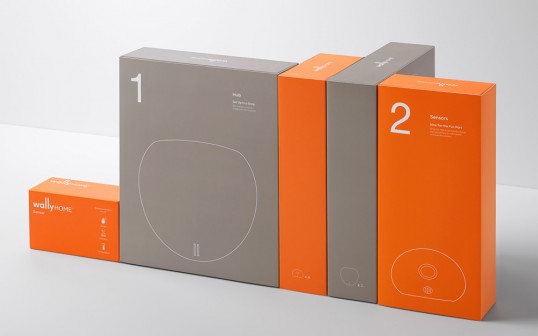 Designed by Character | Country: United States
"Wally is a sensor system that detects and alerts homeowners to water leaks and changes in humidity via their mobile device. Character created an identity system that extended across consumer touch points. Branding elements included website, mobile app, and retail packaging.
The new Wally identity needed to establish a sense of trust and warmth. Consumers needed to feel assured that this is a product that they could rely on to protect their homes. By extending the two 'L's in Wally, Character crafted a logotype that subtly yet playfully represented the way the sensors communicate with the main hub via wiring in the walls."
March 24, 2014 | 2 Comments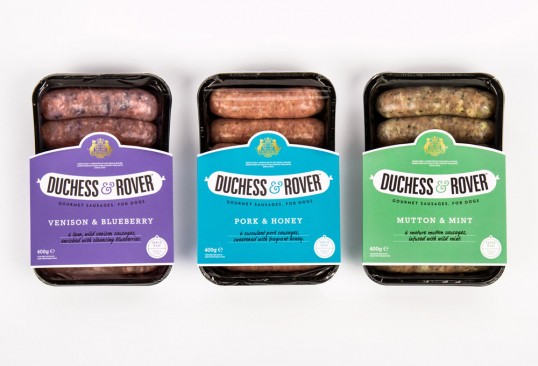 Designed by Robot Food | Country: United Kingdom
"Raw meat for dogs is a growing trend. It's the most natural way for dogs to get the fresh goodness they need and in answer to the rising demand, a whole new category has emerged. But however tasty it is for pets, there's no denying how unpleasant raw meat can be for owners.
Robot Food, the UK-based branding, packaging and new product development specialist, recognised the opportunity to offer dog owners a more appealing alternative. Instead of trays of frankly yucky product that's off-putting to handle, Robot Food came up with 'Duchess and Rover, gourmet sausages for dogs'. Working closely with a Yorkshire meat producer, the creative team developed the proposition, name, branding and packaging."
August 18, 2013 | 3 Comments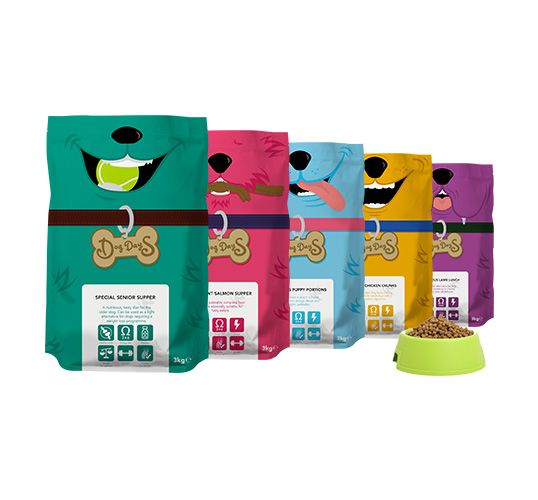 Designed by Epoch Design | Country: United Kingdom
"In 2012, a local 19-year-old entrepreneur approached us in need of a brand, visual identity and packaging for his startup, a Prince's Trust-funded dog food and pet accessories company. Epoch developed the brand name and created a bright, fun identity with heaps of tail-wagging personality. The new packaging designs sure stand out from the litter – no more rrruff dinnertime for me! (Sorry, couldn't resist.) This brought a fun new brand to the pet food aisle, sure to secure our client a truly loyal consumer fan base for the affluent urban demographic he wanted his products to appeal to."
August 13, 2013 | No Comments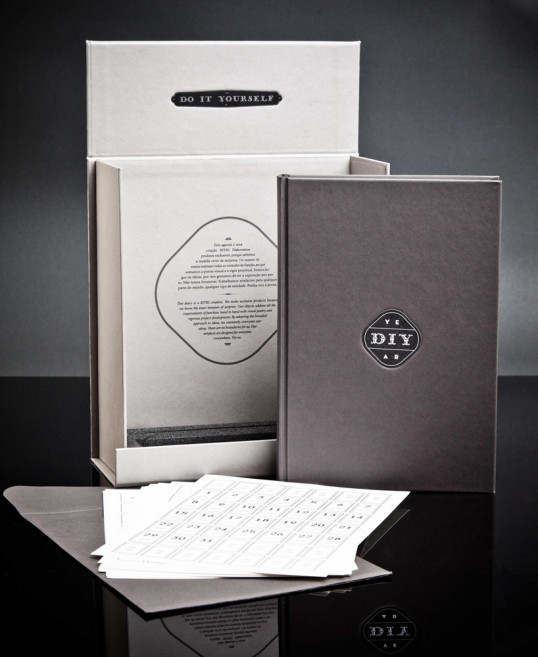 Designed by White Studio | Country: united Kingdom
"The DIY Calendar is part of White Studio self-promotion project: BITRI, a special brand of the studio that specialises in exquisite and luxurious objects all conceptualised and designed in-house.
This particular calendar is all about freedom and a lot of writing. It can be used both as a calendar and a diary, giving the user the freedom to select each day as many pages as he wish. The stickers indicate the day of the month, and can be applied anywhere on the page, allowing the user to write around it. The main objective with this project was to develop a do-it-yourself object, one that can be built differently by each user and personalised as desire."
August 12, 2013 | 1 Comment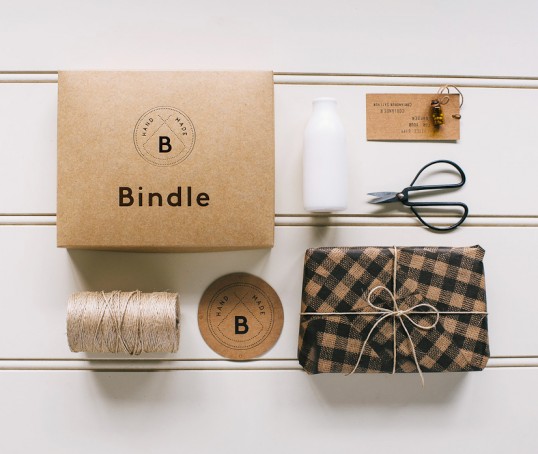 Designed by Bindle | Country: Australia
"Bindle is an online gift service that blends sustainability with style. Apart from the obvious gifts themselves a big component of Bindle is the gift packaging."
July 12, 2013 | No Comments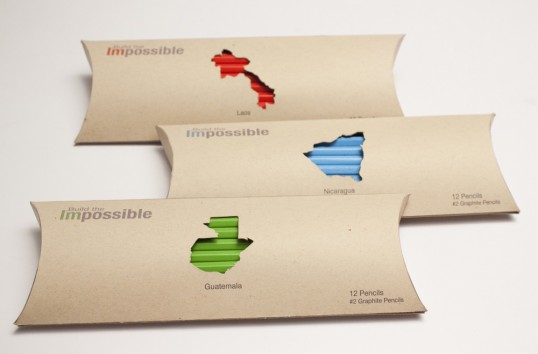 Designed by Jessica Alley & Laura Courtright | Country: United States
"The packaging is part of a larger campaign which is based on the word I'mpossilble (read as I'm possible or Impossible) The call to action is to build awareness and fundraising for building sustainable education in Nicaragua, Laos, and Guatemala. The countries are all differentiated by color and have a di-cut of their country on the packaging.  When you purchase the pencils  the proceeds go to the country of you choice."
May 18, 2013 | No Comments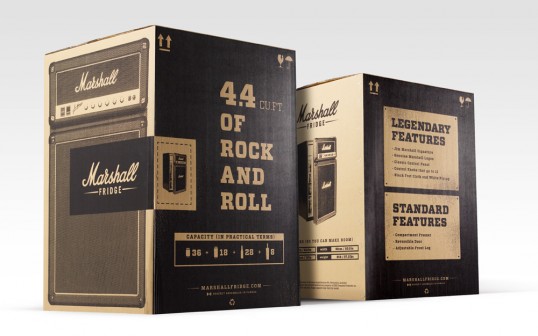 Designed by Proximity | Country: Canada
"Even the box has stage presence. Loud, like a rock star. Practical, like a roadie. In just 48 hours, the Marshall Fridge box garnered over 14 million impressions online. And a few weeks later, a formal complaint from UPS because it was too appealing to thieves."