May 18, 2012 | 4 Comments
Designed by Ben Suarez | Country: United States
"I wanted to take a different approach to skateboard product packaging and make them a bit more mature and clean. I strayed away from the usual bright and flashy style that we are used to seeing and created it with more of an industrial and ever so slightly grunged up appearance."
April 26, 2012 | 1 Comment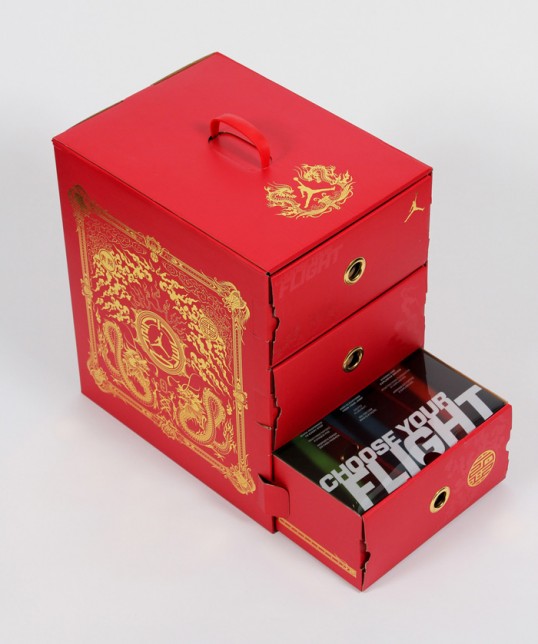 Designed by Tom Lane | Country: United Kingdom
"Air Jordan 2012 'Year of the Dragon' is a collaboration between Tom Lane & Air Jordan.  What started out as a packaging artwork commission snowballed after the first round of visuals and extend to include artwork for the shoe, a bag, some apparel, and a few more things to come.
The commission was to create a look and feel that bridged the gap between ancient chinese cultural references and the Air Jordan story. Whilst also bringing an edge of luxury and prestige to the forefront. Another challenge was to create a system to the design so that it could adapt to different size boxes and be rejigged by the Air Jordan designers. The final box size was yet to be fully determined so the artwork needed to be able to expand in width and height. All the elements therefore had to be individual so they could be shifted around without destroying the overall effect."
April 9, 2012 | 3 Comments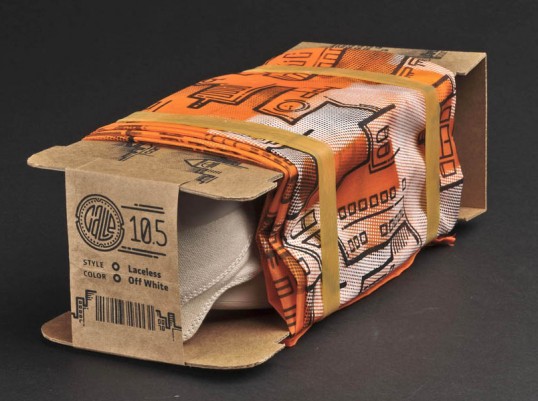 Designed by Jesse Lindhorst | Country: United States
"Calle, in Spanish, means "Street." This brand of slip-on street soccer shoes is the first of its kind. My goal for the redesign of this brands packaging was to capture its unique feel as a sleek street shoe, while still incorporating the power and precision of soccer. The metropolis illustration that spans across most of the package elements is meant to represent any city, from the feel of the busy downtown skyline to the sprawl of suburbia.
The structure is simple, made of one small piece of cardboard, wrapped in a bright flag for vivid visual appeal, and strapped tight with rubber clamps. The unconventional build of the package makes the experience of opening the box something the customer won't soon forget, especially once they feast their eyes on monstrous illustration strewn across the flag. This flag can be pinned up in a room or even hung on a fence to make the perfect target for a street soccer goal. The only piece of post-consumer waste that comes from this package is the small cardboard structure, which can simply be recycled.
Refine your skills in the street."
April 3, 2012 | No Comments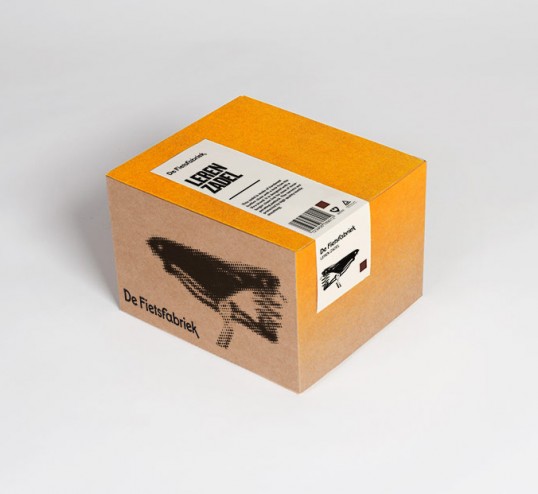 Designed by Kristoffer Hvitfeldt | Country: Denmark
"De Fietsfabriek means The Bike factory in english. It's a Dutch bicycle company that manufacturers and sell hand built quality bikes. The assignment was to redesign their existing brand. The approach was to unite the robust bikes and the handcrafted production without loosing the product."
January 15, 2012 | 2 Comments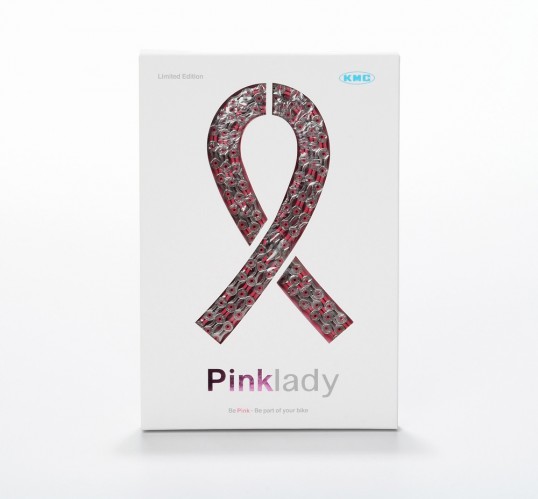 Designed by Gidea Group | Country: Taiwan
"Pink Lady is a special 'pink ribbon' limited edition bicycle chain created by KMC Chain in 2010. The packaging is designed to be a gift box where you not only give a good looking chain, but also contribute to a great cause by supporting the fight against breast cancer."
January 3, 2012 | 1 Comment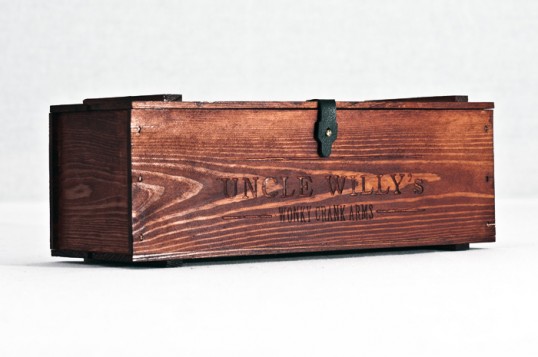 Designed by Christopher Perry | Country: Sweden
"Brief: Uncle Willy's Wonky Crank Arms is a brand and packaging concept for a premium English bicycle crank arm manufacturer.
The product is hand made and has been ever since the company was founded back in 1988. The crank arms are made to order at a cost of £495/pair and are aimed at bicycle loving people.
I came up with the name Uncle Willy's to give the brand some history and make it feel like a family-owned business. To describe the product I added Wonky Crank Arms which also gives the brand some humour as they are hand made.
I felt it was very important for the packaging to reflect that the product is hand made and at the same time keep giving the product a historic feel whilst keeping it premium. Using a wooden box and carving out the company name did just that. The leather hinges and adding a mahogany lacquer were chosen to give the packaging it's premium feel. Not being able to read the name on the box is not an issue as they are not on shelves next to other brands."
December 19, 2011 | 1 Comment
Designed by HUB | Country: United States
"HUB is pleased to share the 2011 Major League Baseball All Star Retailer invitation suite we designed and produced for Nike. This year's MLB invitations featured the same Southern Spanish flare as the retreat's location: the luxurious Montelucia resort and spa in Scottsdale, AZ. HUB teased Nike's top baseball retailers with a series of captivating invitations, each revealing more and more information about this year's retreat. First, recipients received a custom, hot stamped wood box containing a hardbound book. Then, we sent out a muslin bag containing a notebook with custom leather embossed cover. And, finally, we sent out an embroidered robe along with the official invitation sealed with a custom wax seal."
August 21, 2011 | No Comments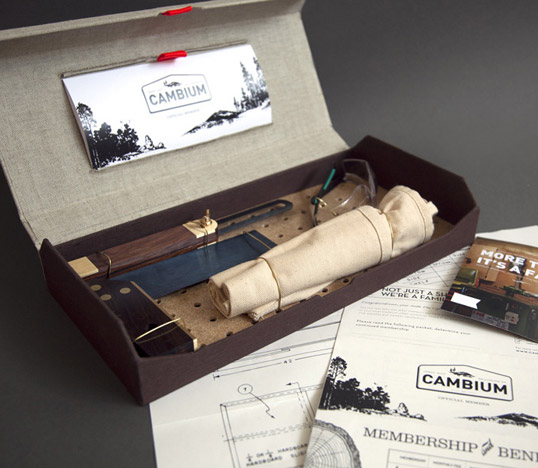 Designed by Stren Pipkin | Country: United States
"Cambium is more than a shop, its a family
Main demographic focuses on 50-60 yr male woodworkers who lives in the city but currently don"t have access to a shop. Members of Cambium pay a monthly fee to have access to industrial machines and tools. Once enrolled in the program members receive a canvas covered clam-shell box with magnetic closure and orange nylon detailing. Inside this box they will find a 4 piece kit of fine rosewood and brass tools, apron and safety glasses.
This concept focuses on 1940's muted color scheme, traditional illustrations with modern styling."
March 9, 2011 | 2 Comments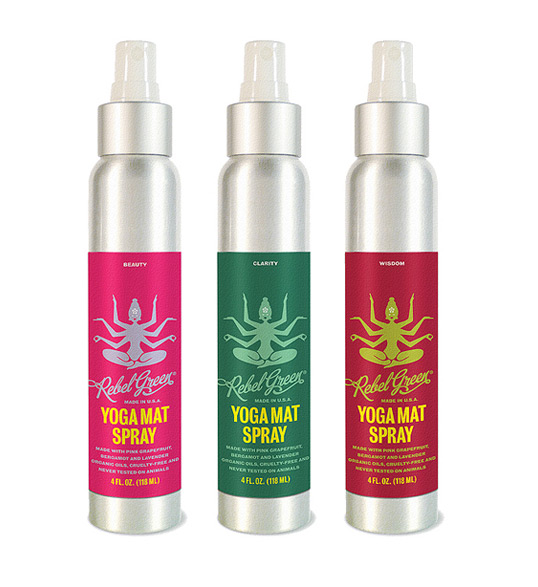 Designed by Wink | Country: United States
"A revolutionary new and effective solution to clean and preserve the life of yoga mats, straps and blocks. It works great on pilates equipment as well! Each of the three unique blends of lightly kissed essential oils inspire will your practice and your day."
December 30, 2010 | No Comments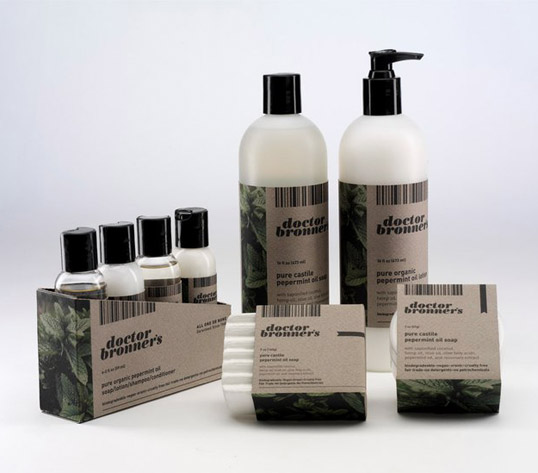 Designed by Tyler Hamilton | Country: United States
"Dr Bronner's liquid soap, lotion, bar soap, body balm, and 4 pack sampler of shampoo, conditioner, soap, and lotion."