December 5, 2010 | No Comments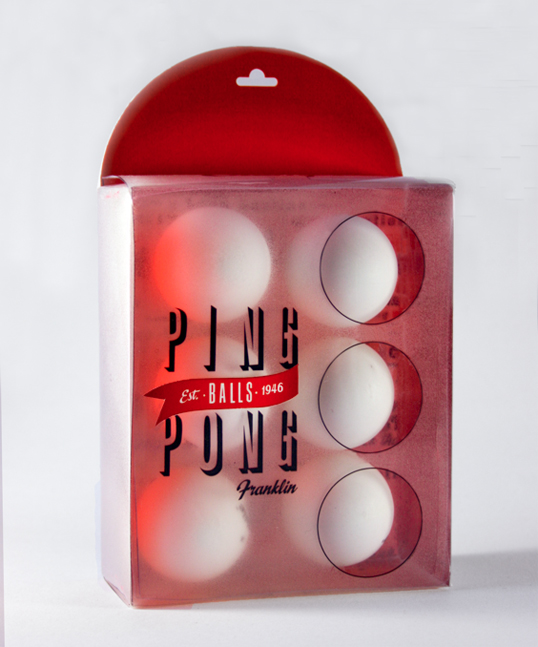 Designed by Kaylan Hufham | Country: United States
"I decided to package Franklin Sports Ping Pong balls, because well, what college student doesn't use ping pong balls? I want to redesign the package they came in because I found the current packaging to be rather annoying and not reusable. Who wants ping pong balls loose all over the house? That's annoying. My redesign came complete with a removable tray so that you can use one ball at a time and maybe even put it back in the case if you're feeling crazy."
December 2, 2010 | No Comments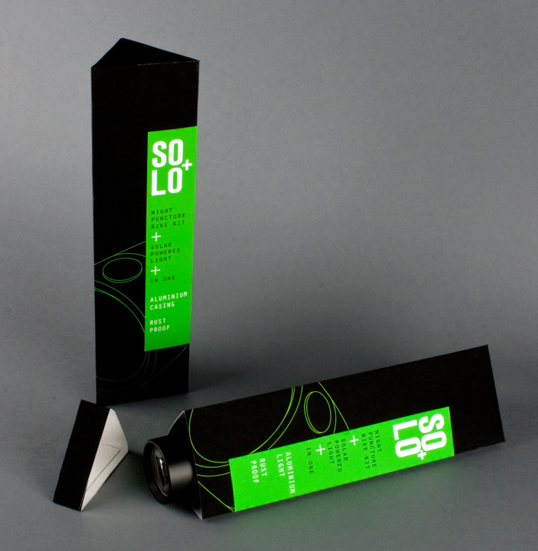 Designed by Tomas Ashe & Claire Buckley | Country: Republic of Ireland
"The project brief was to brand and design packaging based on a list of different kits for consumers. We chose a bicycle repair kit, our concept was to design a night time bike puncture repair kit that contained a solar light torch. The solar torch can be easily attached to the bike and designed to contain the puncture repair kit. The shape of the box is a reference to the shape of a prism of light. The colour scheme reflects the darkness of night and the fluorescent green represents the strong colour of visibility jackets often worn by cyclists."
November 1, 2010 | No Comments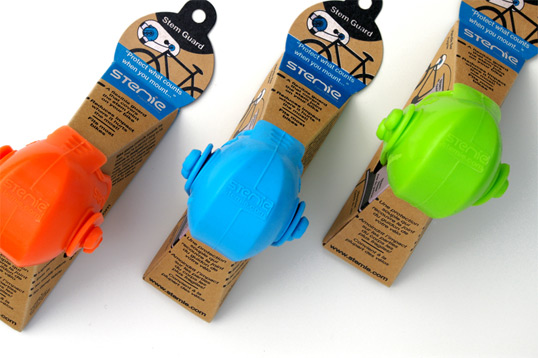 Designed by Cameron Snelgar | Country: Canada
"Growing up BMX riding and later trail bike riding for fun, I was always aware of the bike's stem (the component that fastens the handle bars to the bike frame). On most bikes the stems protrude towards the rider. They're a painful thing to hit. Stemie is designed to cover stem joints and cushion your body, thus reducing impact. The packaging needed to communicate what such a product does.
We decided to mimic the basic configuration of a stem riser and stem on a bicycle; by cutting a box diagonally across to resemble a triangle or 90 degree corner (basic shape of a bike stem). Originally we had the strap wrapping beneath the entire box, however later felt it would be more secure and intriguing, going through the box.
The package serves as a standing, hanging or upright display. As the product is durable and quite tactile, we mounted it on the outside of the box. The diagram on one side allows viewers to gain more understanding on how Stemie can be used."
October 10, 2010 | No Comments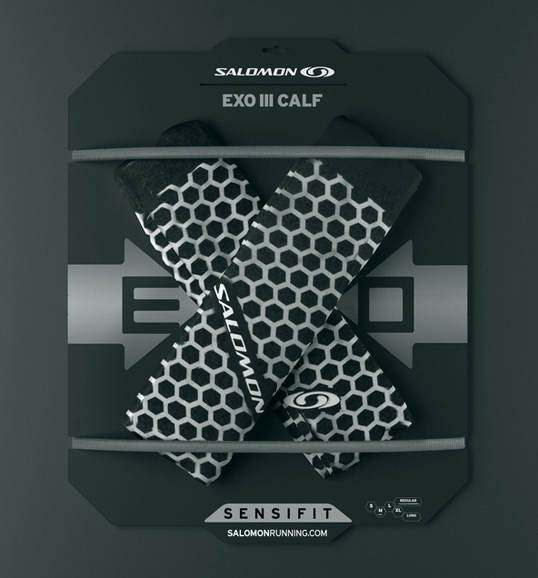 Designed by Petar Pavlov | Country: Macedonia
"After seeing my Doritos Packaging Concept, Salomon gave me an opportunity to create a packaging design for one of their new products Exo III Calf (Compression tights for calves) and an In-Store Display for the entire Exo Sensifit Range."
July 7, 2010 | 3 Comments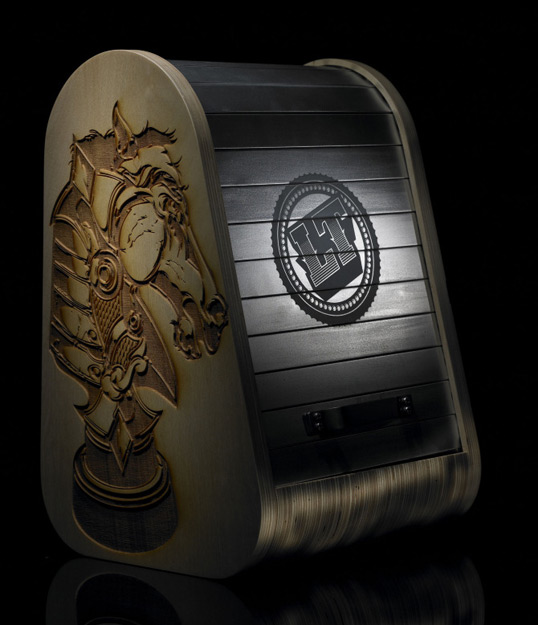 Designed by Jason Murphy | Illustration: Hydro74 | Country: United States
"These photos are from a project concepted by the Nike Athletic Training Brand Design Team and the Football Marketing Team. LaDanian Tomlinson was paying a visit to the Nike campus for the first time and our team decided to do something special for LT. This project was a joint collabo between E. Scott Morris of the Footwear Team, Jason Murphy of the Brand Design Team, Joshua Smith of Hydor74, Isaac Perry of Paradox Media, Julian Duncan of the Football Marketing Team and Jason Badden of the Innovation Kitchen. The Innovation Kitchen funded the project and assisted in it's development. We produced a book, a T Shirt, 1 of 1 sneaker and a one of a kind box. LT absolutely loved it. The goodies were presented to him at an event held on campus..This was truly a great project and special thanks goes out to all involved."
February 10, 2010 | 2 Comments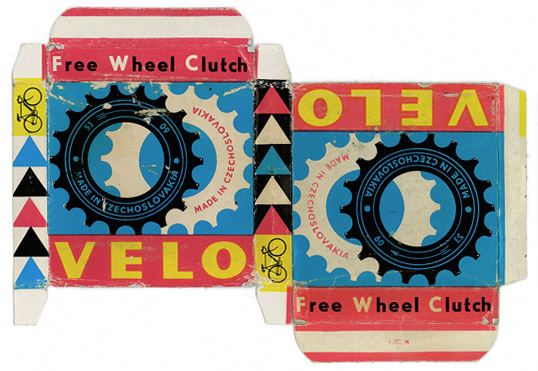 We'd love to know who designed this box, or what year it was created. If you know, please leave a message in the comments below or drop us an email.
via ffffound
January 13, 2010 | 24 Comments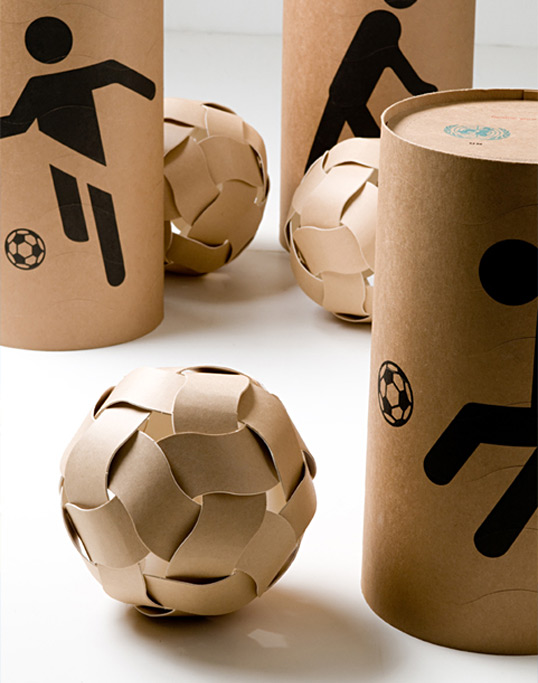 Designed by Unplug Design | Country: South Korea
"To the children in The Third World; Tanzania, Rwanda, Burundi, Somalia, Congo and etc, who can't enjoy football freely because of poverty, war and natural disaster, having a football means a lot and can be a dream and hope to escape from their poor life.
However, the children are so poor that they can not buy a football. So, they play football with the ball made of plastic bag or coconut palm leaves, therefore giving them their own footballs which can give them hope. This is our aim for this project.
September 29, 2009 | 4 Comments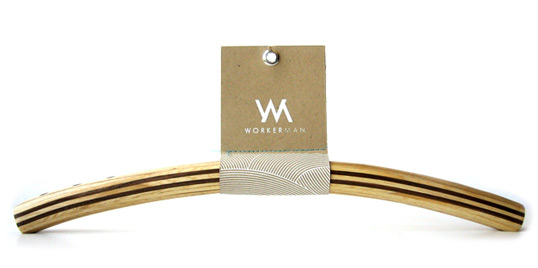 Designed by Adam Brackney | Country: United States
"Everything is made by hand by myself and and my fiance who helps sew the package together. Each card is hand screened, then a silver grommet is added, sewn with a bright blue thread, and finally the back of each package is filled out by hand as to which model handlebar the buyer has chosen. I also make the actual handlebars!"