September 8, 2013 | No Comments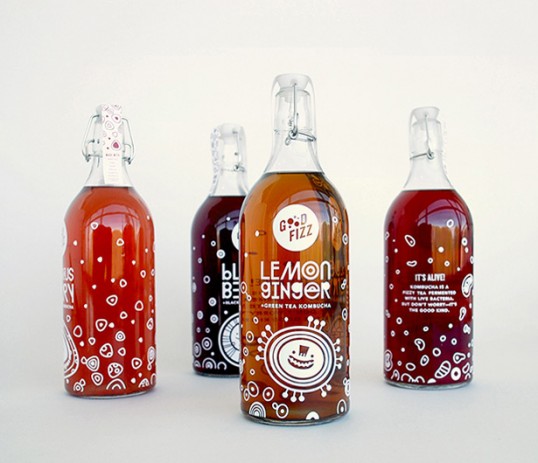 Designed by Lydia Nichols | Country: United States
"Good Fizz is an MFA project conceived to explore both branding and packaging for an invented kombucha company. Embracing the fact that kombucha is comprised of tiny living organisms, each bottle features happy illustrations of floating bacteria as well as custom type that wraps the entire bottle. The paper seal on top lists ingredients along with the warning, "Don't Shake! It's Fizzy Enough Already." 
September 1, 2013 | 2 Comments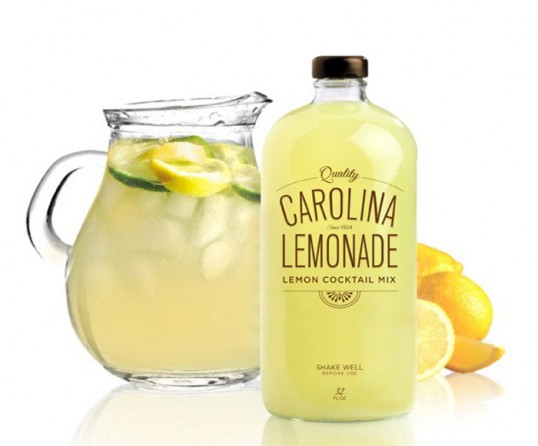 Designed by Jessica Haas | Country: United States
"This was a school assignment in Packaging 101. The project was to design a beverage of your choice and the challenge was hat you're limited to only one color. We the lack of 4 color imagery I was forced to utilize the color of the beverage itself. A few people in my class were doing juice so I moved to a more fun option, a cocktail mix which allowed me to experiment with different bottle shapes. The Boston round had a great feel to it and was calling out for typography. I decided to keep it simple and just use type but my professor felt it needed some sort of appetite appeal. I finished the assignment off with a small illustration of a lemon slice which I think really makes the piece eye catching."
August 21, 2013 | 1 Comment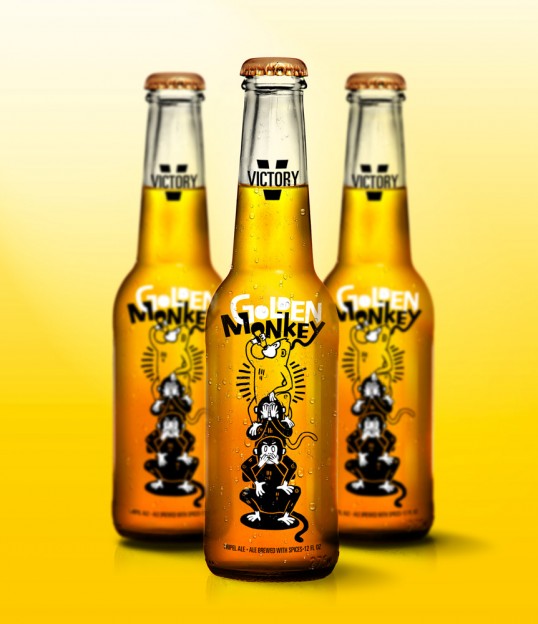 Designed by A.J. Poholski | Country: United States
"Golden Monkey is a Tripel brewed ale with a rich warming flavor. Through this label, the beautiful color of the beverage within is showcased as the glowing fur of the legendary golden monkey. This monkey on top embodies everything about this ale, a playfulness, a cleverness, and a satisfaction that can only be found in a beverage of such quality. The three wise monkeys have stood for their respective meanings for centuries and this top monkey has seized the opportunity and broken free from his long held position. The golden monkey is wise enough to know that the brother that can see can not say a word and the brother that could speak in protest is blind to his actions. Be the golden monkey."
August 14, 2013 | 2 Comments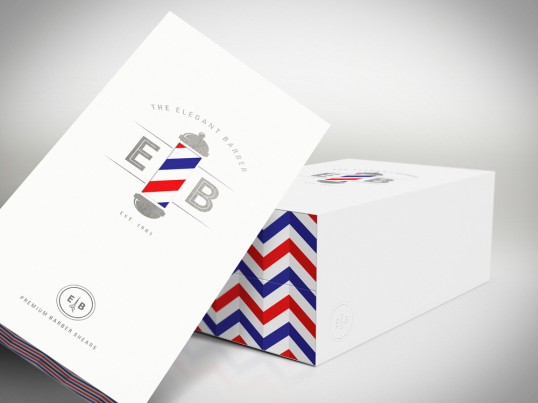 Designed by Adrian Gilling | Country: United States
"The Elegant Barber is an identity and packaging concept for a classic men's barber shop and line of products. Through the use of a simple die-cut and pattern, customers get to experience the movement of the barber pole with each purchase and/or trip to the shop."
August 9, 2013 | 1 Comment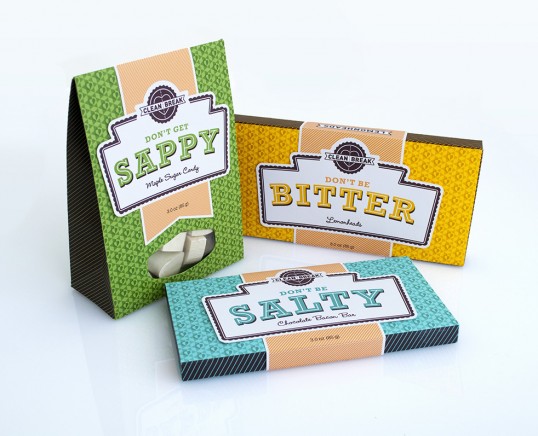 Designed by Kathy Mueller | Country: United States
"Clean Break offers tongue-in-cheek parting gifts for that not-so-special someone. The concept is a line of confections, gift cards, and gift bags to deliver a "dear john" break-up message with humor. Our hope is that mismatched lovers can share a laugh in what is naturally an awkward moment, and perhaps even start a lasting platonic friendship.
Candy product packaging, like the "Don't be Bitter" Lemonheads, proclaims such messages as, "Someone once told me, when life gives you a lemon… dump him." And the cards offer options such as "I hope you… A) Find love. B) Call me to hook up. C) Go to hell or D) Get an STD."
July 15, 2013 | 7 Comments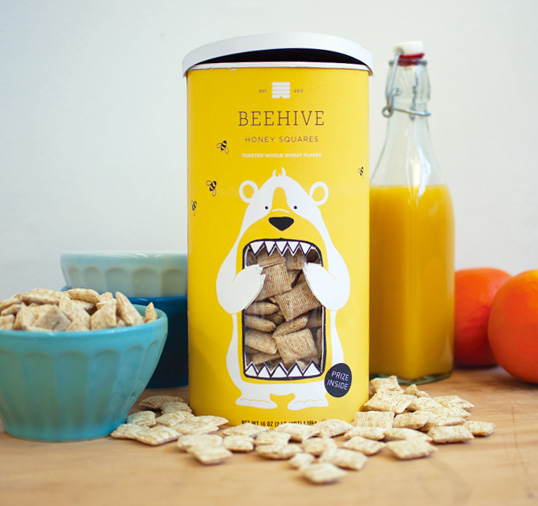 Designed by Lacy Kuhn | Country: United States
"The Heartland line of breakfast cereals is a newly conceived experiment by the National Cereal Corporation. The marketing strategy is based on the celebration of breakfast cereal's all-American roots. Each flavor will be named after a state's nickname; the pilot being Beehive Honey Squares. The packaging seeks to stand out from the competition, a blatant contrast to the standard cereal box approach."
July 12, 2013 | No Comments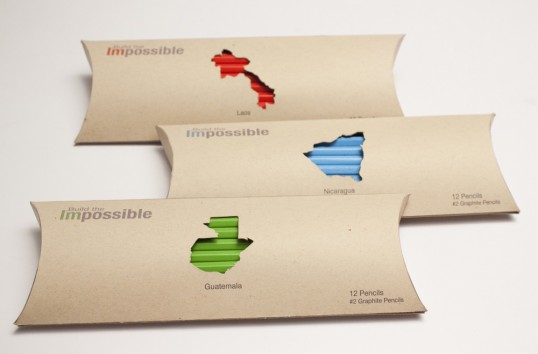 Designed by Jessica Alley & Laura Courtright | Country: United States
"The packaging is part of a larger campaign which is based on the word I'mpossilble (read as I'm possible or Impossible) The call to action is to build awareness and fundraising for building sustainable education in Nicaragua, Laos, and Guatemala. The countries are all differentiated by color and have a di-cut of their country on the packaging.  When you purchase the pencils  the proceeds go to the country of you choice."
June 8, 2013 | 3 Comments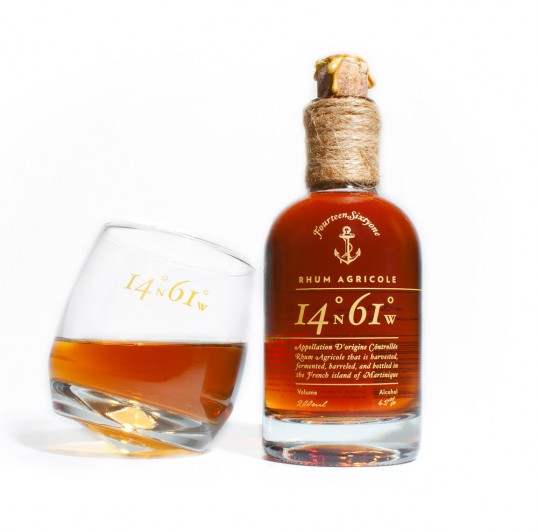 Designed by Cecilia Hedin | Country: United States
"Rhum Agricole is an exclusive rum that is distilled on the French island of Martinique in the Caribbean Sea. Compared to normal rum, rhum agricole is made out of freshly squeezed sugar cane juice, rather then from molasses.
When creating the new liquor brand, Fourteen Sixtyone, I was inspired by the old ocean fare and vintage maps (read pirates). The island of Martinique has the geographic coordinates 14°40n 61°00w, hence the chosen brand name."
May 25, 2013 | 12 Comments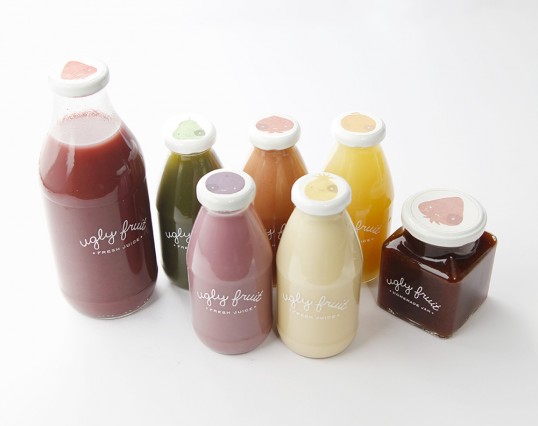 Designed by Mirim Seo | Country: United States
"The idea came from the fact that US markets toss out 15 billion dollars worth of fruits and vegetables each year just because they are bruised or discolored. But they are still fresh and edible. I felt there was an opportunity to stop the waste, so Ugly Fruit was born. Ugly Fruit is a stand that makes juice, jams, and dried fruits out of unattractive produce donated from our neighborhood grocery stores. Ugly fruit, pretty yummy!"
May 24, 2013 | No Comments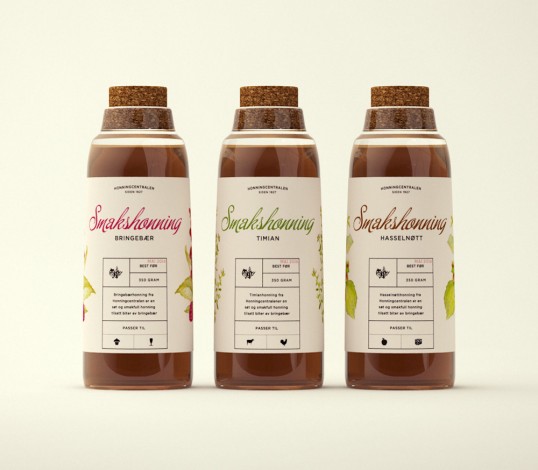 Designed by Morten Johansen, Ida Dølplads & Marius Sunde | Country: Norway
"The brief asked for a new range of flavored honey from Honningcentralen, the leading producer of honey in Norway. Our idea was to create a series of product which made the user feel like a chemist in the kitchen, with honey acting as a complementary ingredient to a variety of dishes — we wanted to create a honey that could act as a tool that could turn the kitchen into a creative playground."