February 24, 2009 | 3 Comments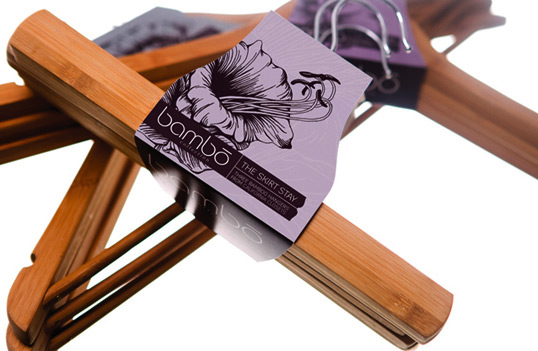 Designed by Nate Millheim | Country: United States
Thanks to The Creative Circus graduate Nate Millheim for sending this in. He is currently looking for work overseas.
"Closet storage line from California Closets. All-natural materials, minimal packaging, and two-color printing reduce the carbon footprint without effecting visual appeal. (a green product packaged to appeal to urban boutique females)"
February 23, 2009 | 3 Comments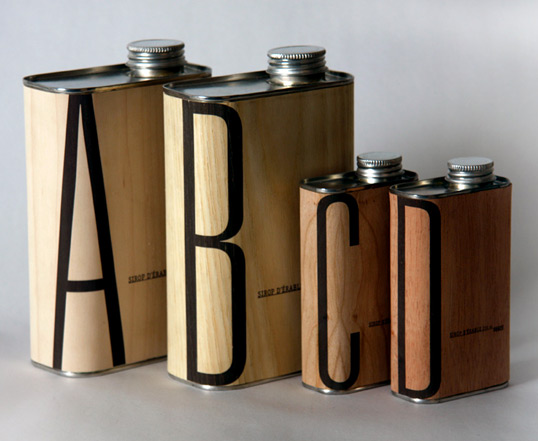 Designed by Andrée Rouette | Country: Canada | Font used: Univers
"What do we need from a package? We need a functional service of course, but also information about the product. Not a complex text that you don't have time to read, but a simple letter related in this case to the Maple Syrup classification system.

This is Andrée Rouette's project in my packaging class. Despite its expensive approach, this concept of maple wood laminated thin bottles they can be reused and therefore justified. Also they could be simply replaced by a wood texture printed-paper label as a cheaper version."
Via Packaging | UQAM
February 17, 2009 | 5 Comments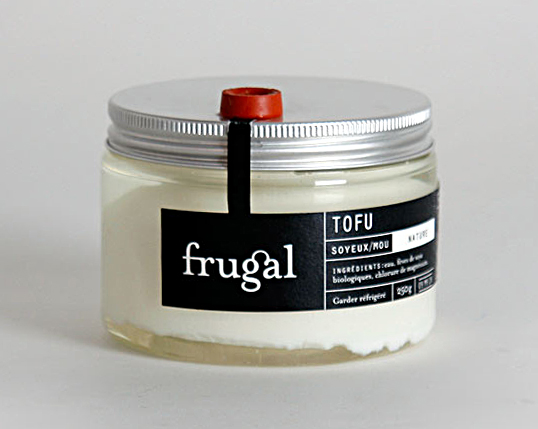 Designed by Marie-Eve Dubois | Country: Canada
"If you're among those who think that tofu is a rather boring and bland product, you might want to have a look at this new way of conditioning and packaging tofu. This study by Marie-Eve Dubois in my packaging class is quite an interesting way of combining aesthetic and function.
February 7, 2009 | 6 Comments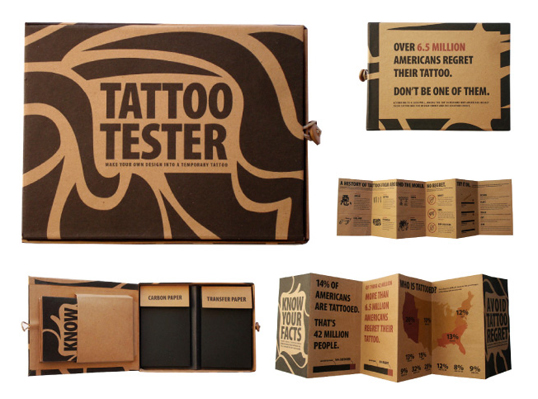 Designed by JuliAnn Miller | Country: United States | Fonts used: Myriad Pro
"We were to design work for a social or political cause; I chose tattoos for my topic.  This Tattoo Tester is a kit that comes with certain papers so that the user can create custom temporary tattoos (transfer paper and carbon paper).  The kit also includes a brochure with information on tattoo statistics and a brief history of tattooing.  All parts of this kit are designed, written, and constructed by me.  The box is made from light cardboard and all printed material is printed on recycled kraft paper.
February 5, 2009 | No Comments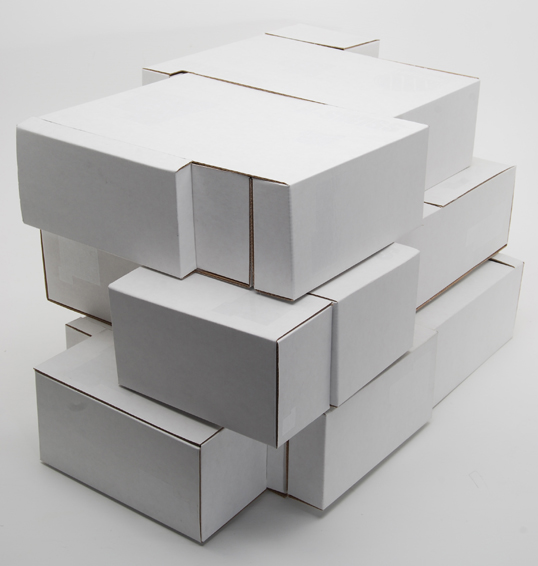 Designed by Jon Dodd | Country: United Kingdom
"A self set brief to design the packaging and catalogue for the Hederus range of K-Swiss released the tail end of last year by Swedish designer Julia Hederus. I spoke to Julia and K-Swiss directly about the project and they were keen to seen what my outcomes would be, to which I have now sent off to them. Continue…
January 10, 2009 | No Comments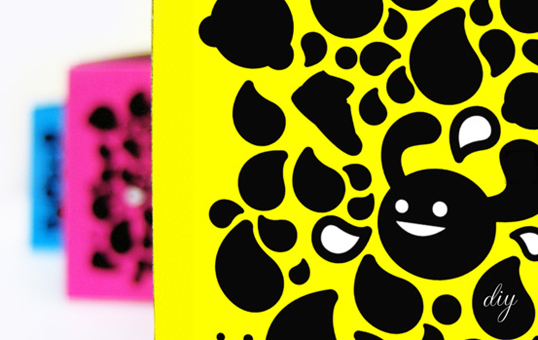 Designed by Esther Chaye | Country: Canada
"Paints come in small parts for the DIY beginner. Using this set of 5 (CMYK + White), he or she can create all the colours of the rainbow for their DIY projects (customization toys, shoes, accessories). A take-home colour wheel/instruction sheet would be given (in-store) plus guide them to an online site further providing the user with additional help. No sweat or tears just mix and paint it."
December 30, 2008 | 1 Comment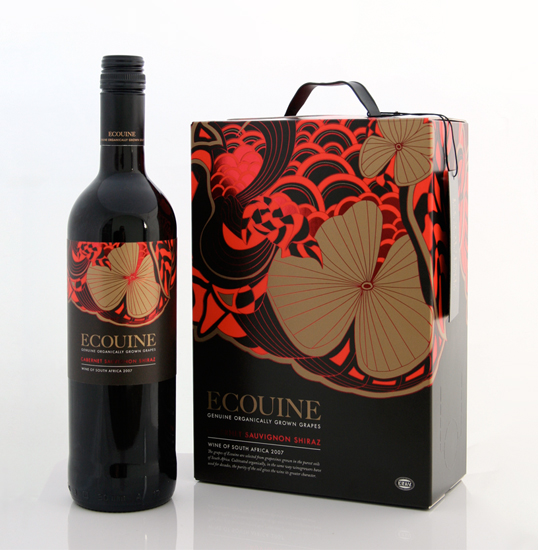 Designed by Thomas Perrson | Country: Sweden | Fonts used: Big Caslon, Futura
Thomas Perrson produced this concept of an ecological wine inspired by haute couture for wineagency "Modern Fluids".  This was his final project at Berghs SoC in Stockholm.
December 30, 2008 | 4 Comments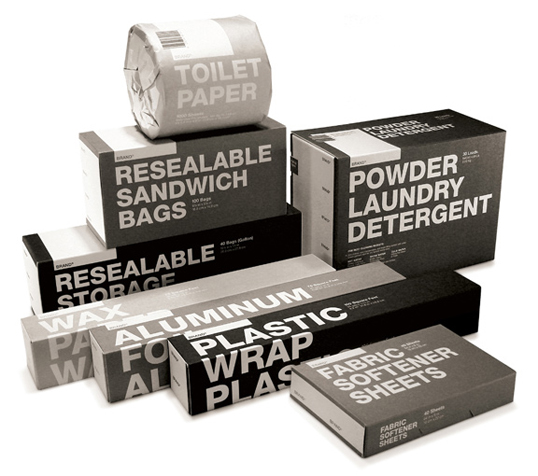 Designed by Jesse Kirsch | Country: United States | Font used: Neue Helvetica Heavy
Jesse Kirsch makes low-budget look damn good with these award winning designs he produced while studying at School of Visual Arts.
December 18, 2008 | 8 Comments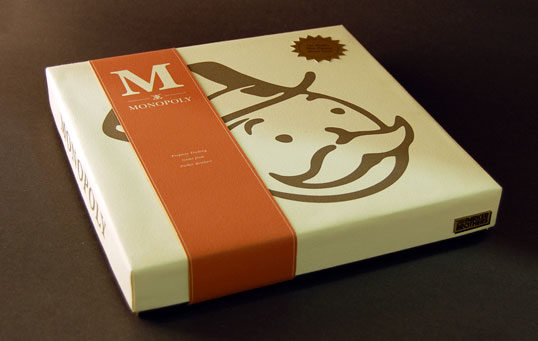 Designed by Andy Mangold | Country: United States | Fonts used: Caslon
"Monopoly, in spite being the classiest of all board games, unfortunately is packaged just as boringly and uncreatively as every other garbage board game on the shelves. So, I decided to repackage it… turning the class up to 11.
All of the boxes are made out of chocolate brown mat board and skinned in cream arches cover. The final package is just over 10″ x 10″ x 1.5″ and includes smaller containers for all of the various pieces and cards and a laser-cut holder for all of the houses and hotels."
December 17, 2008 | 1 Comment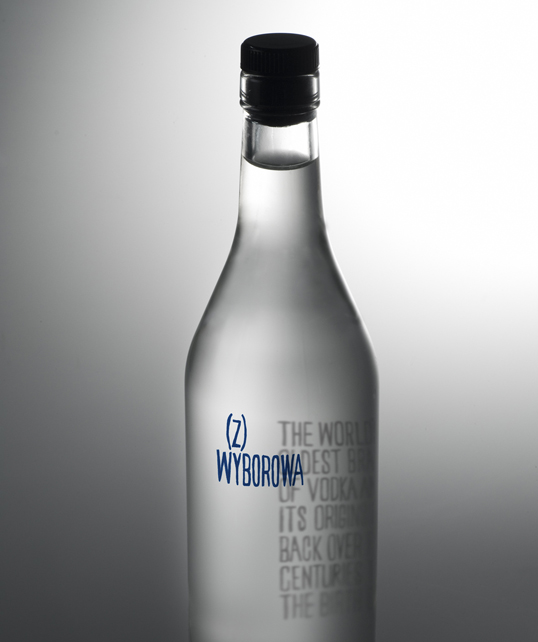 Designed by Hamish Smyth | Country: Australia
"I re-branded the Polish Vodka brand Wyborowa. My concept uses hand drawn typography – arching back traditional Polish graphic design which featured a lot of handmade type. The clarity of the vodka is its main feature, which is emphasised by having the story of the Vodka's origin on the back of the bottle. The viewer peers through the product to read the story. When viewed on an angle the viewer gets an interesting warped optical effect whilst isolating the products name on the front of the bottle."