January 25, 2010 | 4 Comments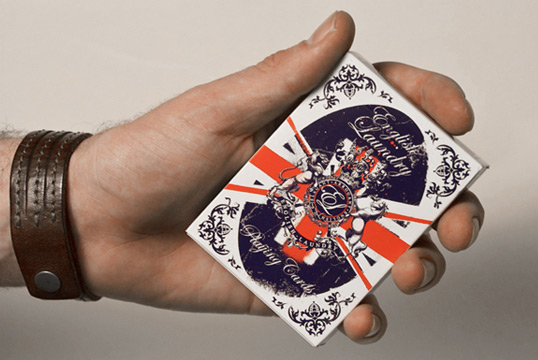 Designed by English Laundry | Country: United Kingdom | Buy it
"Fashion designer Christopher Wicks (of English Laundry) teamed up with magicians Dan and Dave for an online advertising campaign to promote a new line of mens shirts along with a custom deck of playing cards. The Playing Cards are printed in limited quantities with metallic ink. Each deck comes complete with a custom box, ace of spades, and court cards all hand-drawn by famed English Laundry artist. Playing Poker has never looked so good!"
December 16, 2009 | 1 Comment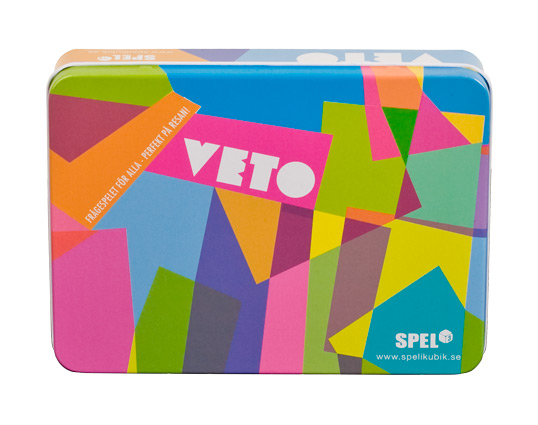 Designed by i/store | Country: Sweden
"VETO is a trivia game designed to be easily brought on journeys. Its strong tin can design, laminated playing cards and fairly small dimensions (150 x 100 x 35mm) makes it ideal for travling and backpacking through different climates."
December 1, 2009 | 4 Comments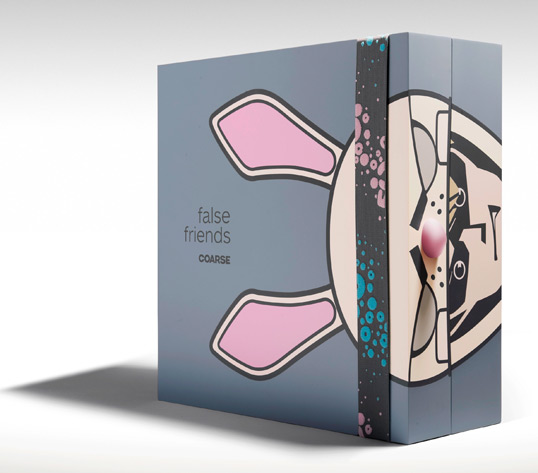 Designed by coarse | Country: Hong Kong
"coarse unveils their long anticipated 'false friends' series, a set of two original vinyl statues. The release incorporates key coarse characters 'paw!', a monkey cross rabbit, and 'noop', a human like being, as they portray another episode in the ongoing coarse story. This time the dissimilar pair aspire to become companions – even at the price of their own identities.  Demonstrating the underlying complexity of the brand, this series delivers yet another dimension to the world of coarse."
October 30, 2009 | 7 Comments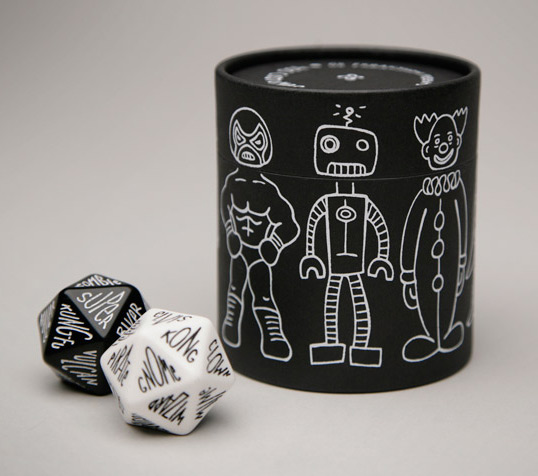 Designed by GS Design | Country: United States
"400 Costumes to Die For is GS Design's 2009 annual self-promotional piece. Designed to help recipients decide what to be for Halloween, the piece consists of two custom-made, 20-sided dice – one with 20 modifiers, the other with 20 nouns – that together offer 400 possible original costume combinations. (Zombie Elvis, Kung-fu Jesus, M.C. Mollusk, etc.) The dice are packaged inside an illustrated cylindrical tube that rotates to line up heads on different bodies. The tube is an economical one-color hot stamp on black paper. The instructions were printed as one-color paper labels and affixed to inside of the lid."
September 23, 2009 | 12 Comments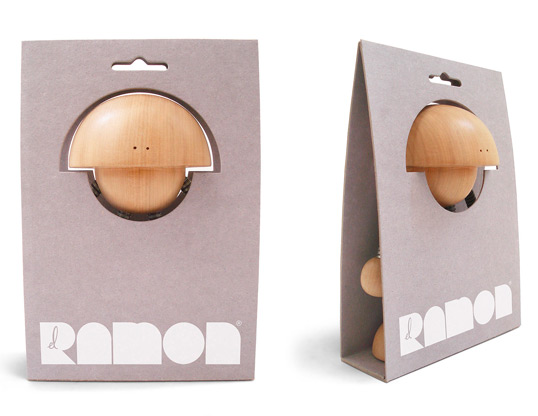 Designed by Javier López Pereyra | Country: Argentina | Buy it
"El Ramón is a toy-object created by the Argentinean Art Director , Javier López Pereyra. El Ramón was, inspired at the 50´s and 60´s concept of spaceships and robots, such as the movie "War of the Worlds " dated of 1953, the tv series "Lost at Space" dated of 1965 and the cartoon "The Jetsons" dated of 1962, among others. Ramón is a limited edition, hand crafted with Argentinean wood, flexible iron and recycled gray paper with silk-screen print."
September 17, 2009 | 5 Comments
Designed by coarse | Country: Hong Kong | Buy it
coarse is a Hong Kong based brand that creates vinyl statues that have gained an increasing worldwide presence amongst art toy and fine arts collectors. The German artist duo behind the brand are Mark Landwehr and Sven Waschk. Their work includes photography, prints and objects, combining all aspects to create holistic pieces of art. Pieces that convey an alternate reality. A fiction brand.
September 9, 2009 | 10 Comments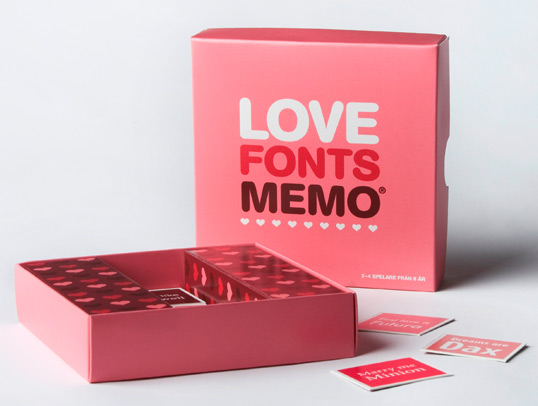 Designed by Sara Strand | Country: Sweden | Font: Arial Rounded
"The memory game Love Fonts Memo, a classic game that presents love stories about different kind of type faces. The perfect game for both the professionals and rookies."
August 24, 2009 | 14 Comments
Designed by enormouschampion | Country: United States | Buy it
"The Kingdom Animalia, a line of wooden animals and their packaging, were all made in the USA. The boxes are made of recycled cardboard, and offset printed. One element of the design system is that there are a few facts about the real life animal on the box. There are 15 different animals in this collection. They are made of sustainably harvested wood and are solid maple. The finishes on the animals (including the paint, stain, and beeswax sealer) are all non-toxic and very low/no VOC. All of the finishes are also made in the USA. They were laser cut and hand finished. They are meant to be decoration for a nursery, bookshelf, and the like. They are not, however, toys for children."
August 18, 2009 | 2 Comments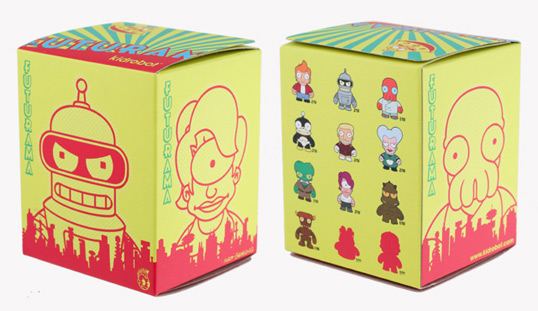 Designed by Kidrobot | Country: United States | Buy it
Great packaging for Kidrobot's new line of Futurama vinyl mini figures.
July 20, 2009 | 11 Comments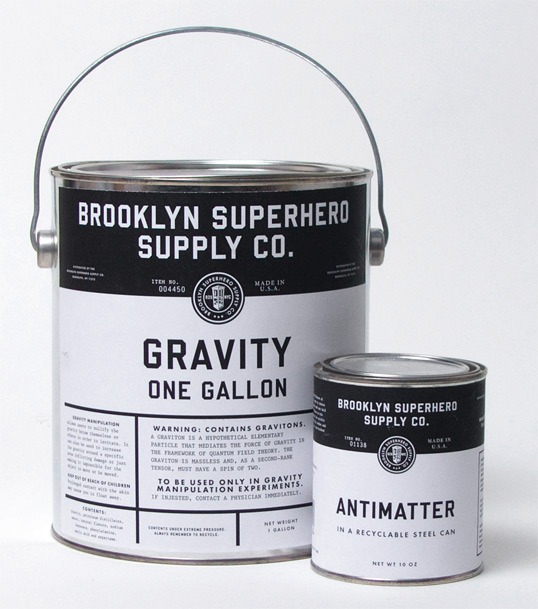 Designed by Sam Potts | Country: United States | Fonts: Hoboken High, Futura | Buy it
Brooklyn Superhero Supply Company is your go to brand for all of your crime fighting essentials. Sales of these whimsical products help support the NYC chapter of 826 National.
826 National is a nonprofit tutoring, writing, and publishing organization with locations in seven cities across the country. Their goal is to assist students ages six to eighteen with their writing skills, and to help teachers get their classes excited about writing.
Check out some of the great products we previously showcased from their San Francisco chapter.