January 28, 2015 | No Comments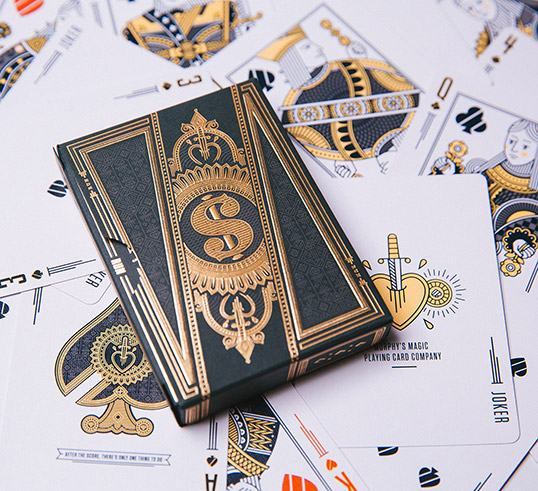 Designed by Chris Yoon | Country: United States | Pair with: Band of Outsiders
"Raw, unruly attitude meets new-school design. Defiantly decked in gold foil from front to back, Run features a bold design that drives home the pure essence of the hit-and-run survivor.
The Run playing card deck features a fully custom design with a protective hard case, embossing, stylized pips, and a full range of familiar yet updated court cards. Every inch of detail embodies the gambler's attitude and nerves of steel."
"After the score, there's only one thing to do…run."
December 25, 2014 | No Comments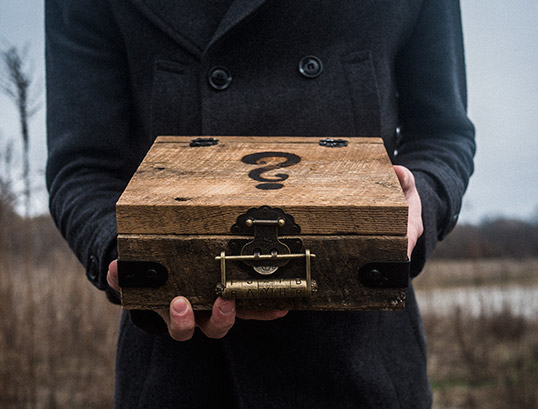 Designed by Theory11 | Country: United States | Pair with: Wood Wood
"An all-new edition of The Mystery Box, produced by theory11 in collaboration with JJ Abrams, Bad Robot, and 826 National. Featuring black on black foil design, individually hand-wrapped and sealed for you alone to discover.
The choice to open the box, or not, is yours.
With inspiration from JJ's original Mystery Box – received as a gift from his grandfather – this new Mystery Box contains 12 premium, designer playing cards with art direction by JJ Abrams and Jonathan Bayme. Many secrets reside within.
The set is available individually for $9.95, or in an iron-branded wooden lockbox for $150. Proceeds benefit 826 National, a remarkable charity that promotes creative writing classes in schools and workshops across the USA."
December 16, 2014 | No Comments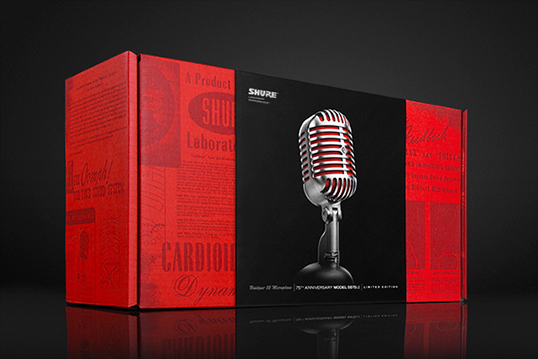 Designed by MiresBall | Country: United States | Pair with: Penfield
"To commemorate the 75th anniversary of the iconic Unidyne® 55 Microphone, Shure produced a limited edition version based on the original "fatboy" birdcage design. Adding to the collectable appeal was a package design featuring artwork culled from vintage ads and catalogs. A removable glossy sleeve carried meticulously detailed photography and a rich product backstory."
September 8, 2014 | 2 Comments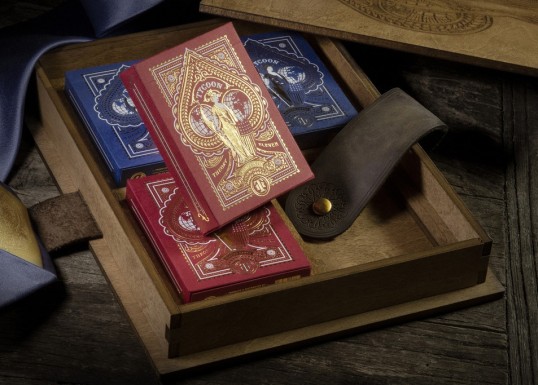 Designed by Theory11 | Country: United States
"In August 2013, we began a quest to create playing cards fit for display at the legendary Waldorf Astoria, the gathering place for royalty and the ultra-wealthy. For the past 14 years, Cohen has performed Chamber Magic there, in a private Waldorf Towers suite, for sold-out audiences including Warren Buffett, David Rockefeller, and the Queen of Morocco. In 2012, Cohen became the first magician in a half-century to sell out Carnegie Hall."
March 24, 2014 | 1 Comment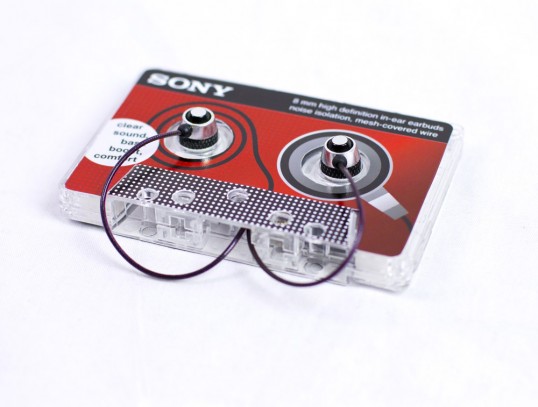 Designed by Alyssa Phillips | Country: United States
"I was given the assignment to package a found object inside of a related object. I chose to package earbuds inside of a cassette tape, giving the now rarely used cassette a fun new purpose."
March 19, 2014 | 2 Comments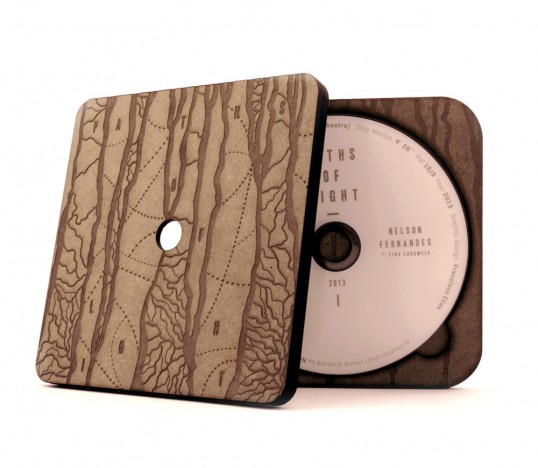 Designed by Franciso Elias | Country: Portugal
"The wooden box contains a short animation entirely designed by Zina Caramelo during 2013. This animation was developed over a period of 9 months through a long process of creating versus destruction. The medium used was a single wooden plank on which reinvented/unrolled all visual and poetic discourse, using multiple techniques. This life cycle ended up in a box, whose construction involved two distinct phases: one mechanical and other manual.  The first stage – mechanical , involves the cutting and laser printing (1 hour and a 30 minutes), getting 6 different pieces. The second and last stage — the manual one, passed by the processing of collage techniques of the 6 pieces, drying (2 days) and sandpaper finish (30 minutes) to create the final drive. Each box is unique."
September 4, 2013 | 1 Comment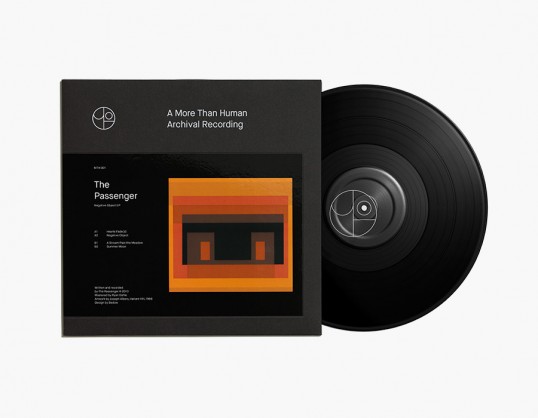 Designed by Bedow | Country: Sweden
"Identity and packaging for More Than Human — a Canadian record label releasing electronic music on vinyl. Each release is limited to 300 copies and features artwork from artists like Josef Albers, Erik Undéhn and Jordan Milner. The assignment includes units such as: record sleeves, stationery & cetera."
September 1, 2013 | No Comments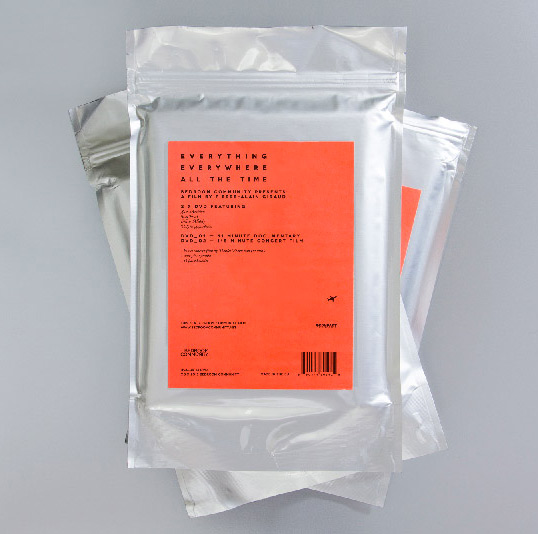 Designed by The Bakery | Country: Russia
"The Bedroom Community commissioned us to design DVD packaging for the film about the label, directed by Pierre-Alain Giraud. The camera catches Sam Amidon, Valgeir Sigurdsson, Nico Muhly, Ben Frost & their collaborators on their Whale Watching Tour, that takes place during the volcano eruption a couple of years back. It also features some insight into artist's work at Greenhouse Studios, their ethos, tour life, etc. The design is based on the idea of perpetual movement & traveling. While the vacuum-sealed package is a nod to snacks you have on the run, the typographic solution inside evolves around the idea of a compass. Set in different directions, text demands reading at various angles as though it's a map one has to navigate through."
August 16, 2013 | No Comments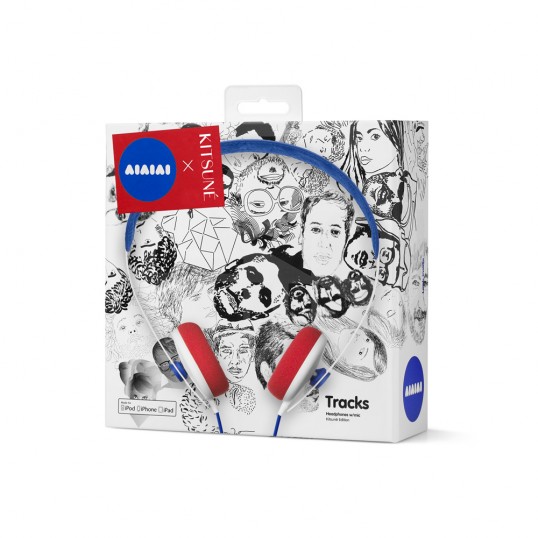 Designed by AIAIAI | Country: Denmark
"AIAIAI has teamed up with the renowned Parisian record label-slash-house of style, Kitsuné, for a collaboration, which sees the award-winning Tracks headphones undergo a colourful makeover. Celebrating the classic beauty of the French flag and the timeless yet contemporary creativity of Kitsuné, this special edition colab was somewhat inevitable."
May 21, 2013 | 4 Comments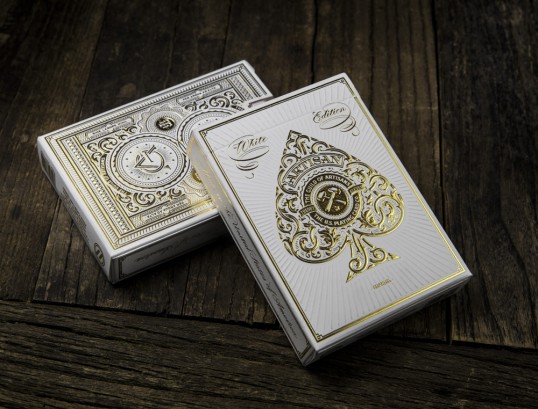 Designed by Simon Frouws | Country: South Africa
From theory11.
"The Artisan White Edition playing cards, like the previous Black Edition, were designed by South African artist Simon Frouws and feature elegant gold foil hot stamped onto ultra-lux white paper. They were produced using FSC-certified papers derived from sustainable forests, vegetable-based inks and starch-based laminates. These are also available in a collector's set with two White Edition Decks and two Black Edition decks in a beautiful laser etched wooden box."