November 27, 2015 | 1 Comment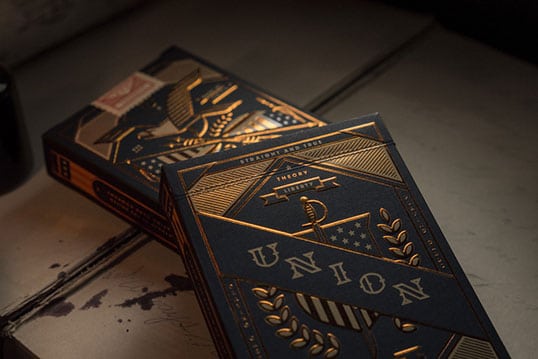 Designed by Jay Fletcher | Country: United States
"Timeless Americana is laced throughout the design, with iconography of colonial America and patriotic symbols of peace, prosperity, and potential. Unions are Made in America, using FSC-certified paper, vegetable-based inks, and starch-based laminates. Over a year in development, every aspect of the design was created from scratch – from the breathtaking court cards to the back design and Ace of Spades.
As a special edition, Unions are available in a historic Ironside Edition, with a display made of authentic 300-year-old reclaimed wood from the Charles Towne Navy Yard, used in construction of actual ships during the Revolutionary War and War of 1812. Four decks are inset in a special edition plank, branded with the US Constitution across the face."
November 14, 2015 | No Comments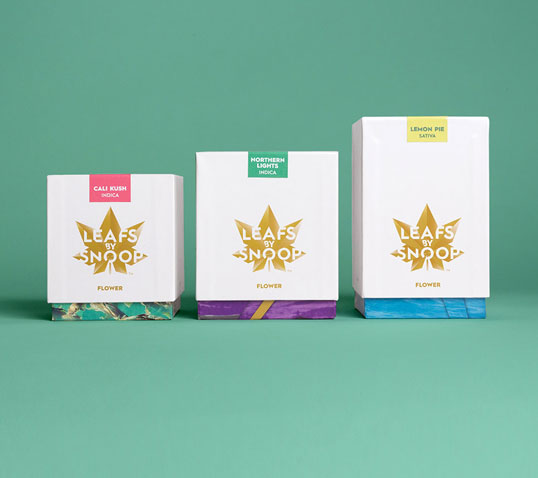 Designed by Pentagram | Country: United States
"Laid-back California cool inspires the branding for a line of marijuana-based products from hip-hop legend Snoop Dogg.
With songs like "Smoke the Weed," "This Weed Iz Mine," and "California Roll," it's no secret the rapper Snoop Dogg has long been a cannabis connoisseur. Now he's sharing this passion with the public—at least in Colorado, where consumption is legal—with a new line of marijuana-based products called Leafs By Snoop. Pentagram's Emily Oberman and team have designed the brand identity and packaging for the line, which includes both flower and edibles ("Dogg Treats") such as chocolate bars, chews, drops and gummies."
November 2, 2015 | 2 Comments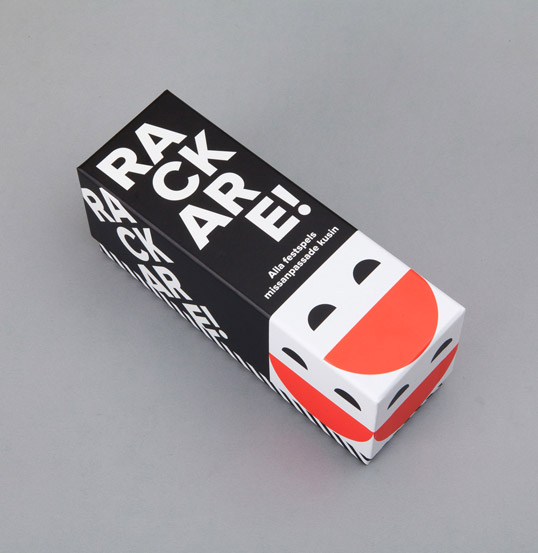 Designed by Ninja Print | Country: Sweden
"Rackare is a Swedish adaptation of the (in)famous party game "Cards Against Humanity". After a few alterations to the gameplay and loads of new cards written and tested the guys over at Ninja Print asked me to give it a look of its own. The very appropriate black-and-white-cards-theme got to stay, since it's simplicity goes well with that of the game. However, I felt the game needed a cheerful vibe so the black-and-white got paired with the big smiling logo in a clean minimalist design based on three colours. A third of the cards are white, two thirds are black and hence the top lid of the box has the same proportions of black and white. Its width is also one third of its length. Both these features create a number of fun ways to display the game in stores."
April 28, 2015 | 1 Comment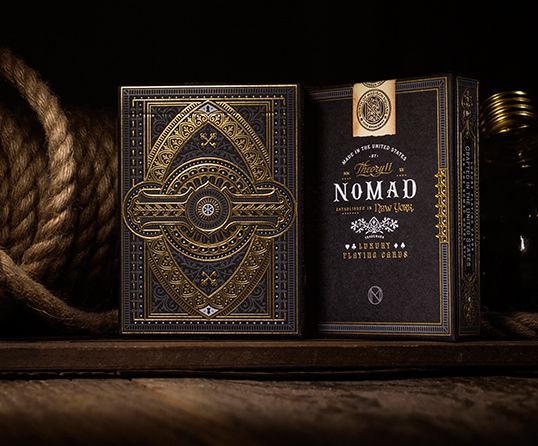 Designed by Chad Michael | Country: United States
"NoMad Playing Cards from theory11 were produced in collaboration with The NoMad Hotel in New York City. In the 19th century, The NoMad District of New York was the meeting place of the era's elite – from Oscar Wilde to Charles Dickens, Mark Twain to Nikola Tesla. Our vision was to create a deck of cards that would serve as a monument to The NoMad. The result is a timeless blend of beauty and elegance."
March 15, 2015 | 1 Comment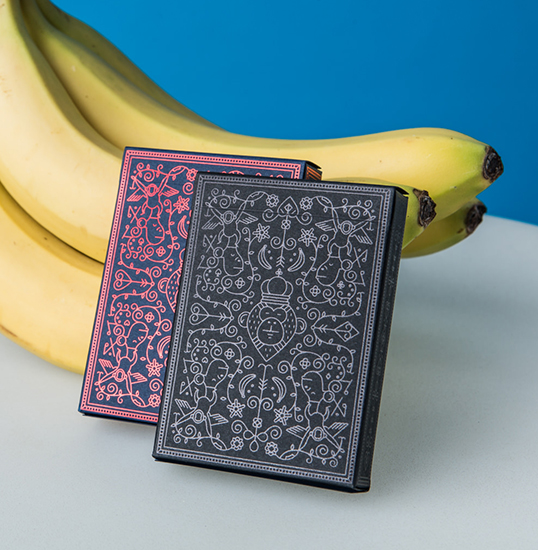 Designed by Fuzzco | Country: United States
"MailChimp Playing Cards are a collaboration between MailChimp, Fuzzco, and theory11, with a design that reflects their philosophy of simplicity and fun. The result is breathtaking – featuring custom court cards, ultra thin borders, and an elegant back design.
Best of all, MailChimp is donating 100% of their proceeds to the Fugees Academy: a non-profit organization devoted to working with child survivors of war."
February 22, 2015 | No Comments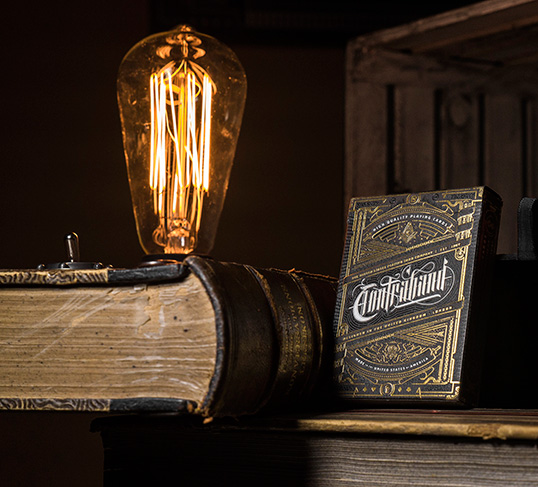 Designed by Joe White | Country: United Kingdom
"Designed in London by Joe White, Contraband Playing Cards were inspired by secret societies, conspiracy theories, and everything unknown. Every inch of the Contraband deck was designed from scratch – the court cards, the Aces, and even inside of the box.
Best of all: The Contraband Book Lamp. Two very special, 50-year old books. Each book has a secret. The top book is a functional lamp, handcrafted with an Edison bulb and antique nickel power switch. Slide the top book to reveal a secret compartment hidden inside. Four decks of Contraband Playing Cards reside within – yours to use or replace with contraband of your own."
Check them out at theory11.
January 28, 2015 | 1 Comment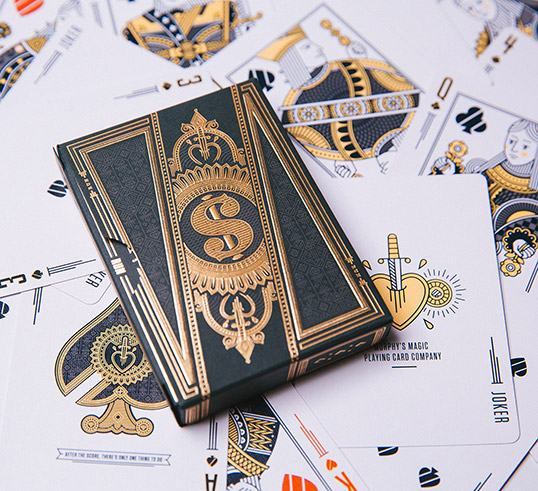 Designed by Chris Yoon | Country: United States
"Raw, unruly attitude meets new-school design. Defiantly decked in gold foil from front to back, Run features a bold design that drives home the pure essence of the hit-and-run survivor.
The Run playing card deck features a fully custom design with a protective hard case, embossing, stylized pips, and a full range of familiar yet updated court cards. Every inch of detail embodies the gambler's attitude and nerves of steel."
"After the score, there's only one thing to do…run."
December 25, 2014 | 1 Comment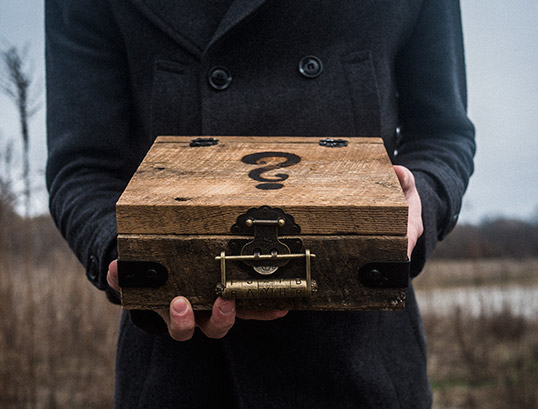 Designed by Theory11 | Country: United States
"An all-new edition of The Mystery Box, produced by theory11 in collaboration with JJ Abrams, Bad Robot, and 826 National. Featuring black on black foil design, individually hand-wrapped and sealed for you alone to discover.
The choice to open the box, or not, is yours.
With inspiration from JJ's original Mystery Box – received as a gift from his grandfather – this new Mystery Box contains 12 premium, designer playing cards with art direction by JJ Abrams and Jonathan Bayme. Many secrets reside within.
The set is available individually for $9.95, or in an iron-branded wooden lockbox for $150. Proceeds benefit 826 National, a remarkable charity that promotes creative writing classes in schools and workshops across the USA."
December 16, 2014 | 1 Comment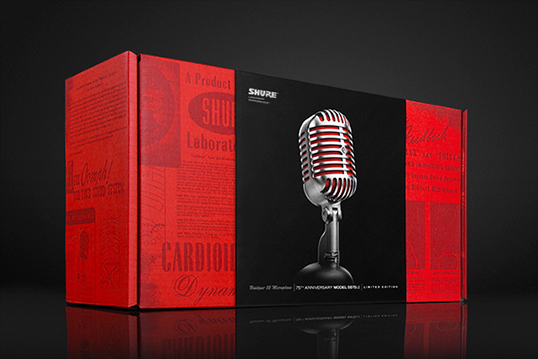 Designed by MiresBall | Country: United States
"To commemorate the 75th anniversary of the iconic Unidyne® 55 Microphone, Shure produced a limited edition version based on the original "fatboy" birdcage design. Adding to the collectable appeal was a package design featuring artwork culled from vintage ads and catalogs. A removable glossy sleeve carried meticulously detailed photography and a rich product backstory."
September 8, 2014 | 2 Comments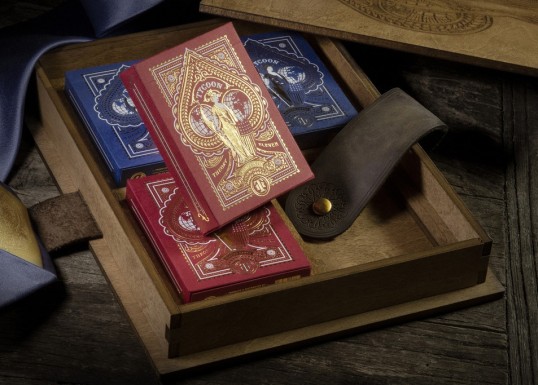 Designed by Theory11 | Country: United States
"In August 2013, we began a quest to create playing cards fit for display at the legendary Waldorf Astoria, the gathering place for royalty and the ultra-wealthy. For the past 14 years, Cohen has performed Chamber Magic there, in a private Waldorf Towers suite, for sold-out audiences including Warren Buffett, David Rockefeller, and the Queen of Morocco. In 2012, Cohen became the first magician in a half-century to sell out Carnegie Hall."