April 18, 2012 | 4 Comments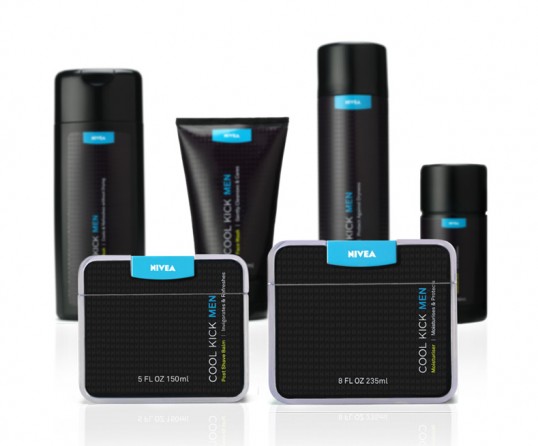 Designed by Chul Lee | Country: United States
"The New Cool Kick line from Nivea helps redefine the competitive landscape with a more comfortable and confident approach that is demanding by today's savvy audience."
April 2, 2012 | 2 Comments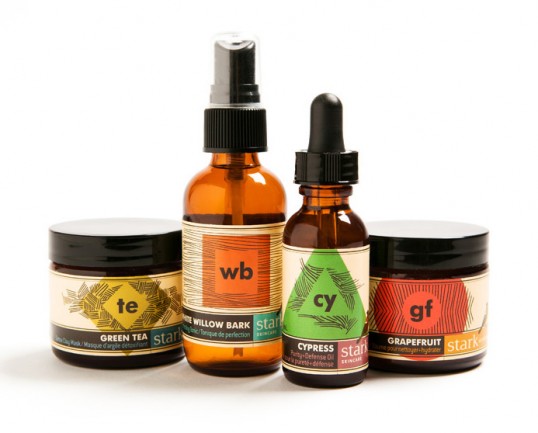 Designed by Poly | Country: Canada
"Poly was enlisted to evolve the Stark Skincare brand into labels for their inaugural skincare line. Stark wanted packaging that distinguished itself, which meant boldly displaying ingredients and production details as well as being visually striking. This series was an absolute blast to work on – a great opportunity to create an interesting play between our artwork, vivid colours and a quasi-scientific 'elemental' layout.
Stark Skincare was created in 2011, as a reaction to greenwashed and conventional skincare products. Stark uses 100% all-natural ingredients to create products made specifically for city life."
February 29, 2012 | 1 Comment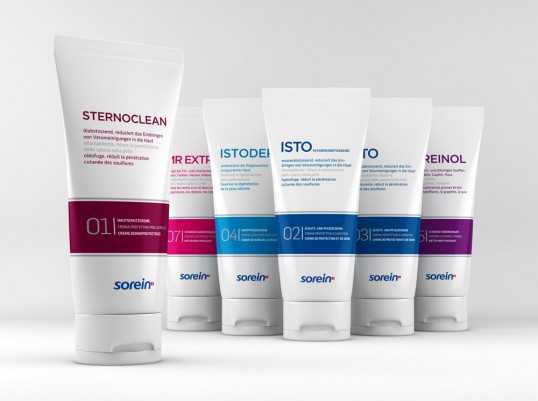 Designed by allink.creative | Country: Switzerland
"Sorein located in Päffikon ZH has been in business for more than 85 years. The company is specialised in hand cleaning and skin care products designed for professional use.  Our goal was to better visualise the high quality of the products and the expertise of Sorein. The modern and functional design has been tailored to the requirements of industrial use. Prevention of skin diseases and allergies are important to blue colour workers. The clear colour code and typography ensures a correct usage by these professionals.
The new branding and packaging design is in use as of now. The redesign will be applied to new products and communication measures as they come to market."
February 21, 2012 | 2 Comments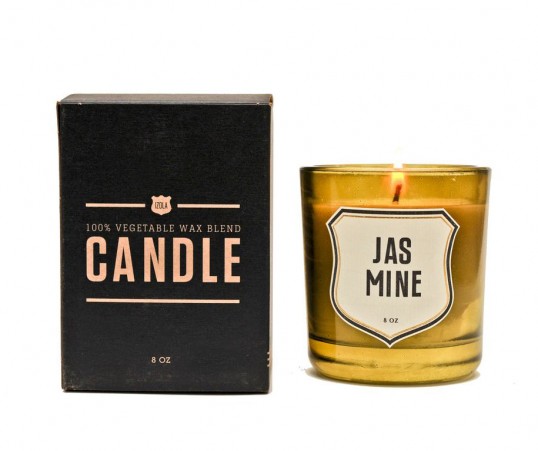 Designed by Aesthetic Movement | Country: United States
"Inspired by the old world utilitarian ideal of making something that is "built to last," Izola and Aesthetic Movement have curated a collection of whimsical objects with a masculine sense of antiquity.  Made with great care and attention to detail, this series of functional every day staples are designed to be perfect men's gifts. The products include flasks, soaps, candles, laundry bags, bamboo toothbrushes, handkerchiefs, brass desk objects, shower rings, ceramics and shower curtains.
While the collaboration with Aesthetic Movement began in 2009, Izola was originally founded in 2007 by Neil Rasmus and Richard Brandt as a company that produced innovative shower curtains for big box stores, such as Bed Bath and Beyond.  In 2008 when Jesse James and Diane Shaw formed Aesthetic Movement, a design consultancy and showroom for upper echelon housewares and accessories brands, a partnership with Izola was formed.  Since then, Izola has continued to evolve beyond the bathroom category into barware, desk, travel and other categories."
February 20, 2012 | 1 Comment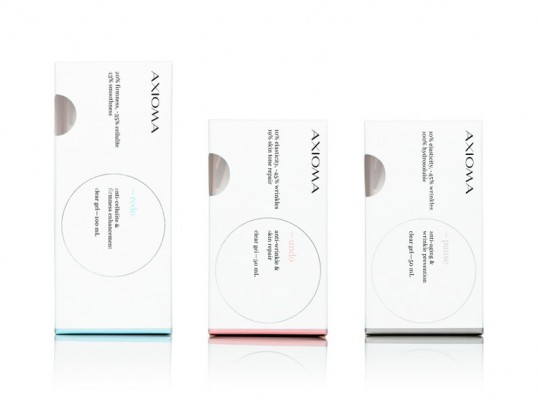 Designed by Anagrama | Country: Mexico
"Axioma is a new company specialized in skin care products for which we had to create a corporate identity that would reflect the company's philosophy: Offer the highest quality products made with authentic active substances.
Based on the fact that the effectiveness of each of the products is clinically proven, we chose honesty as the brand's leading value, therefore, we decided to use the name Axioma, which means "irrefutable truth".
We developed a clean visual language that would represent the products' honesty and its clinical purpose. However, the typographic selection was carefully handled so that it would evoke the high-end fashion industry."
February 15, 2012 | 4 Comments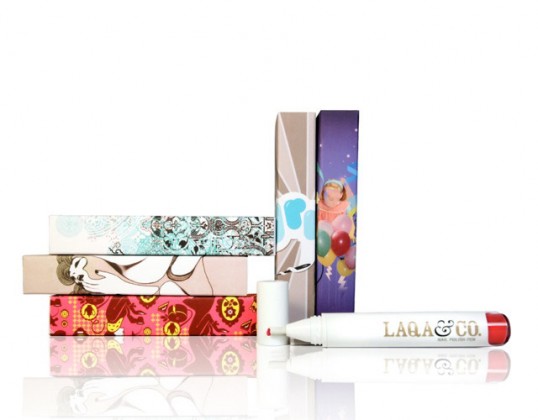 Designed by LAQA & Co. | Country: United States
"We are a start-up cosmetics brand that wanted not just to stand out, but to stand for something. More than just beauty, we try to provide inspiration for young women to achieve their goals and provide alternative roles models for them. Quite a tall order for a wee beauty brand, no?
Well we decided use our packaging as a canvas for young artists, featuring specially commissioned work, with artists receiving a profit share of each product sold.
Each product color is used to inspire each piece of art, that in turn can also hang on someone's wall. The box leaflet explains our mission and where to find the wall art for sale, in the most un-leaflet way possible."
February 8, 2012 | 2 Comments
Designed by Dowling | Duncan | Country: United States
"Cure is a company on a mission to make a difference. Their products cure your body with high-quality handcrafted ingredients, and also help cure the world. 20% of all purchases goes towards a selection of charitable organizations.
We helped promote this idea by pulling out a cross in their logotype. This symbol is instantly recognizable as the symbol for 'aid'. Therefore playing on the idea that these products are first aid for your skin as well as having the additional benefit of aiding charities in the world.
The products were launched at ZaZa Spa in San Francisco and can also be purchased online."
February 7, 2012 | 6 Comments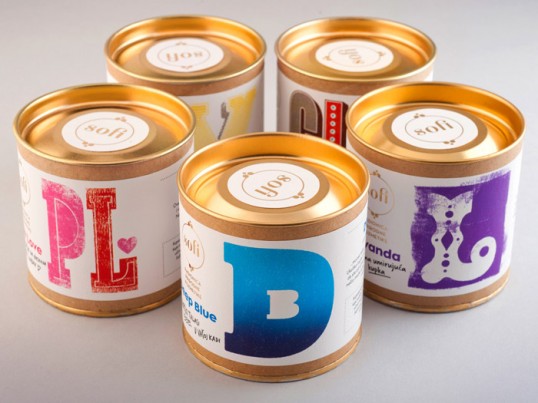 Designed by Popular Bruketa & Žinić OM | Country: Serbia
"Sofi, a small family production of organic handmade cosmetics, is a client our agency has already worked with, firstly defining the visual identity, and afterwards designing the packaging for soaps and gift packages. Emphasizing on the manual production, the quality of the resources as well as of the final products is something we kept in mind while designing the new packaging for their bath bombs.
February 3, 2012 | 24 Comments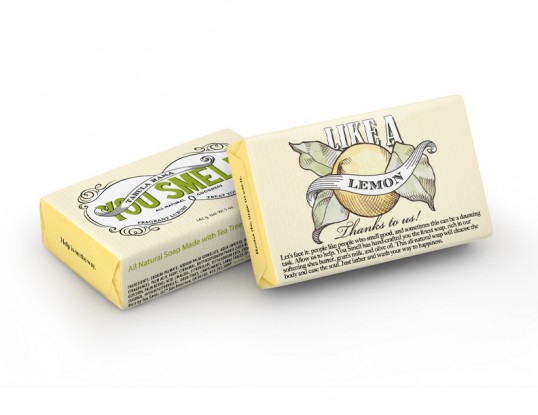 Designed by Megan Cummins | Country: United States | Buy it
When we initially posted You Smell three years ago we had no idea that Megan was going to take this product to the great heights that she has. If you're a fan of ABC's Shark Tank you probably watched her pitching You Smell to the sharks this evening where she came out on top with with an investment from Robert Herjavec. Congratulations Megan!
"This is a line of detergents called "You Smell" is an immediate eye-catcher, as it is eloquently presented, yet is initially insulting until the reverse side of the product is read. It continues to say "Like a Lemon!…Thanks to us!". The subsequent title 'Tabula Rossa', a derivative of 'Tabula Rasa', a Latin phrase for 'clean slate'. The sarcastic romance copy on the remaining sides creates an entire experience for the viewer, enticing them to continue turning the product in search of something new. It is printed on Neenah Laid paper to offer a subtle tactile quality."
January 22, 2012 | 3 Comments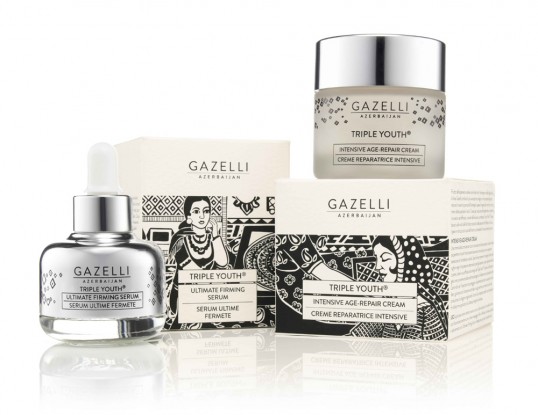 Designed by Gazelli Cosmetics| Country: Azerbaijan
"Using her scientific knowledge in the fields of genetics and prevention, Dr. Hamzayeva decided to develop beauty products from the magnificent natural resources found in her home country of Azerbaijan. From the earth itself, she created a brand she called Gazelli, a leading beauty group, in Azerbaijan and neighbouring countries.