December 23, 2010 | No Comments
Designed by Pearlfisher | Country: United Kingdom
"Pearlfisher has created the branding for Mii, a make-up line from Gerrard International – the first own-brand make-up line from this leading consultancy and distributor for professional beauty salons and spas. Mii offers an exciting choice of everyday make-up essentials with a professional quality that is not directed soley by colour trends and fashion fads.
Appointed in 2009 on the strength of its beauty brand credentials, Pearlfisher was tasked with creating brand strategy, product segmentation, naming, tone of voice and the packaging design.
The brand essence revolves around the idea of ultimate individuality. The consumer is at the heart of the brand and the products work to enhance and define the individual beauty – the real 'me' – of those that use them. The brand name is an aural representation of the brand essence and looks unique and stylish when written.
To help simplify, stand out and educate in the cosmetic marketplace, the graphic design is led by copy & tone of voice with useful hints and tips on how best to use the Mii products to suit the individual. The colour scheme reflects the premium and professional quality of the brand.
Natalie Chung, Creative Director Pearlfisher says "Mii appeals to both the professional market and the non-professional consumer. The design portrays the quality and educational aspect of the brand whilst also giving Mii a completely ownable and chic look and feel".
December 9, 2010 | No Comments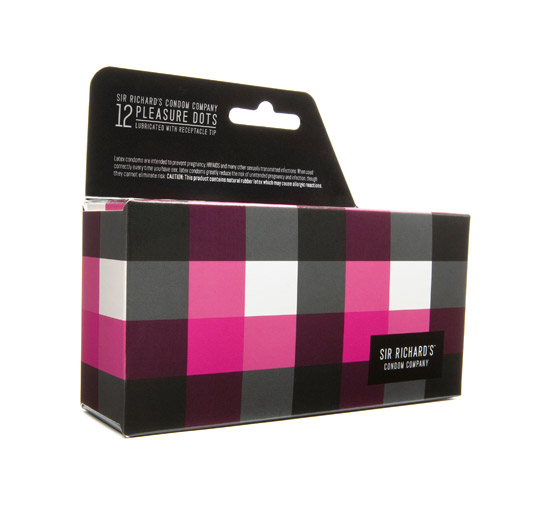 Designed by TDA | Country: United States
"We started this company from scratch in partnership with Kreloff Equity Partners. It is a for profit company that donates one condom in developing countries for every condom we sell in the U.S. The design is intended to be more appealing to consumers than the very pharmaceutical offerings currently on shelf. The condoms can currently be found at Paul Smith, Fred Segal, Viceroy, and Whole Foods with plans of expanding distribution in 2011."
December 7, 2010 | No Comments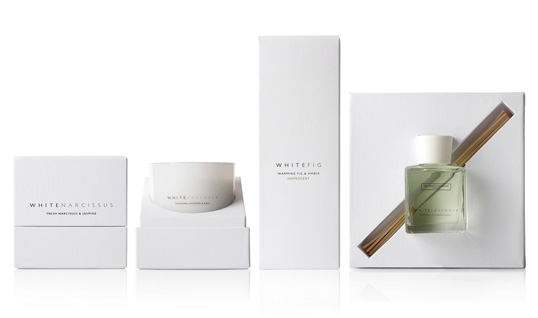 Designed by Aloof | Country: United Kingdom
"Product range packaging design for one of the UK's fastest growing multi-channel retailers.
Aloof redesigned the Bath & Body product range, refining containers, fitments, labels and packaging design within established production budgets.
Subsequently, we have designed packaging for new, premium White Scents, Noir, Menswear, Glassware and Portobello collections."
December 6, 2010 | 2 Comments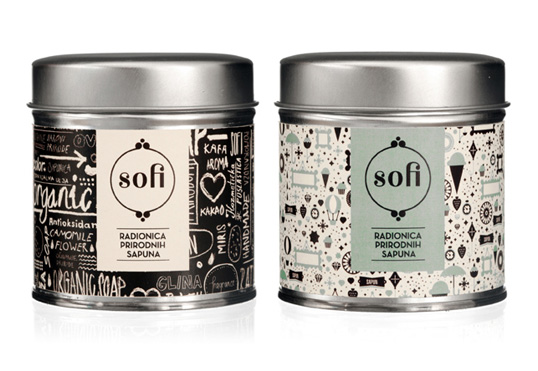 Designed by Popular | Country: Serbia
"Hand lettering is done in collaboration with Miladin Miletic and it highlights content and ingredients while the one with small illustrations reflects the joy of using Sofi soaps."
December 3, 2010 | No Comments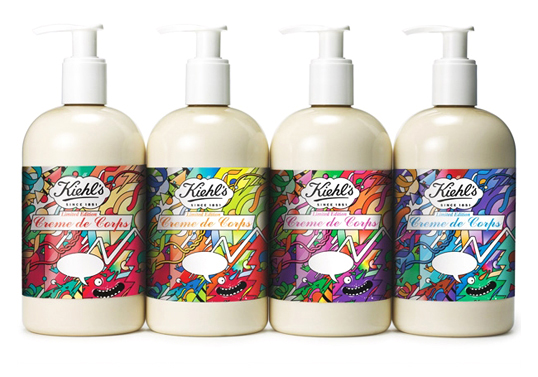 Designed by ILoveDust | Country: United Kingdom
"We worked with Kiehls on some new packaging for Thanks Giving. The bespoke packaging allows customers to write a message for loved ones and have the label applied in-store."
November 19, 2010 | No Comments
Designed by Mash | Country: Australia
"An update to the sales cases Mash completed a few years ago for Evo. As before the cases needed to hold a selection of Evo products, to be used by sales reps when visiting potential and existing buyers. Mash sourced wooden brief cases, customised the insides and screen printed the outer side of the cases."
November 18, 2010 | No Comments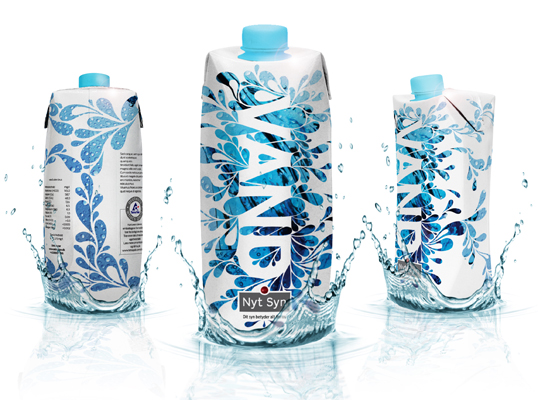 Designed by Raymond Skaustein Johannessen/AarhusKontoret | Country: Denmark
Packaging designed for Danish optician chain Nyt Syn.
November 17, 2010 | No Comments
Designed by Burgopak | Country: United Kingdom
"Thomas Proske, Global Brand manager for Levitra® at Bayer Healthcare says: "We chose the Burgopak design for our new Levitra formulation because it's pocket-friendly, discreet and gives the product a playful edge over its competitors.  While it is patient safe and compliant, it also looks stylish and will appeal to our customers."
With its packaging for Levitra® 10 mg ODT, Burgopak continues to strengthen its presence in the pharmaceutical industry
Tim Clarke, CEO of Burgopak Healthcare & Technology says: "The innovative packaging design adds significant value to the brand as it's slick, unique, and appealing to consumers, while supporting patient safety and compliance. In a highly competitive market, it offers differentiation and we're delighted to continue working with Bayer."
November 9, 2010 | 4 Comments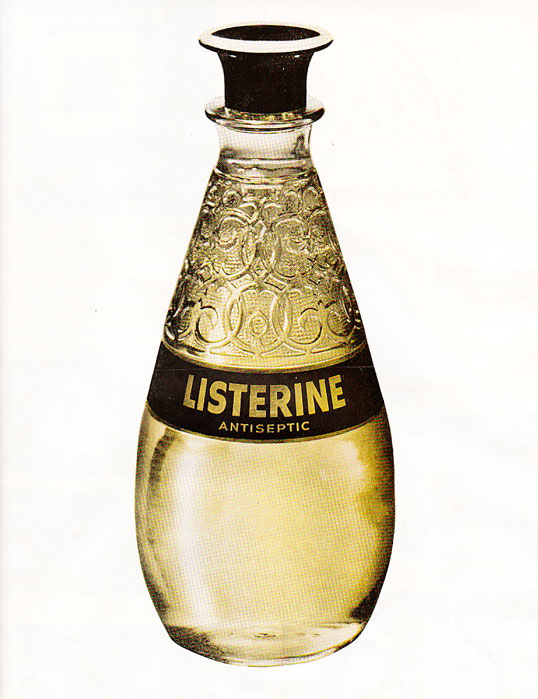 This gorgeous packaging for the popular mouthwash more accurately resembles a perfume bottle and is really quite beautiful for such a mundane product.
via Design Muse
November 2, 2010 | No Comments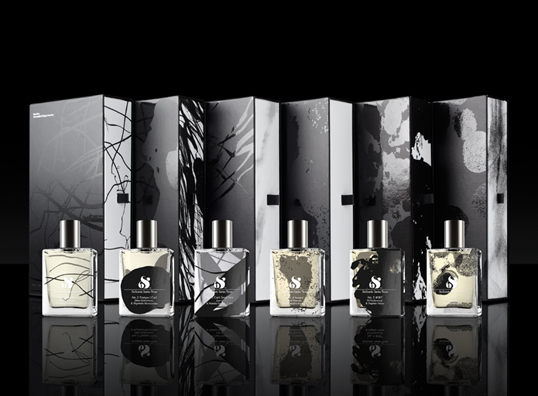 Designed by 3 Deep Design | Country: Australia
"Smells like modern art. At their most compelling the creative arts go deeper than the aesthetic brilliance of a beautiful painting or the auditory indulgence of sa superb sonata. They explore the boundaries of our perception and the intersection of our senses, our emotions and our intellect. And we do not normally think of fragrance or the olfactory world as a typical playground of such ambitious art. But experimental project Six Scents is working hard to challenge this assumption" – Mavia Popova, Editor. brainpickings.org
Six Scents: Series Three is the third year that 3 Deep has collaborated with Six Scents Parfums. Series Three is an exploration into the nature of childhood memories and the influence of adolescence on identity. Six designers from six different parts of the world were invited to remember the most definitive experiences of their youth that led to their sense of identity today and to recall some of their most intimate childhood memories involving the sense of smell. Exploring the stories from one through six, innocence begins to fade and rebellion, reality and mischief kick in.